CUBE 20″ Compact Sport Hybrid Spec Review – 2020

In this Spec Review, we'll take a look at the components and specs to get an idea of design, quality and functionality of the CUBE 20" Sport.
The CUBE 20" Compact Sport ebike is an updated model from CUBE, a European ebike company with over 10 years experience in the ebike industry. This sporty bike features innovative geometry that maximizes rider comfort but maintains a small frame size for convenience. The 20" wheels keep the wheelbase low and the step-thru frame is easy to get on and off while the telescoping handlebars and seat post make it adjustable for different size riders.
There are lots of compact bikes available with folding features that maximize functionality while minimizing frame size. CUBE has included the Speedlifter Twist handlebar adjuster on the stem which allows the handlebars to be raised up or drop down. The Speedlifter has another trick up its sleeve: flip the lever and you can twist the bars round so they're parallel with the frame. This is a real bonus if you have limited storage space at home or at work.

Bike Category: Class 1: Pedal assist to 20mph. No throttle.
Who It's For: Riders who want comfort and ease on a compact ebike for around town riding
The CUBE Sport Hybrid is well-suited for users who:
May want to replace a car with a compact commuter bike
Are looking to haul light cargo (panniers, bags) on the rear rack and optional front basket
Want a compact frame with telescoping adjustments for riders of different sizes
Appreciate the zippy Bosch drive system
Want PAS but are fine not having a throttle
Want a bike that can be used for intermodal transportation with the side-swiveling handlebars
Bike Specs
FRAME: Aluminium Superlite, Comfort Ride Geometry, Semi-Integrated Carrier, Double Butted, Front-Carrier Ready, Slider Dropout
SIZE: One Size
FORK: Aluminium
HEADSET: FSA No.10, Semi-Integrated
STEM: BySchulz Speedlifter Twist Pro SDS T14
HANDLEBAR: CUBE Comfort Trail Bar, 15° Setback, 720mm
GRIPS: Natural Fit Comfort
DERAILLEUR: Shimano Zee RD-M640-SSW, 10-Speed
SHIFTERS: Shimano Deore SL-M6000
BRAKES: Shimano BR-MT200, Hydr. Disc Brake (180/160)
CRANKSET: FSA Metropolis Comfort, 44T, 165mm
CHAIN: KMC X10
COLOR: Blue or White
CASSETTE: Shimano CS-HG50, 11-36T
FRONT HUB: Shimano HB-TX505, QR, Centerlock
REAR HUB: Shimano FH-TX505, QR, Centerlock
RIMS: CUBE EX30, 32H, Disc, Tubeless Ready
TIRES: Schwalbe Super Moto-X, Double Defense, 64-406
SADDLE: Natural Fit Nuance Lite
SEAT POST: Newmen Evolution, 27.2mm
SEATCLAMP: CUBE Varioclose, 31.8mm
HEADLIGHT: Herrmans H-Black MR4, 6-12V, DC
TAIL LIGHT: ACID Pro E-Rear Mudguard
KICKSTAND: CUBE CentreStand
FENDERS: ACID 75
BELL: Mini Bell
CARRIER: ACID 20″ Semi-Integrated Carrier, ACID RILink Adapter Compatible
BATTERY: Bosch PowerPack 500
MOTOR: Bosch Drive Unit Performance Generation 3 (65Nm) Cruise (250Watt)
DISPLAY: Bosch Purion
CHARGER: Bosch 2A
WEIGHT: 23.1 kg
Bike Features
Compact but sturdy frame

The frame on the CUBE 20" Compact Sport Hybrid is aluminum Superlite so it is both lightweight and durable. The frame is compact but will support riders of all sizes. Color options include white or blue and red.

Powerful 500 Bosch PowerPack battery

CUBE has designed the Compact Sport Hybrid to be both zippy and powerful. The battery will get you to work and back, or just around town quickly and easily with extended range and minimal charging necessary.

Bosch Performance Gen3 Motor

This PerformanceLine motor provides 65Nm of torque and has a cruising wattage of 250watts which keeps you zipping along while also maintaining battery reserve for the long ride. You get the best of both worlds with this street-tuned motor since it provides assist as needed but is also very quiet.

Speedlifter Twist stem

Maintaining the overall compact design of the Compact Sport Hybrid is a unique folding feature CUBE has dubbed the Speedlifter Twist Pro. This allows the handlebars to be angled to the side of the bike, collapsing the profile down so it is very narrow. This makes it easier to load on a bus or train, or even store in your closet at home.
Pros:
Compact, rugged and sporty
Speedlifter Twist stem releases the handlebars so they can be tucked against the bike frame for convenience when lifting/loading the bike
Quiet Performance Gen3 Bosch motor zips you through town while maintaining a stealthy ebike experience
500watt Bosch PowerPack battery offers good range and pairs well with the Gen3 motor
Lightweight
Easy to fold handlebars sideways and load onto transmodal transportation
20" wheels keep the profile and step over height low for easy access
Cons:
Slightly higher price point at $3500 – may be out of range for some buyers
No throttle
Small frame and 20" wheels may not provide enough room for larger riders
In-Depth Spec Review
Frame
When designing the Sport Hybrid, it is clear that CUBE was focused on finding the right balance of functionality and structural integrity, while keeping the footprint compact. The cross-brace tube that reinforces the downtube reinforces the frame while not compromising the low step over height. This cross-brace tube also provides a convenient carrying handle that is easy to grab when you need to lift and load the Sport Hybrid. CUBE also elongated the headtube making it easier to steer and tucked the battery behind the seat tube so it is out of your way but still accessible. The mid-drive Bosch motor is also housed safely at the bottom of the frame which balances the bike weight for a low center of gravity. Bosses on the downtube for accessories and a standard rear rack provide convenient cargo options for your daily commute.

Motor & Battery
The Bosch Performance Gen3 motor is a tried and tested motor that has been updated in 2020 with a few modifications that made it lighter, smaller and more powerful. The motor is designed to augment rider power with plenty of torque but reserve battery power for longer rides. It is powerful, quiet and perfect for around-town riding. CUBE has tucked the motor at the base of the frame for efficient weight distribution and protection.
This battery will give you respectable range. Depending on rider weight and cargo, we anticipate most riders will max out around 35 miles. For most of us, that's plenty of distance and the ease of charging the battery in between errands or while at work is a nice option as well. CUBE includes a compact 2A charger with the Sport Hybrid so you can charge your bike while at work or overnight so it's ready for your commute in the morning.
Display/Assist Modes
The Bosch Purion display is the standard accompaniment for this drive system. It is not removable, but it is easy to see and use. The display is mounted on the left handle, and it has minimal buttons for simplicity when riding. A 5-light battery indicator at the bottom of the screen lets you know about how much power you have (in 20% increments). You also get a large digital display of speed and your pedal assist level.
The Sport Hybrid has an advanced pedal assistance system which measures rear wheel speed, cadence and pedal torque for accurate and real-time power transmission. There are four modes: Eco <60%, Tour <140%, Sport 140% - 340%, and Turbo >340%. Each mode is displayed on the screen.
Gears/DriveTrain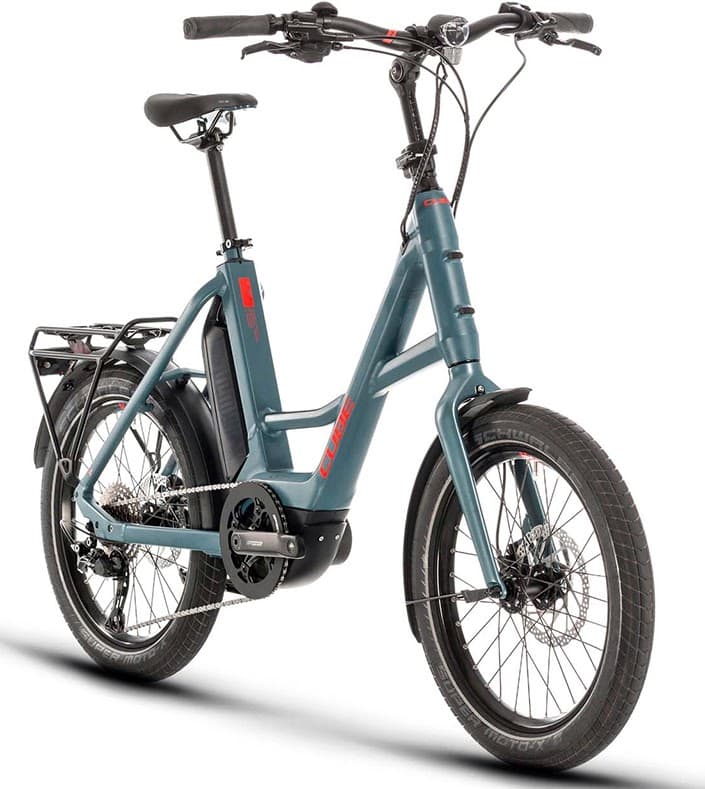 CUBE has outfitted the Sport Hybrid with a mix of Shimano Deore shifters and the Shimano Zee rear derailleur. With 10 gears, the shifting is smooth and you have enough gear range for most terrain. Loaded uphill could get a bit heavy, but the motor provides plenty of assist, so we anticipate the drive system would supplement sufficient power to offset any gear limitations. For around town riding, this gear system is well suited and will be sufficient for most riders.
Brakes
The brakes are Shimano hydraulic disc brakes with 180mm rotors in the front and 160 in the rear. You need more stopping power on the front end, and once again, we anticipate these brakes will be plenty powerful to stop the CUBE Sport Hybrid.
Suspension
You don't get any suspension on the CUBE Sport Hybrid. The front fork is aluminum. But the large Schwalbe tires help offset road bumps. Due to the smaller wheel circumference, this bike is prone to a bit more bumps and bounciness than other ebikes but the added width helps even out any bumps. The widened tires and a bit of grippy tread help keep you firmly on the road as well.
Wheels and Tires
You have Schwalbe Super Moto-X, Double Defense tires that keep you grounded and flat-free. The extra width adds just enough traction but doesn't slow you down. The tires have reflective sidewalls and logos, both of which add to your visibility. The 20" height can be a bit limiting, especially with visibility or when trying to get over uneven terrain, but the Schwalbe tires help a lot with both comfort and traction.
Accessories/Upgrades
CUBE has included several cargo bosses and attachments that make the Sport Hybrid a good commuter bike. Bosses on the head tube will support a front rack or basket. The rear rack comes standard and will support two panniers or other load up to 55 pounds. Bosses on the downtube also provide room for a water bottle cage, pump or other attachment. A right mounted bell adds an important safety feature for around town and paved trail riding. When crossing pedestrians a bike is easier to hear than a polite "on your left," so this helps both you and others on the road travel safely. The CUBE Sport Hybrid has a center-mounted kickstand but this may not support the bike if fully loaded. Integrated front and rear lights are also standard. The Herrmans headlight is powerful and integrated while the Herrmans H-Trace tail light keeps you visible from behind. The ACID Custom plastic fenders won't rust and they are 75mm wide, so you get good protection from splashes and road water.
Recommendation
The CUBE Sport Hybrid is a compact commuter bike with handlebars that can be folded to the side for ease when loading. Compact commuter bikes make good portable ebikes while retaining cargo options and comfortability for daily use. The 20" wheels drop the wheelbase and make it a rideable bike for different sized riders. The extra-wide Schwalbe tires help offset the lowered wheelbase when tackling road debris, potholes, etc. Schwalbe tires add comfort – especially since you don't have a suspension system on the Sport Hybrid. The upgraded motor system and battery make a zippy drive system that will power you and your cargo where you need to go. This bike could possibly replace a car for short around-town trips.
CUBE has done a good job with frame design. The extra long seat post and telescoping handlebar stem make the one frame size work for multiple riders. Two color options of a steel blue with red accents and white are also ubiquitous options that will appeal to most buyers. The swiveling handlebar makes lifting and loading the bike easier. We've love to see folding pedals as well, but you can add some aftermarket.
The Shimano hydraulic disc brakes are powerful and responsive and the Shimano 10-speed drivetrain is well-suited for this bike. We like the expansive 11-36T range. This provides more gear options so you can still ride comfortably while preserving motor power. The elongated fenders are both sturdy and won't rust, which is an added bonus.
The bike is not super cheap. You pay a bit more for the nicer components. It only includes the slower 2amp Bosch charger and because the kickstand is center mounted, there is the issue of pedal lock.
However, in general we are impressed with the specs on the CUBE Compact Sport Hybrid. CUBE has several versions of this basic model including the non-sport Compact Hybrid, so within the lineup there are several good options. If you plan to commute a bit and like the option of a compact bike, the CUBE Sport Hybrid warrants a closer look.
P.S. Don't forget to join the Electric Bike Report community for updates from the electric bike world, plus ebike riding and maintenance tips!
Reader Interactions