The Variety of Stylish Town & Commuter Electric Bikes
By Richard Peace
There are so many new electric bikes hitting the market today and the variety of commuting style ebikes is pretty amazing!
In this article we will take a look at just a few of the stylish town and commuter electric bikes that each represent specific styles in this category.
There is the economical Easy Motion EasyGo Street, versatile Wallerang M.01, fixie style Coboc One, racing style Haibike Xduro Urban RC, the sleek Kalkhoff Integrale 8, and the high-tech Stromer ST2 S.
Easy Motion EasyGo Street
Designed for comfort over performance and real sit up and beg easy riding. Swept back handlebars and a plush seat mean this is probably the most comfortable bike featured here.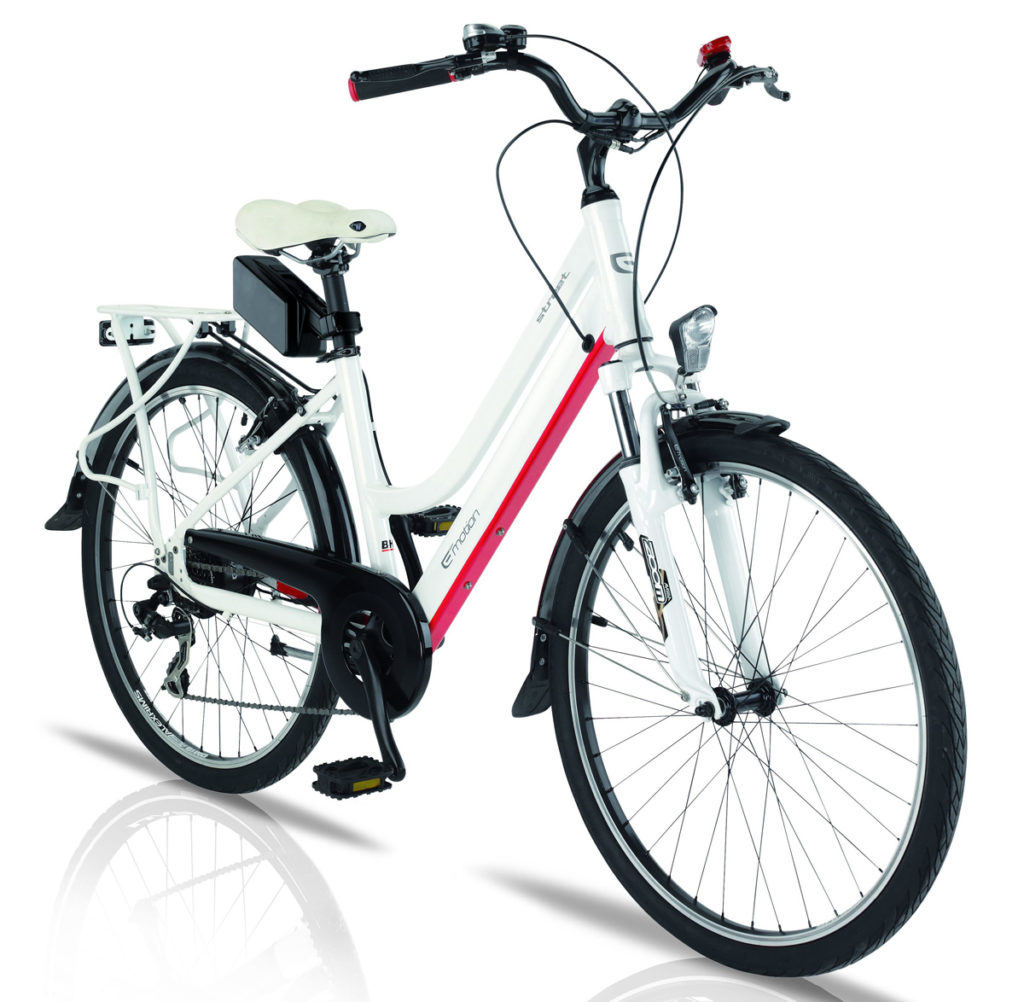 Its' not super minimalist or sleek but it is made to be ridden by all levels of rider. Whilst components are naturally from the budget range they are all practical, from the large gear shift buttons down to the large V-brake levers, capacious pannier rack and chainguard.
One of the best equipped town bikes at this price (while there are cheaper town electric bikes they tend not have torque sensing or the 5 year guarantee option of the Street). The small size of the battery is the only real drawback, though it does keep the bike light.
Motor type and power options: Rear hub 250W from Dapu. Frame integrated torque sensor.
Battery Design & Size: Seatpost mounted 216Wh
Stated weight (inc. battery): 43 pounds
Display: Removable LCD handlebar display. Bluetooth kit and app upgrade available.
Lighting: Front lighting powered by separate batteries. No rear light.
Gearing: Rear 7-speed rear derailleur
Brakes: V-brakes
Recommended retail price: $1699  £1299
Wallerang M.01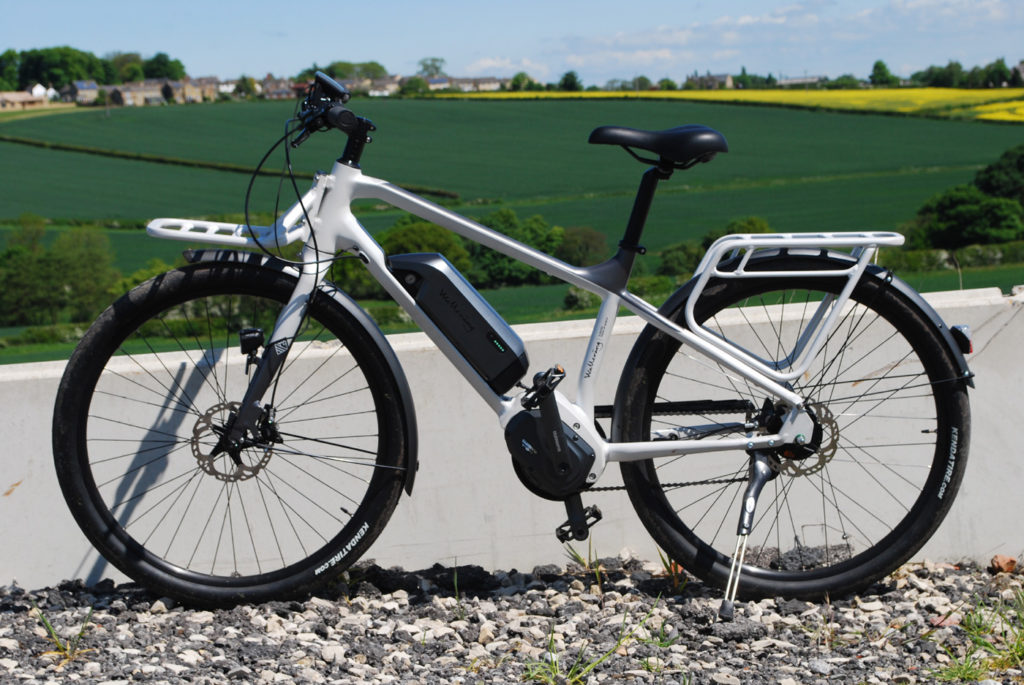 Sweden's Eco-Ride are the firm behind Wallerang, marketed as being suitable for Nordic conditions. This might be a stretch (for example there's no snow tyre option or two wheel motor drive) but this is a mighty fine commuting bike, combining plenty of carrying capacity, electronic gear shifting (software upgrade makes it automatic) and the fine Shimano STEPS motor system.
Motor type and power options: Crank, Shimano Steps 250W. Uptuned to 250W-500W and 20mph for the US market.
Battery Design & Size: Frame-mounted 418Wh. Sony cells.
Stated weight (inc. battery): 46 pounds (21kg)
Display: Removeable handlebar-mounted LCD
Lighting: Spanninga LEDs running off the main battery
Gearing: 8 speed Shimano Alfine Hub gear with Di2 electronic shifting.
Brakes: Shimano Alfine Hydraulic
Recommended retail price: $3590 £2399
COBOC ONE
A true lightweight for fast, easily transportable two-wheeled electric power in areas that aren't massively hilly. Simply one of the cleanest, neatest looking e-bikes out there, hails from Germany, one of the powerhouses of innovative electric bike design, and many of the Coboc's elements are designed and manufactured there.
It's easy to see bike couriers and city hipsters in their element with the Coboc One's aluminium frame and carbon track fork. As a truly minimalist bike it lacks lighting, a rack and fenders.
Motor type and power options: Rear hub motor. Programmed for UK and US assisted speed limits accordingly. (250W / 500W options).
Battery Design & Size: Frame-integrated 345Wh
Stated bike weight inc. battery: 30 pounds (13.5kg)
Gearing: Single speed
Brakes: Caliper rim brakes
Recommended retail price: $3900 £2900
Haibike Xduro Urban RC
With Crank Bros Cobalt 4 wheels and a head down riding position the Urban RC is clearly built for speed with its road style influences and light weight. Some retailers are offering to swap out the bars for drop versions to make it even racier (there are speed-pedelec Race branded versions out there based on a similar frame design). The spec is in line with Haibike's high quality reputation; large disc brakes, sizeable battery and top of the line Schwalbe semi-slick tyres. There are 250W and 350W rated versions for the UK and US markets.
For out and out road e-bikes there are few competitors (Giant have just released some 2016 drop handlebar models onto the European market only).
Motor type and power options: Bosch Performance line crank motor.
Battery Design & Size: Frame mounted 500Wh.
Stated bike weight inc. battery: 40 pounds (18.2kg)
Display: Bosch Intuvia display
Inbuilt lighting?: Yes – front eHeadlight (60 lux rated) and rear String LEDs powered from main battery.
Gearing: Shimano XT 10 speed rear derailleur
Brakes: Shimano M615 hydraulic disc brakes
Recommended retail price: $4,300 £3200
Kalkhoff Integrale 8
Kalkhoff's Integrale blends its new high performance EVO motor system with design and integration trends that look to be the immediate future of urban bikes; namely frame integrated batteries and a mid-drive motor more smoothly integrated into the frame and a display that communicates via bluetooth with your smartphone.
It looks like it has a great blend of performance and comfort too, with adjustable stem, air suspension forks and Schwalbe Big Apple tyres. The carbon fibre Gates belt drive claims low maintenance and long life compared to traditional bike chains.
Motor type and power options: Impulse EVO crank motor. 20Mph / 15mph versions available for the US and UK markets respectively.
Battery Design & Size: 612Wh frame integrated, removable for charging.
Stated bike weight inc. battery: 57 pounds (26kg)
Display: Evo Smart display with USB charging and smartphone bluetooth tech and GPS enabled opensource mapping function (display communicates with your smartphone to display mapping and other functions coming from the phone app).
Inbuilt lighting?: Yes – twin front Busch & Muller LED of 100 lux and rear LED with standlight
Gearing: Shimano Alfine 8 speed hub gears
Brakes: Shimano M396 hydraulic disc brakes
Recommended retail price: $4900 £3200
Stromer ST2 S
For those long, long commutes 2016 sees Swiss manufacturer Stromer introduce a bike that will be near the top of any list of 'dream e-bikes'.
The ST2S's accent is on performance rather than comfort and practicality; whilst it features a fenders and lights it lacks a rack and the riding position is definitely more designed for speed than laid back leisure.
It aims to be at the cutting edge, from its host of smartphone-accessible features (including electronic locking, GPS enabled navigation, motor tuning -speed, torque parameters etc- and battery condition) to its huge battery capacity. Allied with its 28mph top speed this a bike designed to get you a long way very quickly.
Motor type and power options:  Rear hub Syno drive 500W. Torque sensor.
Speed pedelec: – max assisted speed of 28mph.
Battery Design & Size: Frame integral (removes for charging). 48V 983Wh.
Stated bike weight inc. battery: 65 pounds (29.5kg)
Display: LCD with and user smartphone option
Lighting:  Supernova M99 1250 lumen front lighting (motorbike power equivalent)
Gearing: Shimano XTR 11 speed derailleur shifting – electronic Di2 (separately rechargeable via USB port).
Brakes: Magura MT 5 hydraulic disc brakes.
Recommended retail price: $9500 £7500
Stay tuned for more eBike news and reviews!
P.S. Don't forget to join the Electric Bike Report community for updates from the electric bike world, plus ebike riding and maintenance tips!
Reader Interactions