BULLS Iconic EVO TR 1 Speed eBike Review 2020

In this Spec Review we will take a look at the build, design and components on the BULLS Iconic EVO TR 1 Speed. We haven't included a Ride Test in this review — that will be posted later (though you can check out some other BULLS electric bikes we've ride testedin the meantime).
The BULLS Iconic EVO TR 1 Speed is a new e-bike from BULLS that is fully equipped with a Bosch Performance Speed (Gen 4) motor and the new Bosch Powertube 625Wh battery for more power and longer rides. This is a hybrid off road/commuter e-bike designed for comfort and performance. The EVO TR 1 Speed is full suspension to absorb shock from bumpy cobblestones on your way to the cafe while also reducing impact shock from rough terrain when you take the Iconic EVO out for a recreation ride on the weekend. This all-around bike boasts 75Nm of torque. The Bosch Purion onboard computer is easy to use with four riding modes and clear display metrics. This bike will zip up to 28mph which is plenty for around town and enough for riding through the hills. In this review we cover the specs and overall build of the Iconic EVO TR 1 Spd, more details about the handling and navigability of the bike will be covered in a separate Ride Review.
Bike Category: Class 3: Pedal assist to 28mph
Who It's For: Riders looking for a comfortable and well-built all around bike for town, commuting and light recreation
The BULLS Iconic EVO TR 1 Spd has a wide range of features, making it a good choice for riders who:
What a quality bike from a reputable company
Are looking for extended range and a powerful drive system
Plan to ride varied surfaces and terrains
Want one good All-Around bike for ultimate adaptability
Are familiar with BULLS and Bosch products
Want a bit more suspension for comfort while retaining off road capabilities
Bike Specs
Sizes: S,M,L,XL
Motor: Bosch Performance Line Speed Gen 4, 28mph
Battery: Bosch PowerTube 625Wh
Display: Bosch Purion
Frame: 7005 Aluminum
Fork: SR Suntour Lytro 34 Black LOR Air CTS Boost 120mm
Rear Shock: SR Suntour UNAIR TR LOR8 120mm
Derailleur: Shimano Deore RD -M6000GS -D, Shadow Plus, 10 -speed
Shifter: Shimano Deore SL -M6000
Crankset: FSA 38T
Cassette: Shimano CS-HG500, 10-speed, 11-42T
Brakes: Shimano BR -MT420/420 hydraulic disc brakes 203/203mm
Handlebar: STYX
Stem: AS-MTBi
Seatpost: Limotec DP-01, dropper seatpost
Saddle: BULLS
Rims: BULLS Eccentric 30, tubeless ready
Wheel Size: 27.5″
Tires: Schwalbe Super Moto-X Snakeskin, 62-584, 27.5 x 2.40
Pedals: Wellgo
Weight: 24.5kg, 54lbs
Pros:
BULLS has included all the necessary trekking extras here with integrated lights, a sturdy slap guard, aluminum alloy fenders, and rear rack with pannier mounts and even a bungee notch.
This speed pedelec class 3 e-bikes goes up to 28 miles per hour. The extra speed over a Class 1, 20mph limit is especially helpful on longer rides that may take you out of the city, away from traffic and pedestrians, where you can safely enjoy a faster pace.
Has a 3-LED rear light and large back reflector for safety and visibility in traffic
All cables and wires are internally routed which keeps the aesthetic clean and reduces unsightly wires.
The upgraded Bosch drive system and 625 watt hour battery provide 75 Nm of torque when you need extra power. Mileage is an impressive 100 mile estimated max range.
Has lockable air suspension with rebound adjust to keep you more comfortable.
This is a unique full suspension trekking bike. It can do cobblestone streets for urban commuting or light terrain on long cross country rides.
Cons:
Price. This e-bike is priced around $5,500 dollars (US)
This is a heavy bike weighing in at around 60 pounds
Rubber pedals could probably use an upgrade
Bike Overview

The Iconic TR 1 is designed to be a cross-over trekking/commuter bike that incorporates the full suspension and comfort of a mountain bike on a street-ready design. This is a short-travel bike (120mm) with an upgraded 7005 aluminum frame which is both sturdy and comfortable. One unique feature we love is the fully adjustable AS-SUVi stem that allows the headlight and handlebars to be angled for rider comfort and maximum visibility. Both air pressure and preload can be adjusted based on your weight and terrain. The bike has 27.5″ wheels, which work well for zipping through tight streets and dodging pedestrians, and the 2.4" wide Schwalbe Super Moto-X Snakeskin add plenty of traction. This bike has a rear rack — but it is supported by the chain stay and not attached to the frame — which may compromise the amount of weight you can load. The drive system is plenty powerful, so the Iconic TR 1Spd will take you longer distances with more torque — always a plus.
Motor & Battery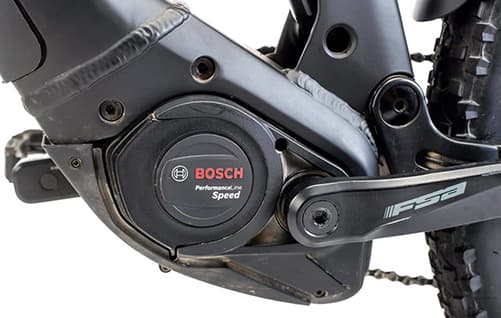 BULLS made a few handy upgrades to the Iconic TR 1 Speed. First, they moved the charging and locking port to the top of the downtube so it is easier to access and less likely to be damaged from impact or debris.
The charging port is on the same side as the drive system so you can lay your bike on the other side and still access the port as needed. Also, the battery is integrated into the downtube, but the cover is a lighter composite material that resists dents and is easy to clip on and off. The mid-drive Bosch Gen4 motor only weighs about 6.6 pounds and is securely tucked inside the base of the downtube.
Purion Display Computer
The Purion Display has been upgraded with several handy features:
Removable, magnetically attached
Backlit so you can see it in bright or low light.
Includes a Walk Mode
Micro-USB port
Light and Power buttons
Display Metrics
Clock
Assist Level: Eco (blue); Tour (green); Sport (yellow); Turbo (red)
Light indicator
Battery percentage and infographic
Speed Units (MPH or KM/H)
Current Speed
Power Meter (rider power and motor power)
Range Estimator (will adjust based on your speed and assist level)
Trip Distance
Trip Time
Power (watts)
Cadence (RPM)
Average Speed and Max Speed
Heart Rate (when wearing compatible chest strap)
Settings option
Assist Modes:
Walk Mode (light assist <4mph)
Green (No assist)
Eco (60% – 40Nm)
Tour (140% – 50Nm)
Sport (240% – 69Nm)
Turbo (340% – 75Nm)
Gearing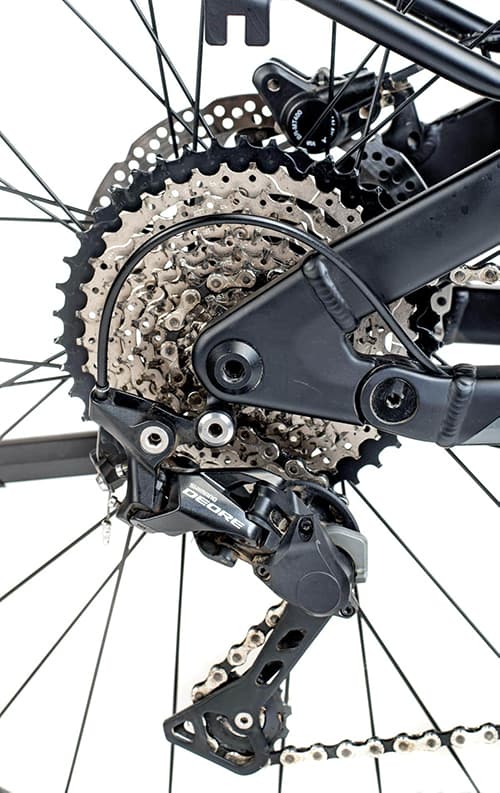 The Iconic EVO is a 10 Speed with a 1×10 Shimano Deore Derailleur and Clutch for tighter chain suspension. It features a 11-42 Tooth Cassette. The narrow – wide chainring pattern reduces chain drops and the slap guard protects the chainstay from chinks and rock strikes. This gear system is well suited for in town riding. A rotor-integrated magnet tucked inside the rear brake measures rear wheel speed for smoother shifting especially in higher gears.
The handlebar shifters are Shimano SL with two-way triggers. A Dynasys system on the right allows for two-way high and three-way low shifting so you can slide through gears quickly both directions.
Brakes
Brakes are Shimano 420 hydraulic disc brakes with 203 mm discs on both front and rear. The braking system is responsive and well-suited for the powered drive system. Handlebar brake levers are three finger with adjustable reach.
Suspension

The Iconic EVO TR 1 Spd is a full suspension Class 3 electric bike with 120mm air suspension with adjustable compression and rebound. This allows the suspension to be adjusted for different weighted riders (or if you add cargo) and adds comfort when tackling terrain or bumpy roads on your commute. The Limotec dropper post increases rider comfort and bike handling as well. The dropper post allows the rider full leg extension while pedaling, but then you can drop it to stand flat-footed at a stop sign. This improves handling around town especially if you have a hilly or frequent stop-and-go commute.
Pedals
The basic rubber Wellgo pedals are slightly underwhelming on a bike at this price point. They aren't very grippy and may be too small for larger riders. But, they will work with flat soled business shoes, which may be why BULLS put them on this model. We recommend an upgrade here to an alloy or magnesium pedal with pins if you plan to do more than ride to the office.
Grips and Saddle
The BULLS saddle is contoured with a raised tail that keeps riders on the saddle. The 28mph speed can kick up quickly and the saddle is designed to hold you comfortably on the bike so you don't shift backward off the seat.
Wheels and Tires
The BULLS Iconic EVO TR 1 has Eccentric 30, tubeless ready rims so you can remove the tube if you ride regularly. The 27.5" wheels keep you sprightly and are navigable on city streets, but still large enough for a bit of terrain. The 2.4" wide Schwalbe Super Moto-X Snakeskin tires have a heavy street tread for grip but not resistance. These aren't as fast as a typical light tread city tire, but they add durability and comfort to your ride.
Accessories/Upgrades
The Iconic EVO TR 1 includes several features that make it an ideal commuter bike, such as:
70mm Aluminum Alloy Front and rear fenders
Integrated front and rear lights (rear light is protected by rear rack)
Removable Purion display
Rear tire is not quick release
120mm Suspension front and rear
Suspension seat post
Monkey bottle bosses on downtube
Flick bell
Rear kickstand
Rear rack with pannier guards and bungee slot
Final Summary
The BULLS EVO TR 1 Speed is a new iteration of the BULLS eMTN bike with comforts added for in town and long distance commuting. This bike is both comfortable and powerful. It offers the amenities of a city cruiser such as integrated lighting, fenders, rear rack, a contoured seat and flat pedals that work with your business shoes. In addition, you get full suspension, a dropper post, adjustable stem, and four levels of assist on a super charged drive system that get you to your destination with ease. The Iconic EVO is priced at around $5,600, so this isn't an entry-level e-bike. But you get advanced German engineering, full suspension, and some handy upgrades on a comfortable, long-range commuter.
P.S. Don't forget to join the Electric Bike Report community for updates from the electric bike world, plus ebike riding and maintenance tips!
Reader Interactions