BULLS Copperhead EVO HD Wave Review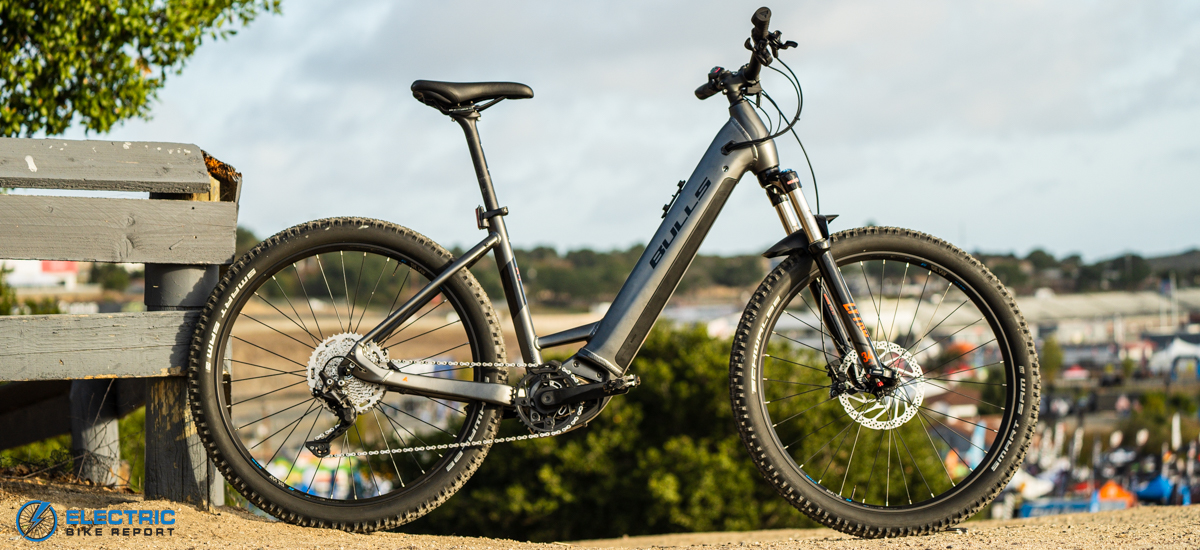 BULLS Copperhead EVO HD Wave Review: A step-thru eMTB
German e-bike manufacturer BULLS is one of the earliest adopters of electric bikes and, while their presence is still growing in the U.S., they've been a longtime innovator in the e-bike space.
Those innovations have gone further than integrating small motors and batteries into well made bicycles. At the 2021 Sea Otter Classic in Monterey, California, BULLS had one of their more eye-catching (and to some, head-scratching) eMTBs on display — a step-thru hardtail eMTB called the Copperhead EVO HD Wave.
Electric Bike Report got a chance to get our hands on the bike and do a short BULLS Copperhead EVO HD Wave review in the hills around the famous Laguna Seca raceway. It's not our typical in-depth review, but it was enough to get some general first impressions of this relatively unique eMTB.
The Copperhead EVO HD Wave is just one of several eMTBs in the Copperhead lineup — including a cool full suspension model and a women's-specific eMTB we'll look at below — but it's one that appears to be getting some special attention.
Why? "We cannot keep it in stock," said Adam Anderson, BULLS marketing manager for North America. "It's so popular … (the step-thru design) opens up a multitude of opportunities for so many riders."
BULLS Copperhead EVO HD Wave: Features and Overview
Step-thru frame mountain bikes designed for legitimate trail riding are incredibly rare. So rare that I'm actually unable to name another one. This is, at least in part, due to the fact that step-thru frames are typically more flexy than standard bike frames because they lack a top tube. BULLS solved this by massively beefing up the Copperhead EVO HD Wave's frame to make it stiffer.
Step-thru and low step frames have also been long stigmatized as more feminine and better suited for commuter and leisure bikes, a prejudiced and dated view on the frame style the bike industry is slowly moving away from. For BULLS, the increased focus on the step-thru, of "wave frame" as they call it, is all about accessibility.
"The reason we did this is because we have a lot of riders coming in who've been mountain bike riders for a lot of their lives — they're really experienced — but they have mobility issues," Anderson said. "Maybe it's a hip issue; a knee or back issue; maybe it's weight; but they really want to get back out there on the trail. This is a fully capable eMTB."
BULLS Copperhead EVO HD: How does it ride?
It's tough to not approach this bike with a bit of skepticism — despite its knobby tires and clear eMTB componentry, it was tough to keep the decades of mental conditioning of what a mountain bike should look from seeping in a little — but that skepticism was quickly squashed as soon as I rode the bike. To put it frankly, the Copperhead EVO HD is killer fun.
It feels stiff in all the right ways and handles with the same sort of quickness you'd expect from a highly-capable eMTB. It does feel different in a way that's tough to put a finger on; maybe the lack of top tube makes the cockpit feel a little more airy, but either way the bike is very fun. The Bosch Performance CX motor is torquey as all get out and the natural body position on the bikes is very neutral and a little more upright.
BULLS Copperhead EVO HD: Specs and components
The Copperhead EVO HD for 2022 will also be equipped with the brand new Bosch Smart System, a new smart integrated drive system built around the ultra-torquey Performance Line CX motor. That Class 1 motor packs 85Nm of torque and is powered by the new 750Wh PowerPack battery, the newest (and largest) battery Bosch makes.
Rounding out the new Bosch bits on this bike is the newly-released LED wireless remote. That remote typically controls the Bosch Kiox 300 display, but Anderson said BULLS opted not to spec the bike with the Kiox and instead chose a stem cap smartphone mount instead. The new Smart System is capable of over-the-air updates you can download from the Bosch eBike Flow app, allowing you to keep your bike's e-bike componentry up to date without visiting a shop.
Anderson said the Copperhead EVO HD will also be available with the standard Gen4 Bosch Performance Line CX system with a 625Wh battery at a cheaper price point.
The Copperhead EVO HD we rode at Sea Otter was equipped with Shimano hydraulic disk brakes and a Shimano Deore 10-speed drivetrain. It also has a total payload capacity of 330 lbs, a remarkably high weight rating that's likely a bonus side effect of the stiffer step-thru frame.
You can also get the Copperhead EVO in a traditional diamond frame, which BULLS was also showing off at Sea Otter. This bike was on display outfitted with a helping of bikepacking bags to highlight its carrying capacity. BULLS actually had two e-bikes set up with bikepacking outfits at Sea Otter, which begs the question: Is bikepacking on an e-bike the next motor-assisted frontier?
The rest of the 2022 BULLS eMTBs at Sea Otter
BULLS Copperhead EVO AM 1
Also on show at the 2021 Sea Otter Classic was a BULLS Copperhead EVO AM 1 eMTB, which is the lowest spec level of four full-suspensions in the Copperhead EVO AM family.
Keeping in step with the mullet trend of 2021, BULLS outfitted the EVO AM 1 with a 29-inch wheel in the front and a smaller 27.5-inch in the rear to liven up the handling while preserving the rollover capability of a larger front wheel. This was another of the three BULLS e-bikes at Sea Otter outfitted with the all-new Bosch Smart System, so like the EVO HD it's also sporting a Bosch Performance Line CX motor, 750Wh PowerTube battery and the new Kiox 300 display and remote.
The BULLS Copperhead EVO AM 1 comes with a Shimano 10 speed drivetrain and Shimano hydraulic disk brakes. We didn't get a chance to test this bike on dirt as these bikes were on display at Sea Otter and needed to stay clean, but the EVO AM felt plush and controlled during the short stint we spent on the bike.
BULLS Aminga EVA TR
Rounding out the BULLS eMTBs on show at Sea Otter was an Amiga EVA TR women's-specific eMTB, which will be again on sale for the coming year.
The Amiga has women's-specific geometry such as a lower stepover height, a shorter reach and 27.5-inch wheels, according to Anderson. It's powered by the Gen4 Bosch Performance Line CX system with a 625Wh PowerTube battery. Unlike some of the other BULLS eMTBs, this one is not getting the new Bosch Smart System due to issues fitting it into the smaller frame.
It's spec'd with 120mm of suspension front and rear, a Shimano XT drivetrain and Shimano hydraulic disc brakes.
Reader Interactions