10+ Bike Trailers for Effortless Haulage [VIDEOS]
By Martin Laird
If you know someone who is still reluctant to the concept of electric bikes, or you doubt their benefits yourself, it's definitely worth taking a look at prospective bike trailers.
They will eliminate some of the excuses you might still be using to not give up the car for errands. E-bikes are certainly a step forward into a brighter and greener future for our planet.
They have become an excellent replacement, not just for bicycles themselves, but motorized vehicles as well. And yet, not everyone has warmed up to them yet.
It's a certain fact that not everyone has the same fitness level of pedaling from one place to another. E-bikes can help with that. Secondly, the inability to transport several people or cargo has been called as one of the main disadvantages.
However, with a little bit of research, all those understandable complaints become mere excuses. There are ways to fix it, and there are options you can choose from to make your e-biking experience as easy and smooth as possible, even with a bike trailer attached.
Below is a guide to traditional bike trailers and here is a guide to powered bike trailers that give you a boost!
1. BOB IBEX Trailer
Photos courtesy of DaveMeehan and BOBGear
Adjustable, durable, and dependable are the perfect words to describe the IBEX bike trailer developed by BOB. It has an excellent 70 pounds carrying capacity that is ready to haul all your supplies, tools, or gear around every terrain without the worry that anything will be lost along the way.
The IBEX is compatible flawlessly with an electric bike and can be taken either through town or the rough off-word terrain for long trips along the countryside. Not to mention the fact that it has a low center of gravity, so it will remove most of the strain from your bike and battery.  
PRICE: $410 (Standard), $440 (Plus, with a BOB Dry Sak included)
2. Tout Terrain Mule Trailer
Photo courtesy of EBikecycleTourists and Tout Terrain
The attention to detail is visible in the creation of the one-wheeled Mule trailer by Tout Terrain. It's sturdy, trustworthy, and incredibly easy to pack with absolutely no fuss on the tighter turns that you might need to make. Given the fact that it's lightweight yet tough, it's the perfect trailer for off-road trips should you venture into rougher terrain. And, as its name implies, the Mule is incredibly hardworking as it takes the strain off your bike, so you can make sure that this loyal companion will effortlessly help you carry loads of up to an incredible 100 pounds.
PRICE: $750
3. Farfarer Trailer
Photos courtesy of Farfarer
A very modest addition to the list that is perfect for those long rides through the mountains and rough terrain. Whether it's rocks, snow, or grass, the trailer will be ready for any kind of ride, stably attached due to the long and curved tubes that comply to your every movement.
It makes it an especially good option for carrying a simple piece of cargo or a picnic as you travel around or beyond the urban jungle.  However, it's carefully handmade, which takes around two months to make, so make sure your patience is ready and order it ahead of time.
PRICE: $450
4. Wandertec Tuba Trailer
Photos courtesy of BikeShopHub
Whether it's for children, pets, some touring or other loads lighter than 75 pounds, this is the most accommodating and easy-to-use bike trailer there is. It can carry even more, depending on your choice. Take it while you're out for groceries, to the hardware store, or may take a hefty picnic with you to enjoy with your friends and family.
It has been said that when combined with an electric bike, the spacious Wandertec Tuba Trailer is the perfect replacement for your car. It's light, easy, and affordable.
PRICE: $400
5. Thule Chariot Cougar Trailer
Photos courtesy of Thule
Sometimes, your needs go beyond the regular load of groceries and a small picnic. The Thule Chariot Cougar is the cheapest trailer offered by the company that is meant for your child to sit in comfortably while strolling through town on your bike. It's one of the most popular choices for active families who value the importance of fresh air and exercise. It has a beautifully dynamic design with an adjustable suspension that will make certain they will not feel the rough bumps in the road during nap time.
The Chariot Cougar has a 75 pounds carrying capacity that can be easily attached to your e-bike or even turned into a modern-looking stroller to take along with you for a jog. The concept alone expresses an ease of use, durability, and safety enforced by the 5-point child safety harness.
PRICE: $700
6. Wandertec Bongo Trailer
Another entry from Wandertrec, this product is designed with a can-do attitude and a "carry anything" philosophy in mind. It has a thick load bed that's durable and ready for any kind of travel for extended trips.
It has a universal hitch system, which means that it can comfortably fit with any type of bike, including beloved e-bikes. According to Wandertec, the Bongo has one of the securest and strongest attachments currently available on the market.
PRICE: $360
7. Burley Travoy Trailer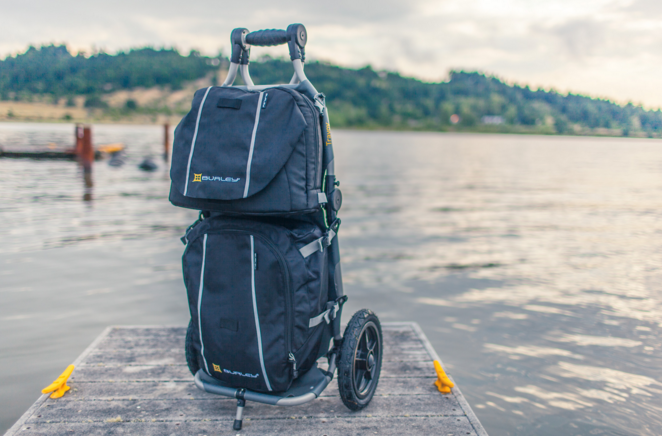 Photos courtesy of Burley
Practical and innovative, the Travoy is the perfect companion to your e-bike. Its 60 pounds capacity is an underestimation of its true capabilities, which could actually go up a few pounds without much worry. The new system makes it convenient to carry a good number of items, including bags and suitcases, with ease.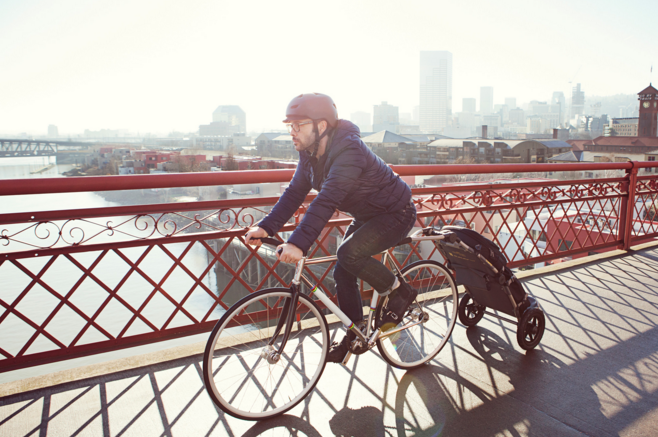 It's easily detachable, has a very simplistic design, and folds to the size of a briefcase when you no longer need it. So, you don't need that extra rack anymore. Just get the Travoy for an effortless haul.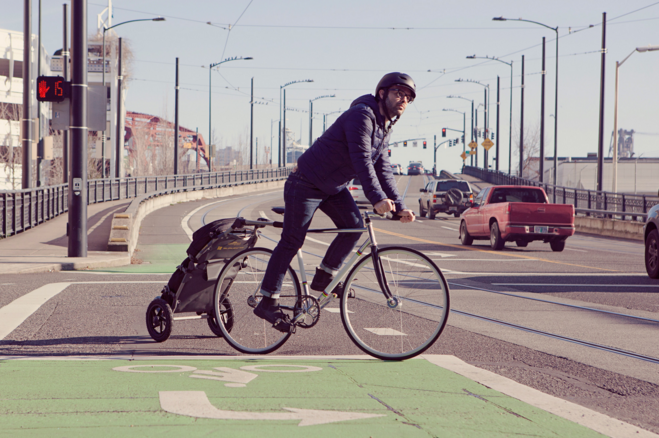 There is a full review available should you need more information about this innovative trailer for your e-bike. Even more, there's a video available to see bikers' reaction to the fresh product.
PRICE: $250
8. Extrawheel Bike Trailer
Photos courtesy of Extrawheel
Beyond the rough-looking trailers that you can hitch to your e-bike arrives the Extrawheel, with an inventive and new design that might just be perfect for you. Believe it or not, it's both a unique bike trailer and precisely what its name implies: an extra wheel.
If you're ever stranded and find yourself in a dire situation, Extrawheel will be the adequate replacement that will swiftly help you travel to the nearest service. And that's beyond its nearly 77 pounds carrying capabilities.
PRICE: $300
9. Croozer Cargo Bike Trailer
Photos courtesy of Fietskarren
With a robust aluminum made, the Croozer Cargo can become one of the most reliable trailers you can hitch up to your e-bike. It's not only impressive in terms of the amount of weight it can handle, which is around 88 pounds, but it's also protective of your load.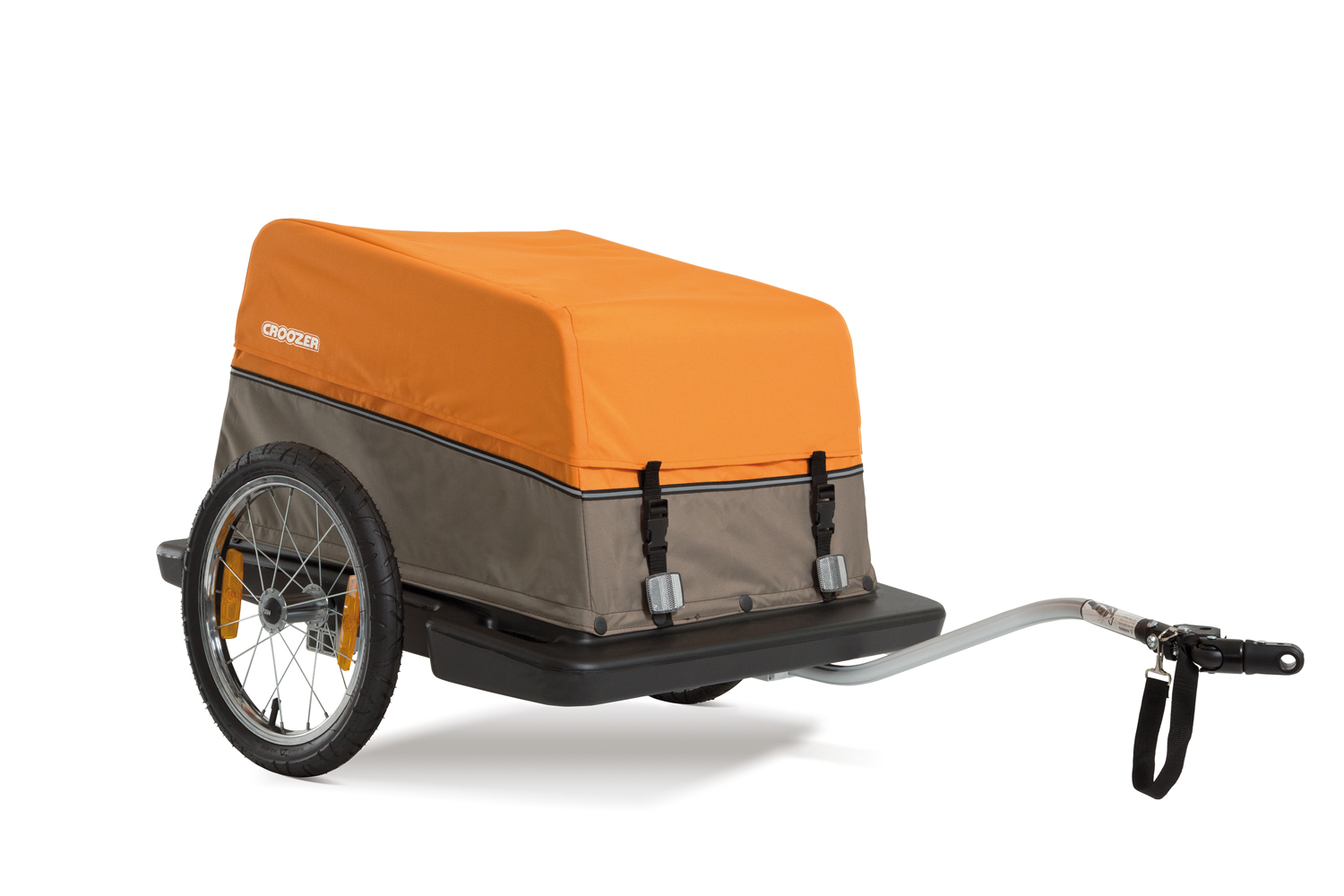 With the aid of the sunset orange cover, anything that you place within the Croozer Cargo will remain dry and clean. And, it will make sure that no matter how bumpy your ride gets, nothing will be falling over the edge. So, you can say goodbye to that constant habit of looking over your shoulder to make sure it's all safe.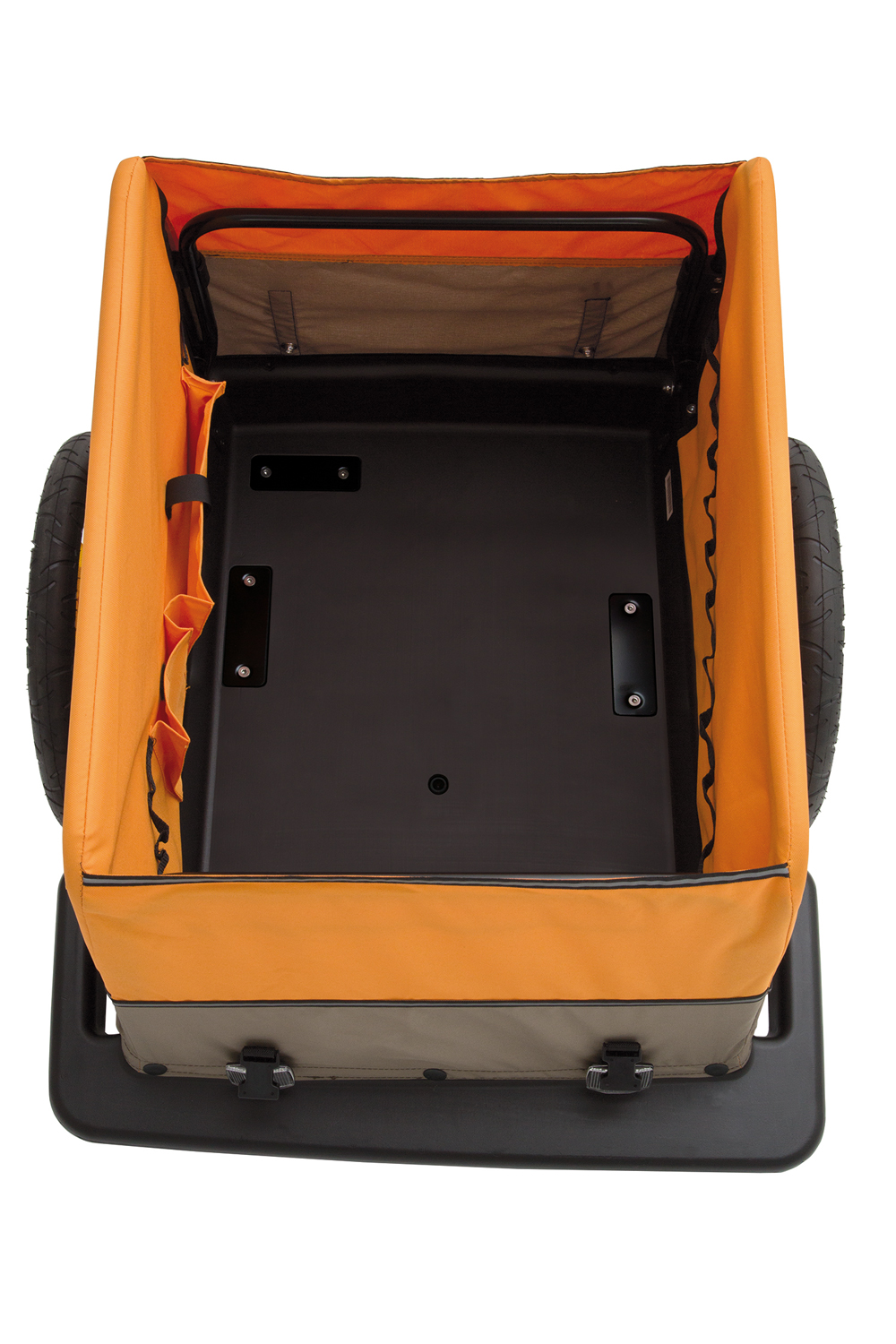 PRICE: $350
10. Cyclone IV Trekking Trailer
Photos courtesy of Radical Design and BikeAndTrekking
As the fourth generation of the award-winning Cyclone trailers, Radical Design's product holds all the traits you're looking for. It's not only aesthetically pleasing and easy to use, but it's also the perfect trailer for every terrain. Due to its lightweight, red rain cover, it will keep anything you have safe from nature's elements. It can keep itself in perfect balance and makes for an incredibly smooth ride, that will make your cargo feel feather-light.
Even more, the Cyclone IV is exceptionally convenient because, with a few twists and turns, it can turn into a very spacious duffle bag. If you're riding through rougher terrain that you're not sure the trailer can handle, all you have to do is convert it into a duffle bag, in a quick and easy motion.
PRICE: $660
11. SharperBike T-1 Bicycle Trailer/Luggage
The SharperBike T1 is a lightweight (11 pounds) urban trailer that converts to rolling luggage!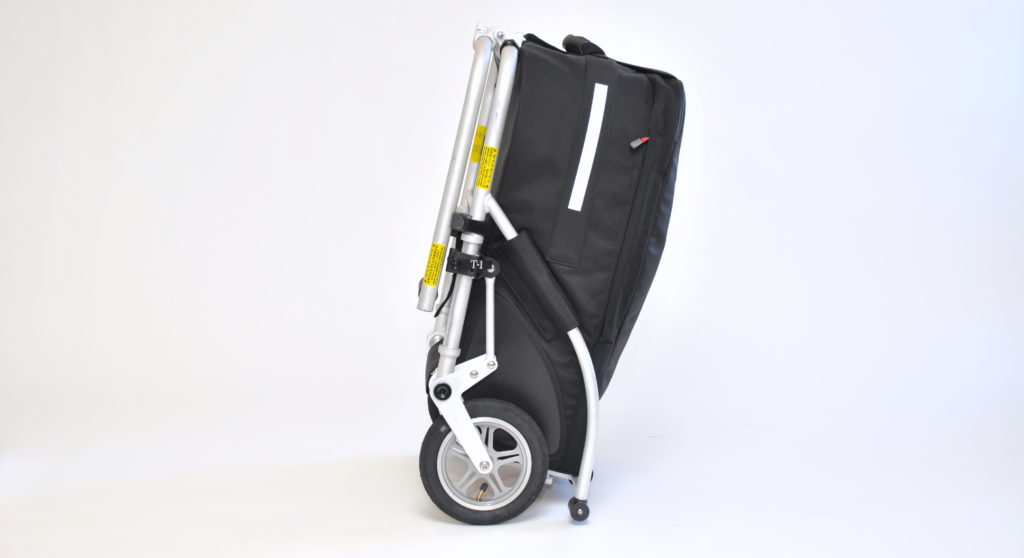 The T1 is designed for shopping, carrying your daily commute gear, running errands, and checking it in at the airport as checked baggage. Each T1 folds down to a very small size and includes a storage bag for easy transportation.
PRICE: $395 More info
Ultimately, it boils down to your preference and needs. Every single one of these trailers will go smoothly with your e-bike and aid you in traveling with that extra cargo. They will surely make your rides more productive and, hopefully, work their magic in persuading you that switching to an e-bike is the right choice. With both a practical use and an ecological meaning behind their capabilities, these bike trailers represent the step forward in the new and greener age of transportation.
And make sure you checkout this guide to powered bike trailers that give you a boost!
Author Bio: Martin Laird is an eco-friendly design expert who customizes quad & bike trailers. He loves exploring the city and its surroundings with his bike and is secretly dreaming of owning his own Haibike XDURO Fatsix. 
P.S. Don't forget to join the Electric Bike Report community for updates from the electric bike world, plus ebike riding and maintenance tips!
Reader Interactions