ARCC e²-pod Moulton Electric Bike Review – a British Classic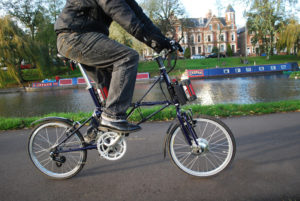 By Richard Peace.
As an experienced electric bike journalist ARCC caught my eye as being both different and extremely interesting on several counts.
Firstly they have designed their own system in the form of the e²-pod (more on that later), secondly they were using the system on an iconic British bike design, the Moulton, and lastly they part-manufactured and assembled the bikes in their hi-tech hub in Cambridge, UK, which probably needs no further introduction, even to US readers.
Visiting ARCC I was shown around by Rai Virciglio, one of the key people behind the e²-pod system, the other being Edward Atkin CBE, who sold his mother and childcare, baby products manufacturing business and chose to reinvest some of the profits on the sale into the development of ARCC Innovations.
The factory is pristine, immaculately organised and packed with high tech machines which were explained to me, including facilities for 3D FDM printing, 5 axis CNC machining of solid aluminium (from which the controllers are made), 3D SLS sintering and much more. All hugely impressive.
But it wasn't just high tech and capital investment that impressed but the attention to detail, from the specially designed components for the e²-pod controller (including their own profile designs of fixings, waterproof seals and even the control knobs) to hand built wheels.
Both Cinelli and Moulton bikes were lined up in the assembly area. A generation of British engineering and bicycle fans have grown up revering the Moulton name.
Alex Moulton pioneered the use of small wheels along with elastomer suspension in the 1960's to produce a bike that regularly broke UK long distance speed records in direct competition with its larger wheeled cousins.
I just couldn't refuse an ARCC powered Moulton for a long term test.
The Test
This hub motor system is powered by a standard Bosch power tool battery using ARCC's own very clever docking and control system machined out of solid aluminium at their Cambridge facility. This is then allied with a small, geared front hub motor.
I tried the Moulton TSR. With its four widely spaced gears (two automatic hub gears and two chainwheel gears) plus front wheel hub activated by a torque sensor, the ARCC system is simple and intuitive to use. Indeed, in testing the bike more than lived up to its reputation for speed and comfort.
The uniquely beautiful spaceframe design of the TSR model splits in two fairly easily by undoing a single allen key bolt and separating the gear and brake cables with screw connectors; you are then left with two smaller and more easily stowable packages.
A little more detail on the e²-pod control unit is certainly merited. The first thing you notice is that it is just so well made, right down to the clever spring-loaded 'double lock' system for mounting and dismounting.
An equally solidly made docking unit stays firmly fixed to the bike. It works very smoothly in conjunction with the bottom bracket integrated torque sensor and you can dial in as much or as little power as you wish.
Other impressive touches include the ARCC made front fork dropout fittings which ensure the motor torque drives the rider forward, rather than stressing and ultimately making a mess of the dropouts, and the bespoke cable clips and connectors which ensure neat cable lines and easy removal of the front wheel for puncture changing.
During the factory visit I was also shown the smartphone app which gives the rider greater control over the power levels and other performance parameters and a new handlebar mounted wireless control, meaning the rider won't have to bend forward to alter the power level knob.
The fast charger will re-charge a battery in around an hour and ARCC also offer an equally elegant spare battery holder that fixes onto the bikes.
The e²-pod control unit has both USB and micro-USB sockets which is handy for device charging (smartphones, GPSs etc) and is sleek, stylish and very sophisticated.
It has a variable power control knob and the On/Off button also allows you to switch to A+ mode, utilising the inclinometer that senses the gradient you are riding up and kicks in more power according to its steepness. Along with the battery the e²-pod control unit is easily removed, leaving you with a lightweight bike which can easily be ridden without electric power.
There is also a traffic light/hill start launch control function. This can be activated by applying both brakes and pressure to the pedals. When the brakes are released and the rider pedals, the e²-pod will deliver maximum power to the motor for a period of three seconds, enabling an effortless get-away to be achieved for safety, when moving away from traffic lights, crossings in heavy traffic and hill start.
I used the bike on a regular and hilly trip through the South Pennines of northern England and found it completed my 16 mile round trip on just one battery set to A+ and a bit of careful adjustment of the power levels to suit the terrain as I went along.
There were plenty of 10% (1 in 10) hill climbs (and occasionally steeper) en route. It returned remarkably low power consumption of 9Wh per mile.
The combination of light bike, simple gearing and a sporty riding style creates a virtuous circle; both human and motor power are used efficiently meaning the small batteries punch above their capacity in terms of range. And should you run out of battery power the combination of light bike and motor freewheel means a bike you should be able to ride home without power.
Downsides? Well, if you baulk at paying for the best quality price might be one and if you are after the most powerful electric bike out there you'll want to look elsewhere. But if you want a piece of classic British design and one of the nicest riding electric bikes out there, look no further.
Specs
Total Moulton TSR weight with one battery and controller = 38.6 pounds or 17.5kg (Cinelli total stated weight = 27.3 lbs or 12.4kg).
Motor: 250 watt geared front hub
Battery weight: 2.75 pounds or 1.25kg
Removable controller: 2 lbs or 930g
Battery capacity 144Wh (capacity easily doubled using the spare battery holder)
Gears 2 automatic hub gears (high and low gearing options available)
Price: £2,799 – £2949.99
Thanks to Richard Peace for this report. 
Richard Peace is an experienced cycle journalist whose work and range of cycle publications can be found at richardpeacecycling.com
His company's book on electric bicycles is available here.
P.S. Don't forget to join the Electric Bike Report community for updates from the electric bike world, plus ebike riding and maintenance tips!
Reader Interactions