2,800 Miles in 10 Days to CES w/ Electron Wheel eBike: Interview with Max Lippe [VIDEO]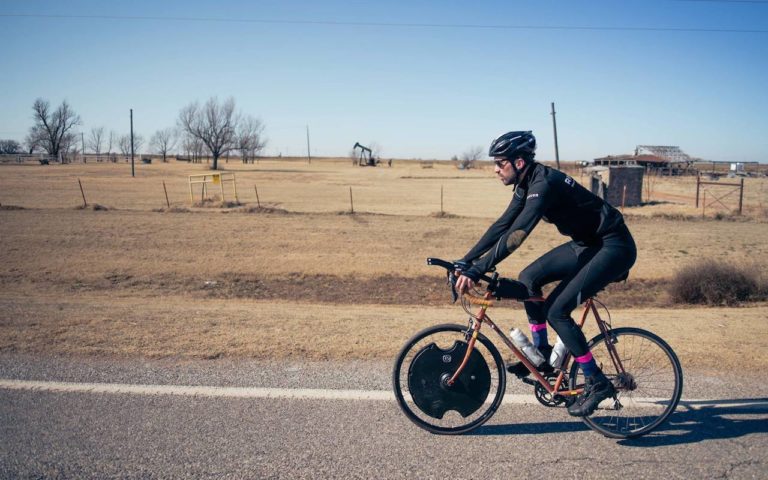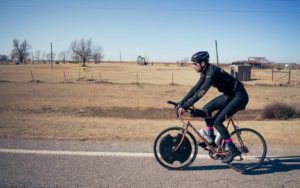 2,800 miles in 10 days eBiking from New York City to Las Vegas through snow, ice, and wide open lonely roads.
That is 280 miles in a day on average that Max Lippe rode his Electron Wheel to the Consumer Electronics Show (CES) in Las Vegas in January.
In this interview Max gives us some perspective on his grueling eBike adventure that includes how he managed to ride that much on his eBike, what he ate, the highlights, the challenges, the funny times, and more.
Enjoy this interview with Max Lippe!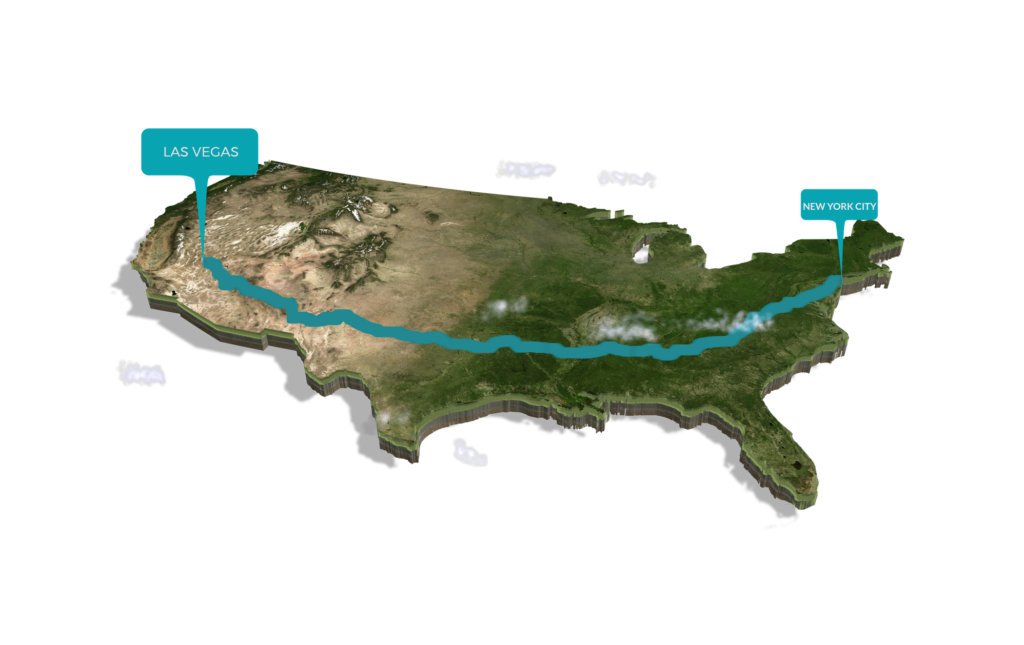 Pete: 2,800 miles in 10 days is 280 miles in a day at an average of 16 mph is 17.5 hours of riding each day.
And that is just the riding time, not including stops!
That is very little sleep. How did you accomplish that?
Max: Haha it is a lot of time sitting on a bike! One of the major differences to this ride versus other tours that I've done and that most people do (aside from the e-bike) is that this was a supported ride.
That means that there is a van following me, picking up food/water/gatorade along the way, and handing me whatever I need out the window so that I don't need to get off my bike. Basically the only times I would get off the bike during the day were a few minutes to switch out the wheels whenever the battery ran out or quick bathroom breaks.
That is a luxury that most people don't have when doing these things! On an unsupported ultra ride like this, the rider has to get all their own food and water, which means they spend a lot of time standing around in gas stations.
The 16 mph average was a conservative estimate I made before the ride, but the reality was that the average speed was around 18mph, which was pretty awesome. That meant I got to spend more time sleeping!
There were some days that I spent around 17 hours on the bike, but for the most part we were able to achieve the desired mileage with around 15 hours on the bike.
Even so, because of the length, these rides are all about conservation. If I put out a bunch of effort one day and cut down on sleep, I would inevitably pay for it and feel weaker for a day or two after that. You have to really measure your effort across the days you are on the road.
That said, the beauty of the e-assist is that you can pedal softer when you don't feel strong and the wheel will pick up your slack and keep you at high speeds. Rides like these are full of constant emotional and physical swings.
One hour you feel like you can ride across the country twice, the next hour you think you might fall asleep on the bike. When you feel good, you put out more power and the wheel does less work.
When you feel bad, you put out less power and the wheel does more work. Either way, your average speed stays pretty consistent (though obviously the battery gets used faster when you do less).
Pete: Did you have multiple Electron wheels to swap out when the battery was running low? How many Electron wheels did you have?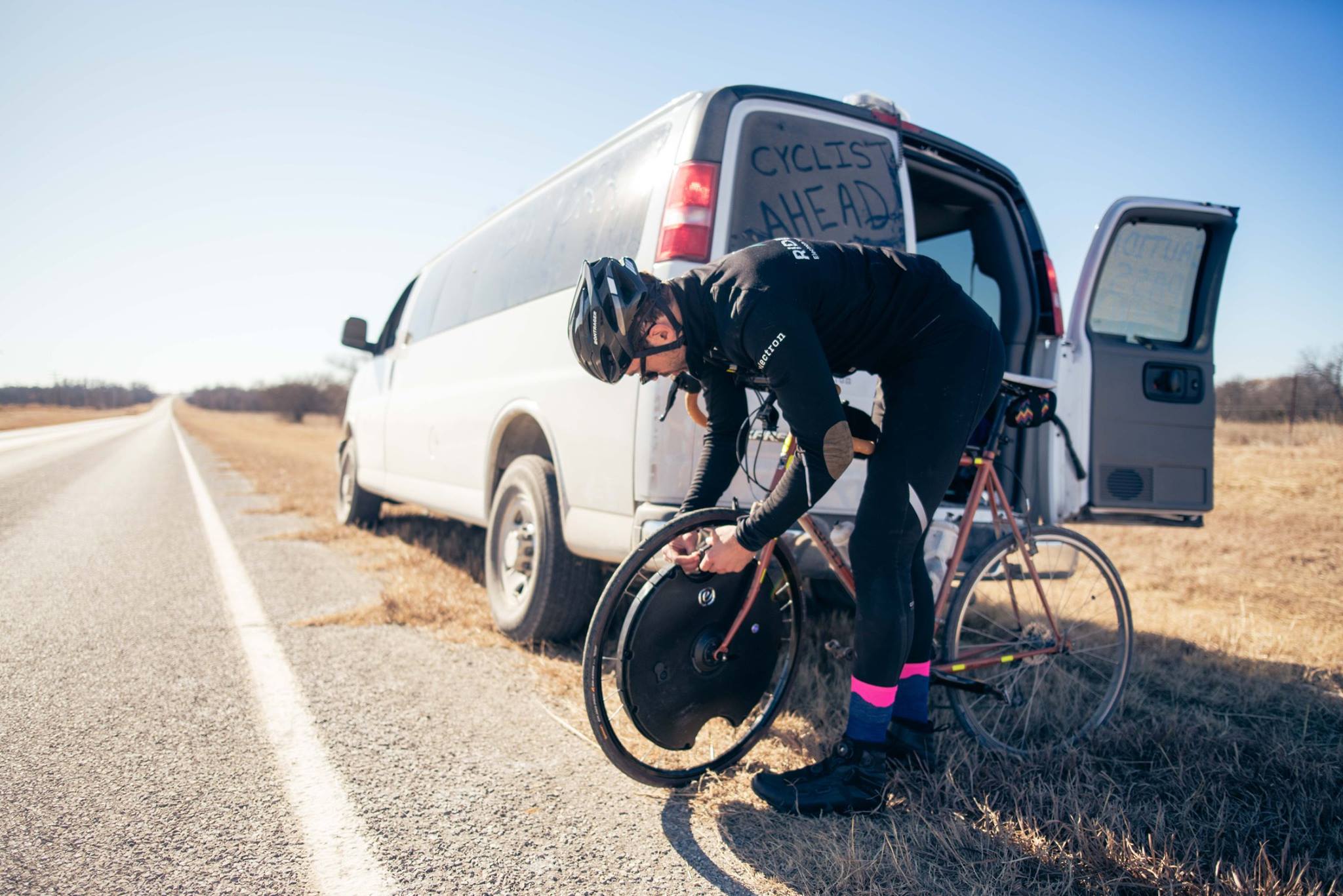 Max: Yep! We had I think 10 wheels total, so plenty of extras. We had a charging system set up in the van that ran off the engine and allowed us to charge wheels while on the road.
Pete: Could you give us some of the stats from this ride? (Total miles, elevation, electricity cost, etc.)
Max: Unfortunately I really didn't track the cumulative stats, but the longest day was 305 miles, 17 plus hours in the saddle, and most were somewhere around 250 miles with 15 hours or so on the bike. No idea on elevation or electricity!
Pete: What kind of bike did you use and are there any special features that help for a big ride like this?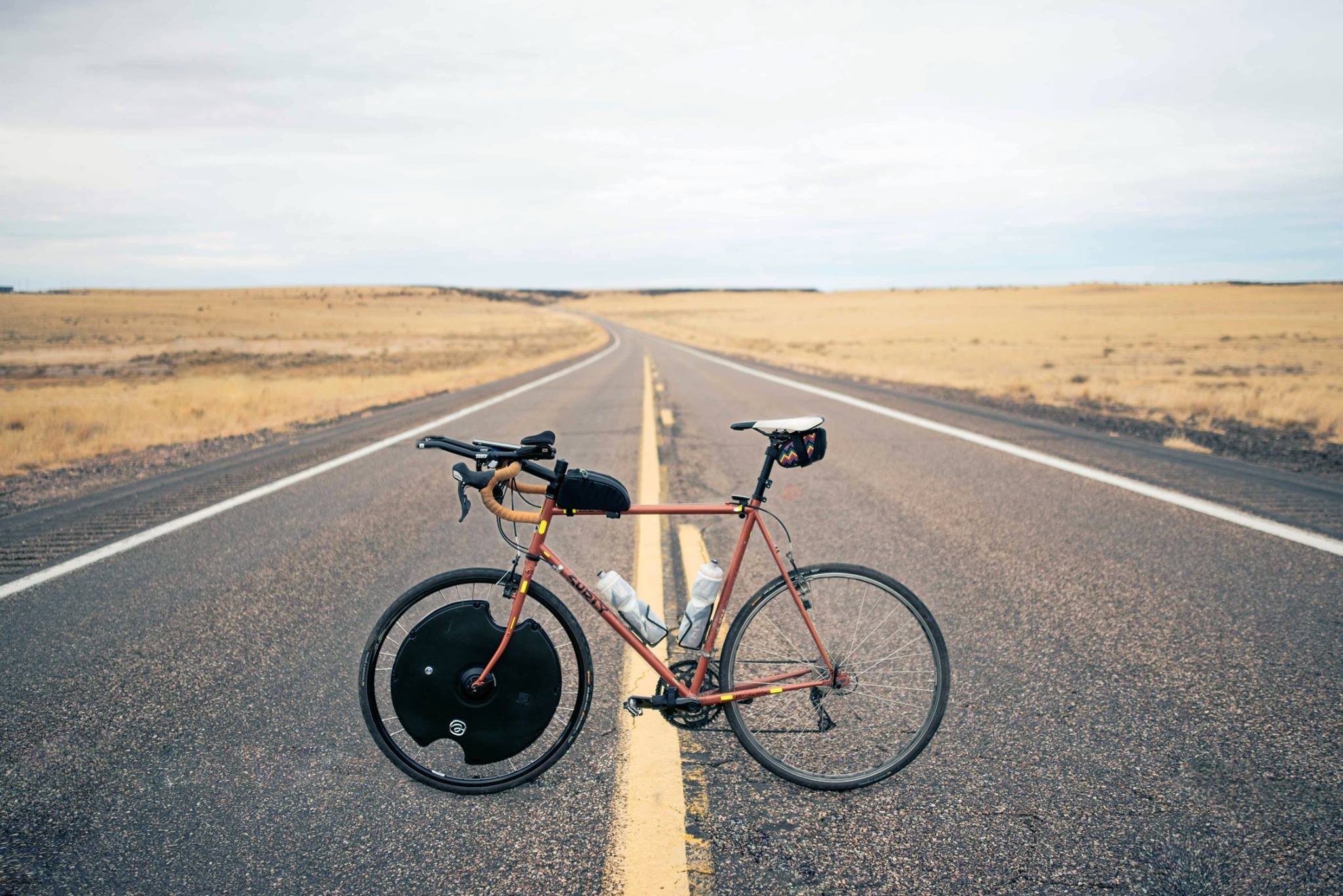 Max: I used a Surly Cross Check, which I chose for the stability and comfort of the steel frame. Surly makes bomber bikes that are meant for long distance rides like this, so are generally pretty hard to break and easy to get repairs done when it does.
We had zero issues with the bike so it was definitely the right choice!
Pete: What are the big take aways of using electric assist for a long distance tour?
Max: I wish I could say that an eBike makes the awesome activity of bike touring more accessible, but it would be impossible to do the distance and speed that we did without a support van charging spare wheels, so it's hard to say that it's an approach that is easily replicated. I'm sure someone could do a tour with an Electron Wheel, but it would look a little different.
The biggest differences for me on this ride between having the Electron Wheel versus not was the speed it allowed me to reach. I still pedaled hard, but my average speed was around 4 mph faster that it would have been without the wheel, and that is a huge margin over that many miles.
It also allowed me to pedal softer at times but keep my average speed high, something that is really significant when sometimes–whether its crossing Oklahoma or making the 5 mile ride home from work– you just don't feel like pedaling hard but you want to get there fast!
That said, my biggest take away is just how much more accessible eAssist makes riding your bike in general. While there is the obviously barrier of having the money to spend on one, I'm starting to use the Electron Wheel on my own to commute to work, and it's awesome.
I save money on gas and get to enjoy a bike ride on the way.

Pete: The new Electron Wheel has Google Assistant features built in. What features were most helpful during your ride?
Max: Voice control of the wheel in freezing temperatures so I didn't have to take off my two layers of gloves to touch the screen!
Pete: What is your background in endurance riding?
Max: I've done a number of overnight "tours", multi day rides on the bike, including one from Denver to Seattle in the summer of 2016. I did the Trans America Bike Race in the summer of 2017, a 4270 mile, unsupported race across the US and I finished in just over 20 days, 9th out of the 131 riders that started.
You can read about that race in a series of blog posts that I wrote here.
Pete: What kind of food do you typically eat on a big tour like this?
Max: I ate different food that I would have normally on an unsupported ride. Because my sister Emily and the photographer Eugene, the two peeps in the support van, were able to shop a grocery stores, make me sandwiches, and get whatever food my hungry heart desired, I ate really well!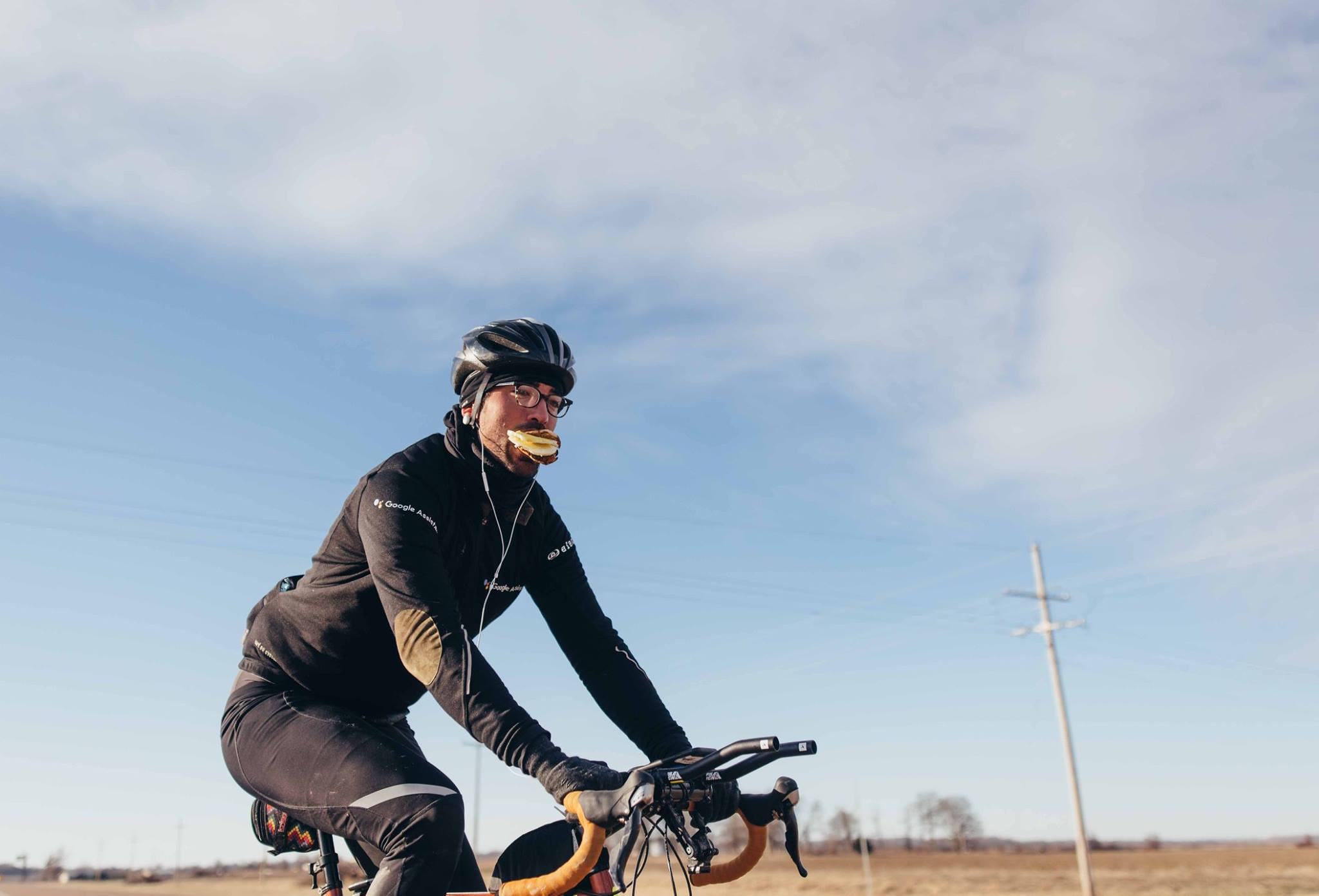 They made a lot of nutella and banana wraps, turkey pesto sandwiches, and other delicious treats. They also would drive ahead and pick up big meals from restaurants and hand them to me while riding. Those were normally burritos or cheeseburgers.
You literally can't eat enough calories on these rides to make up for what you are burning, so you just constantly eat whatever you can, and keep shoving food in your mouth.
It gets to a point where you don't want to eat but need to, and you end up being super picky about what you will eat and what your body needs.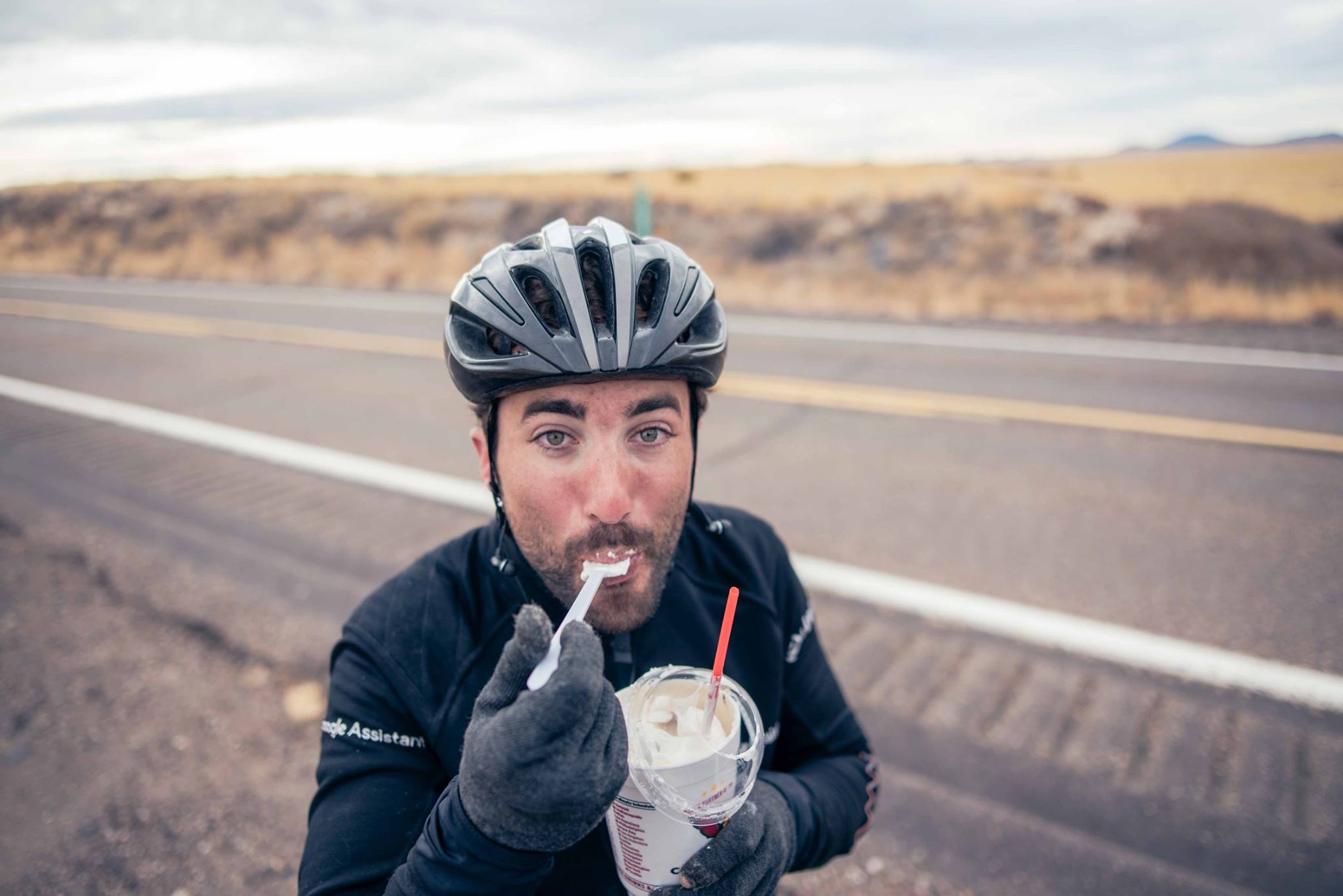 In one moment, your body might desperately crave a fatty cheeseburger, and in the next a sugary, sweet nutella wrap. Eating is a strategy on these rides and, along with sleep, probably the biggest factor in your success.
Pete: How did you handle the snow? Did you use special tires?
Max: With a lot of layers! We left New York City on the coldest New Years Eve in recent history, and it had also snowed half a foot the day before. I had 7 layers on at points, along with multiple layers on my hands, feet, and head. It was cold.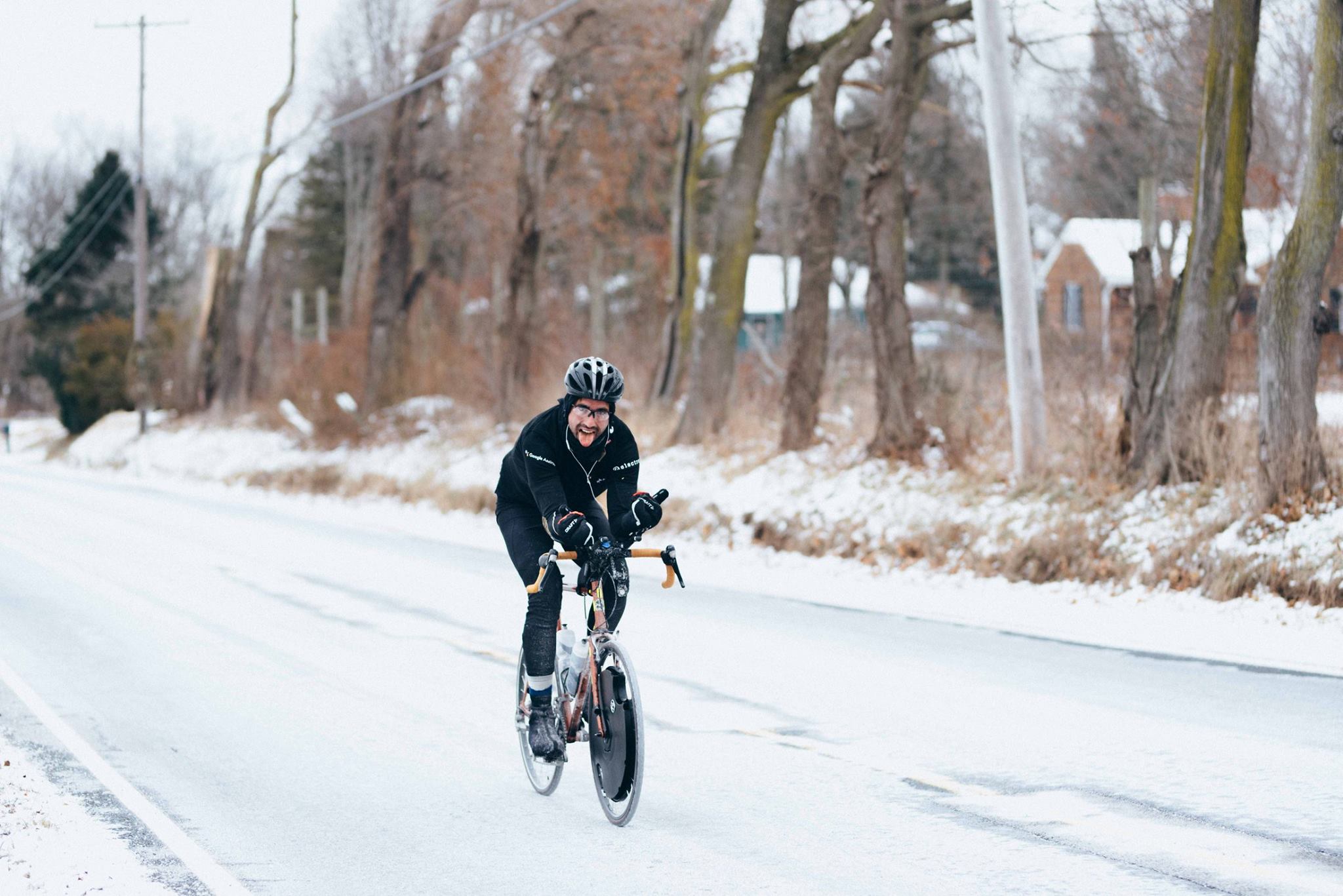 It didn't really snow while I was riding, but there was still snow on the roads. At times I used a studded bike tire (a treaded tire with metal spikes coming out of it) which gave me plenty of traction on icy/snow roads.
Other times I was too focused to change the tire and just used a normal road tire on the snow, which was sketchy. I slipped and fell while turning once on day one, but at a pretty low speed.
Pete: What was the high point(s) of your adventure?
Max: Without a doubt, among all the awesome aspects of riding a bike across the country, the best part of this adventure was doing it with my sister Emily.
Obviously it's fun to have shared experiences with your family, but she also just brought positive energy and good vibes that made the experience that much better. I can only hope that she feels the same way about having to make me sandwiches and follow me in a van at 18 mph…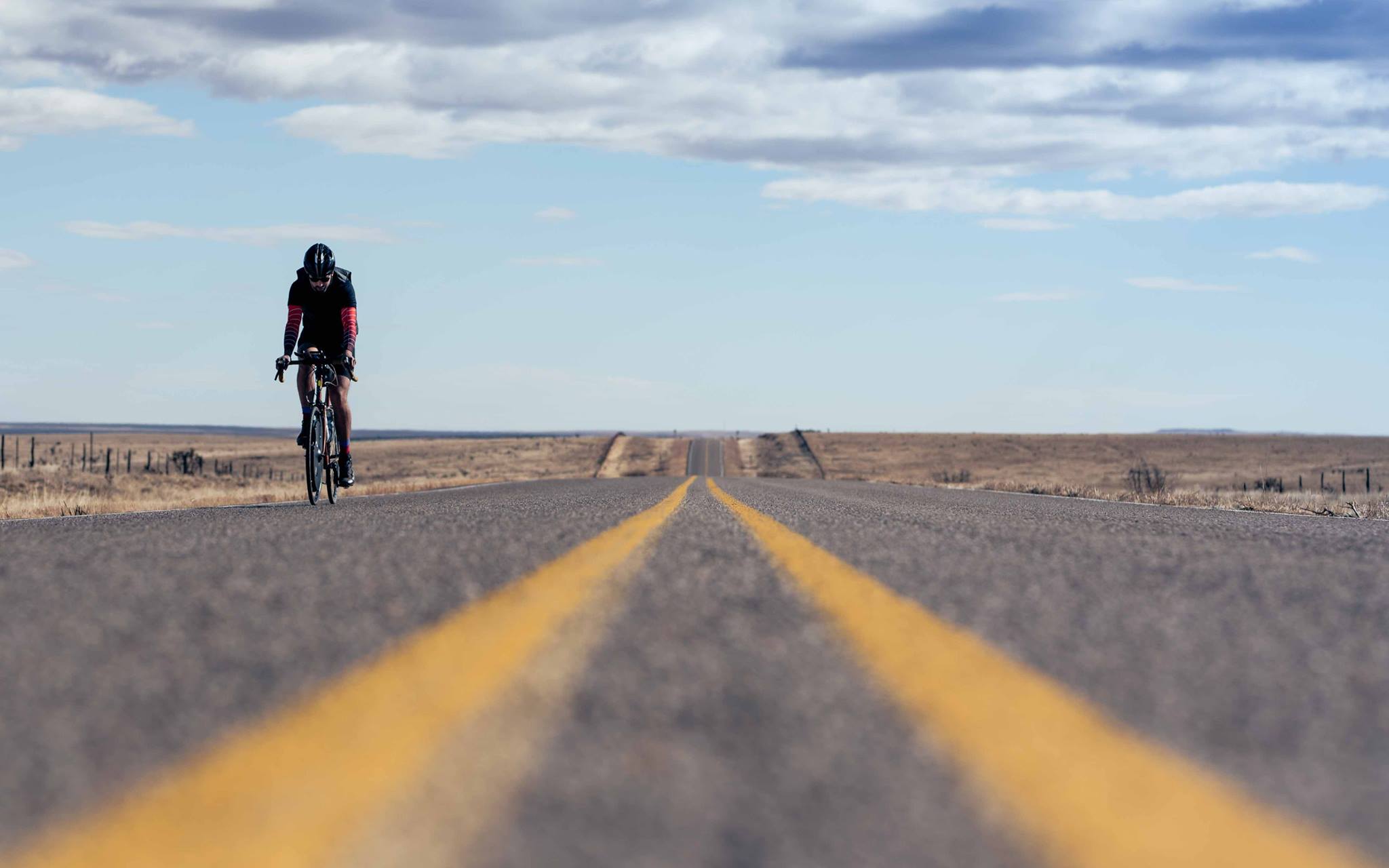 In terms of riding, I think the high point was on day 9, a 305 mile day from Magdalena, NM to Flagstaff, AZ our longest day on the road. We were always on the road before the sun came up and were treated to many beautiful sunrises, but this sunrise was particularly awesome.
We rode through mountains, national forest, and wide, flat valleys that had been sorely missed in the long trek across the plains of the previous few days. It was a fast day through beautiful, unique terrain.
We also started to feel like Vegas was getting close and were able to look back on the hard work of the previous days.
Pete: What was the biggest challenge(s) of your adventure?
Max: Where to start! This was a pretty big logistical undertaking and one of the biggest challenges was dealing with all things in the van: people, wheels, food, etc.
I wasn't the only one on this trip, and had to keep in mind what was going on with the people in support as well. We all had to stay extremely focused on the wheels as well, and Emily and Eugene had to make sure we tracked the charge levels and health of all the wheels, which they did an incredibly good job of.
The job of the Emily and Eugene in the van is incredibly hard. They sleep almost as little as I do, and have to keep their focus while spending upwards of 17 hours a day sitting in a van going maybe 18 mph.
That is really hard to do, and I think harder that keeping your focus while riding a bike. They did that while having to track the wheels, take photos, keep devices charged, get food, and do whatever it took to keep me safe and riding my bike.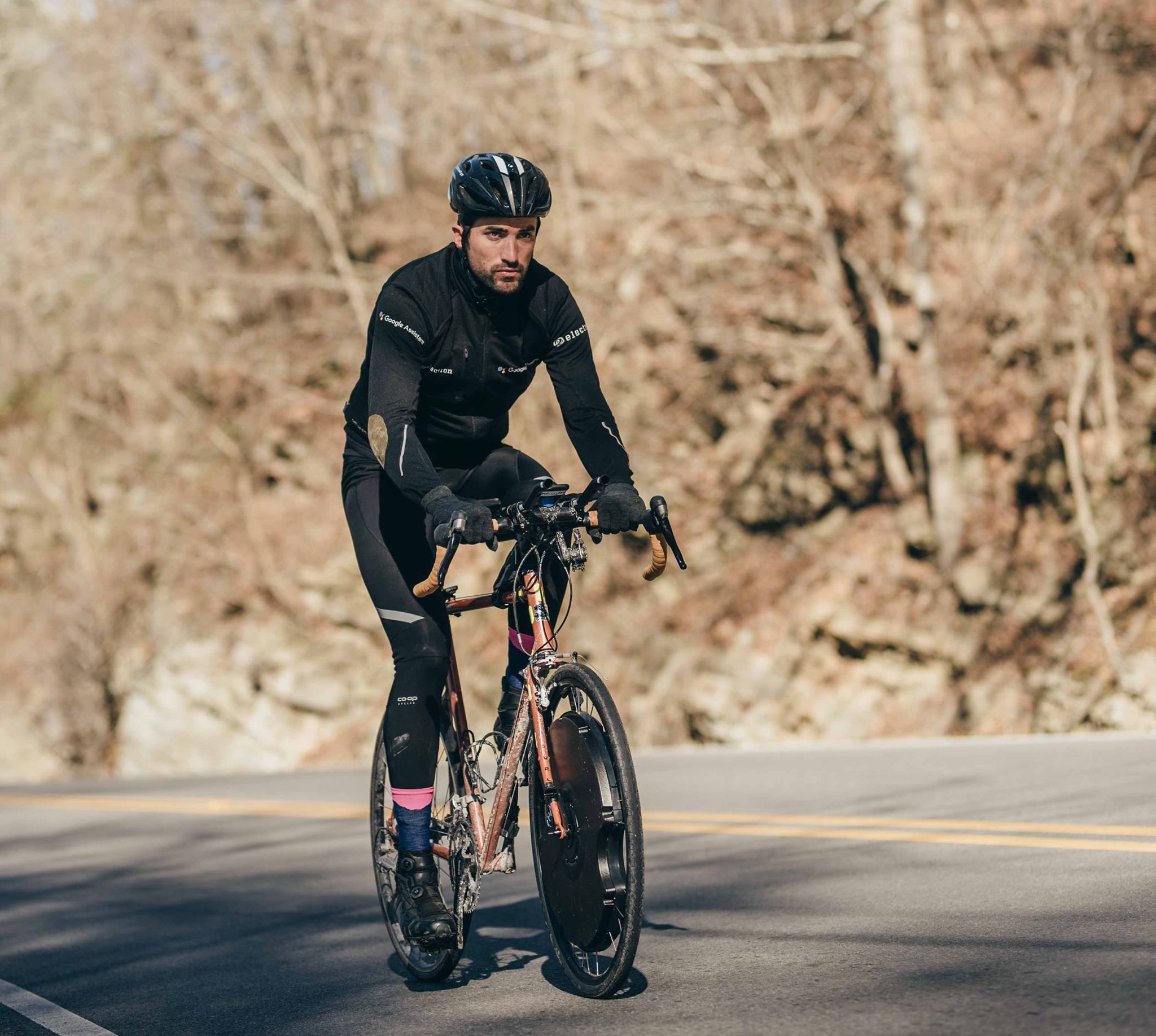 Doing this in January instead of June means contending with winter conditions. The cold weather we faced lead to malfunctioning electronics, frozen body parts, and uncomfortable layering.
It also meant spending far more energy than normal trying to stay warm on the bike. We also did this at a time of year that sees the least amount of daylight, so a huge amount of the riding was done at night.
If we rode 16 hours on a given day, maybe 7 hours of that was done in the dark or lower light. The strategy for the support vehicle is totally different at night and it gets harder to do a lot of things.
We rode so much at night it was hard for me to have a front light charged and I often ended up riding with only the lights of the support van behind me. It is a lot harder to see the road ahead and the small obstacles that might knock you off your bike.
Pete: What was the funniest thing that happened on your tour?
Max: There are a lot of crazy things that happen on these things haha.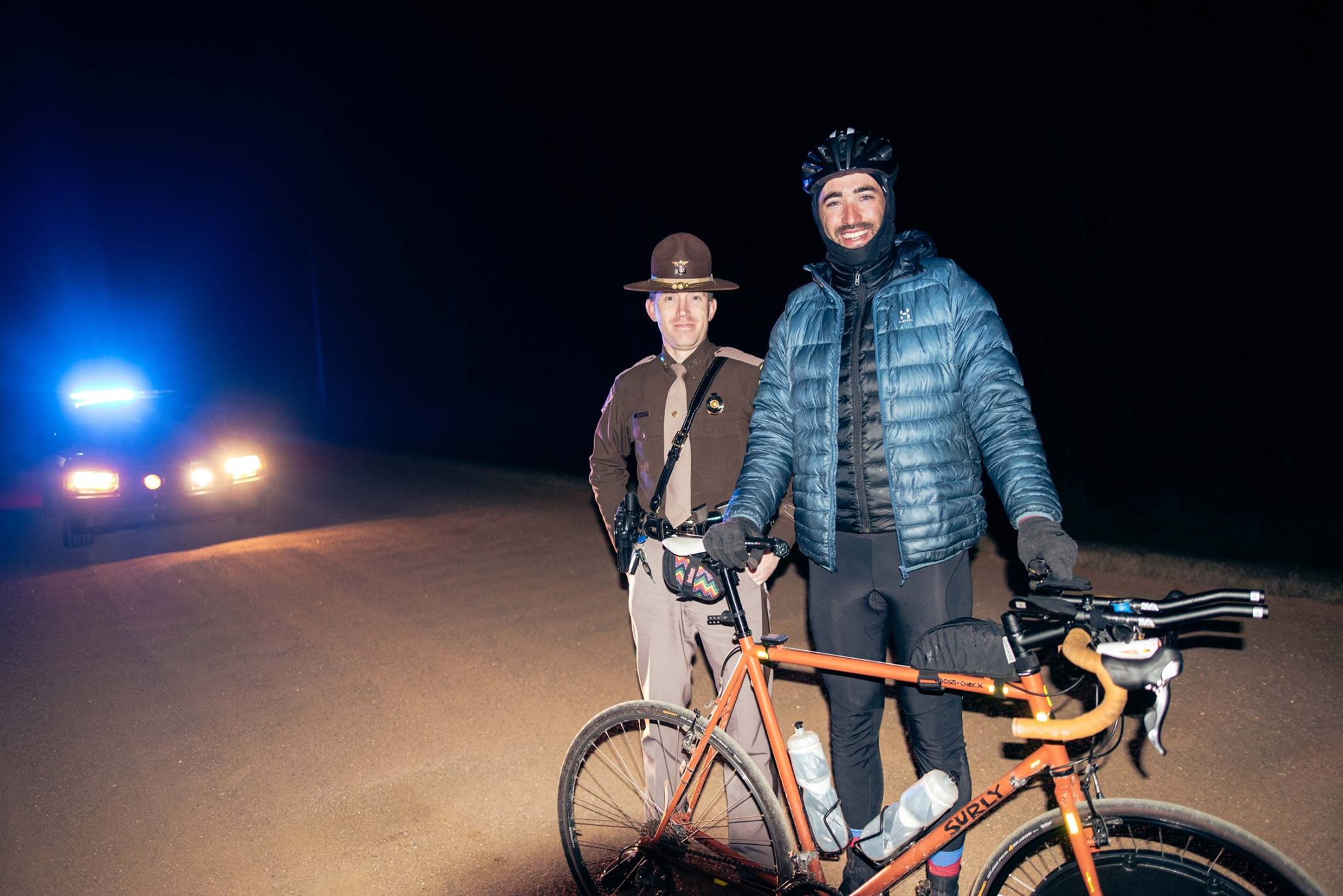 We got pulled over in rural Oklahoma twice in one night and got to take some pics with a police officer who was pretty baffled by why I was on a dirt road in the middle of Oklahoma at 11 pm.
Pete: Was it surreal to arrive at the buzz of CES and Vegas after so many days of solitude?
It was such a unique ride and overall experience to have people outside the ultra cycling world that actually paid attention, it was just super fun to engage with the wide assortment of people at CES.
I was really, really lucky to be a part of this and to have Emily there, so I tried to just take it all in and enjoy it. Because of Emily and Eugene in the support vehicle, I wasn't quite as isolated and lonely as I had been on the Trans America race so it wasn't too weird to interact with people again.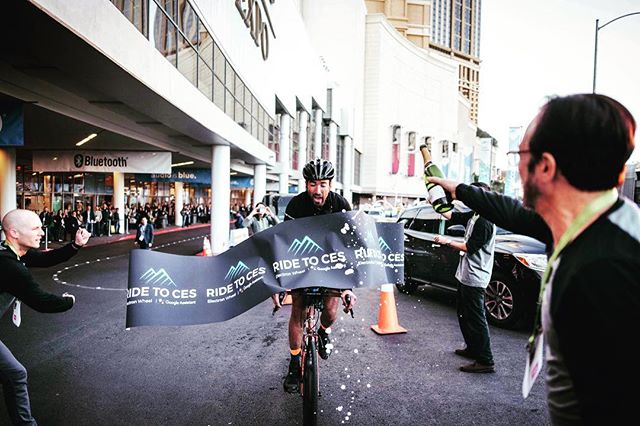 I slept for 12 hours straight as soon as I got there though.
One of my goals of doing this was to draw some attention to some of the insane things people in the "ultra cycling" community are doing on bicycles and the accessibility of those adventures to an audience outside of that community.
There are so many cool events popping up around the world and interesting characters in ultra cycling world right now. Whether it's the Trans America Bike Race, the Indian Pacific Wheel Race across Australia, the BikingMan series in Europe, the number of events is exploding.
The characters are also super compelling. The women are dominating the men in many events, and that trend continues. Lael Wilcox won the Trans America Bike Race in 2016 and Sarah Hammond won the Race to the Rock in 2017.
Curve Cycling, Sarah Hammond, and Jesse Carlson in Australia are creating new events, leading the ultra cycling world, and doing things that even non-cyclists can get excited about. All these events and people have websites, tracking pages, and Instagrams that make it easy to watch and engage in the events and with the riders.
The best part, by far, of the majority of these events (particularly the Trans Am) is that there is no pre-qualification. Anyone can show up to ride on any bike (though not an eBike) with any level of experience and the races give a reason to push themselves in a way they don't normally do so and see new parts of the world by bicycle.
Pete: Do you have any plans for another big eBike adventure?
Max: No idea! Whether its on an eBike or unsupported, I'd like to see how fast I can ride from San Francisco to Los Angeles (where I live), and that is probably the ride that I'll do next.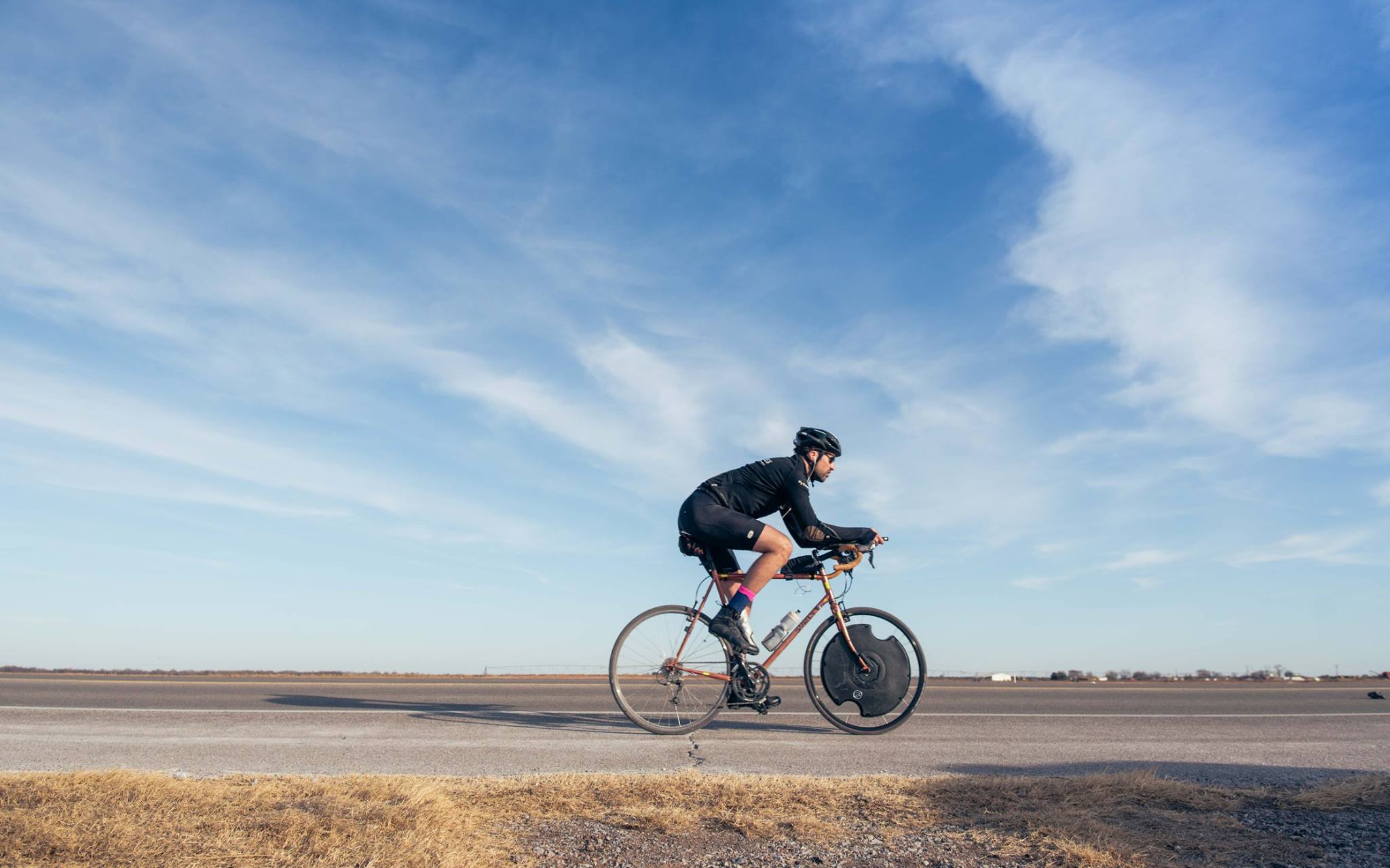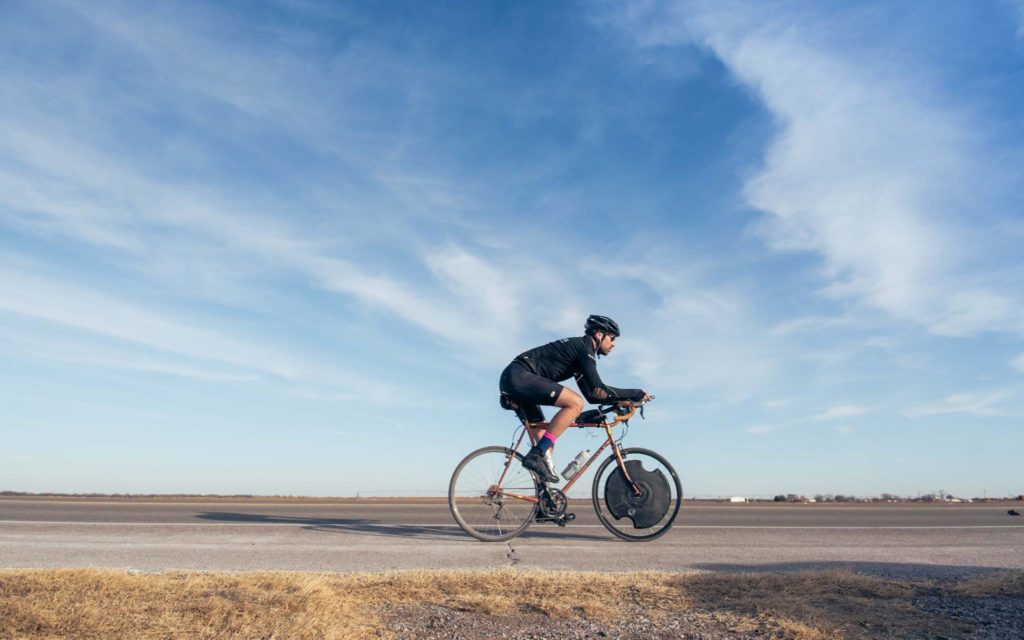 Hopefully I can do it in under 48 hours unsupported, and definitely much faster if I use the Electron Wheel with support. Any suggestions?
Pete: How can people find out more about you and follow your adventure rides?
Max: Probably follow me on Instagram @maxlippe, follow my Medium profile medium.com/@maxlippe, or email me at [email protected].
I recommend that everyone watch the documentary Inspired to Ride about the inaugural Trans America Bike Race in 2014 that really started the current wave of ultra cycling and definitely helped inspire me to get involved. Here is the trailer:
Hit me up with any questions about bikes or how to get involved in the ultra cycling world!
Thanks to Max Lippe for taking the time for this interview.
Here is more information on his Ride to CES and the Electron Wheel.
-Pete
P.S. Don't forget to join the Electric Bike Report community for updates from the electric bike world, plus ebike riding and maintenance tips.
Reader Interactions