Vvolt Alpha E-Bike Review, 2023
An affordable, entry-level city e-bike with an easy-to-use approach.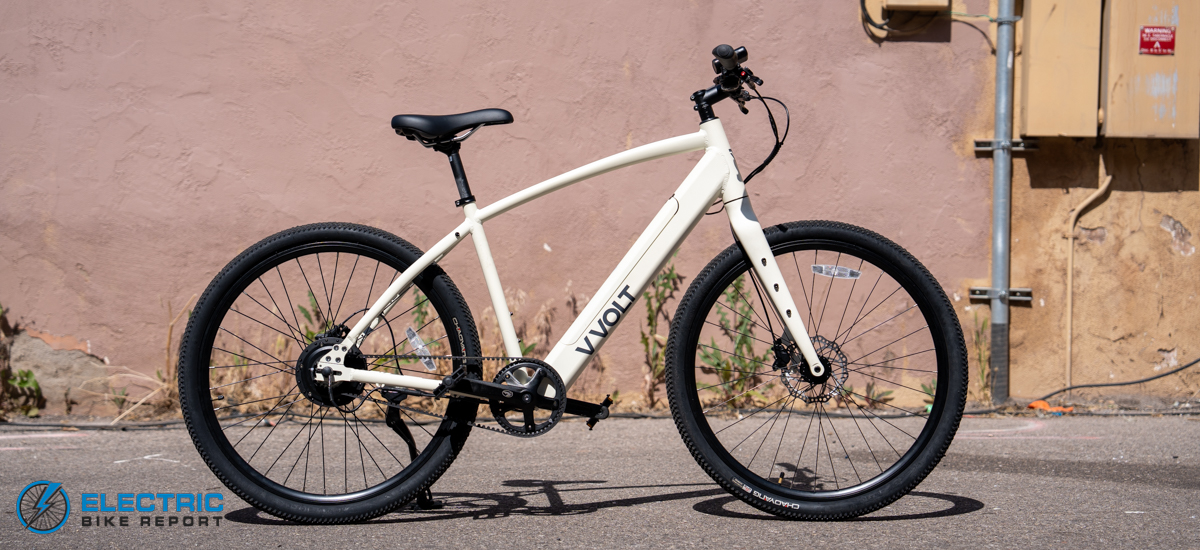 Having previously reviewed the now-discontinued Proxima, which held a solid tenure on our list of the
Best City and Urban Electric Bikes
, we had extremely high expectations for Vvolt's most economically-priced model, the Alpha. In this Vvolt Alpha review, we examine the bike's specs, ride feel, and performance, so read on for more!
As a Class 1 e-bike, the Alpha offers pedal assistance up to 20 mph. It uses a highly responsive cadence sensor to activate its 350W rear-hub motor. We enjoyed how quickly this was able to provide power, allowing us to get up to speed swiftly and easily.
We also appreciated such responsiveness in combination with the single-speed drivetrain. The Alpha's Gates Carbon belt drive has some limitations, but is also a simple and long-lasting system that requires little-to-no maintenance. Gates advertises that their belts last more than twice as long as a traditional chain, and they're clean and quiet to boot.
Bikepackers rejoice! The Alpha is intended primarily for urban environments, though it offers flexibility with knobby hybrid tires. These performed well in our testing on dirt and pavement alike – something that's even better when considering extras like the three-pack mounts on the Alpha's forks.
The Alpha isn't perfect, but it IS a decent entry-level e-bike for those looking to save on cost while getting a functional machine. It'll get you to work and back, but it can also give you some freedom and flexibility to adventure and explore!
See our full Vvolt Alpha review below.
Class 1 E-Bike:
Pedal-assisted speed up to 20 mph

Pros
Fast and responsive motor input! Power is delivered almost immediately thanks to a highly sensitive cadence sensor.
Low maintenance and easy operation! The single-speed Gates Carbon belt drive requires no shifting, no lubrication, and no parts replacement for thousands of miles.
Versatility in different environments! Knobby hybrid tires give the Alpha the ability to ride on unpaved surfaces for a bit more freedom.
Uncommon extra features! Triple-pack mounts on the forks make bikepacking with extra gear possible, and a small pass-through in the frame makes changing the belt a breeze.
Great braking! The Alpha's Radius hydraulic disc brakes resulted in some of the best performance we've seen from similar e-bikes we have tested.
Affordability! The Alpha starts between $1,000 and $1,500, putting it at a highly accessible price point when compared to many other similar bikes on the market.
The bike maneuvers well and pedals easily without motor assistance thanks to its weight of just 43 lbs!

Cons
The bike pedaled well at slower speeds, but we'd like to see a larger chainring to reduce the ghost pedaling that started around 17-18 mph.
We feel three PAS levels with more refined speed differences would complement the single-speed setup better than the current five levels.
ELECTRICAL SPECS & FEATURES
Battery : 36V 10.4Ah Integrated Battery 375Wh | LG Cells
Display: Xplova – LED Display w/ USB charging port
Motor: Xplova, 350w nominal power, 45nm max torque
Headlight: Included
Taillights: N/A
Pedal Assist: 5-stage PAS
Range: 15-40 miles (claimed)
Throttle:N/A
Weight & Dimensions
Claimed weight: 43 lbs
Maximum rider weight: 440 lbs (riders over 300 lbs should consult with Vvolt for recommended modifications)
Recommended rider height: 5'2"-6'0" (S/M frame), 5'9"-6'4" (L/XL frame)
Components & Accessories
Brakes: CStar Radius Hydraulic, 160mm rotors
Fenders: Not Included
Fork: Vvolt Alloy Thru Axle w/ 3-pack fender and accessory mounts
Frame: Vvolt Alloy w/Removable Downtube Battery, fender, rack and 1x bottle cage mounts
Drivetrain: Gates CDN w/ 50T chainring, 22T Freewheel, and Gates CDN 118T Belt
Grips: Ergonomic Shape Dual-Density
Saddle: Hybrid Gel Comfort Saddle
Handlebar: Alloy 31.8, 20mm rise x 660mm width
Kickstand: Black, rear-mounted w/Adjustable foot
Pedals: Plastic platform w/reflectors
Tires: 27.5 x 1.95, low tread pattern for street and gravel
Vvolt Alpha Review: Speed Test
As shown in the infographic above, the average speed data we gathered for the Vvolt Alpha in our Speed Test indicates relatively subtle differences between the bike's five pedal assist system (PAS) settings. We'd prefer to see a more even distribution of power output (and therefore speed) between its PAS settings, which starts at the bike's controller. But ultimately, five PAS settings felt like too many – three settings with greater differentiation between them would fit the bike's design intent more closely.
We were pleased to note that with its 43-lb frame, the Alpha was functional as a non-electric bike when pedaled without motor assistance; our average speed of 12.3 mph is certainly on the faster side. In PAS 1, our average speed was almost 15 mph, though on flat and straight roads, I was easily able to reach around 17 mph. Considering Vvolt's focus on simplicity with the Alpha, I was surprised that it had a full 5 PAS settings, and somewhat puzzled that there did not seem to be much difference in feel between them; the bike seemed to reach 17-19 mph easily but struggled to go beyond it.
With a 36-volt (V), 350-watt (W) motor and a 36V, 375-watt-hour (Wh) battery, we did not expect tremendous speeds from the Alpha, but we did expect the mild level of motor assistance that we experienced during this test. 36V electrical systems supply less power than those of higher voltages (typically 48V), so the Alpha's motor is limited in the amount of power it can draw from the battery. This is a bike that requires some pedaling, but its PAS makes that task easier.
In terms of wattage output, 350 watts is on the smaller side – but is also common on city bikes in the Alpha's weight class. As explained in our guide to e-bike batteries, watts are a measure of the amount of work that the motor can perform, so the Alpha's motor can move riders faster than a 250W motor, but less effectively than a 500W or 750W motor.
An element of the Alpha's drivetrain – namely its 50T chainring – also seemed limiting. The Alpha required rapid pedaling to overcome a "loose" feeling to its drivetrain above roughly 17 mph, so we'd prefer to see a larger chainring that would help to counteract that and allow riders to pedal more effectively at faster speeds.
On similar single-speed city bikes, we've seen larger 63T chainrings perform well, though there is a tradeoff. Hills become more challenging with larger chainrings, and in truth, the Alpha's setup performed relatively well – but I'll explain that in more detail in the context of our Hill Test later in this Vvolt Alpha review.
Vvolt Alpha Review: Range Test
Through the process explained in the graphic above, we tested Vvolt's claimed range of between 15-40 miles on the Alpha. Our test results differed from their claims; we measured a bracket between roughly 25 and 30 miles depending on the amount of motor assistance used.
Based on the bike's 375 Wh battery and 350W motor, we expected to travel roughly an hour in PAS 5 before expiring, but surprisingly, we were able to pedal for an extra 40 minutes (66% longer than expected). This distance included over 800 feet in elevation gain, which is even more surprising; most range claims are made with the assumption of traveling on flat ground.
Overall, these figures mean that the Alpha's motor was more efficient than expected – but likely not due to the motor itself. I attribute these results to the fact that the bike requires human input to function; since we were contributing our own power, the motor drew less power from the battery and allowed the bike to travel for an extended amount of time.
When compared to similar city bikes we tested previously, the Alpha's results are mixed. With the maximum amount of assistance in PAS 5, the bike did well, but in PAS 1, it was left pretty far behind the others. The results we saw make sense in the context of our Speed Test; without much variation between its speeds, the high and low end of its pedal-assist system didn't have much of an effect on the bike's range.
This is one more reason we'd like to see some adjustments to the Alpha's pedal assist system. Greater differentiation between the bike's PAS settings would allow the bike to travel farther in PAS 1 even though it might reduce the capabilities in PAS 5 (or PAS 3, following our recommendation to "trim the fat" when it comes to the number of settings).
Despite the differences between our results and Vvolt's claims – as well as the current PAS system configuration – the ability to cover a range of 25-30 miles is decent.
Vvolt Alpha Review: Brake Test

To evaluate the safety and effectiveness of the Vvolt Alpha's brake system, we performed a Brake Test through the process described above. The Alpha comes equipped with Radius hydraulic disc brakes with 160 mm rotors on the front and rear wheels, which proved to be highly effective in our testing.
Based on three sets of test data, we calculated an average stopping distance of 21'-10" for the Alpha. When compared to similar city e-bikes we have tested, the Vvolt Alpha's results are better than average by just over a foot. In my rides outside of this formal test, the brake system's effectiveness was completely noticeable; they responded quickly and slowed the bike faster than I expected!
This great performance is likely due to a combination of factors; most notably the fact that the Alpha uses hydraulic disc brakes, but also that its tires have a hybrid tread pattern. Hydraulic brake systems are more responsive and effective than mechanical brakes due to their improved ability to disperse and dissipate heat. The Alpha's tires have a heavier tread – much different than the smoother road tires that we often see on city bikes – that allow them to grip the road better when decelerating.
Overall, we were impressed by the Alpha's performance and can easily deem its brake system to be safe.
Vvolt Alpha Review: Hill Test
Since the Vvolt Alpha is a Class 1 e-bike with no throttle, we performed only a single Hill Test (explained above) using the maximum amount of motor power in PAS 5. The bike proved difficult to pedal uphill even in its highest PAS setting, so it proved slow in our test, although there is more to the picture than just the bike's numbers.
We climbed Hell Hole trail on the Alpha in 1 minute and 46 seconds at an average speed of 10.2 miles per hour, which places the bike toward the bottom of the (fairly short) list of similar e-bikes we've tested. That said, its results were not vastly different from some of those other city bikes, and ultimately, its motor fulfilled its purpose; our test hill is steep enough that we would have likely been unable to make the climb without its help.
There are three major elements of the Alpha that affected its performance: its 36V, 350W motor, the distribution of motor power through its controller, and its single-speed drivetrain. As I mentioned previously in this Vvolt Alpha review, 350 watts is relatively subtle when it comes to e-bike motors, so the motor simply lacks the raw power needed to tackle steep inclines without added human power. Additionally, its 36V electrical system naturally delivers power less readily than a 48V or 52V system. Again, this is a bike that requires you to contribute effort!
Regarding the controller, the bike's uphill performance ties in directly to the results of our Speed Test above; Since there is not much difference between the power level of its five PAS settings, the Alpha is a bit less capable than other e-bikes with a more even distribution.
Finally, without additional gears to shift into, the Alpha's drivetrain is certainly limiting. Larger cogs on the cassettes of multi-speed bikes allow for better hill-climbing, but smaller chainrings on single-speed bikes can help to offset their absence. With the smaller-than-usual 50T chainring on the Alpha, I admit that I expected it to have better performance in this test, though I believe our test hill is simply too extreme to make a difference. On small hills, the gear ratio performed well; I did notice an improved feel when comparing the Alpha to some of the other single-speed e-bikes we have tested.
Vvolt Alpha Review: Ride Quality
In terms of comfort, I think the Vvolt Alpha could benefit from some improvement and fine-tuning, though there were a few features that I appreciated. I experienced some discomfort during my test rides relating to elements of personal preference, but also due to the bike's geometry and rider positioning, as well as its gearing.
As a city bike, the Alpha positions its rider with a moderate forward lean; this is common and expected. I found the 660 mm handlebars to be a comfortable width, and their slight ergonomic sweep made for a good fit.
The bike's stem felt too low, however, and quickly found my hands going numb even after adjustments to the angle of the ergonomic grips. I appreciate that the Alpha comes in two frame sizes with a fairly broad accommodation for riders of different heights, but considering that I fall toward the middle of that spectrum, I'd like to see an adjustable stem included with the next iteration of this bike. This would allow riders to find a comfortable height and reach distance to meet their own preferences.
In my experience, the bike's gearing (previously discussed in the Speed Test section above) also affected its ride feel. I found myself struggling to keep up with the drivetrain at about 17 mph, and in order to continue contributing my own leg power, my rapid pedal cadence created sort of a hopping motion on the saddle. This is honestly something I have never experienced previously, but it is one major contributing factor to my recommendation to increase the size of the bike's chainring.
The Alpha does not include any sort of suspension, so its ride can feel somewhat stiff, though this is standard practice on city e-bikes that are simplified for weight reduction. It's worth noting that the bike's saddle is fairly narrow and performance-oriented. I found it to be very much on the firm side despite feeling initially well-padded. I typically do not enjoy this type of saddle, so take my word with a grain of salt; it may feel better for riders who gravitate to this style, and it's an easy thing to change out if needed.
Regarding handling, the Alpha performed well; city bikes around 40 lbs typically do. Such a manageable weight makes the bike maneuverable at slower speeds, and helps it to get up to speed relatively quickly. It also makes the bike more portable for apartment dwellers who may need to carry their bike up a flight of stairs.
Vvolt Alpha Review: Summary / Where to Buy
The Vvolt Alpha is an entry-level e-bike at an entry-level price, and I believe it is important to keep that in mind when looking at the big picture. Kept in its lowest pedal assist setting, the bike has a decent ride feel and can achieve respectable range. It has solidly-performing brakes, and thanks to its hybrid tires, the Alpha can go beyond the limits of many other city bikes.
I think the current state of the bike is a good start for Vvolt, but ultimately, some improvements are needed for it to reach its full potential. First, while a larger chainring would have an impact on the bike's ability to climb hills, I think it would be a worthy tradeoff for a better overall ride feel, especially toward the higher end of the PAS. The Alpha would benefit from adjustments to its controller and PAS, too; three settings with more variance between them would match the bike's overall theme more closely.
Despite a few things to potentially improve upon, keep in mind, it's crazy affordable at just over $1000. I do appreciate the Alpha's clean, low-maintenance drivetrain; this is a great foundation to build on, but it is also a difficult thing to balance. The bike's excellent motor engagement is also something worth remarking on – it's relatively uncommon to find a cadence sensor that feels this good!
Bottom line: I'd recommend the Alpha to anyone looking for a lightweight, budget-friendly bike that isn't overpowered. If you like to pedal and and feel a pleasant boost, I think you'll have some fun on this bike!
Happy Riding! Make sure to let us know if you have any questions down in our comments section or if you think we left anything out in this review of the Vvolt Alpha.
Reader Interactions