Velotric Nomad 1 E-Bike Review, 2023
This highly aesthetic fat tire e-bike brings solid performance in addition to stylish design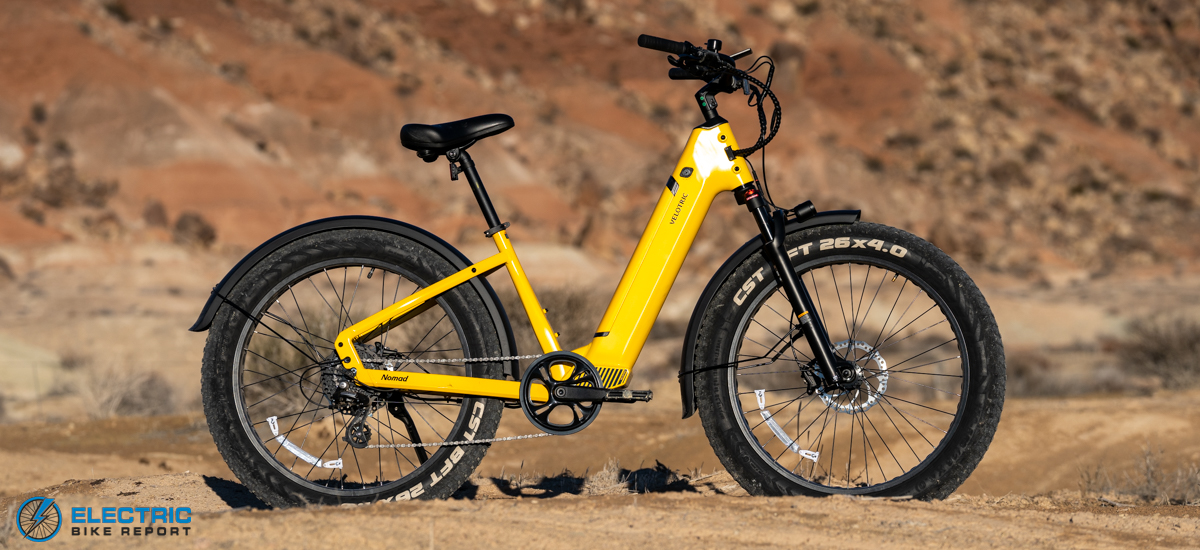 With the e-bike market becoming more saturated by the day, it is increasingly easy for new models to get overlooked. In many cases, designs and colors can start to blend together, creating a space where many bikes tend to look very much the same. For this reason, it was a refreshing twist when the
Electric Bike Report team
had the chance to test and review the Velotric Nomad 1!
In addition to a highly aesthetic design that allows the Nomad to stand out from the crowd, this most- (not quite all-) terrain, fat tire e-bike did not disappoint when put through its paces in our testing. Equipped with Velotric's proprietary Velopower 750W motor and a respectable 692Wh battery, the Nomad demonstrated substantial power and impressive range when compared to similar models in its class.
Read on in our review of the Velotric Nomad 1 to discover more details on the bike's performance, and why we feel it offers great value for consumers who want the ability to adventure freely in a variety of environments!
Bike Category:
Fat Tire / Hybrid Path
Class 2 E-Bike:
Pedal & Throttle Assist up to 20 MPH
Velotric Nomad 1 Video Review

Pros
The Nomad 1 embodies artful design, with eye-catching angular styling and a refreshing variety of six color options between the high-step and step-thru versions.
An efficient motor combined with ample battery power provides the Nomad 1 with significant range for longer adventures.
The Nomad 1's pedal assist system offers user-friendly stages, with controlled increases of power from PAS levels 1 through 3, and more aggressive boosts at PAS levels 4 and 5.
Velotric's proprietary Velopower 750W motor provides plenty of uphill capability.
The Nomad 1's fat tire styling equates to a high level of stability that is desirable when traveling both on and off of paved paths.
With many e-bike models available in the $1500-2000 price range, the Nomad 1 offers solid value for its place on the lower end of that spectrum.

Cons
Though the Nomad 1's battery level readout is typical of the common bar-type display, it is not as accurate or reliable as percentage-based versions.
Some of the Nomad 1's unbranded components (brakes) and unfamiliarly branded components (cassette and front suspension fork) tested well during our evaluation, but our ability to speak to their long-term performance is uncertain.
ELECTRICAL SPECS & FEATURES
Battery : Fully integrated, removable and lockable, 48V, 692 Wh, UL 2271 Certified
Display: 3.5" Backlit LCD Display with speed, trip, battery, assist level, and more
Motor: Proprietary Velopower 48V, 750W (peak 1200W), max torque 75Nm
Headlight: High-output integrated LED, adjustable angle
Taillights: N/A
Pedal Assist: PAS 1-5
Range: Up to 55 miles per Velotric's website (our testing indicated better!)
Throttle:Thumb-control, removable
Weight & Dimensions
Claimed weight: 73 lbs for the High-Step and 72 lbs for the Step-Thru versions
Maximum rider weight: 440lbs (including cargo)
Maximum load on rear rack: 55lbs (33lbs on front rack)
Components & Accessories
Brakes: 180 mm hydraulic disk brakes
Fenders: Front and rear, full coverage
Fork: Hydraulic suspension with 80mm travel, with lock-out
Frame: Aluminum alloy
Drivetrain: Sunrace Megadrive 8-speed with Shimano Altus Derailleur, 170mm crankset
Grips: Durable ergonomic rubber
Saddle: Comfort ergonomic seat, 220mm wide
Handlebar: Aluminum alloy, 31.8mm, 700mm wide
Kickstand: Heavy-duty aluminum with wide foot
Pedals: 9/16" Alloy platform with reflectors

Tires: 26×4.0" with puncture-resistant liner
Velotric Nomad 1 Review: E- Bike Overview
The function of an e-bike is well-established at this point, but there is still quite a bit of leeway that exists in the area of form. As someone with a background in art and design, I appreciate the nuances of form and function when they intertwine in a striking and visibly thoughtful way. The Velotric Nomad 1 exemplifies this concept with its angular geometry and satisfying proportions, then takes it to the next level by offering a nice selection of color options (including the signature "mango" yellow) between its High-Step and Step-Thru variants.
Good design and functionality should also be accompanied by comfort, and on the whole, the Nomad 1 succeeds here as well. I found the Nomad's high, upright riding position to be both comfortable and natural, providing a broad vantage point from which I could easily see and be seen. This was accompanied by the bike's ergonomic, swept-back handlebars and a wide, padded seat. After over 100 miles on the bike, I had a few concerns in this department, but I chalk those up mostly to personal preference, which I will elaborate on in the full Nomad 1 review below.
Comfort is especially important when out on a multi-hour adventure, and the Velotric Nomad 1 provides plenty of potential for long-range rides. The manufacturer claims a range of up to 55 miles on a single charge, and our testing supported their statement. In a low PAS setting, I was able to squeeze over 60 miles out of the 672 Wh battery, even including a couple of trips up and down our test hill affectionately called Hell Hole.
With my own experience in the saddle, and the input of fellow reviewers who also took the Nomad 1 for a spin, I can say confidently that the bike provides great value for its price point. There are no shortage of models in the $1500-2000 price range, but the Velotric Nomad 1 demonstrated test results indicative of a bike on the higher end of that spectrum while priced toward its lower end.
Velotric Nomad 1 Review: Motor Performance, Speed and Acceleration
The Velotric Nomad 1 features a 48V, 750W Velopower (Velotric's proprietary design) rear hub motor with cadence sensors, which is driven by a single chainring and an 8-speed cassette. Its large motor is appropriate for a heavy, fat tire e-bike with some off-road capability, and its cadence sensors require only an easy quarter-turn of the cranks to trigger the motor.
A word of caution: the initial acceleration boost that occurs here can be somewhat alarming, especially in tight or obstacle-filled areas where a high degree of control is desirable. The rear hub motor can also take some getting used to, as it produces the sensation of being pushed from behind. Neither quality is uncommon in an e-bike, but may be surprising to those who are more used to traditional bicycles.
We were initially skeptical of the proprietary Velopower motor, but after reaching out to Velotric for more information about it, our concerns have been put to rest. It turns out that while the drive system was designed by Velotric (who has a team of highly experienced, proven developers), the motor itself is made by a reputable manufacturer with ties to Lime and Segway. Our contact at Velotric elaborated on their motor, saying "the Velopower drive system uses a custom temperature control circuitry, material composition and winding scheme which increases the efficiency of our range, torque, and speed compared to similar motors in our price class (most notably, BAFANG, which powers so many of our direct competitors). It's the reason why you'll see our range is longer compared to our direct competitors despite the sleek integrated design."
When testing the Nomad 1 on our test circuit (see the graphic above for a more detailed explanation of the trial), I was able to get a thorough feel for the increasing effect of the bike's 5-stage pedal assist system. As a 200lb rider with no cargo, the stages ranged from almost no noticeable effect at PAS 1 to nearly effortless speed with the assistance level set to PAS 5.
With no pedal assist (PAS 0), the weight of the Nomad 1 is very apparent. As a fat tire e-bike weighing 72-73 lbs, this is completely expected; trust me when I say that you don't want to be caught pedaling one (especially uphill) without assistance from the motor. In PAS 1 and 2, the motor provides a slight boost that can primarily be felt on an incline. PAS 3, however, is really where things start to feel significantly improved both on flat ground and on hills.
The 4th pedal assist setting felt to me like the Nomad 1's "sweet spot", offering both smooth and easy travel on the flat and plenty of assistance on uphill paths. This level still allowed me to get a bit of a workout if desired, but also kept me moving at a quick pace when I wanted to relax and rely more on the motor.
In PAS level 5, I felt like the motor almost completely took over, requiring only a casual degree of input to keep the cadence sensors feeding the motor. This setting also kept me at or around the Nomad 1's maximum velocity even when traveling uphill.
As a Class 2 e-bike, the Nomad 1 has a top speed of 20 miles per hour, and offers both pedal assistance and a throttle. When relying only on the throttle, the Nomad has a couple of useful and greatly appreciated features. First, the PAS system is tied in with the throttle, and can be used to govern speed. PAS 1 is set to 10 mph, with 2-3 mph increases per level up to 20 mph at PAS 5. Second, the Nomad's brakes have a cutoff switch, so even if the throttle lever is being pushed, any application of the brake lever will stop the motor from driving the rear wheel.
In our testing, the Nomad 1's motor performance, speed, and acceleration felt on par for its specs and class. A 750W motor should provide plenty of acceleration and uphill capability, and the Nomad had no problem with either (see the Hill Test section for more details there). I also appreciated the flexibility granted by the 8-speed drivetrain, despite being unfamiliar with its brand.
This brings up one final point specifically regarding the Sunrace Megadrive cassette. This brand is not one we have much experience with, though it is Shimano and SRAM compatible. The cassette we tested performed adequately, but we cannot speak to its longevity and reliability over time.
Velotric Nomad 1 Review: Range Test & Battery Performance
Here at Electric Bike Report, we perform two range tests on each bike that we review (one at the lowest functional PAS setting, and another at the highest available PAS setting) in which we strap in and pedal until the battery dies. This allows us to determine a practical mileage range for the battery under real world conditions that we can then compare to the claims made by the manufacturer.
In the case of the Nomad 1, Velotric's website claims a pedal assist range of 55 miles, and a throttle-only range of 52 miles. When we reached out to Velotric for more information about how they arrived at these numbers, they indicated the use of a practical test similar to our own. In their test, a 176.4 lb rider took the Nomad on a flat road and achieved a distance of 61 miles using PAS 1, and a distance of 40.8 miles using PAS 5. Velotric then took an average of those two numbers to arrive at their stated 55 mile range.
This coincides closely with our data. We determined that PAS 2 was a more practical setting for the long-range test, and with a 200 lb rider (that being me), we reached just over 64 miles on a paved course with some elevation changes. I was able to pedal for over 36 miles at the Nomad's highest PAS setting on the same paths. I did not test the Nomad 1 using only its throttle, but considering the validity of Velotric's claims with the bike's pedal assist range, I have no reason to doubt their findings.
The Velotric Nomad 1 includes a "Tesla-grade" UL 2271-certified 692 Wh battery, with cells manufactured by LG/Samsung. The battery is fully integrated into the bike's down tube (which really adds to that previously mentioned, polished aesthetic), and is also lockable for added security. While the battery capacity of the Nomad 1 is not the largest on the market, its pairing with an efficient motor yields range results that we are plenty happy with.
I feel like I was able to thoroughly get to know the Nomad while performing our range testing, and I want to quickly mention a few details that stood out on my rides:
First, the battery level display. The Nomad 1 makes use of a bar-style readout that is common with many e-bikes, with five bars in total. In both our short and long range tests, I noticed that it took between 1/4 to 1/2 of my total distance traveled for a single bar to deplete, with the others disappearing in a much shorter span. For this reason, we prefer to see percentage-based readouts as often as possible, though ultimately neither option has any real effect on the physical capability of the e-bike they are attached to.
Next, the front suspension fork. I found the suspension to be initially somewhat stiff and unforgiving right out of the box, but improved significantly with a small amount of tuning.
Third, the headlight. I really appreciated the intensity of the integrated LED headlight, both for visibility and safety. One of my loops brought me back to the office as dusk was becoming night, and I found the headlight to be more than adequate in its ability to illuminate my surroundings.
Finally,the fenders. The full-coverage fenders performed very well when riding through puddles, as they kept my pant legs completely dry.
Velotric Nomad 1 Review: Hill Test
Motor wattage and torque are some of the most prominent factors on an e-bike when it comes to uphill capability, with models like the Velotric Nomad's 750W, 75 Nm rear hub motor often providing copious amounts of power and speed even on an incline. The bike's performance on hills can, of course, be tailored by both the pedal assist setting on the controller and the gearing. With a higher PAS, less downshifting is required, and vice versa.
During our Hill Test (see the graphic above for a detailed explanation), the Nomad performed superbly when compared to a handful of similar models. The bike's motor propelled it confidently and quickly up the test hill when in PAS 5, and again when relying only on the throttle. This result is even more appreciable when noting that two of the three e-bikes indicated in the data points were Class 3 models, with top speeds of 28 miles per hour.
In my experience, the Nomad's motor did get markedly louder on an incline, but not to a distressing degree; it sounded like it was working, not being overwhelmed. Additionally, the ride quality did not suffer, and maintained a smooth and comfortable feel.
Velotric Nomad 1 Review: Safety, Brakes and the Brake Test
The Velotric Nomad 1 features 180 mm hydraulic disc brakes on both the front and rear wheels, which have a motor cutoff switch to prevent the brakes from fighting the motor if both are engaged simultaneously. Both the hydraulic brakes and the motor cutoff feature are appreciated, especially when considering that e-bikes are faster and heavier than traditional bicycles, thus more difficult to slow down.
We test brakes on our course by pedaling up to top speed, then measuring the bike's stopping distance when brakes are applied. The Nomad 1's brakes performed well for us, with a stopping distance of 22'5". This is within the expected range; however, it is worth mentioning that the brakes are unbranded, which means that we cannot speak to their performance over time.
In addition to adequate brakes, the Nomad 1 comes equipped with a pretty standard array of safety features. First to note is the intrinsic safety that comes from the added stability of the bike's 4" fat tires. With more surface area comes better balance while riding, and the Nomad feels rock solid. The knobby tread also adds grip and traction when off-road, giving the bike the ability to traverse less stable terrain covered in sand or snow.
The Nomad 1 has both front and rear reflectors, as well as an integrated front LED headlight. Velotric's website states that a rear headlight is also included, but ours did not arrive with one. When we reached out to the manufacturer to clarify this, they mentioned that a detachable light should have been in the box, but also explained that the Nomad will include a tail light integrated into the rear fender (like its sister model, the Discover 1) in 2023.
Velotric Nomad 1 Review: Ride Comfort, Handling and Cockpit
Over the course of about three days, I put over 100 miles on the Velotric Nomad 1, splitting my time between the High-Step and Step-Thru versions of the bike. With that much distance covered, I had plenty of time to consider the riding experience and comfort level that is offered by the stock components. This is likely the area where I have the most critique, though much of that comes down to personal preference and the extended duration of my rides.
It is important to note that there is one distinct difference between the two versions of the bike, aside from the obvious lack of a top tube on the Step-Thru model: the handlebars. The High-Step version includes nearly-flat handlebars with a slight ergonomic curve, while the Step-Thru version comes standard with more drastically swept-back, cruiser-style handlebars.
Both styles feature ergonomic rubber grips, which I found to be well-shaped and comfortable. However, having experienced chronic tendonitis and nerve compression in one wrist, I personally found the High-Step's handlebar shape to be much more suited to me on longer rides. Though the cruiser-style handlebars on the Step-Thru model were decidedly more fun, the wrist positioning felt unnatural to me, especially over the course of a few hours.
The Nomad 1 features a basic but generally effective array of controls distributed well between both sides of the handlebars. On the rider's left side is one brake lever, the throttle lever and the control pad for the LCD display. I found the throttle to be easy to reach, but difficult to trigger accidentally, which is ideal. The control pad is simple and relatively intuitive, with responsive buttons that adjust PAS level, activate the LED headlight, and engage walk mode. Centrally mounted is the Nomad 1's black-and-white LCD display, which clearly and adequately displays current speed, battery level, PAS level, and the trip function. At the rider's right side is the other brake and the Shimano shifter, which was responsive and intuitive to use. Additionally, a small bell is included with the Nomad 1 that can be placed on either side of the handlebars. It's a nice inclusion, though I recommend purchasing something a little more robust.
As mentioned previously, I appreciated the Nomad 1's comfortable, upright riding position and the visibility it provides (both to me and of me). More visibility equates to greater safety, which is paramount when traveling at the higher speeds e-bikes are capable of.
This brings me neatly along to the Nomad 1's saddle. I greatly appreciated the stock saddle's padding and 220 mm width, which gave it a level of comfort appropriate for casual riding. The density of the padding did feel increasingly hard to me over the course of a few hours, but that was far from a deal breaker.
One final point to cover when addressing the Nomad 1's comfort level is rider height. The two different models offer a decent range, with the Step-Thru version being appropriate for riders between 5'1" and 6'4", and the High-Step version suited for taller riders (due to the top tube) between 5'6" and 6'9".
Regarding the Nomad 1's handling, I was initially concerned about the front suspension fork. Its stiffness right out of the box made the bike's ride fairly jarring when going over bumps, but fortunately, after ensuring that the lockout was fully loosened and turning down the rebound adjustment by about half a turn, the ride quality improved greatly.
I found the Nomad 1's 26" wheels to be a good choice. That size allows for relatively nimble handling while also allowing the bike to handle small rocks or debris that might be encountered off-road. The bike also took turns well even at higher speeds.
Overall, the Nomad 1 includes relatively basic but effective features for comfort and control. The included features cover all the bases, with generally good functionality. While I personally encountered a few troubles here and there, it's good to keep in mind that many components of a bike can be swapped out for something suited to personal preference, and in many cases very affordably.
Velotric Nomad 1 Review: Summary / Where to Buy
With the cost of electric bikes being a significant factor for many consumers, the "Fat Tire" designation puts models like the Velotric Nomad 1 in a category that seems to be largely growing in appeal. As relatively all-purpose e-bikes (not offering features geared toward a specific function such as commuting to work or going off-road, but instead sharing features common across a variety of functions), they intrinsically provide good value. Consumers can purchase a single bike and take it nearly anywhere, instead of acquiring different models for separate purposes.
With any product, lack of specialization can, in many cases, lead to a dilution or spreading-out of quality and performance.
With a few caveats, the Velotric Nomad 1 does not suffer from this problem.
In our testing, the Velotric Nomad 1 gave an impressive performance, and in some ways, offered better results than expected for a price tag of around $1,500. It features a powerful motor, a lasting battery, a comfortable ride, and can take its rider through just about any environment. Based on the numbers and our experience with the bike, it rivals other fat tire e-bikes and provides excellent value for its price point, all while presenting itself in style.
Happy Riding, make sure to let us know if you have any questions down in our comments section or if you think we left anything out in this review of the Velotric Nomad 1.
Reader Interactions