Troxus Trax 30/750 Review, 2023
Versatile Commuter Ebike, With Lots of Customization Options to Fit Almost Any Rider, Whether it's for Short Commutes or Long Range Adventures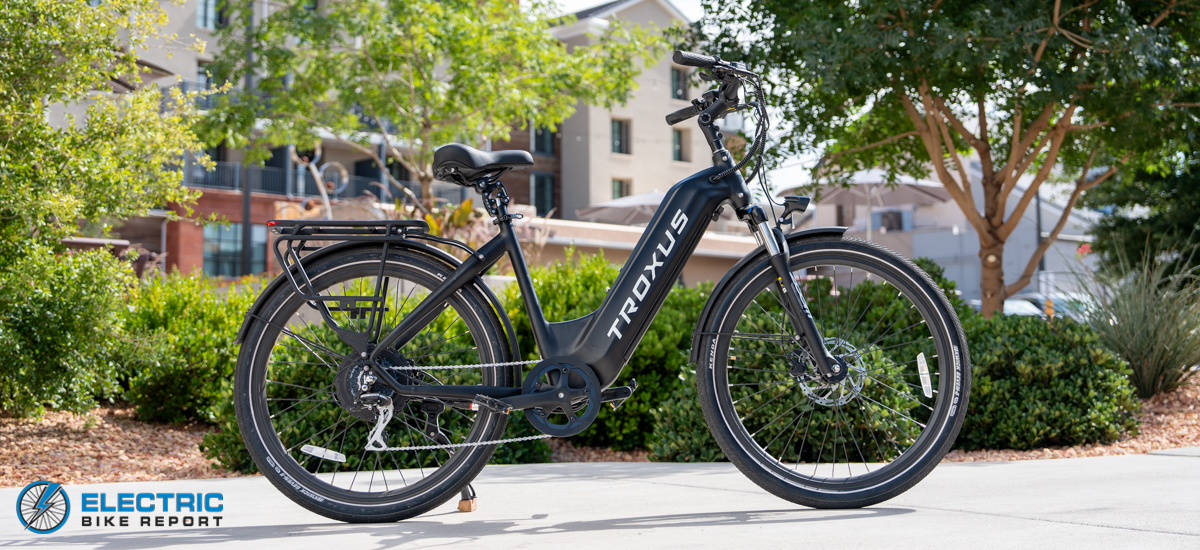 In the following review of the Troxus Trax, you will discover how this versatile Dutch-style commuter e-bike can help you branch out, adding greater variety to your rides while also taking you further than you thought possible. This bike is intended for urban exploring, all it needs is a rider with a taste for adventure and a willingness to ride.
The specific model we were sent for review is the Troxus Trax 750/30. What makes the Trax unique is how it's one of the few DTC e-bikes that let's you pick your setup in a variety of way. The base model is a fully rigid 500W motor with a 15Ah battery. You can climb up in terms of motor power, battery size and extra comfort to our test bike's level with its 750W motor, 30Ah battery and front suspension fork and suspension seat post. All these choices span the three different frame sizes and three color options as well. Essentially you can pick based on needs and budget, which isn't something you find a lot of, but is a nice way to stand out in the greater e-bike market.
The Trax is fitted with nice components from well-known brand names, the Trax is meant to hold its own, wherever you take it, and power you along with reliable performance.
After riding it for over 150 miles, and testing its performance in a myriad of ways, we discovered pretty quickly what this e-bike is all about. Keep reading, and you will, too.
Class 3 E-Bike:
Throttle up to 20 mph; pedal assist up to 28 mph.
Troxus Trax 30/750 Video Review

Pros
You can pick a lot of options for your needs and budget. Pick your motor, battery, and comfort that suits your needs.
Bumpy terrain and long distance rides are not a problem with the Suntour SR suspension seatpost and suspension fork of the highest end model we tested.
Quickly accelerate and reach top speed with the Bafang 750W hub motor.
Giving you more miles to ride in between charges is the 30 amp hour battery that took us 70 miles riding in PAS 2.
Better handling and control with the Kenda Kwick 7 tires and rubber ergonomic grips.
330 lbs weight capacity makes this one of the more heavy duty commuter e-bikes.

Cons
We would like to see Troxus recalibrate the controller to improve the PAS power delivery, especially in PAS 1 and 2. The speed is okay, but it still feels a bit heavy.
Troxus talked up off-road capabilities, but road riders will need different tires for better handling in the dirt.
ELECTRICAL SPECS & FEATURES
Motor: Bafang 48V/750W hub-drive motor
Battery: Samsung 48V/30A/1440Wh, single cell capacity
Charger: MDN 54.6V 4.5A smart charger
Class 3: throttle up to 20 mph, PAS 1-5 up to 28 mph
Range: 55-110 miles average
Display: Color LCD, USB charge, backlight, waterproof
Sensor: Cadence
PAS: 0 – 5 level pedal assist
Lights: High intensity front and rear brake light
Weight & Dimensions
Claimed weight: 80.5 lbs
Maximum rider weight: 330 lbs.
Maximum load on the rear rack:
Components & Accessories
Brakes: Tektro, hydraulic disc, 180mm rotors, dual piston calipers
Fork: Zoom suspension fork, 80mm travel
Frame: 6061 aluminum alloy, 3 frame sizes
Tires: 27.5″x2.4″ Kenda Kwick 7, thorn proof tubes, reflective sidewalls
Rims: Powercir double wall aluminum 36h front & rear
Handlebar: Zoom aluminum 31.8mm, with 15 degree sweep back
Bottom Bracket: Gineyea square taper, sealed
Throttle: Thumb throttles on handlebar
Gearing: 8 Speed
Cassette: Shimano 12-32T
Derailleur: Shimano Acera
Chain Ring: Wheel Top 170mm w/46T, 3D forged alloy
Chain: KMC chain, top rust prevention EPT
Pedals: 9/16″alloy platform with CPSC/BS reflectors
Saddle: Troxus custom seat
Seatpost: Suntour SR Parallelogram suspension seatpost
Kickstand: Heavy duty aluminum
Rack: Alloy with reflectors 80 pound capacity
E-Bike Overview: Troxus Trax 30/750
Electric commuter bikes are becoming increasingly popular solutions to help people avoid traffic and reach their destinations sooner (and, preferably free from sweat). One of the features that's lacking with many is the ability to travel long distances between battery charges. This is where the Troxus Trax 30/750 rolls in, with its super sized 30 amp-hour battery that can take you farther than before.
The Trax is priced a little higher than other commuter e-bikes, with the 30/750 currently priced a little higher than other commuter e-bikes, but that's because Troxus uses higher quality components on this bike, including battery, suspension, gearing and tires.
First, the 30Ah/1440Wh Samsung battery is almost twice the size of most other commuter e-bike batteries. This gives you more rides in between battery charges, and helps the battery last longer. Troxus claims that after 1000 charges this battery should still have 80% of its capacity. We like having this bigger battery because we'd rather ride more and charge less.
Another great feature is the powerful Bafang 750W hub motor, generating 75 Nm of max motor torque for advanced acceleration and hearty hill climbs. The thumb throttle easily provides on-demand acceleration and power control. The motor runs smoothly and is not noisy like some of the other motors we've tested.
Gearing using the Shimano Acera 8-speed, with 12-32T cassette and 46T chainring worked great with the motor, pedal assist and rider pedaling. We encountered a slight bit of ghost pedaling, but that was only when we reached 27 mph on a flat road.
Complementing the easy mount step through frame, the seat posture and handlebar are designed to give good ergonomics for riding comfort. If you are a fan of the Dutch-style bike then you will likely appreciate how this bike feels when you ride it, including the 14° sweep back handlebar. Simple adjustments on the seatpost, stem, and seat rail enables riders to properly size this bike for safe and comfortable riding.
The Suntour SR suspension seatpost makes longer rides more doable, helping absorb the bumps, ruts and vibrations from the roads and trails. When you first sit down on the Trax, try bouncing up and down on the seat. You will notice how much cushion and recoil this offers, and will likely get you excited about going for a ride – it did that to me.
The precision welding on the frame adds to the overall look as a well-built and cleanly designed bike. This bike is available in three different sizes which accommodates riders who are 4'10" to 6'1". Troxus also offers other versions of the Trax, at a lower price, with smaller batteries, a smaller motor, and more primitive suspension.
These are some great features to have on a commuter e-bike, but how did they help with the bike's performance? The answers can be found in the next section below.
Circuit Speed Test: Troxus Trax 30/750
To help us identify this bike's average speed in each pedal assist level (PAS), we test rode the Trax on our Circuit Speed Test course. We rode this bike around the 1-mile loop six times, with me pedaling and not using the motor on the first lap, and then one lap using one PAS level at a time (6 laps total).
The Bafang 750W hub motor delivered ample power when I accelerated the bike in PAS 2 – 4. In all three of those levels the bike bolted forward fairly quickly, and reached its cruising speed without hesitation. There were some times when power output lacked consistency, requiring me to re-engage by pausing and restarting the pedaling.
Riding in PAS 1 on the second lap, the motor lagged a little at first before pushing the bike to 11 mph. Hitting the short 12% grade, the motor needed me to pedal quite a bit harder in order to continue. Therefore, PAS 1 was only good for flat stretches, making this a better PAS for slow cruises on the boardwalk. So, it appears there is some room for improvement in calibrating the controller/PAS to get a more usable average speed in PAS 1, and to get greater consistency in average speeds in PAS 2.
I found PAS 3 to be the best all-purpose pedal assist level for most of my riding: the bike cruised at an acceptable rate on the bike paths – not so fast that it could scare pedestrians and their dogs – and it used battery power at a reasonable amount. PAS 4 was good on 25 mph streets. Be ready to bolt ahead very quickly when you click into PAS 5, making this level suitable for streets where the speed limit is 30 mph or more.
The left thumb throttle worked great at filling whatever speed gap I encountered on my rides. When I needed to speed up quickly in PAS 1 or 2, a quick push on the throttle made the motor crank out more wattage to get me at the right speed. Looking at the PAS map on this bike, it appears Troxus designed the pedal assist system to satisfy riders who want to use the least amount of battery power in helping them go farther, and for riders who heft doses of acceleration when they need it.
Range Test & Battery Performance: Troxus Trax 30/750
The range test tells us how far this bike can go, on a single battery charge, using the minimum PAS level for the longest range, and using the maximum PAS level for top speed.
We try to use PAS 1, when possible, on the minimum PAS long range test, because that PAS level uses the least amount of battery power. That also means your average speed is slower and you need to pedal more. The Trax's motor lagged too much on our circuit speed course incline, so we used PAS 2 for this test. It provided a suitable level of power from the motor without requiring the rider to significantly increase pedal power in short inclines.
Riding in PAS 2, the Trax 30/750 traveled 70.4 miles (time of 5:06 and average speed of 13.8 mph) before running out of battery power. Compared to similar commuter bikes with 750W motors this results 10-15 miles better than average. It should be noted, though, that this bike also uses a battery that is 10-15 Ah larger than the others.
Earlier, I mentioned that you can order this bike with different features. The battery is one. You can get the Samsung battery in three different sizes: 15 Ah, 20 Ah, and 30 Ah. You can pay less and get a Trax with a smaller battery, just remember that the range will be shorter than the distance the 30 Ah battery will give you.
Regarding the battery's durability, Troxus said it should still have 80% charging life left after 1000 charges. The Trax comes with the MDN 54.6 volt, 4.5 amp smart charger. On average, it took 8 hours to fully recharge the battery (which we expected) each time we used up all the power.
Hill Test: Troxus Trax 30/750
Most bike riders will agree that hill climbing is the most challenging part of riding. E-bike motors certainly level the playing field for riders who are trying to trounce their way to the top, with less effort (and less sweat). Testing e-bikes on their hill climbing ability provides useful information on what you can expect when facing a tough hill.
In the first test we attempt to reach the top using only the throttle, with no pedaling involved. The 750W Bafang rear hub motor generated up to 75 Nm of torque to help in the hill climbing, Some e-bikes don't make it to the top on the throttle-only test. The Trax not only made it, but it did so in an impressive time of 1:22, (average speed of 13.2 mph). Having a rear hub motor helps because it dishes out power regardless of whether you're pedaling or not.
The second part of the hill test involved basic pedaling, using the PAS 5 mode. In this test, the motor is still doing most of the work, but gets some help from the pedaling of our test rider, Justin. The Trax again shined brightly on the PAS 5 pedaling hill test, reaching the top in an again-impressive time of 1:09 (average speed of 15.7 mph). This was one of the fastest results we've seen among commuter e-bikes we tested on hill climbing.
Safety and Brake Test: Troxus Trax 30/750

The Trax showed us it can speed up and take off pretty quickly, but can the bike stop quickly, too? We pondered that when we tested this bike's Tektro hydraulic disc brakes. The Tektro HD E350 brakes this bike uses are also found on many other e-bikes, with the main reason being they brake well and they're reliable. And they proved it on the Trax, enabling it to stop from 20 mph, at an average distance of 25'4".
Testing these brakes outside our test site, and riding the Trax through hilly neighborhoods and bike paths for over 120 miles, I had a chance to see how these brakes performed, again and again. Two words come to mind when summing up their performance: consistent and reliable.
While riding a series of down hills that required constant braking, these Tektros consistently stopped this bike safely. There were some parts where the braking was so constant that I was expecting to see them fade, but these brakes continued to stop the bike consistently.
This built my confidence in the brake's reliability. Whether I needed to do a quick wheel lockup at 10 mph, or a 300' slow down on a steep heel, I could rely on the Tektro brakes to quickly slow me down and keep me safe. Another great thing about these Tektros are the dearth of available parts, and the ease in which you, or your bike mechanic, can service these brakes.
Ride Quality: Troxus Trax 30/750
Assessing the Trax's overall ride quality, the motor's power output stands out most. Whether using the throttle or the pedal assist, I liked how this motor delivered quick accelerations and suitable cruising speeds for safe riding in PAS 2 – 5. As mentioned before, I wouldn't use PAS 1 unless I was slowly riding along the boardwalk or with riders who don't have a motor to help them.
The 8-speed gearing had a nice range between the low gear needed for uphill pedaling, and the high gear for 20 mph cruising. Using the Shimano 12-32T cassette was a good choice to help me find the right gear for most ride conditions.
The Suntour SR suspension seat post made a noticeable improvement softening the ride. I also liked how the 14° sweepback handlebar gave the Trax that Dutch bike feel. Combined with the upright posture and comfortable saddle padding, this bike was comfortable for long rides and multiple rides on the same day. The ergonomic rubber grips fit my hands well, enabled me to keep in control, and never felt slippery when they got wet. All in all, the ride experience was superb on this bike.
Summary / Where to Buy: Troxus Trax 30/750
The Troxus Trax 30/750 delivered on overall quality, performance, and adaptability. From the Bafang motor, to the Samsung battery, to the Tektro brakes, this bike is fitted with decent parts that should give you good performance, with reasonable longevity.
Troxus advertised using this bike for some light dirt riding, but we didn't find the tires to offer suitable tread. So if you are thinking about riding this in the dirt, be sure to install knobby tires that are made for dirt. Other than that, the Trax proved itself as a good e-bike for commuting.
This bike shines brightest when riding it as a commuter bike. It rides like a full size bike, meaning it can overcome most obstacles you might encounter, as well as maintaining a noticeable presence to cars and other riders. We liked how this bike rode, as well as all the features it offered. And we think this would make a good e-bike for commuters in need of a bike that can take them up to 70 miles on a single charge.
The Trax comes with multiple choices for options, meaning if you don't need all the features this version has, you can customize to fit your needs and budget. Troxus ships their bikes direct to consumers. You can click the link above and find out current pricing and availability.
Happy Riding! Make sure to let us know if you have any questions down in our comments section or if you think we left anything out in this review of the Troxus Trax 30/750.
Reader Interactions