Trek Bikes Verve+ 3 ebike Review, 2020

In this Spec Review we will take a look at the build, design and components on the Trek Verve+ 3.
The Trek Verve+ 3 is the newest model in Trek's lineup of hybrid electric ebikes. The Verve+ 3 is designed for around town riding, recreational city riding or extended commutes. Trek has long been an industry leader in both traditional bikes and ebikes with an extensive lineup of options for all different riders. The Verve+ 3 brings the comfort and components of the Verve+ 2 with a few key upgrades for extended range. Priced just under $3000, this motorized city ebike is patterned after the traditional 10-speed bikes we all grew up riding! It has a streamlined frame that doesn't look heavy or cumbersome and boasts three different color options. You can get the Verve+ 3 in either a traditional high-step frame or opt for the step-thru frame which is easier to get on and off. The Verve+ 3 has a 250watt Bosch motor and an integrated 500Wh battery; however, Trek has added the option of a second supplemental battery that attaches to the downtube for added range. This dual battery system will take you twice as far without having to stop for a charge. The Purion bike computer keeps track of your ride metrics, speed, distance and battery life. This bike has just enough kick to get you quickly and easily to the local cafe, bakery and library.

Bike Category: Urban Cruiser/ City Commuter
Class 1: Pedal Assist
Speed limited to 20mph with assist
Pros:
Multiple frame sizes (XS, S, M, L) and two colors (teal, black)
Low step frame in teal or black is easy to mount
High step frame just in black but has more frame stability
Comes with an integrated battery in the downtube. This is an upgrade from the Verve+ 2 which has an external battery that clips onto the downtube.
Optional second battery can be attached to the downtube for double the range.
LCD Display provides good ride info
Properly powered to be street legal in most US and European cities.
Great for around town or city streets
Will work with any shoe
Cons:
50Nm of torque is on the lower end for an ebike in this price range
250watt motor isn't super powered and you will have to pedal to get up hills — but the 250watt motor is the legal limit in Europe which makes this bike street legal pretty much anywhere
Verve+ Electrical Specs & Features
Motor: Bosch Active Plus, 250 watt, 50 Nm, 20mph or 32km/h
Battery: Bosch PowerTube 500
Lights: Front: Herrmans H-Black MR4-E, 40Lux/120 lumen
Rear: Spanninga SOLO for e-bike
Display: Bosch Purion
Pedal Assist: 5 level pedal assist
Throttle: No throttle
Verve+ Components & Accessories
Brakes: Shimano MT200 hydraulic disc
Chain: KMC X9
Crank Set: Prowheel alloy, 38T steel ring, 170mm length
Derailleur: Shimano Alivio T4000, long cage
Fenders: Included
Fork: Alloy rigid fork, 1-1/8" steel steerer, 460mm axle-crown length (suspension corrected), ThruSkew 5mm QR
Frame: 6061 aluminum
Freewheel: Shimano HG200, 11-36, 9 speed
Grips: Bontrager Satellite Elite, alloy lock-on
Handlebars: Bontrager alloy, 31.8mm, comfort sweep, 620mm width
Headset: Bontrager alloy, 31.8mm clamp, adjustable rise, Blendr compatible, 85mm length
Kickstand: Included
Pedals: Bontrager Satellite City pedal
Rear Rack: Integrated
Rims: Bontrager Collection, alloy, double-wall, 32-hole, schrader valve
Saddle: Bontrager Boulevard
Seat Post: Comfort suspension, 31.6mm
Shifter: Shimano Alivio M4000, 9 speed
Tires: Bontrager E6 Hard-Case Lite, reflective, wire bead, 60tpi, 700x50c
Verve+ Weight & Dimensions
Total bike weight: 55 lbs
Max rider weight: 300 lbs
Frame Size(s): XS, S, M, L
Spec Review
Specs/Features
Battery
One significant upgrade Trek made to the Verve+3 is the integrated Bosch PowerTube 500. This 500Wh battery is larger than the PowerPack 400 found on the Verve+2. This provides a bit more range as is, however, this bike is range boost compatible, so you can also add another battery to extend your range which is very beneficial on a commuter bike.
The integrated battery on the Verve+3 is one of the first things you'll notice about this bike. You can get between 30 – 75 miles of range depending on your weight, assist level, cargo and terrain. Trek has incorporated what they call the "Removable Internal Battery" (RIB) which features a side-mount system on the right side of the bike so you can unlock it on the left and pull it out on the right via a handle on the top of the battery. Other internal batteries can be very difficult to unlock and remove — and many don't have a handle — so once you pull the battery out, you have to be careful to handle it without dropping it. The handle and side locking system on the Verve+ 3 is a thoughtful innovation that makes removing the battery substantially easier.
Another feature we love about the Verve+3 is the Range Boost system. Since the main battery locks in and out from the right side, this leaves the top of the tube open for another battery to be attached to double your range.

The Bosch PowerTube system has several advantages over the Bosch PowerPack 400 used on the Verve+2:
This internal battery allows the weight to be positioned lower while maintaining the step-thru frame design. On the Verve+2 step-thru, the battery makes it harder to get your leg up and over the bike without kicking the battery pack.
The battery is hidden — for a stealthy ebike look
The battery cover is matched to the paint for a streamlined design
There is room on the frame tubing for an additional battery or bosses for a bottle cage, frame bag, pump, etc.
The battery is protected since it is internal which reduces the chance of your battery being damaged or disconnecting from the frame in a fall.
Can be charged right on the bike without being removed; can also be removed without tools while on the trail.
All Bosch battery packs are UL Certified for safety and backed by a large, well-established corporation.
Has a handle on the top and inserts on the side rather than top of the downtube for convenience.
A few drawbacks to the internal battery:
Not quite as interchangeable as an external battery that can be easily replaced or swapped out
The paint-matched battery is harder to replace or repair if damaged since it needs to be matched to the color and design of the frame
Display


The computer display is mounted on the left handlebar with an easy thumb reach to the +/- buttons. The Purion display is very simple, but it is easy to see with the large digital numbers right in the center. This tells you your current speed (can be set to either mph or kph), your current assist level, a light icon when lights are on, and a 5-bar battery graph.
A few facts about this display:
This display is not removable, so you can't take it off the bike. It is subject to the elements should you leave your bike out (in the rain, sun, etc.).
The display fits seamlessly into the handlebar system — it is not overly obtrusive or obvious for those who like to maintain a low-profile ebike presence.
Despite being relatively compact, the grayscale LCD is easy to read with large numbers and letters, it can be seen in various light conditions.
This is a great display for those who want basic readouts without a lot of extra menus and metrics.
One of the sub menus for the Purion is range estimate which you can reach by holding the – key once it is turned on, this provides dynamic feedback about how far the ebike system can go based on the last mile of riding and current battery capacity
Since this is a smaller display it may be difficult for those who have limited vision
It doesn't have extended menus and a full screen readout for various metrics and stats. You have to toggle through several screens to find what you are looking for. Not as extensive as comparable display computers.
5-bar readout isn't as precise as a 10-bar readout or even battery percentage.
Motor


Trek Bikes has outfitted the Verve+ 3 with a Bosch ActiveLine 250W mid-drive motor that is low and centered for the best weight distribution. This Bosch motor is an industry favorite because it is quiet and reliable. It can be easily serviced pretty much anywhere and is small and agile. This 250watt motor provides 50Nm of torque, which isn't on the high end, but it is sufficient for the kind of around-town riding the Verve+ is designed for. This motor provides assist up to 20mph and is street legal in most cities. Bosch is a well known brand for both quality and durability and we like how the ActiveLine motors are securely tucked inside the drivetrain for protection.
Lights


The Verve+ 3 is designed to be ridden in town and through traffic, so it has integrated front and rear lights for safety. The lights can be controlled on the Purion display, but we recommend leaving them on at all times for safety and visibility. The front light is a Herrmans H-Black MR4-E, 40Lux, 120 lumen light and the rear tail light is a Spanninga SOLO for e-bike that is tucked up under the rear rack for protection.
Verve+ Components & Accessories
Brakes
Trek has outfitted the Verve+3 with Shimano MT200 hydraulic disc brakes. These provide good stopping power. The brake levers are easy to reach and responsive, so riders of all abilities will feel safe on the Verve+3.
Fenders
Fenders are often an optional upgrade on e-bikes, but Trek includes them standard on Verve+3. These are plastic fenders which reduce bike weight and also won't rust or corrode. The elongated rear fender runs down underneath the rear rack to protect both the rider and any cargo from mud splatter. Occasionally plastic fenders can crack or rattle, so we recommend keeping the fender stay in position and replacing fenders when they get cracked or worn.
Fork
The Verve+ 3 has an alloy rigid fork. This doesn't absorb as much shock as would a steel fork or suspension system, but you don't really need it on the Verve+ 3. This bike is designed for street use with narrower tires and an upright design. We don't recommend off-road or rough terrain for the Verve+ 3. However, Trek has outfitted this bike with a suspension seat post which provides a lot of rider comfort from bumps and dips in the road.
Frame
The Verve+ 3 has an alpha gold aluminum frame with the removable integrated battery system. The frame comes in two styles: low step and high step, and two color options. You can get it in teal or black in the low step frame and it only comes in black for the high step model.
We love that Trek has really dialed in the sizing options on the Verve+ 3. With sizes that range from small to medium and large. Size breakdown is as follows:
Small: 5'1" – 5'5"
Medium: 5'5" – 5'8"
Large: 5'8" – 6'1"
The medium frame weighs about 55 pounds and all frames will support up to 300 pounds of rider and cargo weight.
Drivetrain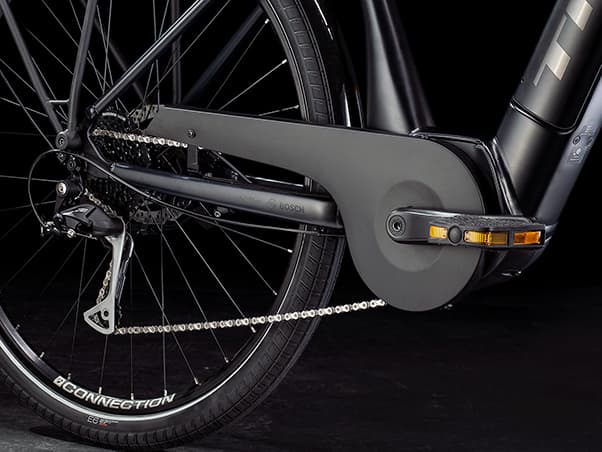 The Verve+ 3 has a 9-speed gear range with a Shimano HG200, 11-36T cassette. The front chainring is steel 38T with a protective chain cover that protects the chain from dust and debris. The Shimano Alivio T4000 long cage derailleur provides smooth shifting between gears. The handlebar shifter is the Alivio M3100 thumb shifter located on the right handlebar. It has a display window so riders can see what gear you are in while riding. This is a nice feature because sometimes on an ebike it can be more challenging to tell what gear you are in. The window display helps riders of all abilities know their gearing range. When riding an ebike, it takes some finesse to learn to shift when torque is as low as possible to avoid chain drops or damage to the drivetrain. The gear window allows newer riders to easily see and maintain a lower gear when possible to avoid gear damage.
Grips and Saddle
The Verve+ 3 has ergonomic handles that provide a comfortable hand hold. Ergonomic grips are designed to reduce hand fatigue on longer rides. These are Bontrager locking grips in black on both frame colors. The saddle is a Bontrager Boulevard that provides just a touch of added width for comfort. The suspension seat post helps increase rider comfort with 31mm of suspension.
Pedals
These are flat, Bontrager Satellite City pedals with non slip rubber cleats along the perimeter of the pedal to hold your shoe from slipping. You can wear any athletic shoe with these pedals.
Kickstand
The kickstand is adjustable and rear-mounted to avoid pedal lock. The alloy kickstand is strong but lightweight. Kickstands are a must on a city commuter bike. You can keep your bike upright while you run inside a market or cafe even if there's not a bike rack to hold it up.
Rear Rack
The Verve+ 3 includes a standard rear rack that hovers over the rear wheel for a bit of extra cargo. This isn't the largest rack and it isn't a solid surface, so you could attach some bags here but attachments may be limited. Make sure you don't have a backpack or duffel bag with straps that could hang down and rub against the tire. It is nice to have the extra option though, especially on an urban commuter bike.
Tires
The Verve+ 3 uses Bontrager E6 Hard-Case tires that are 700x50c (29" high). These are designed for street riding with a narrower profile and just a touch of tread. They do have reflective sidewall stripes which help ebikers be more easily seen in traffic. The 29" wheel will feel a bit large to some riders at first, but this raises your attack angle and makes it easier to roll over road debris and other surfaces. The low-step frame helps the bike not feel like it's too high due to the raised wheelbase, so even for smaller riders the wheels feel well-proportioned. These tires are puncture resistant and should handle most road surfaces just fine without unnecessary flats. We always recommend keeping a few spare tubes on hand for quick tube changes when needed.
Summary Review / Where to Buy
Trek has introduced the Verve+ 3 — which is the upgraded version of their popular Verve+ 2 model — with some impressive features that extend power and range. The Verve+ 3 battery is tucked into frame so it isn't in your way when getting on and off the bike. The battery is easily removable — it locks in and out and doesn't require tools — and it is color matched to the frame for a seamless design. There are also bosses and a port on the downtube for a second external battery. This dual battery system makes it so riders can go longer and farther without having to stop to charge or replace the battery. The Verve+ 3 will go 25 – 45 miles on a single battery and double that if you upgrade to the dual system. This is a city commuter / urban bike that is well suited for around town riding. It includes front and rear fenders, front and rear integrated lights, a kickstand, reflective stripes on the tires, a comfort-enhancing suspension seat post, and wide tires with a high attack angle for smooth riding.
The Verve+ 3 features an Alpha Gold Aluminum frame, 250 watt Bosch Active Line Plus motor with 50Nm of torque and 9-speed Shimano drivetrain to help you get up hills easier. The hydraulic disc brakes provide good stopping power and the puncture resistant tires are 29" high for increased speed and minimal rolling resistance. The suspension seat post, soft saddle and ergo grips also keep you comfortable while riding.
Trek bikes can be ordered online directly from the manufacturer or you can find Trek ebikes in any number of retailers worldwide. This gives buyers the ability to see, test ride, and size out the perfect bike for them. The Verve+ 3 is currently on pre-order and listed at $2999 for the integrated battery system. Additional batteries for extended range can be purchased from local Trek retailers. Trek has a feature on their website to help buyers find their closest retailer.
This is a safe bike that is a good option for city riders who want extended range, an easily removable integrated battery, and extra safety features for riding in traffic.
P.S. Don't forget to join the Electric Bike Report community for updates from the electric bike world, plus ebike riding and maintenance tips!
Reader Interactions