Tower Beach Bum 2 Review 2023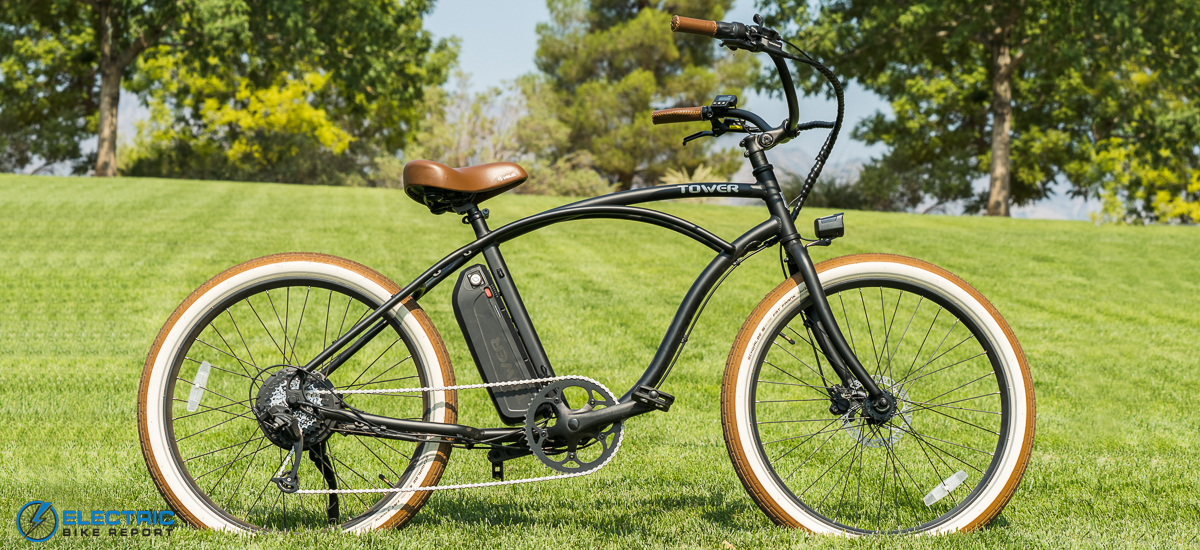 Tower Beach Bum 2 Review: Overview
The Beach Bum 2 is a Class 2 cruiser style electric bike from Tower. The Beach Bum comes with hydraulic disc brakes, a 500W motor and a comfortable riding position. This bike has enough power to make hills seem not so steep and enough comfort for longer leisure based rides.
When we reviewed the Tower Beach Bum 2 we noticed it was lighter weight than a lot of other bikes with 500W motors that we have tested recently. Its lightweight design allows it to handle and feel similar to a standard beach cruiser.
If you're looking for a budget friendly cruise-specific electric bike then the Tower Beach Bum 2 is one to look into. Its 7-gear range will allow you to sit back and relax while the motor and battery ensure the ride stays easy and fun.
By the end of our Tower Beach Bum 2 review you should have a good idea of the bike's performance, who it's for and what our overall opinion of the bike is. Let's dive in.
Bike Category: Cruiser
Beach Cruiser Style E-Bike
Bike Class: Class 2
Class 2: PAS/Throttle assist, up to 18 mph
Tower Beach Bum Video Review

Pro's
The Beach Bum 2 doesn't weigh very much for an electric bike with a 500W motor and 48V, 14Ah battery.
The Beach Bum has a very comfortable riding position. It was easy to stay upright. None of our test riders experienced fatigue from the ride positioning.
In our range tests, Towers' Beach Bum 2 had a solid battery life.
The Beach Bum has a good gear range for climbing hills and maintaining speed on flat ground.
The Beach Bum comes with hydraulic disc brakes which are decently powerful.
According to our circuit test, the Beach Bum has a consistent powercurve overall.
At 52lbs it's relatively light weight for a beach cruiser e-bike.

Con's
Vibrations came from the motor when the motor was working hard. This made it hard to stay seated as lots of those vibrations went up into the saddle. This mainly happened on our throttle-only hill test.
The motor has solid power, but its engagement can be a little inconsistent at times.
The diameter of the handlebars feels a bit thin. We would like to see a thicker handlebar for additional stability.
ELECTRICAL SPECS & FEATURES
Battery: 48V, 14Ah
Display: LCD display, left side
Motor: 500W motor, can produce up to 65nm of torque
Headlight: LED headlight
Taillights: LED tail light
Peal Assist: Levels 1-5
Range: 30-80 miles
Throttle: Right side, grip twist, throttle disengagement button included for safety.
Weight & Dimensions
Battery weight: 10 lbs
Weight: 52 lbs
Maximum rider weight: 350 lbs
Components & Accessories
Brakes: Tektro hydraulic disc brakes, 160mm rotors front and rear
Fork: Aluminium alloy fork
Frame: Aluminium alloy frame
Gearing: 7-speed, 11-34t, Skilful RD-m230 derailleur
Grips: Ergonomic leather grips
Saddle: Large Velo comfort saddle, leather
Handlebar: Swept back alloy handlebar
Kickstand: Heavy duty kickstand
Pedals: Barefoot pedals
Tires: 26" x 2.35" Schwalbe Fat Frank
Tower Beach Bum Performance Review
Acceleration / Speed
The Beach Bum accelerates pretty quickly especially when using the throttle. When accelerating on the highest pedal assist level it took the bike a minute to get up to speed. The Beach Bum is plenty strong to keep riders hovering above 15 mph in the higher assist levels and using the throttle.
The Beach Bum is a Class 2 e-bike that ships with its maximum throttle and pedal assisted speed limited to 18 mph. That max speed is adjustable via the display, but Tower send their bikes out at that speed for safety.
Range Test
Here at Electric Bike Report, we conduct two range tests to get a better understanding of the true real-world range on the bikes that we test. Between the two results you should have a good idea as to how long the bike should last. One test is done in the lowest pedal assist level and the other in the highest.
When I conducted the maximum pedal assist range test it took 38.67 miles for the battery to finally die — a very solid result that's around 10 miles more than our average distance we are used to seeing on this test. I rode at an average speed of 17.73 mph which isn't terribly far off the bikes top Class 2 speed of 18 mph.
When our test rider conducted the minimum pedal assist range test she reached a staggering 75.72 miles with an average speed of 10.61 mph before the battery finally gave out.
This is a pretty impressive result, the way the Beach Bum 2 was able to hold onto a charge for such a long time was great to see. If you asked me prior to testing this bike I wouldn't have guessed it would reach 75+ miles on one charge.
Keep in mind that you won't be moving very fast in the lowest assistance level. I would recommend pedaling in PAS 2 or 3 if you're looking to get a little more assistance here and there.
Circuit test
To get a better idea of how each assistance level performs we conduct what we call a circuit test. Not only does this test give us a good idea of what each pedal assist setting provides as far as power and speed, but also the relationship between each level.
The Beach Bum 2 had a pretty linear power curve, only dropping off in power on the highest assist level. Aside from changing PAS 4 to PAS 5 each level jumped up between 1.5-2 mph.
As I mentioned in our range test section, the first pedal assist setting doesn't do much at all. Our test rider only rode 0.1 mph faster than he did with the bike turned completely off.
Pedal assist level 1 seems like the setting that wakes the bike up. Based on our testing, those looking for a little bit of assistance on hills and average speed should use pedal assist level 2 or 3.
Hill Test
We test all of our bikes on one of the steepest hills in town known as Hell Hole. This hill is a quarter mile long and has a grade ranging from 12% to 15%. We do this test twice, once using throttle only and once in the highest pedal assist level. This puts every bike to the test and gives us a good idea about how well the motor performs with and without rider assistance.
When I scaled our test hill on the Beach Bum 2 using throttle only I reached the top of our test hill in 1:15.00. While our time was definitely respectable, the amount of vibration I was receiving from the motor made it very difficult to stay seated during this test. The motor was definitely working hard on this test and I am pretty sure I used all 65Nm of available torque from the 500W motor. I rode at an average speed of 14.5 mph.
When I climbed the same hill using the highest pedal assist setting, I reached the top in 1:12.00 with an average speed of 15.1 mph. The motor engagement was a little inconsistent, which slightly hindered my ability to carry speed into the bottom of the hill — something that typically helps bikes clear the steeper sections..
Once the motor re-engaged it did pretty well, I didn't have to shift out of the hardest gear and the bike didn't vibrate like it did on the throttle only test. Had the motor not cut out at the bottom of the test hill, I think the PAS only results would have been a little stronger.
Handling
The Beach Bum 2 handles on par with some of the other beach cruiser style bikes I've tested, though I do feel that the swept-back handlebars were a bit flexy over rough roads.
The pedaling position is good for cruising around town. I think they did a good job with the positioning on this bike relative to the way a cruiser should handle and feel.
Ride Comfort/Geometry
The cruiser-oriented riding position of the Beach Bum 2 makes it a pretty comfortable bike to ride overall. The Velo comfort saddle and ergonomic grips are easy to sit on and hold onto for long periods of time without feeling any sort of discomfort.
While the riding position was good, the aforementioned motor vibration did make sitting on the saddle under heavy throttle use a little uncomfortable. I also felt like my body absorbed some feedback that's typically absorbed by the bike's frame. It seems when you push the motor to its limits that it causes some vibrations to go throughout the bike and up into the saddle.
Towers' Beach Bum 2 comes with an adjustable stem so you can fine tune where the handlebars sit. This makes for more comfort and a wider range of rider heights being able to fit the Beach Bum.
Tower Beach Bum 2 Specs/Features Review: Electric Components
Motor
The 500W rear hub motor is capable of producing up to 65Nm of torque and seems pretty powerful overall. While the power is there, the motor's engagement left a little to be desired. It was tough to predict how it would respond to my pedaling and there were moments it stopped delivering power unexpectedly.
The hill test is a good example of a moment where the motor's power was hampered by unpredictable engagement: Had it not cut out before the bottom of the hill, we would have likely seen a quicker max PAS time.
Motor engagement issues are typically indicators that a sensor is having trouble determining whether you're pedaling or not. In this bike's case, that would appear to be the cadence sensor — though Tower doesn't specify what type of sensor is used to engage the motor. When the motor engaged properly I thought it felt great. I don't think Tower is too far off from having a really solid motor on their bike.
Battery
The 48V, 14Ah battery held its charge for a very long time in both our short term and long term range tests. The battery sits behind the seat tube and is a fully external battery.
The mentioned motor engagement definitely played a factor in how far we got on both tests, the motor was really only engaging half of the time so it didn't drain as fast as other 14Ah batteries we've tested. Had the motor stayed engaged I think the range would have been shorter, however I'm willing to bet our average speeds would have been higher.
I think most people will be satisfied with how long this battery lasts, if you stay on top of charging it you shouldn't have any issues running out of charge sooner than expected. You can expect at least 25 miles out of the battery.
Pedal Assist / Throttle
The Beach Bum 2 comes with 5 total pedal assist levels which provide a fairly consistent and linear power curve. In simpler terms, you can expect about the same amount of additional power and speed with each increased pedal assist setting.
The jump from pedal assist level 4 up to level 5 was the only jump we experienced that was a little smaller than the rest. It's also worth noting that pedal assist level 1 does not provide much power at all. Our test riders average speed was only 0.1 mph faster than it was with the Beach Bum 2 turned completely off.
The throttle sits on the right side of the handlebar and comes with a button to disengage and re-engage the throttle. This is a cool safety feature that I've only ever seen on the TurboAnt Thunder T1 that I reviewed earlier this month.
I wouldn't mind seeing more companies do this. Casual bikes like the Beach Bum 2 are going to have a lot of leisure based and inexperienced riders hop on for a ride. The throttle safety feature makes the Beach Bum a safe option for those mentioned.
Display
The display sits on the left side of the handlebar and is pretty small. I like having lower profile displays like this one, the reason being is they don't distract me from the road ahead. Some displays scream "look at me" with how bright and large they are, this is not one of them.
While I like the size and discreteness of this display I would like it to be closer to the center of the handlebars. These handlebars are very swept back and the display is nearly completely sideways with the way it sits. It isn't very easy to see what's going on on the display because of this.
Tower Beach Bum 2 Review: Components and Accessories
The Tower Beach Bum 2 comes with pretty standard components. Everything stocked on this bike is going to get the job done, but isn't going to be the best or worst in its respective category. The components on the Beach Bum should meet the standards of casual riders who aren't too concerned with performance oriented componentry.
Brakes
The Tektro hydraulic disc brakes were good to see on the Tower Beach Bum 2, these brakes are always a solid option from a reputable company in Tektro. These brakes are hooked up to 160mm rotors front and rear and provide decent stopping power.
I would like larger rotors on this bike because who doesn't like more stopping power, but for what they are they're solid. On our brake test it took 18 feet on average for us to stop from 20 mph. The brakes felt good but some of the other parts on the bike did not, the fork flexed in and the handlebars felt like they were bending some.
Frame
The Beach Bum 2 is made of aluminium alloy. It's a good looking frame overall but I think the welds could be a little cleaner and lower profile. I did experience a little bit of flexing here and there on rougher roads but that's to be expected with the fully rigid design. As a whole I think this frame is solid and the curvy design of it is also unique. I think the black paint looks good too.
Fork
The aluminium alloy fork fits the theme of the Beach Bum 2 nicely. I did experience a bit of flexing here and there when braking hard, but that's something to be expected on a rigid alloy fork. For the intended use of this bike I don't see it being much of an issue. I still wouldn't mind seeing a steel fork on this bike in the future as it would be a little stiffer and absorb more chatter from the road when riding. The current alloy fork is just fine though.
Drivetrain / Shifting
The Beach Bum 2 comes with a 7-speed drivetrain made up of a Shimano 7-speed thumb shifter and a Skillful RD-M320 derailleur. I hadn't heard of this derailleur manufacturer prior to testing this bike but it proved to be decent. When connected to the Shimano thumb shifter the shifts are smooth and clean.
The gear ratio on this bike feels good for cruising, it doesn't have any gears that are particularly hard and the gear range is great for climbing hills. I managed to climb our test hill in the hardest gear when riding in the highest assistance level. Those who like to spin their legs without the feeling of lots of force on the pedals will likely like the way this gear range feels.
Contact Points / Comfortability
When it comes to all of the contact points on the Beach Bum it's a pretty comfortable bike. The only discomfort I experienced was from motor vibration. The fully rigid frame amplified the vibrations from the motor and sent them up into my body. This motor vibration didn't happen all the time but when it did it was very hard to stay seated without feeling the frequencies.
Tires
The Beach Bum 2 comes with 26" x 2.35" tires. These tires fit the theme of the bike nicely and are also e-bike rated in the way of support and puncture resistance. Tower squirts Slime sealant into their tubes prior to sending the bike for additional protection against thorns. These tires provided good grip on all the on road surfaces we rode and we didn't receive any flats over our 100+ miles of testing.
The 26" dimension is fairly common and if you wanted another set of tires it's more than likely there will be a set at your local bike shop.
Extras / Accessories
Tower offers a good amount of accessories, spare parts and extras on their website. If you're looking to pick up some bike maintenance related products their E-bike accessory page has a decent amount of options. They also stock some accessories for the Beach Bum 2 such as the Bike Bag, and Bike Cup Holder.
Tower Beach Bum 2 Review: Summary / Where to Buy
All in all, I think Tower is headed in the right direction with their Beach Bum 2. If you're looking for an e-bike to take you from the parking lot to the boardwalk and back this is definitely one to consider.
Our test results for the Beach Bum 2 were pretty solid. I was impressed that I didn't have to shift out of my hardest gear on the maximum pedal assist hill climb. The battery range in both of our range tests was also pretty impressive. While I definitely have some questions about the motor engagement I can't deny that this bike lasted a long time, those casually cruising around shouldn't have an issue with battery life.
It was good to see this bike was stocked with hydraulic brakes which performed respectably in our brake test. These brakes have a lot of power and I think they're appropriate for the bike that they are on.
As I mentioned before I really think that Tower is on the right track. It's a solid option if you're looking for sub-$2000 beach cruiser style e-bike. With that being said if you use the Beach Bum exactly how it should be used I think it will be a good bike.
The Tower Beach Bum 2 review left me wanting to ride around not for fitness or adrenaline, but for taking in the scenery around me while I comfortably cruised. Those looking to do the same should definitely consider the Beach Bum 2.
You can purchase a Tower Beach Bum 2 directly from Tower's website.
'Happy Riding, make sure to let us know if you have any questions down in our comments section or if you think we left anything out in this review of the Tower Beach Bum.
Reader Interactions