TurboAnt Thunder T1 Review 2023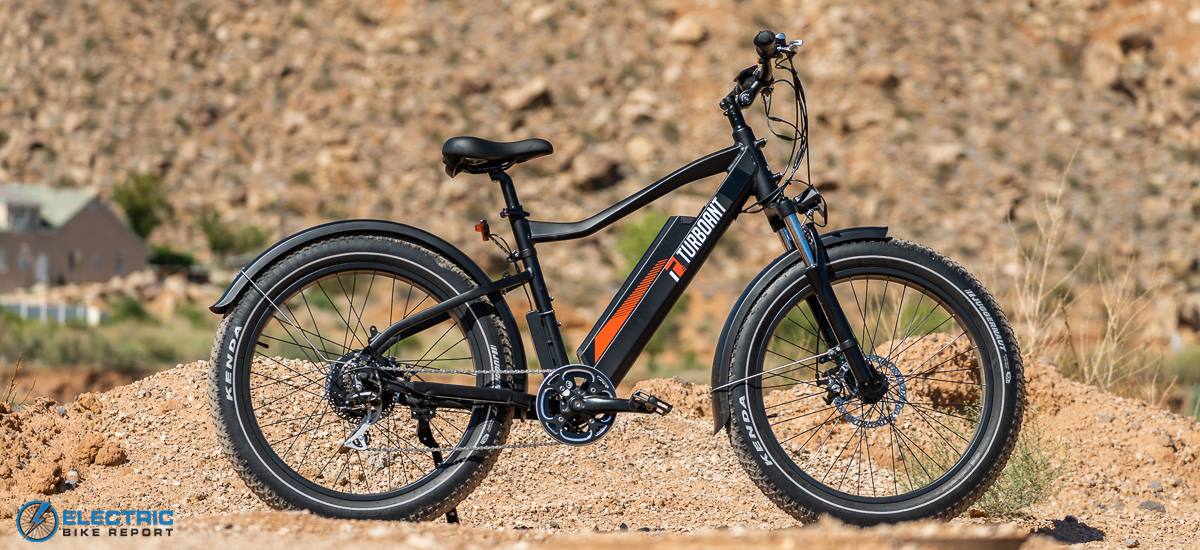 TurboAnt Thunder T1 Review: Overview
The TurboAnt Thunder T1 is a Class 3 electric fat bike that's built for multiple terrains and rider heights. The T1 comes with a powerful 750W motor, 48V, 14Ah battery and five levels of pedal assist. The T1 also has wide handlebars and an adjustable stem that allows you to adjust the positioning how you prefer.
Between the fat tires and adjustable ride positioning, the Thunder T1 will meet the fun factor and comfort requirements people often look for in electric fat bikes. The T1's design makes gravel roads seem not so gravelly and on road riding feel like a magic carpet.
During the Thunder T1 review we discovered a couple things the Thunder T1 does different from other fat tire e-bikes. By the end of the review you should have a good idea if the T1 is the right electric fat bike for you,
Bike Category: Fat Tire / Hybrid Path
Fat Tire / Hybrid Path Style E-Bike
Bike Class:
Class 2: PAS/Throttle Assist, up to 20 mph or Class 3: PAS to 28, Throttle Assist to 20 mph
TurboAnt Thunder T1 Video Review

Pro's
The Thunder T1 comes with one of the safest throttles we have seen on a fat tire e-bike. It has a button to disable and enable the throttle. This makes getting on the bike a lot safer.
The Thunder T1 has good gearing for steep hill climbs.
The Thunder's fat tires and suspension fork add lots of off-road capability to the bike. Gravel roads feel great.
The 750W motor is great for riding at high average speeds and flattening hills
The Thunder T1 is fairly priced.

Con's
The battery level indicator doesn't seem to be the most accurate. It was hard to tell how much charge we really had left when riding.
We also had a similar accuracy issue with the speed readout, which often didn't match our GPS speedometer.
ELECTRICAL SPECS & FEATURES
Battery: 48V, 14Ah battery
Display: LCD Display
Motor: 750W hub motor
Headlight: 48V LED
Taillights: Brake tail light
Peal Assist: Levels 1-5
Range: 25-60 miles
Throttle: Half twist throttle, includes button to turn on and off throttle
Weight & Dimensions
Battery weight: 10 lbs
Claimed weight: 72.8 lbs
Real weight: 72.8 lbs
Maximum rider weight: 264 lbs
Unfolded Dimensions: 78" x 28.5" x 45" (length x width x height)
Components & Accessories
Brakes: Tektro Aries mechanical disc brakes, 180mm rotors
Fenderss: Plastic, included
Fork: RST alloy spring fork
Frame: 6061 alloy
Gearing: Shimano Acera 7-speed
Grips: Imitation leather ergonomic
Saddle: Velo Plush saddle
Handlebar: 725mm alloy handlebar
Kickstand: Included, alloy
Pedals: Borita pedal
Tires: 26" x 4.0" Kenda fat tires
TurboAnt Thunder T1 Performance Review
Acceleration / Speed
The Thunder T1's 750W motor seems to do everything it can to keep you as close to the top speed as possible. Whenever I would slow down a bit I would feel the motor kick back in to make up for the speed I had lost.
This gives the bike somewhat of a "hovering" feeling as it fluctuates ever so slightly when riding near its top speed. The speedometer doesn't seem to be the most accurate, however, and what the display was reading out didn't match the speed our satellite GPS was detecting.
Range Test
Here at Electric Bike Report we conduct a range test to get a good idea of the true real world range of the battery. We do two range tests, one in the highest pedal assist setting and the other test in the lowest. After these tests are complete not only have we got a lot of test miles in on the bike, we also can see how accurate the manufacturers claimed range is. We conducted the TurboAnt's range test with the bike set up as a Class 2.
When I tested the TurboAnt Thunder T1 in the highest pedal assist setting I reached 27.95 miles before the battery finally died with an average speed of 19.2 mph. I was a bit concerned at first as the battery life indicator dropped very quickly.
Similar to the speed readout, we saw some discrepancy between the bike's displayed charge level and how long it actually lasted. Despite the display reading out a low charge level, the bike continued to ride under power for much longer than I expected. For example, I rode with five bars for a mile or two before it dropped and I rode at one bar of charge remaining for at least ten miles.
While the range was solid, I really didn't know how long the bike was going to last due to the odd battery readout. It would be great to have a better calibrated battery readout on future models.
When our test rider Griffin conducted the Thunder T1 range test in the lowest pedal assist level he reached 58.18 miles before the battery died with an average speed of 12.3 mph. Similar to me, the battery readout didn't match how long the bike actually lasted.
Circuit test
We conduct what we call the circuit test to get a good idea of how each pedal assist setting performs where we ride a 1-mile loop in each pedal assist level. Not only does this show us how each pedal assist level performs, it shows how big the margins are between each pedal assist level.
We conducted the TurboAnt circuit test in its Class 2 speed setting, with the max motor-assisted speed limited to 20 mph. Typically we like to see a linear or exponential power curve as they yield the most consistency in feeling.
The TurboAnt Thunder T1 had a somewhat predictable feeling from level to level except the jump from PAS 3 to PAS 4, where the bike only had an average speed increase of .6 mph. Every other jump was around 2.0 mph.
When we did the loop in PAS 5 we had an average speed of 20.1 mph. PAS 5 does everything it can to keep you around the bike's top speed. You may notice our average speed is higher than the Class 2 limit of 20 mph; there is a downhill on our circuit test that helped our test rider gain some additional speed.
Hill Test
We conduct a hill test on one of the steepest hills in St. George, Utah to get a good idea of how the bikes we test flatten hills. The test hill is a third of a mile long and ranges from a 12%-15% grade. We do this test once in the highest pedal assist level and again with the throttle only. This shows us how the bikes can climb on their own power and with rider assist.
The TurboAnt Thunder T1 was a solid hillclimber. On the throttle only test it took me 1:33.00 to reach the top of our test hill with an average speed of 11.7 mph. On the maximum pedal assist test, I reached the top of our test hill in 1:12.00 with an average speed of 15.1 mph.
The Thunder T1 did a good job of saving some power for when things got really steep.The 7-speed Shimano Acera drivetrain also allowed me to maintain my cadence by downshifting a couple of times. Between the 7-speed drivetrain and the 750W motor, hill climbs shouldn't be an issue on this bike.
Handling
The Thunder T1 was very easy for me to corner and felt very stable overall. I liked the handlebar width of 725mm, which is a little wider than most other electric fat bikes and gave me additional confidence on the downhills and additional stability off-road.
The handlebar is connected to an adjustable stem where you can change the height of the handlebars. I chose to ride with the bars a little more forward and less upright for a more performance-oriented sporty feeling.
Ride Comfort/Geometry
The Thunder T1 is a pretty comfortable e-bike because of its fat tires, suspension fork and soft grips and saddle. The adjustable stem also allowed me to get the handlebars exactly where I wanted them. Lots of vibrations that normally can cause rider fatigue are absorbed by the Thunder T1.
TurboAnt Thunder T1 Specs/Features Review: Electric Components
Motor
The 750W motor definitely has some power but it could use some work in how it engages. The way the motor is calibrated makes the bike gain speed, stop engaging once up to speed, lose speed and then accelerate again.
This is the hovering feeling I mentioned earlier in the review. I think this caused the battery to die quicker than it should have. I also am wondering if the inaccurate speed readout we were experiencing plays a factor in the way the motor was engaging.
On the hill test, the motor did a good job maintaining its power through the steepest and most difficult parts of the climb. Our results were on the better end of the bikes we have tested.
Battery
The Thunder T1 comes with a 48V, 14Ah battery that's semi-integrated into the frame. The battery did a good job holding onto a charge for a decent amount of time, however I wasn't sure if it was going to due to the battery readout being rather unpredictable.
The battery indicator has 5 total bars, I dropped a bar almost immediately and this had me thinking I was only going to get 10 or so miles out of the bike.
The next two bars dropped almost as quickly and I ended up being on the last two bars for a majority of the range test I did. I rode over ten of the miles with just one of the bars remaining. Basically the battery did good in range, but based on what the display was telling me I wasn't sure if it was going to.
Pedal Assist / Throttle
The TurboAnt Thunder T1 comes with 5 total pedal assist settings. In our circuit test we found that most pedal assist changes to a higher level will increase the average speed by around 2 mph. The only small jump was from PAS 3 to 4, which was only 0.6 mph.
Between the 5 assist levels and the 7 speed drivetrain, you should be able to find your happy median of human power and motor power. In the higher pedal assist settings the 750W motor is going to be plenty powerful for you to be able to easily spin the easier gears up hills .
One cool thing about the throttle is the fact that it has a button where you can activate or deactivate it. This is a good safety feature we like seeing on grip twist throttles.
Less experienced riders and those who don't want to deal with the throttle can turn it off with the push of a button. Aside from the button this throttle is pretty standard. It was easy to moderate how much power was coming from the throttle.
Display
The LCD display is on the left side of the handlebars and is pretty standard. It shows your pedal assist level, battery life, speed and more. We noticed the battery readout and the speed readout weren't the most accurate.
The speed on the speedometer did not match up with our GPS data when we were riding around, and the battery readout did not show the battery life at a consistent rate. The first two bars dropped quickly and the next two lasted a very long time. While both the speed and battery life of the Thunder T1 were solid, the display kept us guessing.
TurboAnt Thunder T1 Review: Components and Accessories
The Thunder T1 comes with decent componentry for the price point. Little things like the adjustable stem make the T1 easy to adjust relative to your size and preference. Lots of components are from reputable brands on the Thunder T1.
Take the Shimano Acera drivetrain, or Tektro Aries brakes for example. These are both solid component manufacturers, local bike shops should have replacement parts for these brands.
Brakes
The Tektro Aries mechanical disc brakes come with 180mm rotors front and rear. These brakes had decent stopping power for casual riding but I found myself wishing I had more when coming to a complete stop and when going downhill.
When we conducted our brake test it took me 22-feet-8-inches to stop, which is farther than most of the bikes we've tested at Electric Bike Report. We do this test 5 times from 20 mph and take the average stopping distance.
The Thunder T1 weighs over 70 lbs so it's going to take some time to stop. The brakes were strong enough to lock up the wheels but the momentum of the bike made it take a little bit to come to a complete stop.
Hydraulic brakes would be a nice touch, the heavier weight of electric fat bikes creates the need for more stopping power. While I would consider these brakes safe, more stopping power never hurts.
Frame
The Thunder T1's frame is constructed of 6061 alloy and houses the semi-integrated battery in the downtube. The frame has clean welds and a nice black, white and red color scheme.
Fork
The RST spring suspension fork gives the TurboAnt Thunder T1 more comfort and off-road capability than a standard rigid fork would. This is a nice touch to the bike and I found it really improved my experience when riding off-road. The fork's lockout switch helped a lot when I was trying to maximize efficiency uphill. None of my pedal strokes were soaked up by the suspension bobbing.
Drivetrain / Shifting
The Thunder T1 comes with a 7-speed Shimano drivetrain. When combined with 750W of power you should be able to maintain speeds on straightaways and climb pretty much any hill.
I found myself wanting a little bit harder gearing and the aforementioned hovering experience is why. I think if I were able to maintain the speed with a slightly harder gear the motor wouldn't have to boost me back up to speed so often. A slightly bigger chainring would likely solve this issue.
Contact Points / Comfortability
The Thunder T1 is a little more comfortable than I was expecting it to be. I think it's mainly due to the adjustable stem allowing me to find the sweet spot for positioning. I ended up putting the stem right in the middle of its adjustment range, far enough forward for performance and far enough back for comfort over long periods of time.
Tires
The Kenda Juggernaut tires have long been a staple in the electric fat bike industry, and for good reason.
These tires have proved their worth time and time again to me in their traction, all terrain capability and puncture resistance. They include a reflective sidewall for increased visibility, too. These tires allow you to run a wide range of pressure, including low pressures for more traction or high pressure for rolling speeds. I was happy to see the Juggernauts on the Thunder T1.
Extras / Accessories
The TurboAnt website has plenty of replacement parts and accessories available for purchase. A couple examples include a replacement charger, LCD display and headlight. I would recommend picking up a couple of extra inner tubes with the purchase of your bike.
TurboAnt Thunder T1 Review: Summary / Where to Buy
The TurboAnt Thunder T1 felt like a solid electric fat bike. It did everything that I would hope for in a bike of this style. It's comfortable, quick and capable on multiple types of terrain.
It also flattened our test hill with relative ease. It was good to see TurboAnt implement a safety button for the throttle. I'd like to see more companies start doing this because it adds a lot more safety to the throttle by decreasing the chances of accidentally engaging it.
Our range test results were really solid, with the TurboAnt clocking some of the longest distances we've seen out of a 48V, 14Ah battery. The battery readout indicator could have been more accurate as it did not deplete at a consistent rate, leaving us wondering if we were going to get 10 miles or 30 from t;he battery.
I wouldn't mind seeing hydraulic disc brakes on a bike at this price point, even if it's just as an optional upgrade. Our brake test results were a little farther than what we are used to seeing on fat tire e-bikes, a result we know is partially due to the weight of the bike.
The wide and flat handlebar paired up with the adjustable stem was a good addition to the bike. It allowed our test riders to easily adjust the bars to their liking; fully forward will be more performance oriented with a longer reach while fully back will be more comfort oriented with a shorter reach. I found my sweet spot in between the two.
Based on my ride experiences and our test results, I think that TurboAnt is on the right track with their bike. I still think they have a little ways to go before their bike is completely refined — things like the inaccurate speed and battery readout should be fixed — but aside from that, it's a solid electric fat bike.
The TurboAnt Thunder T1 review was an interesting one in the sense that we have had a lot of electric fat bikes come through our doors lately. It's been interesting to see how they differ and where their strong suits lay.
I would say the Thunder T1's best trait is safety oriented throttle design and its handlebar adjustment. While the handlebar adjustment may not seem like much it made a big difference for our team — all of us were able to get the handlebars where we wanted them which made for that much better of a ride experience.
'Happy Riding, make sure to let us know if you have any questions down in our comments section or if you think we left anything out in this review of the TurboAnt Thunder T1.
Reader Interactions