Tern HSD S8i eBike Review – 2020

The Tern HSD S8i is a low profile folding ebike designed to haul both you and your stuff with ease. In this Spec Review we'll take a look at the HSD, what it can do, who it's best suited for and if it's the right bike for you!
The HSD stands for "Haul Stuff Daily" and this bike does just that! The HSD folds down to save space and when open, it will haul you, maybe a passenger, and even some cargo with an impressive 375 pound weight capacity. The drivetrain on this bike features the Gates belt drive and Enviolo shifter that makes the bike easy to ride. The mid drive motor is low and centered in between the crank arms for safety and a stealthily hidden battery behind the seat post leaves room for both the low step frame and rear cargo rack. Tern has long been an industry leader in folding cargo ebikes and the upgrades on the HSD make it the perfect option for new ebikers looking to replace a vehicle or those who just ride around town with ease!
Bike Category: Class 1: Pedal assist to 20mph. No throttle.
Who It's For: Riders who want comfort and ease on a folding cargo ebike for around town riding
Bike Specs
FRAME: Tern HSD, 6061-AL, patented design, Tern sliding dropouts
FORK: Suntour custom for Tern, 1.5″ tapered Chromoly steerer, 32 mm stanchions, Thru-axle, 70 mm travel
MOTOR: Bosch Active Line Plus (Gen 3), max speed 20 mph (US)
BATTERY: Bosch PowerPack 400
DISPLAY: Bosch Purion, 4 mode selectable, walk assist
RANGE: 26-69 miles
CHARGER: Bosch Standard Charger
SHIFTER(S): Shimano Nexus 8
CRANKSET: Tern HSD custom, Gates CDX CNC machined beltring
CASSETTE: Gates CDX, precision CNC machined cog
CHAIN: Gates Carbon Drive CDX belt
PEDALS: Urban with non-slip surface
SHIFTER: Shimano
BRAKES: Magura MT4, hydraulic disc, 180 mm front, 160mm rear
HANDPOST: Tern Physis 3D (G2), 3D forged, 5 patented technologies, 12°, 290 mm
STEM: Tern Andros (G2), adjustable, forged construction, patented technology
HEADSET: Tern Flux Pro Taper, 1.5″, angular contact bearings, Physis integrated
HANDLEBAR: Tern Sweep, 6061-AL, Tern Andros adapted
Handlebar: Moustache, Ergonomic, Alloy, 680mm, 25° backsweep
SADDLE: Tern HSD
SEATPOST: Tern Telescope, 34.9/30.9 mm, 2014-AL
RIMS: Tern Atlas H, wide 35 mm
TIRES: Schwalbe Big Ben, 55-406, RaceGuard puncture protection, ECE-R75
BELL: Aluminum
KICKSTAND: Ursus, rear mount
HEADLIGHT: Tern Valo Direct, 45 lux/190 lumens
REAR LIGHT: Herrmans H-Trace, for eBike
FENDERS: SKS, stainless hardware
RACK(S): Atlas H rack, Atlas Rack Mount, 6 point mounting, max 60 kg (132 lb)
LOCK: ABUS 5650L, keyed-alike with Bosch battery
Bike Features
Bosch® Active Line Plus motor with Purion display

The Bosch Active Line motor provides responsive power thanks to the sensor system that measures pedal input 1000x per second. The motor controller monitors both rear wheel speed and torque so motor draw is proportionate to the power needed.

400 Wh battery for a range of up to 110 km (69 mi)

This 400Wh battery will provide you some good power and range without being overly heavy. It is tucked behind the seat post for protection when the bike is folded.

Custom Suntour suspension fork

A Suntour suspension fork adds comfort to your ride and helps absorb some of the bumps inherent on a low-profile bike. The 70mm of travel is rated for up to 375 pounds.

Shimano® Nexus 8 internal-gear hub

The Nexus 8 internal-hub system works in conjunction with the Gates belt drive to provide smooth shifting on a quiet drivetrain.

Magura® MT4 hydraulic disc brakes

180mm rotors in the front and 160mm rotors in the rear provide plenty of stopping power on this cargo bike.

Gates Carbon Drive® CDX belt

The Tern HSD uses a belt rather than chain drive which reduces both noise and vibration while riding; it also requires less maintenance.

Abus® keyed-alike frame lock

Lock your bike with ease via the mounted frame lock. The key is the same for both the lock and the battery so you only need one key to use and secure your bike.

Fits riders from 150 to 195 cm (4'11" – 6'5")

Featuring an adjustable handlebar stem, you can angle the bars up or down and also raise and lower the seat to make this bike work for riders of all weights and sizes.

Fits one Thule® Yepp Maxi, Yepp Nexxt Maxi, or Bobike® GO Maxi child seat—no adapters needed

The rear rack is compatible with any number of passenger systems.
Pros:
Tern has mastered the folding frame with lots of different options and features. The HSD works great for those who want power, easy shifting, quiet pedaling and plenty of cargo options.
Integrated front and rear lights allow you to see and be seen in traffic
The Bosch ActiveLine Plus generation 3 has gone through several iterations and is now quieter and more powerful than before.
A front suspension fork helps a lot since the 20" wheels are slightly lower to the ground and therefore more subject to bumps and bounces.
Adjustable handlebar stem is innovative and makes the bike easy to adjust for multiple sized users.
Tern is a known brand with a respectable history and reputation for building quality folding ebikes. You can find long term data on users' experiences, durability, longevity, etc. With so many new companies now producing ebikes, it's nice to go with the tried and true.
Cons:
The bike weighs nearly 60 pounds and the motor can lag a bit when working uphill or when fully loaded. If you choose to maximize the 375 pound weight capacity, be prepared to pedal to support the motor power.
The handlebars fold down for convenience, but the pedals don't fold. While not a big deal, you do have to be aware of the pedal when attempting to load the HSD into the back of a truck on its side.
There are a lot of cables draping around the headtube that are not internally routed. This may allow for greater ease when folding the bike, but they can get in the way of the front headlight when riding.
The bike is on the higher end of the price range for folding bikes and while you're getting a lot for your buck here, when you start to add accessories and stuff it can get pricey.
In-Depth Spec Review
Frame
The Tern HSD is a great "haul stuff daily" ebike. The low-step frame is easy to get on and off, especially since the battery is tucked behind the seat and out of the way. You don't have to worry you're going to hit it with your foot as you mount the bike. The motor is low and centered as well, which helps with stability and balance on a low profile bike. The 20" wheels lift you up just enough but make it so you don't have to lift cargo or passengers quite as high when putting them on the bike. If you've ever loaded a toddler into a rear passenger seat, the lower wheelbase is a godsend. The handlebars on the HSD fold down to reduce space when not in use. We love the addition of front and rear fenders, integrated lights and a sturdy rear rack with optional passenger attachments. The Gates belt drive and Nexus 8 internal gearing makes the Tern HSD a quiet ride. Belt drives require less maintenance and are easier for new riders and/or those unfamiliar with the technique of shifting on an ebike. Both the handlebars and seat post can be adjusted to make room for different sized riders as well. Tern has really innovated a few key elements to make the HSD one of the best mid-size cargo ebikes available.
Motor & Battery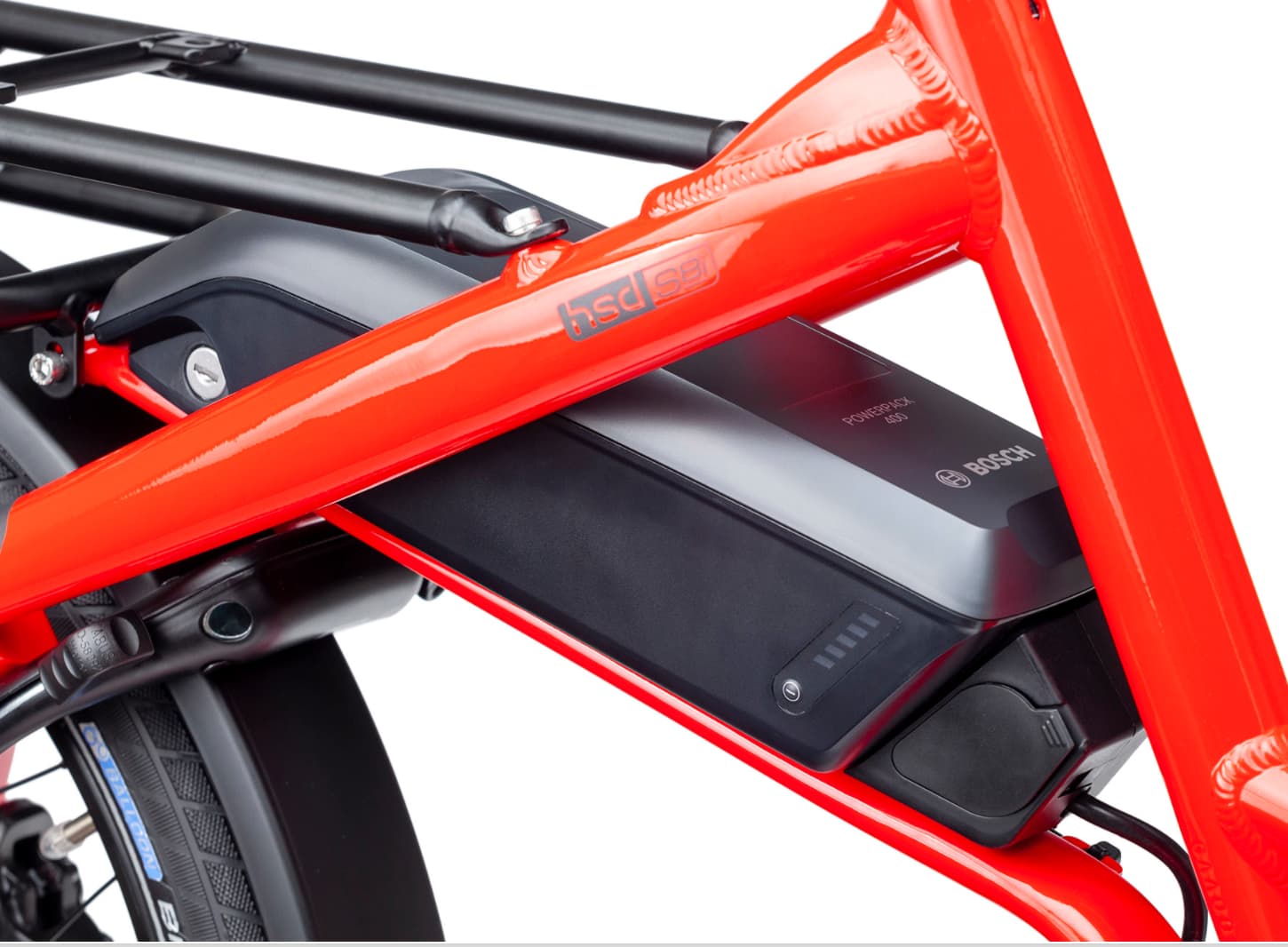 The Tern HSD S8i is a Class 1 bike with up to 20mph pedal assist.
Tern again utilizes the tried and true here with a Bosch 400Wh battery. The placement of the battery keeps it out of your way and safe from impact. The battery is both lockable and removable. You can charge it on or off the bike. Both the charging port and lock are on the right side of the battery. The key to lock and unlock the bike is the same as for the Abus frame lock, so it's nice you only need one.
This battery will give you respectable range. Tern claims you can get up to 70miles on this bike using minimal pedal assist. We anticipate most riders will max out around 35 miles or so, especially if you are using it to load cargo. But for most of us, that's plenty of distance and the ease of charging the battery in between errands or while at work is a nice option as well. We love that Tern includes a 4Ah charger which will charge your battery in less than half the time of the standard 2Ah charger.
Display/Assist Modes
The Bosch Purion display is not removable, but it is very easy to see and use. Mounted on the left handle, the display has minimal buttons for simplicity when riding. A 5-light battery indicator at the bottom of the screen lets you know about how much power you have (in 20% increments). You also get a large digital display of speed and your pedal assist level.
The HSD has four modes of assist plus walk mode. Eco provides 40% supplemental rider power; Tour is 100% rider power; Sport adds 170% of rider power and Turbo is 250% of rider power. Each mode is displayed on the screen. There is a micro-USB port on the right side of the display, but this is for diagnostics and software updates only. You can't charge a phone or MP3 here.
Gears/DriveTrain
The Shimano Nexus 8 drivetrain and Gates belt system is where the HSD differs from other cargo bikes. This internally geared system makes shifting much easier. You are less likely to chip the teeth on the rear cassette (since there isn't one) or drop a chain due to too much torque on the drive system. The Nexus 8 pulls all the gears internal so the bike essentially shifts for you based on your anticipated cadence combined with terrain and pedal torque. We've seen and tested this system on other ebikes and it is truly innovative. However, it is also more expensive and a bit heavier, so it may explain the slightly higher price point on the HSD. In our opinion it's worth it, but for those who are comfortable shifting gears on an ebike and can anticipate the necessary gear for stopping, starting, or navigating terrain, you may find the Nexus 8 system to be a bit simple. Tern offers other cargo bikes with standard gearing if this isn't your cup of tea.
Brakes
As expected, Tern has outfitted the HSD with hydraulic disc brakes, 180mm in the front and 160mm rear. The brakes work well to counteract the HSD's speed, power and weight capacity. The brakes are plenty powerful here and should provide solid stopping power whenever needed.
Suspension
70mm of suspension on the front fork adds just a touch of travel. Due to the smaller wheel circumference, this bike is prone to a bit more bumps and bounciness than other ebikes and the front fork suspension helps the bike absorb the shock rather than the rider. The widened tires and a bit of grippy tread help keep you firmly on the road as well.
Pedals
Tern's flat commuter pedals with grip tape and side reflectors are great for both comfort and visibility.
Wheels and Tires
20" x 2.15" Schwalbe Big Ben tires with RaceGuard puncture protection keep you grounded and flat-free. The extra width adds just enough traction but doesn't slow you down. The tires have reflective sidewalls and logos, both of which add to your visibility.
Frame Lock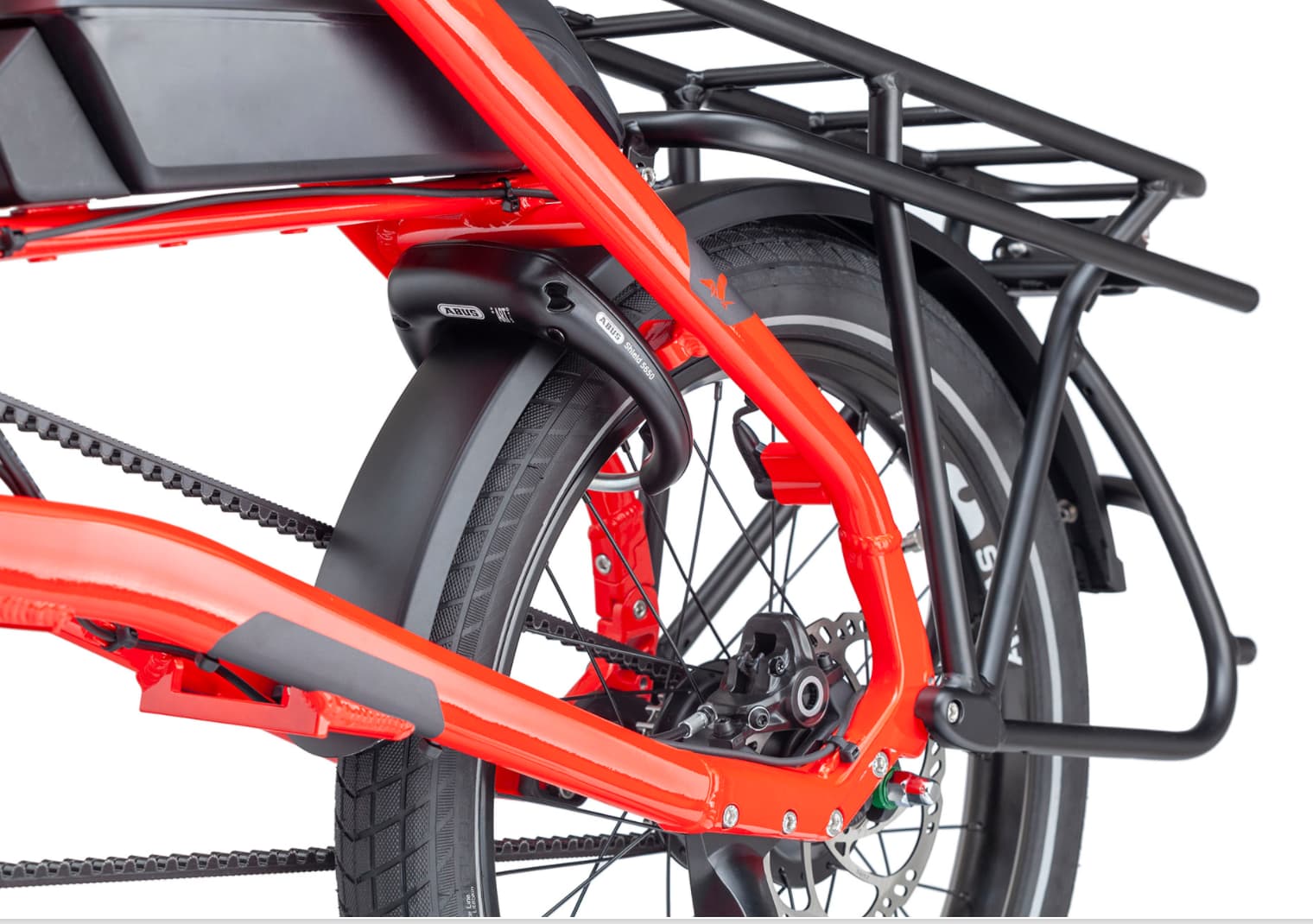 Just below the rear seat stay, Tern has tucked a frame lock that clips on the rear wheel.
This Abus lock secures the bike so it can't roll. The key for this is the same as for the battery which is nice. The frame lock is a handy security feature when you are running into the cafe or library real quick and want to quickly secure your bike. Tern is a European company and in Europe where ebikes are more ubiquitous on city streets, locking systems have been integrated onto the bike for added security which we love.
Accessories/Upgrades
Tern has included several key accessories on the HSD. An aluminum bell adds an important safety feature for around town and bike trail riding. When crossing pedestrians a bike is easier to hear than a polite "on your left," so this helps both you and others on the road travel safely. The HSD has a rear-mounted kickstand that won't conflict with the pedal. Integrated front and rear lights are also standard. The Valo Direct head light is 190 lumens. Fenders are SKS stainless so they won't rust and are less likely to crack in the weather. An aluminum chain guard keeps the drivetrain protected and we are impressed with the Atlas rear rack. It has six mounting points and will support up to 132 pounds. Additional cargo and/or passenger seats will also easily attach to the rack.
Recommendation
The Tern HSD S8i is an excellent folding cargo bike. It doesn't fold down as much as others we've used, but the handlebars will drop to the side so it is easier to load into a truck bed or other transportation. The Bosch® Active Line Plus mid-drive motor is tucked low and centered between the pedal cranks for safety. This pairs well with Bosch's 400 Wh battery which is both lockable and removable. The Suntour suspension fork adds travel to the front end and the Shimano Nexus 8 internal-gear hub and Gates Carbon belt drive make for a smooth ride that is easy to shift. The Magura hydraulic brakes add enough stopping power so you will always feel in control of the bike. Tern has several adjustment features including an innovative handlebar stem that can be angled up or down for different sized riders. The HSD comes in one size only, the 16.75". But, Tern advertises this bike will fit anyone from 4'11" to 6'5". The maximum rider weight is 264 pounds while the max weight capacity of the whole bike is 375 pounds. You can get up to 132 pounds on the rear rack. Several aftermarket seat attachments such as the Thule® Yepp Maxi, Yepp Nexxt Maxi, or Bobike® GO Maxi child seat will attach to the rack with no adapters needed. Take a look at the Tern HSD S8i if you are in the market for something foldable, that will haul you and your stuff on a smooth drive system and capable motor package.
P.S. Don't forget to join the Electric Bike Report community for updates from the electric bike world, plus ebike riding and maintenance tips!
Reader Interactions