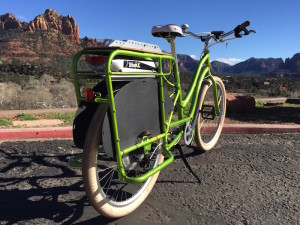 Electric assisted cargo bikes are great because you can accomplish many of the errands normally done with a car: carrying kids, getting groceries, picking up random items during the day, etc.
And Yuba Bicycles is all about showing off "What a bike can do" in their Power-Up Bike Tour across the US.
During this tour they are taking their cargo bikes to local dealers and events to "bring the bikes to the people".
The other day Steve Bode from Yuba Bicycles stopped by the Electric Bike Report office in Sedona, AZ to [Read more…] about Yuba Power-Up Cargo Bike Tour [VIDEO]