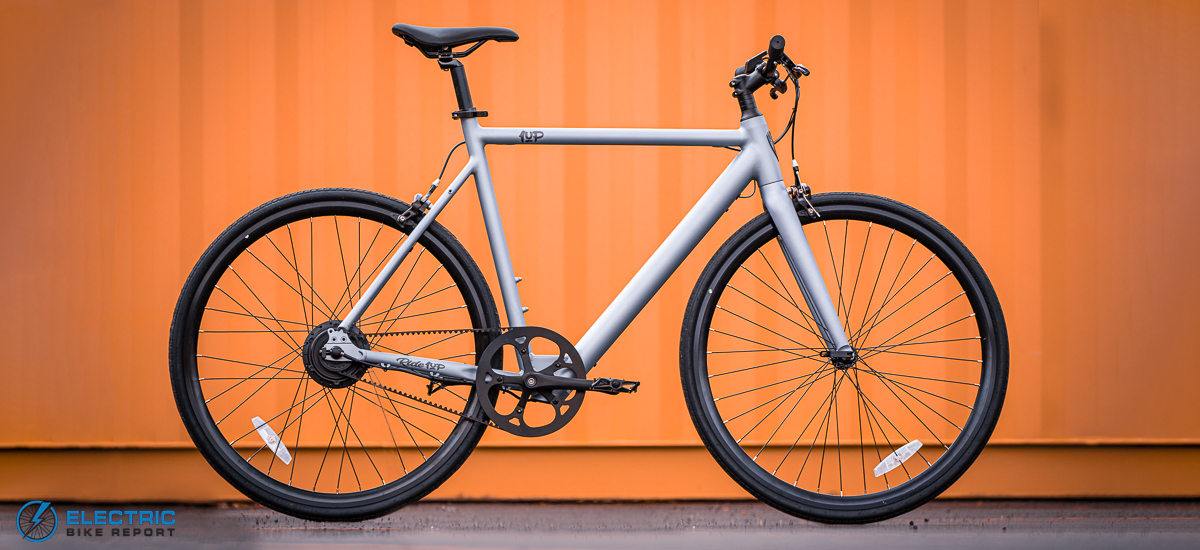 Summary Review: Ride1UP Roadster V2
*See the latest price on the Ride1UP Roadster V2 here
When Ride1UP sent us their Roadster V2 electric commuter bike for review and we pulled it out of the box for the first time, I was hit with a healthy dose of nostalgia.
It's clean lines, urban styling and refreshing simplicity for an e-bike made me spend the rest of the day thinking about a bike I used to spend a lot of time on.
In college I rode a steel frame fixed-gear commuter bike to and from campus every day. It was silver with black wheels and a funky "Metropolis" handlebar from FSA and a leather Brooks saddle. It was the paramount of cool campus bikes, and I rode the wheels off it. It ferried me daily on an eight-mile round trip to campus, shepherded me safely home from more than a few nights at my favorite watering hole and was quick enough to claim victory at a small handful of local alleycat races.
I loved that bike. In fact, I loved it so much I've never been able to part with it. That steel commuter still lives in my garage today; its heavily stickered frame covered in a layer of dust (almost) thicker than my nostalgia.
The Ride1UP Roadster reminds me so, so much of that bike.
Ride1UP's Roadster clearly takes its style cues from the same fixed-gear and urban commuting culture I sank my teeth into in college. The wheelbase is short and snappy and the bars narrow, perfect for darting through congested areas. It's also hard not to stare at the monster 64-tooth front sprocket that turns a belt drive instead of a traditional chain — a 20-tooth cog at the rear wheel makes that gear manageable for the average commuter (when the motor is on), but it just looks fast when the e-bike rolls by. The frame is racy, and the geometry more closely matches that of a road bike than a commuter.
Our testers at Electric Bike Report agreed this is a bike rider's e-bike, perfect for someone in an urban environment that needs a great looking e-bike to cover a relatively short distance fast. The modest 350W motor packed a nice punch and easily propelled larger testers to a good cruising speed; it even flattened hills surprisingly well considering you've only got one gear. This e-bike is extremely affordable at $1,095 and is a good value for the money. It's also lightweight, and has an exceptionally well performing bottom bracket cadence sensor for a value-priced bike.
Overall, it's a great buy for someone in the market for a value-priced, stealthy commuter e-bike with enough juice to whisk them around town for a day. In EBR's opinion, the Roadster is an homage to the stylish fixed-gear commuter and messenger bikes made popular on the streets of Chicago, New York and L.A. The modest 350W hub motor has a surprisingly strong kick and the bike's geometry favors a person unafraid of riding in a more aggressive body position.