Ride1UP Roadster V2 Electric Bike Review – 2023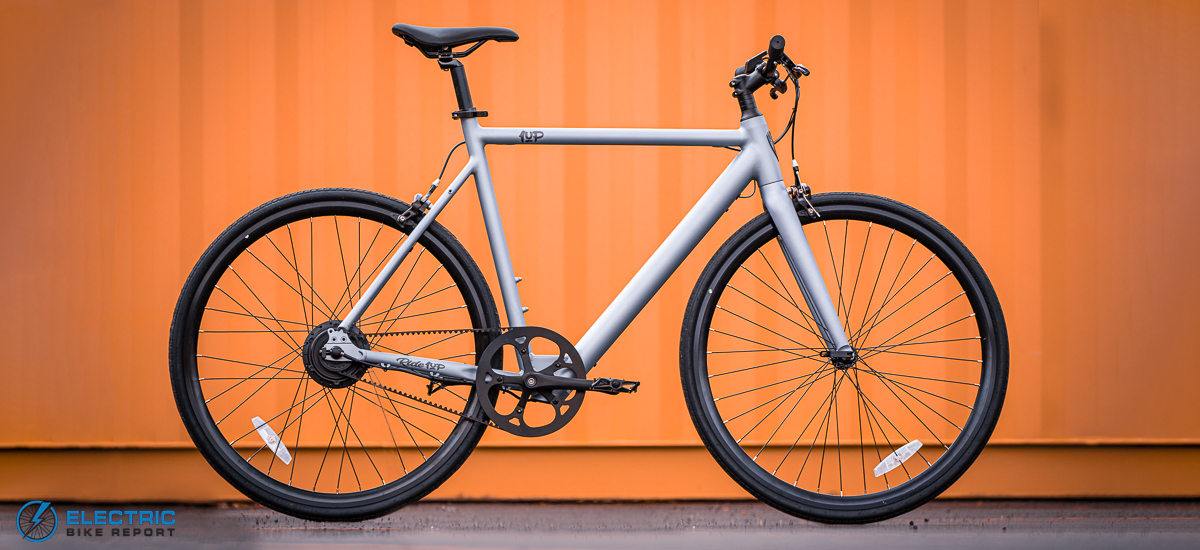 Summary Review: Ride1UP Roadster V2
*See the latest price on the Ride1UP Roadster V2 here
When Ride1UP sent us their Roadster V2 electric commuter bike for review and we pulled it out of the box for the first time, I was hit with a healthy dose of nostalgia.
It's clean lines, urban styling and refreshing simplicity for an e-bike made me spend the rest of the day thinking about a bike I used to spend a lot of time on.
In college I rode a steel frame fixed-gear commuter bike to and from campus every day. It was silver with black wheels and a funky "Metropolis" handlebar from FSA and a leather Brooks saddle. It was the paramount of cool campus bikes, and I rode the wheels off it. It ferried me daily on an eight-mile round trip to campus, shepherded me safely home from more than a few nights at my favorite watering hole and was quick enough to claim victory at a small handful of local alleycat races.
I loved that bike. In fact, I loved it so much I've never been able to part with it. That steel commuter still lives in my garage today; its heavily stickered frame covered in a layer of dust (almost) thicker than my nostalgia.
The Ride1UP Roadster reminds me so, so much of that bike.
Ride1UP's Roadster clearly takes its style cues from the same fixed-gear and urban commuting culture I sank my teeth into in college. The wheelbase is short and snappy and the bars narrow, perfect for darting through congested areas. It's also hard not to stare at the monster 64-tooth front sprocket that turns a belt drive instead of a traditional chain — a 20-tooth cog at the rear wheel makes that gear manageable for the average commuter (when the motor is on), but it just looks fast when the e-bike rolls by. The frame is racy, and the geometry more closely matches that of a road bike than a commuter.
Our testers at Electric Bike Report agreed this is a bike rider's e-bike, perfect for someone in an urban environment that needs a great looking e-bike to cover a relatively short distance fast. The modest 350W motor packed a nice punch and easily propelled larger testers to a good cruising speed; it even flattened hills surprisingly well considering you've only got one gear. This e-bike is extremely affordable at $1,095 and is a good value for the money. It's also lightweight, and has an exceptionally well performing bottom bracket cadence sensor for a value-priced bike.
Overall, it's a great buy for someone in the market for a value-priced, stealthy commuter e-bike with enough juice to whisk them around town for a day. In EBR's opinion, the Roadster is an homage to the stylish fixed-gear commuter and messenger bikes made popular on the streets of Chicago, New York and L.A. The modest 350W hub motor has a surprisingly strong kick and the bike's geometry favors a person unafraid of riding in a more aggressive body position.
Ebike category:
Commuter/City and urban style
Ebike class: [Class 1, 2, or 3]
Class 3: No throttle and pedal assist up to 24 mph.

Pro's
Very quick motor engagement thanks to a quick-acting bottom bracket cadence sensor. It takes about a half pedal stroke for the motor to kick on.
The power delivery is smooth and feels like a nice compliment to your pedaling. Not jerky or overpowering.
Really awesome styling. More than a few of our testers say this is their favorite looking e-bike.
You can hardly tell it's an e-bike. The motor is discreet and the battery is extremely well hidden.
Very lightweight for an e-bike at only 33 lbs.
This e-bike is equipped with a belt drive, which keeps pant legs grease free and requires very little maintenance.
The modest 350W hub motor packed a solid punch. It got the bike up to cruising speed easily and it carried us up hills with surprising gusto, which was nice considering there's only one gear.
The frame has eyelets to add a fender or rack.

Con's
We'd like to see some slightly wider handlebars on future iterations of this bike. The narrow bars that come with the bike are certainly in line with the fixie/messenger styling, but they can make the bike feel twitchy and are a bit uncomfortable while standing and pedaling.
The 64×20 single speed gear ratio is pretty large, and might prove tough on some steeper hills or at low speeds.
ELECTRICAL SPECS & FEATURES
Battery: 36V 7.0ah Samsung 35e Cells
Display: Compact LCD display with PAS levels and multifunction feature that tracks, speed, trip time, etc.
Motor: 350W nominal geared Shengyi rear hub
Headlight: N/A
Taillights: N/A
Peal Assist: Five PAS levels controlled by a bottom bracket cadence sensor
Range: CLAIMED: 20-35 miles ACTUAL: 32.91 miles on PAS 1 and 16.11 miles on PAS 5
Throttle: N/A
Weight & Dimensions
Battery weight:
Total bike weight: 33 lbs
Maximum rider weight: 275 lbs
Maximum load on rear rack: N/A
Unfolded Dimensions:
Folded dimensions: N/A
Components & Accessories
Brakes: Tektro R315 Dual Pivot caliper rim brake
Fenders: N/A
Fork: Aluminum rigid
Frame: 6061 aluminum alloy
Freewheel:
Gearing: 64T/20T belt drive
Grips: Rubber
Handlebar: 25.4mm diameter, 550mm wide narrow riser bars
Kickstand: not included, but can be attached
Pedals: Wellgo alloy
Tires: Kenda Kwest 700c
Performance Review: Ride1UP Roadster V2
Acceleration / Speed
The Roadster is a member of the speedy Class 3 family of e-bikes, which places it in the same category as some of the most powerful and quickest street-legal e-bikes on the market today.
But in a sea of ultra-powerful e-bikes that approach the legal definition of a moped rather than a motor-assisted bicycle, the modestly powered Roadster serves as a refreshing take on what a lightweight Class 3 e-bike can be.
Rather than limit the 350W motor at 28 mph — the legal limit for a Class 3 bike — Ride1UP limited the Roadster's motor assistance to 24 mph. They also didn't give it a throttle, another common sight on budget and entry-level Class 3 bikes, and left the motor control to a rider's pedaling only. That's a bit different compared to other Ride1UP models we've had in to test and review. The result is a lightweight and lively commuter bike that comfortably cruises just above 20 mph with no interruption in motor assistance at higher speeds. The bike places a premium on a rider's natural pedaling ability and the 350W motor provides a smooth and predictable boost at the rear wheel. It's not a torque monster and the 350W motor is notably small compared to other Class 3 bikes, but the power is enough to virtually flatten all but the longest hills and will get you to your destination without making you break a sweat. The smooth power delivery is complemented by a remarkably sensitive bottom bracket cadence sensor that engages the motor within a half pedal stroke, while some of the bike's competitors require a full rotation of the cranks or more before the motor kicks on.
The 350W motor and 24 mph assistance limit created a nice effect while cruising on a flat path or road. During my tests, I found that the bike really liked to clip along between 20 mph and 21 mph. This is below the advertised 24 mph max when the motor will kick off, but that slightly slower speed created a really nice and smooth power delivery we don't see at the top speeds of a lot of Class 1 bikes that are limited to a 20 mph max motor assistance. We often feel a "buffering" or "surfy" sensation at 20 mph on Class 1 bikes, where the motor keeps kicking on and off as we pedal above or below the limit. The Roadster's higher maximum assist speed smoothed that out, though the bike more closely matched the cruising speed of a Class 1 e-bike than a Class 3.
The hill test
Despite it's one gear and modest motor, the Roadster shouldn't be discounted on the hills. On the EBR hill test, a steep 0.3 mile hill that kicks over 12 percent at parts, the Roadster clocked in at 1:16 — good enough for fourth place overall on Strava . That result places it among some of the most powerful Class 3 e-bikes we've tested in recent months, including the monster 750W Himiway Cruiser (3rd place) and the Surface 604 Quad (1st place). Now, it's worth noting that this specific test hill (and Strava segment) are relatively new to us, so we haven't tested many bikes on the grade. The Roadster's fourth-place ranking up that hill shouldn't be interpreted as a definitive ranking of the bike's climbing prowess. But the fact the featherweight Roadster came even close to two Class 3 e-bikes that far outrank it in torque and power is a notable result that none of us expected.
It's also worth noting that I gassed it pretty hard up that hill during the test, simply because I thought I had to. With the tall 64×20 gear ratio and the small-ish 350W hub motor I was genuinely worried that if I lost momentum on the steeper grades, the Roadster wouldn't clear the hill. That's not a knock against the bike, it's just a fact: Ride1UP did not design this bike to climb big, steep hills. Our hill test is a far departure from the Roadster's natural habitat of relatively flat and bustling city streets, so I wasn't quite sure what to expect on the steeper pitches.
As it turns out, my fears of stalling out were unfounded. The Roadster outperformed expectations not only during our official hill test, but in a second unofficial run up the hill. After clocking the test time, I had to ride back up the test hill to get cell service. On this run, I sat the whole time and let the motor do the majority of the work. It wasn't the quickest time to the top, but the small-but-mighty 350W hub motor got me to the top without breaking too much of a sweat. I chalk these results up to the bike's featherweight 33lbs and its sporty riding position that let my legs work efficiently up the climb. The 350W motor provided an impressive boost in the test as well — it's amazing what a motor that size can do when it's not bogged down by 70-plus lbs of bike, motor and battery.
Again, don't expect this bike to effortlessly whisk you to mountain tops or up the switchbacks of Lombard Street in San Francisco, but you might be pleasantly surprised at how well it climbs.
The circuit test
On the EBR circuit test, a new gauntlet we've come up with that tests how an e-bike's average speed changes between pedal assist settings (PAS settings), we found that the Roadster had a really nice differentiation between its five power levels.
For this test, we took the bike around a 1.04 mile circuit near the EBR offices on each PAS level, including one lap where the motor was off. We found a 0.85 mph difference between each PAS level on average, a pretty good result compared to some other e-bikes that have little discernible difference between assist levels. This test also backed up my findings that the bike likes to cruise just above 20 mph. On the maximum assist lap around the circuit, I averaged 20.6 mph. Just keep in mind that these findings will change based on a rider's weight and variables like wind.
Shifting / Gear Range
The Roadster has just one gear and no shifters. This makes the bike simple, less likely to break down and easier to maintain. On the other hand, a single speed can be tougher on steep climbs and a rider is stuck with whatever gear is installed on the bike.
We found the 64×20 gear ratio to be a little tall for the average rider. Even under max assist at cruising speed, the big gear kept us pedaling at a slower-than-we-liked cadence. A smaller gear would make it easier to climb hills and get the bike rolling from a stop. Those things said, the entire EBR testing staff was impressed that this entry-level e-bike came with a belt drive system, a rarity at this affordable price.
Handling (cornering, slow speeds, etc.)
This e-bike likes to go fast. The Roadster's road-style geometry, short wheelbase, narrow handlebars and skinny tires make it dreamily quick.
The Roadster feels nicely planted and stable at its cruising speed of about 20 mph and its snappy handling inspires confidence in corners. I found myself braking less than normal going into corners — the quick handling plus the grippy Kenda Kwest road tires made me want to really lay it over and carry speed. At slower paces, the narrow 550mm handlebars did feel a little twitchy but it was something all our test riders quickly adapted to. Some wider bars would help smooth out that twitchyness and would have the benefit of making the bike more stable while standing and pedaling. But this is a minor gripe; overall, we were very impressed with the Roadster's handling.
Comfortability
Ride1UP gave the roadster a sporty geometry that places riders in a more bent over, aggressive riding position. If you've been riding bikes a while, you'll likely recognize this fit as a body position suited for efficient pedaling and good control over the bike.
The geometry is one of the reasons we've dubbed the Roadster a "bike rider's e-bike." A lot of a bike's handling characteristics come from how the rider is placed on the bike, and the Roadster certainly takes its cues from the riding position you'd typically see on a sportier performance road bike. This body position does sacrifice some comfort for sportyness, but the Roadster balances the two nicely. The performance seat is comfortably padded and has a slit in the middle to help with blood flow to important areas; the alloy Welgo pedals feel solid under your feet; and the rubber grips are comfortable. The handlebars, though as we mentioned above are a tad narrow for our liking, have a rise to them which helps keep you in a comfortable semi-upright position.
We found the Roadster's fit a refreshing departure from some of the more laid-back, comfort-oriented body positioning we see on lots of other e-bikes in the commuter category. If you're looking for a performance commuter and don't mind sacrificing a little comfort for speed, this is a good option for you.
Security
The Ride1Up Roadster did not come with a kickstand, which might be a nice accessory to consider. We bolted one on to the chainstay so the bike would stand on its own in our office.
An upside to the stealthy nature of this bike is it shouldn't attract much attention from would-be thieves when it's locked up outside. The bike is also lightweight, compact and could be carried up stairs or taken onto public transport easily. Our team carried the super secure Hiplok DX U-lock on mid-day coffee runs or trips into town, which kept the bike from disappearing when we left it at a bike rack.
Range Test: Ride1UP Roadster V2
On max assist (PAS level 5) the Roadster made it 16.11 miles and almost exactly an hour before it ran out of juice, which considering the battery size and the intended use of the e-bike isn't too shabby.
I did this test mid-morning on a Monday that saw an unusually high number of people on our local bike path in St. George, which hampered the average speed a bit. I don't see that as a problem though, as the Roadster was built for high density urban environments. If anything, the congestion I pedaled through made the test more realistic.
We gave the Roadster to the boss's son, Josh, for the minimum assist level (PAS 1) range test, and he clocked 32.91 miles at an average speed of 16 mph before it ran out of battery. That ride took him 2:03 and he also encountered a good bit of traffic on the path. Josh is a local NICA racer, and at 14-years old and 130lbs, his result might be more representative of what a smaller, fitter person could expect from the Roadster.
For us at EBR, the most noticeable thing from the two range tests is their brevity. Neither the 16.1 mile range we got from PAS 5 or the 32.91 mile range in PAS 1 are particularly stellar results when compared to other e-bikes in the same category as the Roadster. The Rad Mission 1 we tested in December, for example, clocked more than double the mileage in PAS 5 — a whopping 37.22 miles. But what you get in range with the Mission, you pay for in aesthetics. The Roadster's smaller battery blends seamlessly into the frame, making for an e-bike that hardly looks like an e-bike. On the Mission, which comes with a twice as large (504Wh) battery, the power unit is hard to miss as it's just bolted onto the frame. In EBR's opinion, the Roadster's stealthy profile is a big part of what makes this e-bike cool. Fitting a bigger battery in the frame (if that's even possible without jacking the price way, way up), would risk ruining the bike's character.
For some people, it's going to be hard to see past the Roadster's relatively short range. If you fall in that category, that's OK; Ride1UP makes a number of e-bikes that'll go for quite a bit longer. The point is, this e-bike was not built as a long-hauler. The Roadster is a stealthy, snappy short-range electric city bike built to dart in and out of traffic and look good while doing it. And in that respect, Ride1UP hit it out of the park.
A bit of napkin math shows us that on paper, EBR's range test times are about right. You can get a good idea of a e-bike's range by understanding the relationship between a battery's watt hour rating and a motor's wattage. A 350Wh battery, for example, should be able to power a 350W motor at full gas for one continuous hour before it runs out of juice. So the Roadster's 252Wh battery, on paper and in a controlled environment, should be able to power the 350W hub motor for 0.72 hours at max power before running dead. Add the aid of my pedaling and a few downhill sections, and the real world range at PAS 5 we recorded is almost exactly one hour.
Specs/Features: Electrical Components
Motor
We were impressed with the power produced by the 350W geared Shengyi hub motor. It's not a large motor, especially for a rear hub motor, but it proved torquey enough to get us on top of the 64×20 gear quickly and handled hills remarkably well for its size. Ride1UP says this motor can peak at 500W, but don't expect to reach that high point often or for very long.
This smaller motor is why we call the Roadster a bike rider's e-bike: It really favors someone not afraid of putting a little effort into the pedals. It's also pleasantly quiet, producing a small electrical hum when engaged that quickly fades into the wind noise as you accelerate.
Battery
The modest 36V 7.0ah Samsung 35e battery works well on this bike, particularly since it's not being asked to power some huge motor. It's a small enough unit that it fits into the non-oversized downtube of the frame and packs enough power for 252Wh of energy. That's not a lot on paper, but when paired with the smaller 350W motor it makes for a decently long range for the compact size.
In opting for the smaller battery, Ride1UP also made the Roadster significantly lighter than many other e-bikes in this category. It also helped keep the bike's price down, as batteries are the most expensive component on an e-bike.
Pedal Assist
The ultra-sensitive bottom bracket cadence sensor might be the highlight of this bike. It's quick and consistent in a way that compares to bikes much, much more expensive than the Roadster.
The motor kicks on within about half a pedal stroke and shuts off almost immediately after you stop pedaling. On most other bikes at this price point, that lag is much more pronounced. Gold star to Ride1UP and the Roadster for this one.
Display
The display is very discreet and matches the Roadster's stealthy e-bike personality nicely. It's got a small screen and a few buttons that allow you to change the bike's PAS setting and cycle through a few different screens. Those screens will tell you your speed, the time, your trip time and how far you've gone.
Components and Accessories: Ride1UP Roadster V2
Brakes
It's rare we see an e-bike that doesn't come stock with disc brakes, but the Roadster pulled it off. Ride1UP spec'd this bike with Tektro R315 caliper rim brakes and alloy levers, which provided plenty of stopping power for the lightweight bike.
During our brake test, where we take the average of five stopping distances from full speed, the Roadster came to a stop in an average of 17'3", a pretty good stopping distance from over 20 mph. If the bike were heavier or more powerful, it would likely need disc brakes. But in the case of the Roadster, the rim brakes performed just fine.
Drivetrain
The Roadster comes with a belt drive, which is a pretty cool feature on a bike this cheap. There's only one gear — a 64tx20t — which our testers found pretty big for a commuter bike. In the future, a smaller gear option might help riders spin up hills a little easier.
Frame and fork
The frame is made of 6061 aluminum alloy and rides nicely. There's no suspension so you can feel some road vibrations and bumps, but that rigidity makes you feel connected to the road surface and very in control of the bike. It also helps make the bike stiffer through corners and under power.
Contact points
The alloy Welgo pedals are stable and don't give under power and the rubber grips are simple but comfortable. The narrow Velo performance saddle is going to take some getting used to for people whose butts aren't used to bike seats, but if you're like me and spend some time on bikes it's plenty comfortable.
The handlebars are 550mm flat bars, which is pretty narrow for a commuter. They look cool and certainly match the fixie/messenger style of the bike, but they can feel a little cramped at times — especially on longer stints in the saddle or while standing and pedaling. An option for wider bars would be something we'd like to see in the future.
Tires
The Kenda Kwest 700x28C road tires hook up well and have held up with no flats so far (knock on wood), and their narrow profile matches the sporty character of the bike.
Summary review / where to buy
It's hard to overstate how impressed we've been with Ride1UP's Roadster V2. It's an incredibly stealthy, lightweight and lively ride that, in a way, replicates some of the characteristics found in the slimmed-down superlight e-bikes made by major bike companies like Specialized and Orbea. It's certainly not a direct proxy for those high-end e-bikes, but like them, the Roadster is featherweight compared to others in its category and the smaller motor places a refreshing emphasis on pedaling over sheer power. As we've said a few times before, this is a bike rider's e-bike that is fast, fun and perfect for anyone looking to commute through a dense urban environment or for a college student who wants a head-turner of a campus bike.
It's also a lot of value for the money. The belt drive is a rare utilitarian feature at the ~$1,000 price point that keeps the bike low maintenance and your pant leg grease free. If Ride1UP set out to build a low-cost, no-nonsense urban bike that looks as good as it rides, we feel they nailed it.
Ride1UP is a direct-to-consumer company so you can buy the Roadster from their website through the button above, as well as a whole host of cool add ons. The bike is available in three colors — red, silver and black (we liked our silver paint job a lot) — and you can choose from large (58cm) or small (52cm) frame sizes, depending on your height.
Reader Interactions