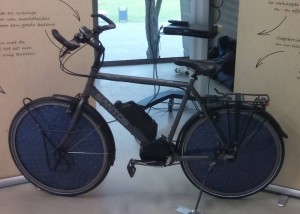 Time for another e-bike news round up!
What if you never had to plug in to charge your electric bike?
For some that could be a reality with The Dutch Solar Cycle.  It has solar panels built into the wheels so that it is always charging; even on cloudy days and when the panels are dirty.  They claim that on a sunny day the battery can be fully charged in 4 to 6 hours.
Speaking of solar, there is now the world's first solar bike path near Amsterdam!  It's surface is a bunch of solar panels that supply electricity to the grid. Very cool!  Enjoy the following video of the SolaRoad: [Read more…] about E-Bike News: Solar E-Bike, Hover Board, New Mid Drive, 2 Seat E-Trike, & More [VIDEOS & PICS]