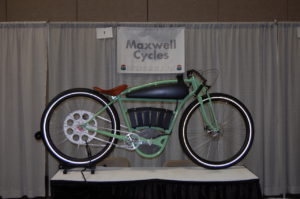 Innovative and very creative eBikes were on display at the 2017 North American Handmade Bicycle Show that recently wrapped up in Salt Lake City, Utah.
Frame materials ranged from the traditional steel, aluminium, and titanium to the exotic bamboo and wood bike frames!
The eBike types ranged from elegant commuters, gravel grinder, board track racer, sturdy touring rig, and high-power off road machine.
Thanks to Andy McKerrow from Efficient Velo Tools for most of these pictures! [Read more…] about Wild & Crazy Custom Electric Bikes at the N.A. Handmade Bike Show [VIDEO]