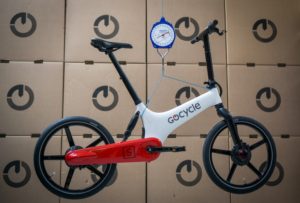 By Richard Peace
Gocycle
Gocycle is a well-known name in the US and the UK where it was invented and they have recently taken to Kickstarter with a US goal of raising $250,000 to introduce the GoCycle GS to the US market.
The GS starts at $1,699 with the limited supply of "early bird" orders.
Already in Europe there have been three successive designs of the foldable e-bike that uses its own hi-tech technologies such an injection-molded magnesium alloy frame and miniature hub motor integrated into quick release wheels.
Here is a video with more about the new GS: [Read more…] about eBike News: Affordable Gocycle, Wireless Solar Charging, N.A. eBike Tour, & More! [VIDEO]