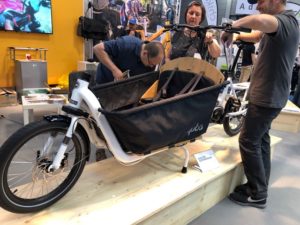 The Eurobike Show in Friedrichshafen, Germany arrived almost two months early in 2018 due to a scheduling change.
For brands, this comes with some reservation however because many are not prepared to show new products yet for the coming year.
Also, Eurobike did not include a consumer day this year, which has been wildly successful and borderline chaotic for the show in the past.
Regardless of the earlier date and lower attendance, Eurobike does no disappoint and in my opinion retains it's position as the best all-around bike show in the world.
In recent years, the Eurobike recap showcased the dramatic rise of eBikes as they quickly became over 50% of the show, first in interest and eventually in overall square footage.
Now that eBikes are firmly welcomed as the larger part of the bicycle market as a whole, it's interesting to see how the eBike market continues to mature. [Read more…] about Eurobike 2018: New eRoad, eMTB, eCargo, Mid Drives, ABS, & More!