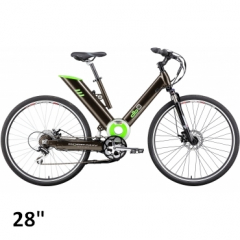 Drummer Electric Bikes
 is a new e-bike company on the scene with 5 different models including an electric cargo trike.   Their DBO-7 model definitely have an interesting design with the battery mounted in a frame tube behind the seat post.
I like the title of the this article "Here's Why The Next Generation of Electric Bikes Will Be Awesome".  The author highlights the benefits of the new Copenhagen Wheel and FlyKly Smartwheel all-in-one electric bike kits.
Optibike has partnered with the Boulder Colorado B-cycle bike sharing program.  They have provided an Optbike to pull a trailer that carries other bikes!  "The concept behind the B-cycle Electric-Assist Service Trailer (B.E.A.S.T) was to [Read more…] about Electric Bike News: E-Bike Skiing, Copenhagen E-Bike Share, Optibike B.E.A.S.T, Magnic Light & More! [VIDEOS]