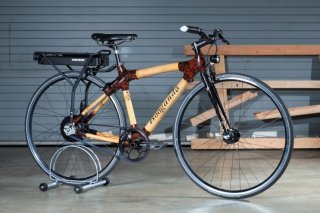 How is this for custom electric bikes: an e-BBQ-bike with refreshment carrying capacity, a wooden frame e-bike, a bamboo frame e-bike, and more!
Those types of e-bikes are the result of a challenge that Gates Carbon Drive put forth to some custom frame builders for the North American Handmade Bicycle Show.
The builders had to incorporate the Gates belt drive with the SRAM E-Matic e-bike system to create a unique e-bike.   And yes, they are unique!
The SRAM E-Matic e-bike system features a rear hub motor with a torque sensor.  The rear motor hub has a 2 speed system that automatically [Read more…] about Custom Electric Bikes with SRAM E-Matic & Gates Belt Drive