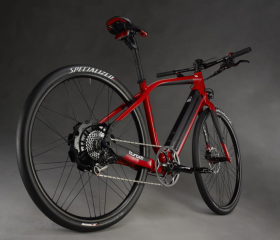 It's here…..the fast 
Specialized Turbo
electric bike, previously only available in parts of Europe, has now landed in the US!
As the name implies, this e-bike is meant to give your pedal power a Turbo boost!  Specialized uses the phrase "It's you, only faster".
The Specialized Turbo and your pedal power can motor up to around 28 mph using a 250 watt high torque motor and a 36V 9.5ah (342 Wh) lithium ion battery pack.
This is a pure pedal assist bike (pedelec); there is no throttle option.  So that means you [Read more…] about The Specialized Turbo E-Bike Now Available in the US! [VIDEO]