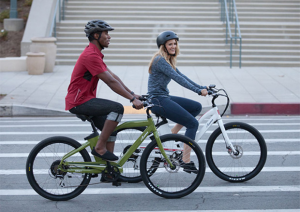 By Richard Schrubb
Research published in September last year suggested that US e-bike users may use their cars less, and many do this to help fight Climate Change.
The study, "Differences of Cycling Experiences and Perceptions between E-Bike and Bicycle Users in the United States" was published in the Sustainability scientific journal.
The researchers asked 806 online respondents a range of questions related to their e-bike use. There were three groups – conventional bicycle only owners, a second group who had both an e-bike and a a bicycle, and a third group who only had an e-bike.
Electric Bike Report spoke to one of the researchers on the project, Ziwen Ling of the University of Tennessee about the findings of their report. [Read more…] about Could Electric Bikes Be Killing Off America's Car Addiction?