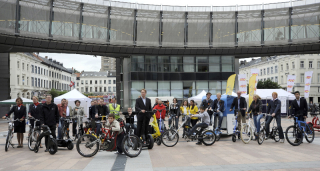 This is a press release from European Twowheel Retailers' Association (ETRA).
The 4th edition of Sustainable2Wheels has all the signs of being a very interesting and full day.
Among the many activities on the event program are two animated debates with prominent politicians, electric cycling classes with ex-pro Henk Lubberding, the presentation of state of the art 2Wheels and of several European 2Wheel projects, cycling tours through Brussels and a petition action for a European 30km/h speed limit.
Sustainable2Wheels is a full day's event, which includes a demonstration of [Read more…] about Sustainable2Wheels: ETRA brings 2Wheels to European Parliament in Brussels