Specialized Levo SL Kids Review: First Look at a Kids EMTB
It's a problem as old as kids's bikes: How can a child hope to keep up with mom or dad on a bike ride? The deck, as we say, is stacked against even the most athletic aspiring ripper: Kids aren't as strong as adults. Their lungs are smaller. Their bikes are heavier in proportion to their bodies. The wheels are smaller, which makes them slower. And that's really just grazing the surface.
Specialized has introduced their solution: The Levo SL Kids. This eMTB is what happens when you turn a ray gun set to "shrink" on the Turbo Levo SL, Specialized's lightweight eMTB which features their SL 1.2 motor, which produces 250W (nominal) and 45Nm of torque. It's powered by a 320Wh battery, and features high-end componentry, including an 11-speed drivetrain and hydraulic disc brakes, air-spring shock and dropper post.
All this is assembled around an aluminum, hard-tail frame that comes in one size and a couple of colors.
Specialized has a long history of hiring some of the best writers in cycling and in recent years their copy has sometimes favored poetry over reality. However, in their press kit announcing the Levo SL Kids they nail the challenge of introducing kids to mountain biking. They write: "Discovering the true benefits of mountain biking has a physical barrier of entry, no question. As adults, we understand the grit it takes to appreciate a deep section of trail that took some serious effort to get to. Our kids haven't seen the views we have, had the experiences (yet), and built the inner motivation to push through for that satisfying mountain overlook. But that's changing. What kids lack in pedal power they make up with endless wonder and the desire to explore. Levo SL Kids levels the playing field so their imagination to experience the outdoors won't be limited by their pedal abilities."
Amen, brother.
In our Specialized Turbo Levo SL Kids review, we break down our first impressions, thoughts on the spec, and what this can mean for moms and dads looking to hit the trails with the kids.
Specialized Levo SL Kids: Bike Overview
The Specialized Levo SL Kids is a hard-tail eMTB. This is not to be confused with the all-terrain e-bikes we often review. This is a Class 1 e-bike, and that distinction is important for a couple of reasons. First is that this eMTB can be legally ridden on trails anywhere eMTBs are permitted. Second is that this is not to be confused with some of the Class 2 e-bikes that are more electric motorcycle than eMTB. Kids won't be able to resort to a throttle to cruise behind mom or dad. Riding this e-bike will be a good deal easier than riding a mountain bike, but it will still be work for the rider.
Kids' mountain bikes are notorious for being boat anchors. In addition to a heavy frame, they often feature a coil-spring suspension fork (and those don't work very well even when they can be adjusted for a child's weight), rim brakes and not enough gears to get up steep hills. The Specialized Levo SL Kids is to those bikes what a Ferrari is to a Yugo.
Among the many terrific features of the Levo SL Kids, Specialized equipped it with a proper air-spring suspension fork, an 11-speed drivetrain, hydraulic disc brakes and a dropper post, not to mention a smartphone app that allows mom or dad to decide just how much power is appropriate.
Specialized Levo SL Kids Review: Specs and Features
Motor and battery
If there is anything surprising about this eMTB for junior rippers, it's that Specialized didn't down-scale the motor. They spec'd their Brose-made SL 1.2 motor which packs a bit more punch that the SL 1.1 motor spec'd their lighter-than-most-eMTBs Turbo Levo SL.
The Specialized 1.1 SL motor found in the Turbo Levo SL produces 240W both nominally (average) and peak, with torque of 35Nm. By comparison, the 1.2 SL motor in the Levo SL Kids generates 250W nominally, 320W at peak and provides 45Nm of torque.
Specialized's marketing pitch for the Turbo Levo SL is 2x you—that is, a 180 percent gain, or double the wattage the ordinary rider will produce, as opposed to the 4x that the standard Levo produces with the help of the 2.2 motor, which is true enough for many of us. By comparison, the 1.2 SL motor is said to offer a rider a 230 percent gain—still 2x in their jargon, but that's calculating for an adult. For kids, however, the boost they'll get could be 5x … or more.
A 250W motor that peaks at 320W, producing 45Nm of torque may not seem like a lot after reading reviews of e-bikes with 750W motors, but it's important to remember that this is a mid-drive motor which doesn't need to produce as much power to do the same amount of work, thanks to the assistance that the 11-speed SRAM drivetrain provides.
Powering the SL 1.2 motor is a 320Wh battery. This is the same battery we've seen on other Specialized e-bikes we've reviewed. It's used in the grown-up version of the Turbo Levo SL. With adults, it can offer as much as 4.5 hours of riding; in terms of distance, they estimate 25-35 mi. with 6500-7500 ft. of climbing. Kids can weigh half of what an adult does, so those range numbers could double for riders of the Levo SL Kids. Boiled down, that means mini-shredders could ride all weekend before needing to recharge their e-bike. Their bodies will need more regular infusions of fuel.
Frame and fork
The Specialized Levo SL Kids rolls on an aluminum frame that is made in a single size. The Turbo SL 1.2 motor receives a protective housing that enables it to take serious abuse, and the battery is hidden in the down tube.
Specialized went with a hard-tail design for a couple of reasons. First, it helps to keep cost down because full-suspension frames require more development time and resources, are more expensive to build, and include what is usually a fairly expensive component—the shock. Second, as this is Specialized's first eMTB for kids, it makes sense that they would start with something more affordable before going nuts with a top-of-the-line S-Works full-suspension eMTB. That said, it's a safe bet that they are working on a full-suspension version. After all, they will need to one-up themselves in 2024, right?
The Levo SL Kids comes in a single size, and while Specialized is known for offering more different sizes in their e-bikes than most manufacturers, the fact that they say the Levo SL Kids will fit riders from 4 feet to 5 feet tall doesn't trouble us for a few reasons. First, kids are remarkably adaptable. Second, they grow like a viral meme. Parents wouldn't be thrilled to buy one of these only to turn around and sell it a year later once their child outgrew it. Third, in addition to raising the saddle periodically, other changes can be made to the Levo SL Kids's fit, like a wider bar or longer stem to help extend its useful life.
Also notable is that the frame design adopts modern views on geometry for trail bikes and e-bikes, as well as offering an unusually low standover height for an e-bike that doesn't offer a step-thru design. And for anyone wondering why Specialized doesn't offer the Levo SL Kids in a step-thru design, that's because to do so would increase the e-bike's weight substantially in order to maintain the frame stiffness necessary for the e-bike to handle well on technical terrain.
The RockShox Reba Air 100mm fork is considered a short-travel fork in the mountain bike world, the sort of fork put on a cross-country race bike. But that classification is based on a rider who likely weighs more than 140 lbs. and probably stands more than 5 feet 4. For a teen who stands 4 feet 8 and weighs 100 lbs., a 100mm fork will give a rider plenty of insulation from even the hardest landings.
And as we observed earlier, many kids' bikes spec a suspension fork with a coil spring, not an air spring. The Reba Air can be dialed for the rider's weight as well as rebound damping and high-speed compression. A fork with a steel spring offers a very crude preload adjustment, and nothing more. The difference this will make in the rider's experience is substantial. It could mean the difference between a kid liking the eMTB and not.
Components
Specialized threaded the middle path in equipping the Levo SL Kids. The drivetrain includes an 11-speed SRAM NX shifter, derailleur and cassette. These aren't super-high-end 12-speed parts, but these parts fit with current views about what a rider needs out of an eMTB. The 11-50 cassette is made with steel cogs, which will offer terrific life despite the torque the motor puts out and because the Levo SL Kids comes with 24-in. wheels (rather than 27.5 or 29-in.), kids will experience that 50t cog as even lower than adults will, giving them an extra bit of torque for getting up the steeps.
SRAM's Level T hydraulic disc brakes handle the stopping duties with 160mm rotors; again. Just as smaller wheels effectively lower gear ratios in a drivetrain, smaller wheels allow for smaller rotors to be used because leverage goes up as wheel size goes down. This will help right-size the brake response for small riders.
We don't often see a dropper post on kids' bikes, even non-motorized ones. The fact that Specialized included one here shows they understand what a handicap it is to kids to try to follow an adult down a steep trail without being able to lower the saddle by the same proportion as a grown up. The 180mm-travel post will help inspire confidence for kids as they thread their way down the steeps.
Electronics
Like other eMTBs from Specialized, the Levo SL Kids allows riders three different assist modes: eco, trail and turbo. With Specialized's Mission Control smartphone app—the best we've encountered on the market—parents can make adjustments to a variety of performance parameters.
In addition to tailoring the output of each assist level, the app allows a user to dial back total output, so if a parent thinks that 320W is too much power for someone who weighs 85 lbs., they can reduce what the maximum output is.
Mission Control also grants some terrific anti-theft features like GPS tracking of the e-bike's location (also handy if junior misses a turn while following mom) and the option to disable the motor, which renders the Levo SL Kids little more than a scooter; without the motor, the pedals spin, but won't turn the chainring.
EBR's take on the new Levo SL Kids: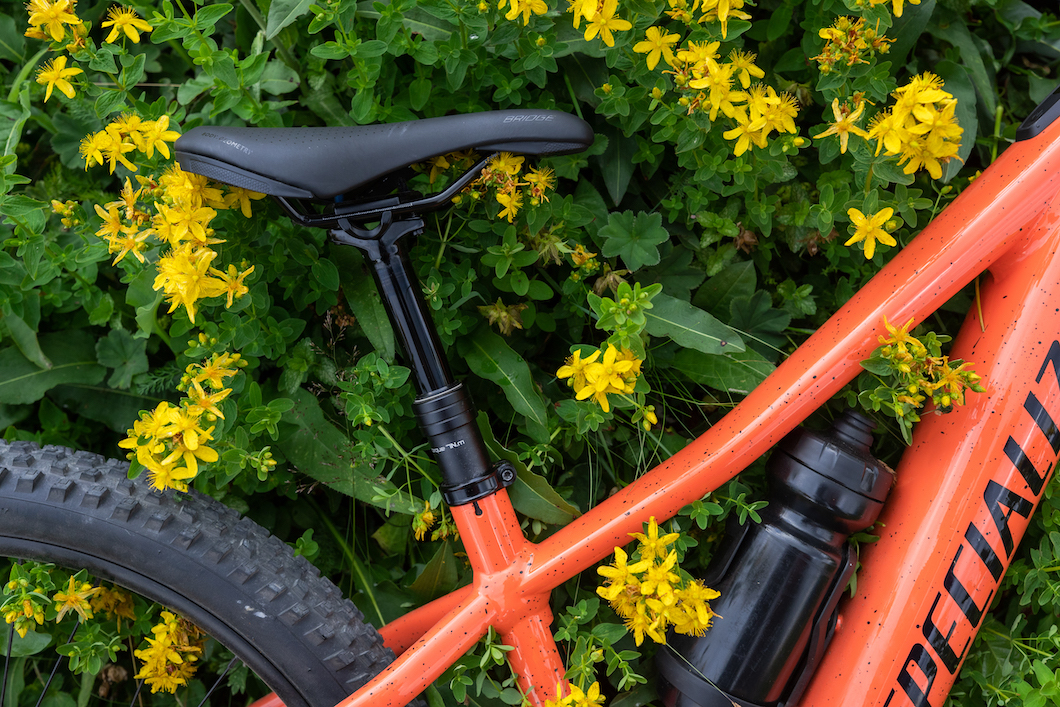 Based on some comments we've seen on social media already, there are people who wonder about the necessity/wisdom of creating an eMTB for kids. It's not the terrible idea some people say it is; more on that in a sec.
Should anyone wonder how many parents will drop $3800 (the suggested retail price) on the Specialized Levo SL Kids, all we need do is look at how many teens are driving premium cars like those from BMW and Audi. This eMTB won't want for buyers.
Those of us who have taken kids mountain biking are often confronted with the problem of how to lower the difficulty enough so that a child who may not enjoy adversity the way a seasoned aerobic athlete does still has a good time. A bike ride for a kid needs to be long on wins and short on challenges that humble.
One of the reasons that non-motorized mountain bikes transitioned to either 27.5-in. or 29-in. wheels more than 10 years ago is that larger wheels roll over obstacles more easily. Rocks that a 29er can just roll over with a mild bump can bring 24-in. wheels to a stop quick as an eye blinks. Similarly, it's easier to pick up the front wheel of a 29er to ride over a fallen branch than it is with an e-bike that rolls on 24-in. wheels.
One of the realities of mountain biking that is true whether someone rides a regular bike or an eMTB is that often, riding through a stretch of trail that may be rutted, feature a rock garden or maybe a web of exposed roots, what makes the difference between riding through and getting stopped and then having to get off and walk the steed into smoother territory is speed.
Truly, going faster solves most problems in mountain biking.
The Specialized Levo SL Kids gives kids a resource that even a great drivetrain can't offer. Even giving kids another 100W can make for a much more enjoyable day. The hills become easier, the roots less daunting and, because an e-bike is heavier than a regular mountain bike, better traction in the corners.
As we mentioned before, some people aren't in favor of putting kids on e-bikes. Our only concern is this: Will a kid who has owned an e-bike ever develop an interest in riding a bike that doesn't have a motor? Eh, that's not much of a problem. Any kid that wants to ride a bike, e- or not, is a win. So is the Levo SL Kids.
Reader Interactions