Ride1UP Core-5 E-Bike Review, 2023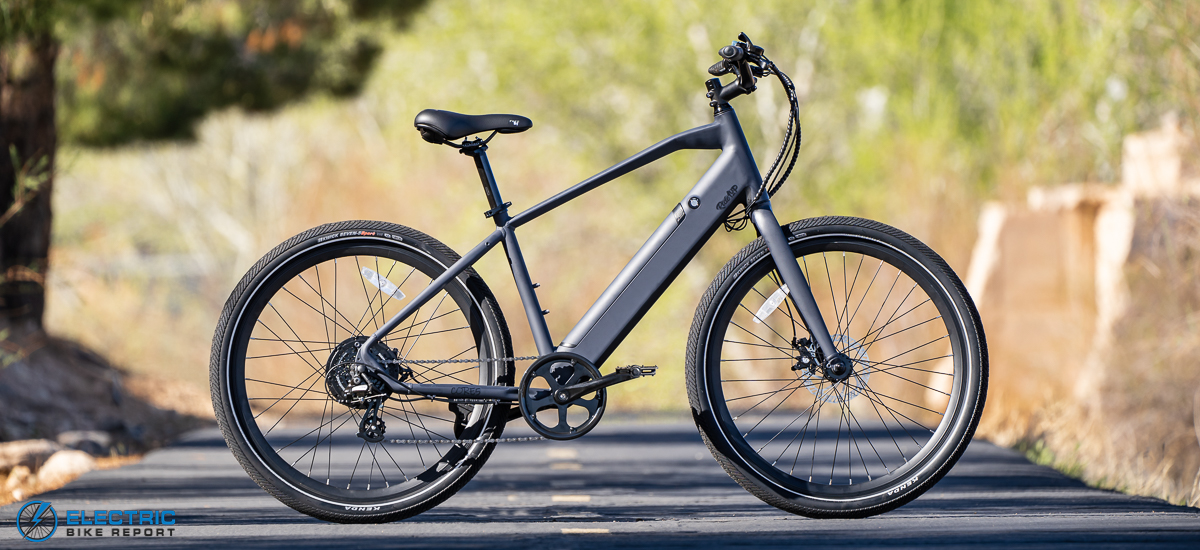 Summary Review: Ride1UP Core-5
For current pricing on the Ride1UP Core-5 click here
I'm a sucker for sleek, stealthy bikes. I've always appreciated the subtle details that can add up into one bike. Ride1UP's Core-5 is just that, as everything from the sharp angles on the top tube to the low profile battery integration on the downtube screams sophistication. I couldn't wait to see if the performance matched its looks.
The Ride1UP Core-5 review was an instance of not knowing what to expect when it comes to performance. While it may look nice, it's what's on the inside that counts and I was ready to put the Core-5 through the ringer to see how high performance of an e-bike it truly was.
Right away I discovered that the Core-5 is ready to get low in corners and blast up hills. With a respectable weight of just 49 lbs it rides more naturally than some of its heavier competitors. The Core-5 rolls smooth and rides fast thanks to the powerful 500W motor and fast rolling tires; it feels like a true Class 3 e-bike. If you can appreciate a good looking frame design and enjoy getting out for a pedal, check out the Ride1UP Core-5.
Bike Category: Commuter/Urban
The Ride1UP Core-5 is a Commuter/Urban Style e-bike that's ready to fly up hills and get low in corners.
Bike Class: Class 3
Class 3: Throttle Assist, up to 20 mph | Pedal Assist, up to 28 mph

Pro's
Right away we noticed that the Ride1UP Core-5 can move! It's a fast-rolling bike with or without the motor.
We dug the Core-5's Looks. Absolute stunner for a budget e-bike. XR and ST versions both look good and the battery is integrated beautifully.
The motor engages reliably and at a ramped up rate so it isn't full steam instantly.
The Core-5 had really good handling, we had no problem leaning it into corners.
The Core-5 surprised us with its breaking capabilities. We think it's due to the bike being lighter weight than some of its competitors.

Con's
The battery life doesn't last particularly long
We noticed the motor is a tad bit noisy at top speed. Not a big deal at this price point, but it's there.
Seat is too cruiser oriented for the rest of the bike style. Something smaller, and more rigid would fit the looks and intended use of the Core-5 in our opinion.
ELECTRICAL SPECS & FEATURES
Battery: 48V10.4ah Reention Eel Pro LG Cells, Smart BMS
Display: KD21C Adjustable Speed LCD
Motor: 48V Geared Hub Shengyi Motor, 28 mph (nominal rating of 500w)
Peal Assist: Levels 1-5, Integrated Sensitive Cadence Sensor PAS
Range: 20-45 Miles
Throttle: Left Side Thumb Throttle
Weight & Dimensions
Battery weight: 9lbs
Total bike weight: 49lbs
Maximum rider weight: 275lbs
Unfolded Dimensions: 70 x 32 x 22 (Total Length x Minimum Seat Height x Handlebar Width)
Components & Accessories
Brakes: Tektro 160mm Mechanical Disc, w/ Electric Cut Off Sensor
Fork: Smooth Welded 6061 Alloy
Frame: 6061 Alloy
Gearing: Shimano Altus 7 Speed
Shifter: Shimano ASLTX30R 7-speed
Grips: Ergonomic Rubber Grips
Saddle: Selle Royal Freeway Plush Gel
Handlebar: ST: Swept-back Ergonomic Cafe Bars. XR: 50mm Rise 640mm Width
Kickstand: Adjustable Arm Chainstay Mounted
Pedals: Plastic Platform Pedals w/ Orange Reflectors
Tires: Kenda Kwick Seven.5 27.5"x2.2
Additional: Water Bottle Bosses and Chainstay Guard
Ride1UP Core-5 Review: Performance
Acceleration / Speed
It didn't take long into our review of the Ride1UP Core-5 to realize it wants to go fast. Whether we were engaging the throttle or using pedal assist the speed was immediately apparent. Not only is the speed coming from the 500W rear hub motor, it's also stemming from the fast rolling tires, and the large 44t chainring that keeps the bike moving forward.
We think those who want to know and feel like they're riding an e-bike will like the feeling of the Core-5. With its quick engagement and powerful motor, it doesn't take long for the Core-5 to get above 20 mph. Several of the Core-5's siblings were speedy, but this felt zippier than the other Ride1UP e-bikes we have previously reviewed.
Range Test
It was apparent that the Ride1UP Core-5 wasn't going to shatter any distance records, as it uses a decently lightweight 48V, 10.4Ah battery. To get an idea of how long the 10.4Ah battery would last, we rode using full assistance while pedaling the whole time.
After just over an hour we reached 21.58 miles, with a quick 21.3 mph average speed. While the Core-5 isn't going to go as far as some other ebikes, it's going to be at the head of the pack when it comes to its average speed.
We also tested the Core-5 on the lowest assistance level to get a better understanding of the true range and battery life of the Core-5. After 46.14 miles the battery finally died with an average speed of 13.6 mph.
Circuit test
We had high hopes for the Core-5 on the circuit test and it didn't disappoint whatsoever. The Core-5 hovered just below 25 mph at its highest assist level, which is definitely higher than average for 500W e-bikes.
All the assist levels are noticeably different from one another, especially when you're changing from level 3 up to levels 4 and 5. The Core-5 showed us that Ride1UP set up the assistance levels in a way that feels natural when pedaling. The assist levels felt well calibrated, and like each level was true to what it should feel like. For example, when I was in PAS 5, I could have been blindfolded and known exactly what assistance level I was using. I really appreciated this because I could focus more on the ride and less on numbers.
For only being around $1,000, the Core-5 definitely impressed us with its performance on the circuit test. Not only was it fast, it didn't seem to be phased by quick corners, small dips, and other variables that can potentially be hazardous at high speeds.
Hill Test
Handling (cornering, slow speeds, safety on bike, etc.)
The Core-5 is designed for speed and so is its geometry. With a more upright positioning, we were able to feel in control at all speeds. The way the Core-5 puts the rider behind the handlebars versus over the top of them is confidence inspiring. We feel behind the front wheel, and like we weren't falling over the front of the bike. Because of this we rode the Core-5 even faster. The upright positioning helped us evenly distribute our body weight across the Core-5 in a way that felt natural, and stable.
The Kenda Kwick Seven.5 tires provide decent traction and roll really fast. Could you find a grippier tire to improve handling on the corners? Yes, but the Kenda Kwick Seven.5's are a great median between rolling speed, volume, and traction. We believe most people will like these tires.
Ride Comfort
The Core-5 was plenty comfortable for us, and that's partially due to the 640mm swept back handlebars and Selle Royal Freeway Plush Gel Saddle. While we feel like the rest of the Core-5 is far more aggressive than the saddle and grips, it's these contact points that were keeping us able to ride for a long period of time.
Even though the grips and saddle were comfortable, we would still like to see a little bit more aggressive saddle on the Core-5. We see the target consumer being a little more spritely and performance based vs being comfort based.
The upright positioning also plays a large role in the comfort of the Core-5. My weight felt evenly distributed between the front wheel and the rear wheel, making corners predictable and the bike responded well at speed. For me, it felt like the Core-5 was always in control and I think that's mainly due to the even positioning it provided me with. Sometimes comfort is control, and the Core-5's positioning is a perfect example of that.
Ride1UP Core-5 Review: Specs/Components
Motor
The 48V Shengyi geared rear hub motor is capable of 28 mph, and has a nominal rating of 500w. Our experience with this motor was a pleasant one, as its power was available almost instantaneously. We noticed that we could hear the motor working hard when using the throttle and higher pedal assist levels, but never to the extent we felt like the motor was trying to exceed its possibilities.
Battery
The 48V 10.4ah Reention Eel Pro uses LG Cells, and a smart battery management system to moderate power and optimize battery life and performance. The battery isn't the largest and only has 10.4 amp hours — but it seems to do well for how small it is. As you'll see in our range test, the battery performed respectively for its given specifications.
Pedal Assist / Throttle (when applicable)
While reviewing the Ride1UP Core-5 that the pedal assist levels are distinguishable from one another aside from one and two where they had the smallest margin of difference in feeling. Between PAS1 and PAS2 we only had an average speed increase of 1 mph on our circuit test.
All of the other PAS levels jumped 2-3 mph. We didn't really mind the small change between one and two as we weren't hunting for speed when pedaling in those levels.
The Core-5 uses a lever throttle that's located on the left side of the handlebar. Our experience with the throttle was a positive one, as it proved to have quite a bit of power when engaged. To us, it felt like the throttle wanted to get us up to top speed as smoothly and quickly as possible.
Overall, the Core 5's throttle performs a lot better than most when it comes to power output and acceleration. The one downside of such a powerful throttle is that it's going to use a hefty load of battery life when in use for long periods of time. We don't necessarily see this as a con, more just something you should be aware of if you are planning a big riding day on the Core-5.
Display
The Ride1UP KD21C Adjustable Speed LCD Display is a simple one, but it gives you all the information that you'll want to see when riding. This display isnt going to win any beauty awards, but that's okay with us because it lives up to its intended use.
The display is located on the left side of the handlebars and provides the user with a very simple interface. While we would like a little more vivid color range on the display, we understand that the Core-5 is priced around $1000, which just simply isn't enough money to justify a boutique tier display.
If you want a higher end display, Ride1UP offers a KD218 Display with a wider color range as well.
Ride1UP Core-5 Review: Components and Accessories
Brakes
Are mechanical disc brakes enough stopping power for a bike that goes 28 mph? Yes, more than enough. While Hydraulic disc brakes are always going to have more stopping power and "bite," the Tektro 160mm mechanical disc brakes held their own and impressed our team with their performance
These brakes also come with an electric cut off sensor to ensure the motor wont continue to boost you forward as you slow down. The 160mm rotors feel like the right size for the Core-5 but are about the smallest we'd want on a bike this fast. A larger rotor would increase stopping power, but the Core-5 wouldn't have the same feeling when stopping which we've come to like. While the brakes are a tad bit loud, we didn't mind much because of the stopping power they gave us.
Frame
It takes more than one look at the Core-5 to even tell that it's an e-bike, and that's mostly due to the sleek, stealthy frame design Ride1UP has designed. This frame is simply beautiful, and it's even more impressive when you consider the price point the Core-5 is sold at.
The way Ride1UP designed this frame reminds us of a stealthy fighter jet; its low profile, visually appealing and there was clearly a lot of thought that went into the frame design. The Core-5 also comes with water bottle bosses which can't be said for every e-bike (or fighter jet).
Whether you're looking for something stealthy, or dont want to look like you're on an e-bike, you'll likely appreciate this frame design. As far as performance goes, the frame felt great to us and the internal battery helped the weight distribution feel more natural below us. We all agreed that Ride1UP did a great job designing the Core-5 frame.
Fork
The smooth welded 6061 alloy fork adds to the overall aesthetics of the Core-5 and provides the rider with a ridgid, consistent steerpath. This is a pretty simple fork, and because of that there wasn't much to test as far as performance goes, it feels stiff and consistent in its steer path. No complaints from us!
Drivetrain
The smooth welded 6061 alloy fork adds to the overall aesthetics of the Core-5 and provides the rider with a ridgid, consistent steerpath. This is a pretty simple fork, and because of that there wasn't much to test as far as performance goes, it feels stiff and consistent in its steer path. No complaints from us!
The over the bar shifter makes riders push their thumb into the shifter a little more than what's comfortable, and convenient and we believe an under the bar shifter would solve this problem and add to the overall performance of the drivetrain.
Contact Points
While the Core-5 has a relatively aggressive design overall, the grips and saddle are definitely more comfort oriented, and because of this we had no issues with comfort on longer rides. The grips are made of ergonomic rubber designed to feel more natural than your standard circular grip. The saddle is Selle Royal Freeway Plush Gel that's plenty comfortable but doesn't really fit the theme of the rest of the bike in our opinion.
Handlebars
The swept-back ergonomic bars have 50mm of rise, and a 640mm width overall. This alloy bar felt good to us, in the sense that it wasn't too wide or thin for the Core-5's intended use. The 640mm bar provided us with a wide enough grip that we felt stable around corners and at high speeds.
The 50mm rise helped with fatigue and improved the overall experience behind the bars of the Core-5. If the handlebar feels too big or too small or you simply don't like it, it won't be much of a hassle to change out for a bar of your liking.
Tires
The Kenda Kwick Seven.5 Sport tires are e-bike rated and include Kendas "K-Shield" protection. The last thing you want is a flat tire and these are great tires for making sure that doesn't happen. Not only does it have a puncture resistant casing, it also suits the Core-5's intended use to a tee.
While we cant guarantee that you'll be flat free, we've had really good luck with the Seven.5 Sport tires – they're fast rolling, decently voluminous, and are easy to corner on. If you're feeling it, these tires are also really good for drifting around corners (if that's your thing).
We've tested the Kenda Kwick series on multiple e-bikes, and so far we haven't punctured through a single one. If you're looking for a reliable fast rolling tire, definitely look into the Kwick series. And on the topic of never puncturing a Kwick tire, hopefully we didn't jinx ourselves!
Extras / Accessories
The Ride1UP Core-5 comes with a chainstay mounted kickstand. Ride1UP also offers lots of other accessories that are compatible with the Core-5 so you can set up the Core-5 specific to your lifestyle and preference.
Ride1UP Core-5 Review Conclusion / Where to Buy
The Ride1UP Core-5 review impressed us with its overall speed capabilities and its smooth rolling feeling. We also really like the look of the frame as it hides the battery pack well enough that you really can't tell the Core-5 is an e-bike when it goes by. The only way to tell is by the sheer speed the Core-5 is able to move at.
We agreed that Ride1UP did a good job with the gear range on the Core-5, the high end and low end gears feel like the right difficulty for the bikes intended use and have plenty of gears in between. The Core-5 simply wants to go fast and it was built by Ride1UP to fulfill that goal. The combination of it only being 49 , fully rigid, and having fast rolling tires all add up into one speedy experience that we couldn't get enough of.
The aesthetics of the frame combined with how the Core-5 performs reminded us of a stealthy fighter jet — low profile and high performance. The only component that didn't really seem to fit the theme of the Core-5 was the saddle, which felt a little more rounded and bulbous than the rest of the rigid-esc design of the bike. We aren't too worried about that, but it definitely stood out to us considering how we were drooling over every other visual aspect of the Core-5.
If you're looking for a fast e-bike or for an e-bike that doesn't look like one, the Core-5 has proved to be a great option. It's also not going to damage your bank account balance as much as some other similar bikes. If you said yes to any of these things, then the Ride1UP Core-5 is definitely an e-bike for you to consider. We can tell that Ride1UP cares about their customers, and that they want to give them a quality e-bike at a good price point, this is reflected in the Core-5's performance and visuals. Ride1UP will ship this bike to you, and you can check current pricing at the button below.
Reader Interactions