Retro Moto Style Peacock Groove E-Bike [VIDEO]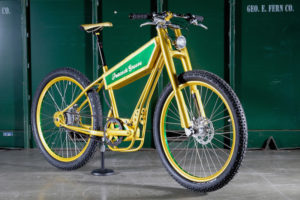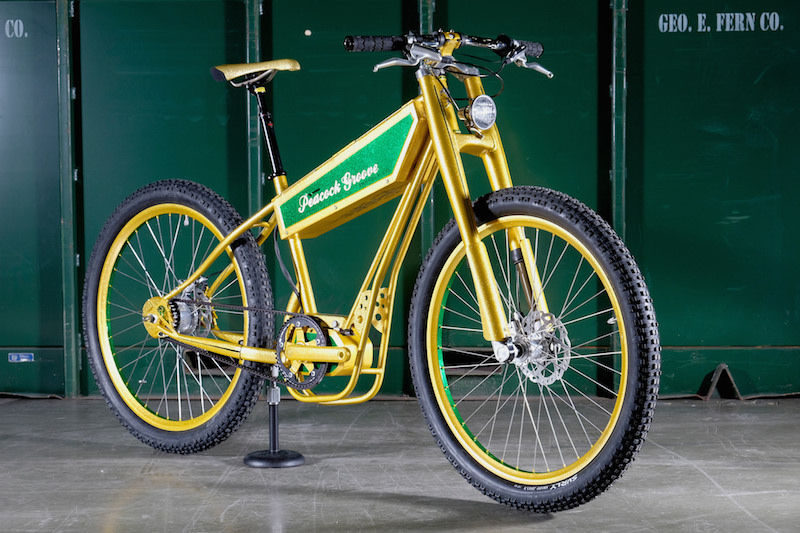 Wow, checkout this wild retro moto style electric bike from custom bike builder Peacock Groove out of Minneapolis, MN!
This custom e-bike features the Shimano STEPS mid drive system with the Gates Carbon Drive belt and Shimano Di2 Alfine electronically shifted internally geared rear hub.
It was displayed recently at the North American Handmade Bike Show (NAHBS) in Louisville, Kentucky.
Erik Noren is the founder of Peacock Groove and in the following video he shows off some of the features of this retro/modern e-bike.
The following are some pictures of the Peacock Groove bike from NAHBS.  Photo credit to Tim Lucking/Gates Carbon Drive for all of these great pictures!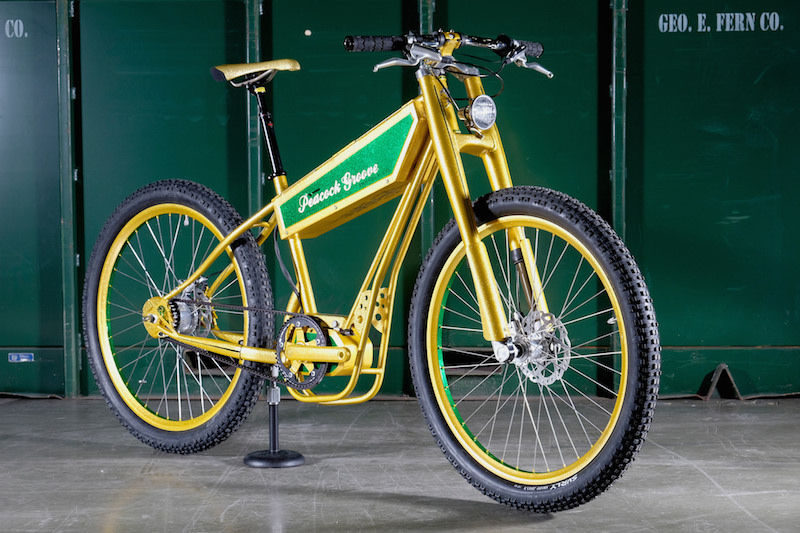 Wow, that color really stands out!
The battery "gas tank" and the large Maverick suspension fork with large headlight definitlely give this bike it's retro moto style.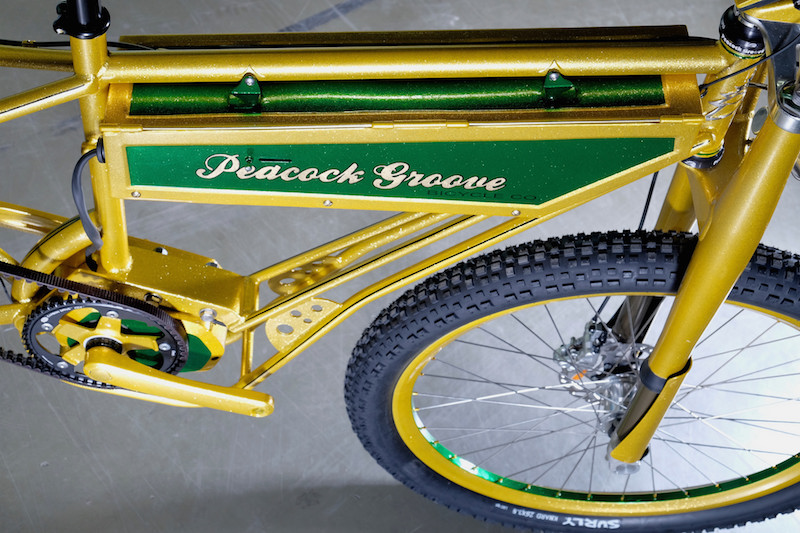 The Shimano 36V 11.6ah lithium battery is hidden in the main frame "gas tank". Eric made the hinges out of brass welding rods that were readily available in his shop.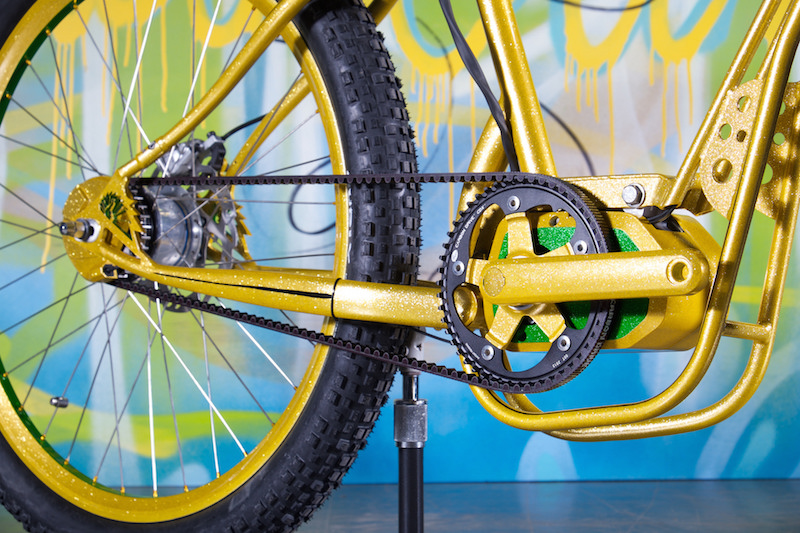 The Shimano STEPS mid drive motor along with many other components were painted gold to match. Very custom! Also, checkout the downtubes that create a cage around the Shimano mid drive motor.
A Gates Carbon Drive belt transmits the motor and pedal power to the Shimano Alfine Di2 (electronic shifting) internally geared rear hub. Note that the Alfine cover is painted to match. The rear dropout definitely has some style too.
The Shimano STEPS display was also painted to match. There are 2 control pads on the handlebars: 1 to shift the Alfine Di2 rear hub and 1 to adjust the electric assist.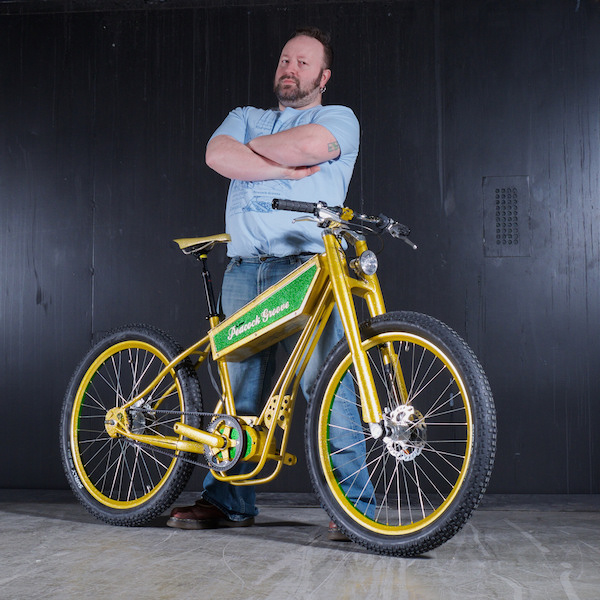 Erik looking tough…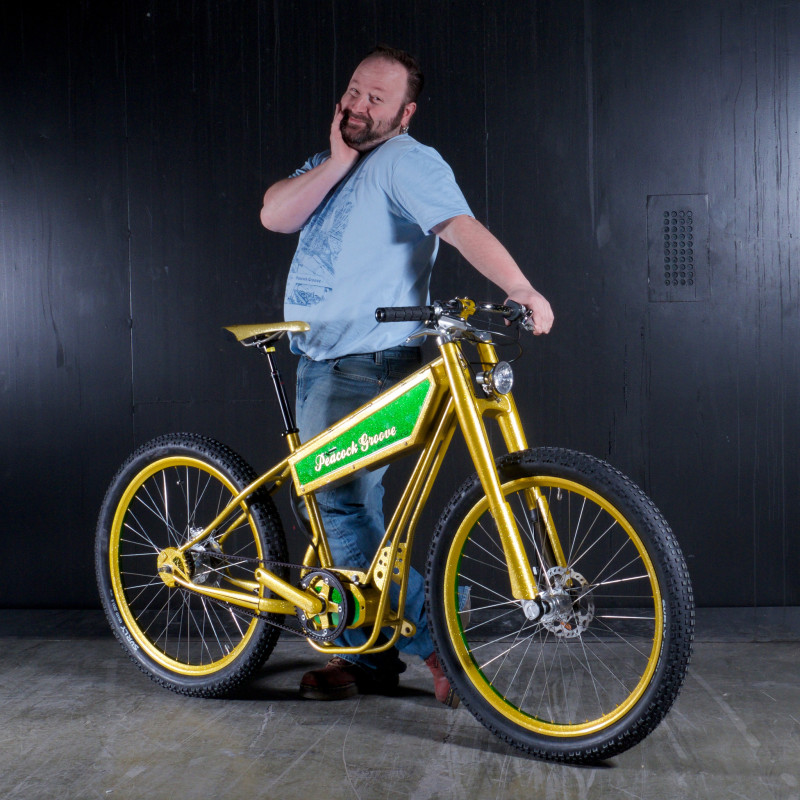 And yes, Erik has a sense of humor!
There is no price set on this bike because it was built specifically for the show, but you can imagine that it won't be cheap.
Peacock Groove bikes are custom built for each customer and they are in the higher price point. Erik will build any type of bike: mountain, road, commuter, touring, cycle-cross, cargo, fat bike, you name it.  And he takes pride in building bikes for smaller or larger riders who don't fit the typical bike sizes.
Erik is excited about how electric assist offers the opportunity for more people to enjoy a ride.  He is particularly excited about the combination of cargo bikes and electric assist for commuting, family transport, and business uses.
You can learn more about the latest from Peacock Groove at their Facebook page.
Now checkout the stylish Fifield e-bike with Shimano STEPS from the NAHBS show.
P.S. Don't forget to join the Electric Bike Report community for updates from the electric bike world, plus ebike riding and maintenance tips! 
Reader Interactions