QuietKat Apex Review 2023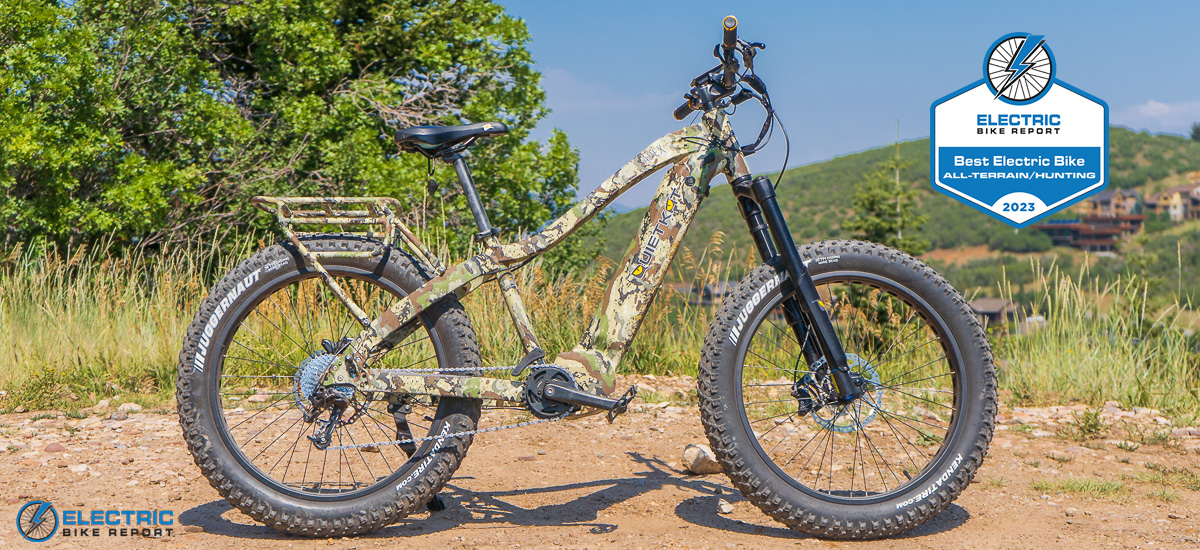 An electric bike built to haul heavy loads over difficult terrain, the QuietKat Apex is a hardtail electric fat bike with a burly rear rack and a super powerful mid-drive motor.
The Apex is the highest-end of several hardtail electric fat bikes in QuietKat's lineup. Spec'd with the Bafang Ultra mid-drive motor, an inverted moto-style front fork, powerful brakes and a 9-speed SRAM drivetrain, the Apex is a member of a newer niche of electric bikes I've started calling the "all-terrain" category. Electric Bike Report borrowed an Apex during the Big Gear Show in Park City, Utah earlier in August to get a feel for the bike.
Electric Bike Report's home base is in a corner of Southwest Utah famous for four-wheeling, and every weekend our area is flooded with tricked-out Jeeps, side-by-sides and rock crawlers with huge tires and suspension burly enough to handle Utah's famous red sandstone. The Apex reminds me of those vehicles. Its knobby fat tires lend a considerable amount of grip and the stouter-than-average front fork feels more capable than the suspension we see on some other electric fat bikes. Pair those features with the torquey Bafang mid-drive, and you've got an all-terrain e-bike that'll handle quite a bit.
Right now you can get the QuietKat Apex for $2,850 off during! Click the button above, or head to our Black Friday E-Bike Deals page for more info.
*Editor's Note: Updated Nov. 20th, 2023 to include award badge, and links to latest info and pricing.
We had limited time on the Apex during the Big Gear Show and had little access to e-bike legal trails, but the bike's above average off-road capabilities were obvious as soon as I pedaled the bike. While its a bit too much of a brute to fall squarely in the eMTB category and far too capable to simply be called an average electric fat bike, the QuietKat Apex — and other bikes like it — are carving out their own niche in the e-bike world that appeals to hunters, outdoorsmen, overlanders and really anyone looking to navigate troublesome terrain and discreetly haul gear to far-flung places.
QuietKat Apex Review: Performance and Handling
Speed and handling
The Apex is the workhorse cousin of QuietKat's full-suspension Jeep e-bike. The two bikes share much of the same componentry, but as a hardtail the Apex has an integrated rear rack welded to the frame and boasts a slightly higher carrying capacity — 325 lbs.
It also just feels like a more load-capable bike. I got to ride the Jeep e-bike and the Apex back to back, and the Apex felt more like a freight train as opposed to the Jeep's rock crawler persona. The Apex climbed very well, and felt like my pedaling and the motor's power was transferred directly to the ground and the handling felt quick but very balanced. None of this is to the determent of the Apex's off-road abilities, but I do see the Apex being more comfortable on 4×4 roads or doubletrack as opposed to more technical trail.
The Apex also sports an inverted moto-style front fork that QuietKat specs on most of their e-bikes. It's noticeably stiffer than many of the standard forks we see on other electric fat bikes, making the front end feel more precise during hard corners. Based off my experience running larger and stiffer forks on traditional mountain bikes made for high-speed technical trail riding, this stouter fork would likely also give greater control in rough and unruly terrain.
Quietcat built the Apex around the Bafang Ultra mid-drive motor, which produces a massive 160Nm of torque and up to 1,500W nominally. To stay compliant with e-bike laws, you can buy the bike in a "classified" 750W motor with a Class 2 throttle that cuts out at 20 mph, or, if you're riding on private land or in OHV areas, you can buy the unclassified 1,000W model.
That substantial power is one of the reasons the Apex doesn't fall neatly into the eMTB category. In either configuration, that amount of torque and wattage can be unwieldy in tight terrain like singletrack. But, for hunters and others hauling gear to a tree stand or camp site, that power serves extremely useful.
QuietKat Apex Review: Components
Motor and battery: Bafang Ultra mid-drive
The aforementioned Bafang Ultra mid-drive motor powers the Apex, giving riders access to 750W, 1,000W or 1,500W of power and 160Nm of torque. You can choose between one of the three motor options when purchasing the Apex, and, depending on what you choose, powering that motor is a 48V, 14.5Ah battery for the 750W and 1,000W motor options and a 52V, 17.5Ah battery for the 1,500W motor.
Keep in mind that e-bike laws are a thing when choosing the motor, and unfortunately there are quite a few inconsistencies in those laws between states, land managers and others. If you want to ride your bike on the street or on many other federally or locally managed lands, the 750W is probably the best option. If you're sticking to private land or OHV areas, the larger motors may work.
Also, don't underestimate just how much power any of these three motors produce. Most eMTB motors weigh in at 250W; not because they're underpowered or because they're made for fitness, but because that alone is plenty for most off-road uses. Amplify that power to 750W or even 1,500W, and that's a substantial amount of energy.
Drivetrain: SRAM 9-speed
QuietKat spec'd the Apex with a 9-speed SRAM X5 drivetrain, a low budget but reliable option.
Its got fewer gears and a little less tech than some of the high-end drivetrains, but there's some logic behind running a cheaper set of gears. One, the bike has enough power that you're shifting less and need less incremental gears. And two, the extremely powerful motor will likely wear out drivetrains quicker; a cheaper setup means cheaper maintenance.
Brakes: Tektro four piston hydraulic disc brakes
Slowing the bike down is a pair of Tektro Dorado 4-piston hydraulic disk brakes, a pretty standard setup for this caliber of e-bike. I'm a big fan of these brakes, which proved reliable and strong on some of the larger descents in Park City.
Other notes: Lots of accessories, three sizes and an all-new integrated rack
A feature new on the 2021 model of the Apex is an integrated and color matched rear pannier rack. That rack, which is welded to the frame as opposed to bolted, can carry up to 100 lbs of weight. The Apex is an e-bike designed for people toting heavy loads into far-flung areas, so they also designed that rack to center cargo weight low and directly over the center of the rear wheel, preserving the bike's handling.
As this is a bike made for hauling, QuietKat has a whole line of racks, bags and off-road trailers designed specifically for the Apex and their other e-bikes.
QuietKat Apex Review: Final Word
The Apex is an impressive contender in the burgeoning new class of all-terrain electric fat bikes.
It's a workhorse capable of carrying and pulling heavy loads, but is also equipped for some of the most difficult off-road terrain like mud, snow and sand. Its component package — particularly the fork, brakes an the integrated rack — is top notch and the Bafang Ultra motor is a souped-up mid-drive that flattens hills. It's a bike that would likely be a little unweildly on tight terrain, but stay in its natural habitat of 4×4 roads or unmaintained paths and it's more than capable.
I'm also impressed with just how stable the Apex felt. Some of QuietKat's staff, the ones who had a serious hand in the development of this bike, have an extensive background in mountain biking and it shows in the design. They've clearly built this bike to go anywhere and do anything, and I think they hit their mark.
QuietKat sells the Apex e-bike on its website and ships bikes directly to consumers. Or, if you'd prefer to buy the bike in person, you can find it at QuietKat's growing network of dealerships..