Ride Report: Kalkhoff Sahel Compact Impulse 8 Electric Bike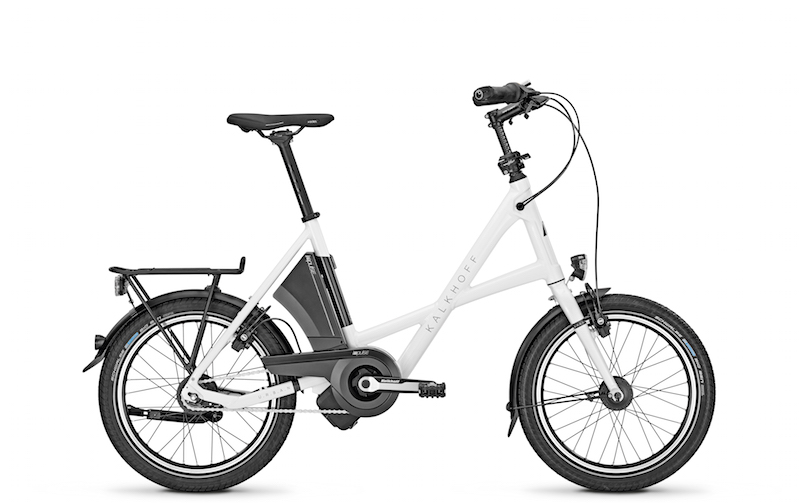 I've spent most of the last 30 years clipped into bikes designed to do a few things well: go fast, handle well and be comfortable enough to ride for hours every day.  The riding positions of those bikes become the new normal.
It's easily forgotten that the majority of cyclists don't want to ride like that, and their positions are anything but comfortable. For the millions of people currently commuting by car, bus, rail, or foot, owning a fast, traditional bike makes little sense.
It wasn't until I put down the race bikes and backed away slowly that I began to appreciate the vast design of the bicycle. It turns out I really enjoy bikes built around the needs of people who don't have to win races to put food on their table.
They instead use the bike to do things like gather food for their table. Such utility bikes become a tool and a trusted companion. They don't siphon from the owner in the way owning a car can. Their bike becomes a means to live by, giving back much more than it takes.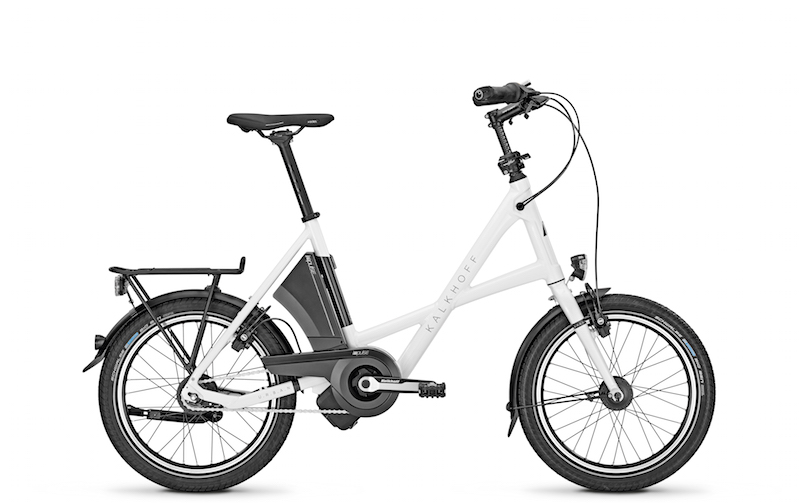 Never has this been more true than today. Bicycle design is going through a renaissance unlike anything before in it's history. Enter the Kalkhoff Sahel Compact Impulse 8. At first glance, it's cuteness is disarming.
Like a labradoodle puppy, it begs for attention without even having to move. The vision of youth does have it's charms. Set the Sahel on any street corner and it will get more than it's share of double takes from envious would-be owners.
For starters, the Sahel rides on 20 inch wheels with Schwalbe Big Ben tires and an aluminum X-brace style frame. It is stopped by Magura hydraulic rim brakes. It's well refined urban look is enhanced by an integrated rear rack and lighting system at both ends. One quick look says modern, well thought out European design.
Closer inspection reveals the heart of the machine, the Impulse II mid-drive power system. Comprised of a 250 watt motor at the crankset powered by the Impulse Li-Ion 36 volt 11ah, 396 watt hour battery, the system gives the Sahel and it's rider a bike capable of much more than meets the eye. The battery is smartly tucked away behind the seat tube, leaving the frame open and easily stepped through by it's rider, regardless of what they are wearing.
My first ride on the Sahel took place out of Bend Electric Bikes, the Kalkhoff dealership in Bend, Oregon. After a quick briefing about how the digital interface on the handlebar controls the different power levels of the Impulse II system, I was on my way.
The Sahel riding position is what I call upright and neutral. It is the ideal riding position for the masses, and I say that in the most positive sense. There is no pain or strain anywhere. Generally, those riders do not want or need to get out of the saddle to sprint or climb mountains, and the Sahel does favor the in-the-saddle rider.
The grips, hand position and controls are nothing short of perfect. The Selle Royal Ariel saddle cushions the derrier while still allowing for a friction-free 90rpm pedal cadence. The pedals on the Sahel are the type that can fold to 90 degrees (parallel to crank arms) to help save space for stowing. The pedals will make sense to anyone who needs to get the bike through tight spaces and stow it, although I would swap them for a stiffer, larger platform.
Making my way through neighborhoods and into downtown, something dawned on me. I had been carried along so effortlessly and quietly by the Sahel, it's smaller wheels and short reach to the handlebars had already faded from my mind.
Looking at the display, I was cruising between traffic stops at 15mph. The bike quickly got up to speed and stayed there without difficulty. For a commuter, rides like this would leave them refreshed and sweat-free on arrival, even when carrying luggage. Perhaps even with attractive, rose colored cheeks.
But how would the Sahel fare when the route got ornery? I don't believe a bike can really be considered a true metropolitan master if the steeps have to be avoided.
Angling away from downtown, I headed toward Bend's Awbrey Butte. There are many routes on the butte, and I decided to head straight for one of the steepest sections. Roughly the equivalent of California Street in downtown San Francisco, it's a fair test for a bike no doubt destined for larger cities.
Standing up on the Sahel to climb is doable, but with the reach to the handlebar being short, it results in an awkward, de-leveraged position. It is not a problem however because I quickly learned the rider doesn't need to get out of the saddle to climb on the Sahel.
With the Impulse II system working it's magic at the crankset so quietly you don't even notice it's there, the Sahel simply scales any climb in it's path. The Impulse II is designed with a shift delay that momentarily stops power to the drivetrain when it is shifted. I tend to shift often, and I found this feature to be somewhat of a nuisance, particularly on very steep climbs.
The remedy was to choose a gear and remain in that gear up the steepest hills. I did later learn that the shift lag feature – designed to decrease strain and prolong the life of drivetrain components – can be adjusted for different intervals to the point of being basically disabled.
My own preference would be to set it to the shortest possible lag. I have found internal hub systems such as the Shimano Nexus 8 speed on the Sahel to be smooth shifting, very robust and practically maintenance free even when ridden in very wet climates.
The white Sahel 8 I was on scaled it's way up the steep climbs as if I were riding on the back of a mountain goat. Climbing on the Sahel is not about all-out speed. It prefers to go about it's way in a more persistent, relentless fashion. Less conditioned riders or those burdened with school books or groceries needn't fear any climb that stands in their way.
Impressed with the knowledge that anyone without thousands of miles in their legs could ride to the highest paved peaks in any city in the USA, it was time to test the Sahel's handling and stability. What good would climbing ability be if it only got riders into trouble on the way down?
With the Sahel pointed down hill, I was curious how the smaller wheels and upright position would respond. I tucked into the handlebar for a more aerodynamic figure and coasted past 40mph. The Sahel was very much at ease. I took my hands off the bars to test for speed wobbles (not only a pet peave, but an important safety consideration for a bike whether you ride no-handed or not). No wobbles.
The Magura brakes got the next test. I moved my weight back a bit and mashed on the front brake. Strong response, although not at a quality disc brake power level. I tested again, applying maximum braking power with both brakes from 40mph. Quite a bit better.
The Schwalbe Big Ben's were clawing at the pavement, adding their grip to the process. The Sahel was getting pushed plenty hard and it was taking it with excellent manners, throwing back no surprises. I would have liked to try the same maneuvers in wet conditions, but as I recall from riding the Magura hydraulic rim brakes in wet and muddy off-road races, they respond quite well once the rims are cleared.
I was not able to ride the bike at night or under load. Both of which would have been nice to do to test both the load carrying ability of the bike as well as the beam quality coming from the lamps.
Kalkhoff has listed some impressive range estimates for the Sahel. They claim that the average range for this bike (tested at max speed) is 84 miles. Assuming that most riders will ride the bike at maximum assist, it's logical to expect a significantly shorter range. It's conceivable that many riders might go multiple days without having to recharge.
Power users will find they can get a very solid, full day of mini trips in the city and still have the juice to ride back home after work. Once they arrive home, they will find the Sahel is easier to wedge through doorways, down tight hallways and into cramped spaces thanks to those smaller wheels and folding pedals.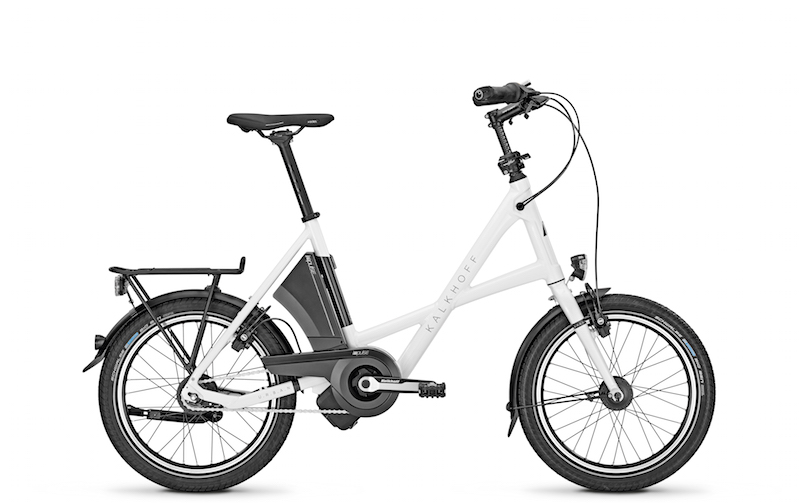 The Sahel Compact 8 is much more than a cuddly, attention grabbing two-wheeled friend made to replace a bike that's being put to pasture. For anyone with an open mind and a bit of an adventurous spirit, the Sahel 8 can literally ignite the cycling lifestyle.
It has the power to be ridden across distances and over terrain that people never imagined they could cover. It's a modern design that rides bigger than it is. It tears down barriers and provides options for anyone needing to get from point A to B. The Sahel Compact 8 would rather take you from point A to G, while stopping at B thru F for supplies and fun.
P.S. Don't forget to join the Electric Bike Report community for updates from the electric bike world, plus ebike riding and maintenance tips!
Reader Interactions