Himiway Rambler Premium Review, 2023
A comfortable, cruiser-style commuter e-bike with a responsive mid-drive and a relaxed feel.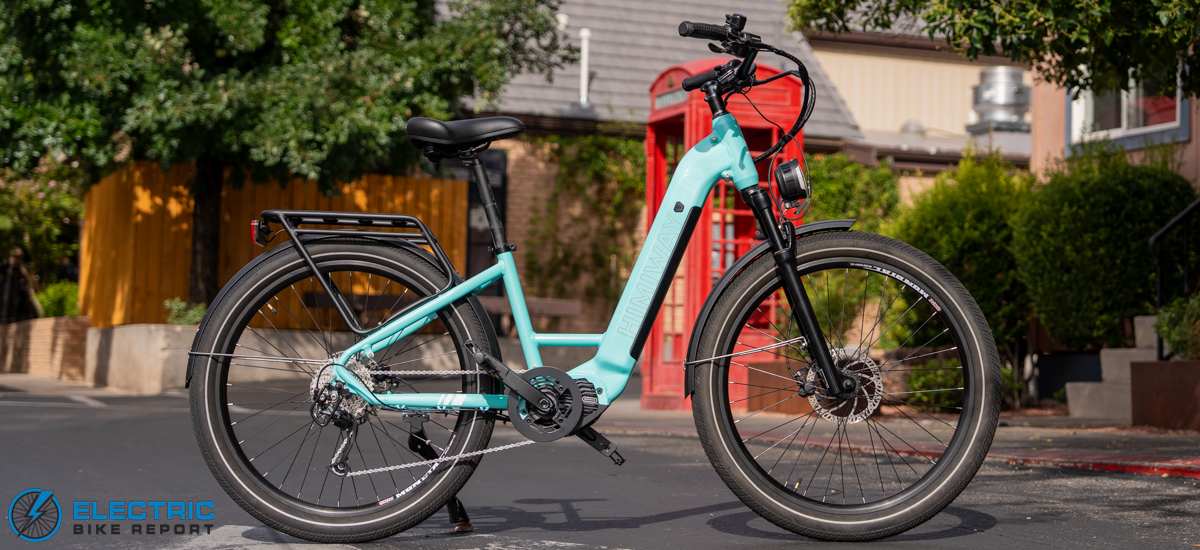 With its 500W mid-drive motor and accessory package, the Himiway Rambler Premium takes its job as a commuter seriously. But with its bright "Ocean Blue" paint job, step-thru frame, and cruiser-style handlebars, it also keeps things feeling pretty chill! We tested this comfortable, cheerful-looking e-bike to find out what it was made of; read all about it in this Himiway Rambler Premium review!
One of the first things that stood out to us about the Rambler was its relaxed personality. Pedaling can be incredibly easy and enjoyable – all thanks to the impressive power of the bike's Bafang M600 motor.
The motor uses a torque sensor to provide more speed and uphill power when pedaling harder. This allows the Rambler to feel much like a non-electric bike, just with far more of a reward for the effort you apply! We enjoyed its maximum speed of 25 miles per hour, which allowed us to cover a lot of miles in a hurry, but we also liked that the bike could match a more casual pace if we wanted to relax.
Taking it easy is effortless on the Rambler due to the bike's accommodating saddle, suspension fork, ergonomically-shaped handlebars, and comfortable grips. Additionally, we found that its 27.5"x2.4" street tires were wide enough to absorb some extra bumps, making the ride even more pleasant and smooth.
Those are just a few of the Rambler's highlights; check out our full Himiway Rambler Premium review below for more!
Bike Category:
Commuter / Cruiser
Unclassified E-Bike:
Throttle and pedal assist up to 25 mph
Himiway Rambler Premium Video Review

Pro's
An easy pedaling experience regardless of terrain due to the powerful 500W mid-drive motor!
Responds like an analog bike and gives you more power when needed thanks to a torque sensor.
A comfortable ride with the combination of a suspension fork, cushioned saddle, ergonomic swept-back handlebars, and faux leather grips.
Great handling from the mid-weight frame, cruiser-style handlebars, and 27.5" tires.
Delivers solid range with a respectable 48V, 720 Wh battery.
Himiway offers three spec levels to fit your needs and budget.
The 'Ocean Blue' color of our test bike was unique and appreciated.
Well-equipped for commuting with the huge headlight, stout cargo rack, and fenders.

Con's
The Rambler stopped safely, but we'd like to see a more effective brake system to improve stopping distance.
We'd prefer the throttle to be limited to the conventional Class 2 limit of 20 mph.
ELECTRICAL SPECS & FEATURES
Battery: 48V 15Ah LG lithium battery
Display: LCD display with USB charging
Motor: Bafang M600 500w mid-drive motor
Controller: 48V/18A
Headlight: 48V LED light
Taillights: Integrated Taillight
Peal Assist: 0~5 level pedal assist
Range: 55 miles (claimed)
Throttle: Thumb throttle
UL Certification: UL 2849 certification coming soon
Weight & Dimensions
Claimed weight: 61 lbs (66.7 lbs as measured, including battery)
Rider height range: 5'-2" to 6'-4"
Total payload capacity: 330 lbs
Maximum load on the rear rack: 33 lbs
Components & Accessories
Brakes: Tektro E-350 Hydraulic Disc Brakes w/ 180mm rotors
Fenders: Included
Fork: Trama alloy front suspension fork with lockout and adjustment, 80mm travel
Frame: 6061 Aluminum frame
Drivetrain: 9-Speed Shimano Altus w/ 38T chainring and 13-32T cassette
Grips: Ergonomic faux leather
Saddle: SR saddle
Handlebar: Cruiser-style
Kickstand: Heavy duty aluminum
Pedals: Alloy pedal with reflectors
Tires: Innova 27.5″x2.4″ tires
Himiway Rambler Premium Review: Speed Test
In our Speed Test, we measured our speeds in each of the Rambler Premium's five pedal assist system (PAS) settings. Due to the pairing of the bike's mid-drive motor with a torque sensor, the maximum speeds in each setting varied based on the amount of pressure applied to the pedals, so we approached this test with a moderate level of effort for the sake of consistency. This approach also allowed us to establish a "middle ground" in terms of the Rambler's capabilities.
As shown in the graphic above, we reached 11.8 mph with no motor assistance; this is relatively fast for this portion of the test, but it makes sense when considering the mid-weight (66.7 lbs) frame and the balanced weight of the mid-drive motor. With the motor engaged, we experienced a notable increase in assistance and speed even in the bike's lowest setting; this allowed us to reach an impressive 16.5 mph in PAS 1. The subsequent increases in power in the higher PAS settings were less drastic but relatively even. We measured 19.0 mph in PAS 2, 20.1 mph in PAS 3, 21.4 mph in PAS 4, and 23.2 mph in PAS 5.
We liked that even the low-power setting provided an enjoyable and significant difference, requiring little effort to reach a comfortable but effective pace. Over the course of our testing, we found that this seemed to be the theme of the Rambler; the bike encouraged a relaxed riding style, but could still move quickly when needed.
Throttle speeds are usually set to the standard Class 2 limit of 20 miles per hour, but we were able to reach 25 mph with the Rambler. The additional power was fun, but we'd prefer the throttle to meet the Class 2 limit to ensure that the bike can be ridden legally in more areas.
The Rambler's 500W Bafang M600 motor was designed for electric mountain bikes (eMTBs) and cargo bikes, which are used in demanding situations – either powering their way up steep hills, tearing through rough and rocky terrain, or hauling a significant amount of cargo or passenger weight. As a 48V system, the motor can quickly draw and use power from the battery to accelerate rapidly, climb effectively, or maintain a speedy pace.
As a much more relaxed commuter/cruiser hybrid from Himiway's e-bike models, the Rambler is not likely to find itself in the situations its motor was designed for, but with its power and its maximum pedal-assisted speed of 25 mph, it has enough breathing room to comfortably travel at speed.
In summary, we were highly satisfied with the bike's capabilities, the relatively even distribution of power between its settings, as well as the responsiveness of its motor. We learned that riders who prefer riding faster can do so easily with slightly more effort than we applied in our testing. Those who enjoy a more relaxed experience can use less effort without sacrificing much in terms of speed.
This pattern is identical to what we experienced when testing the LeMond Prolog, which shares the MAHLE X35 drive system. This establishes consistency in the system's performance, providing measured increases in pedal assistance that make it easy to select the amount of power that the rider wants/needs.
It's also worth noting that, by using the Motor Map menu in the MAHLE MySmartBike App, riders can quickly and easily alter the power of each PAS setting. There are three standard settings to choose from (Eco, Urban, and Sport modes), but a custom setting is also available. Each of these settings will provide different maximum speeds dictated by the wattage output of the motor, the rider's weight, etc.
Based on our data, we were satisfied with the power distribution between each of the Dutch's default PAS settings, as well as the speeds that the bike could reach. Its power level felt appropriate for the bike, offering a lively but leisurely ride.
Himiway Rambler Premium Review: Range Test
Using the process described in the graphic above, we evaluated Himiway's advertisements, which state that the Rambler can achieve a range of up to 55 miles. With its 500W motor and 720 watt-hour (Wh) battery, the bike performed as expected, and matched its advertised range!
When testing the bike in PAS 5 and PAS 1, we measured a high- and low-end bracket of 42.9 to 55.9 miles on a single charge. Many factors affect an e-bike's range, including terrain, rider weight, weather, and more – but most riders should expect to fall somewhere between these numbers depending on which PAS setting they use.
We were pleased to be able to meet (and slightly exceed) Himiway's claimed range, and also happy to note that the Rambler's performance measured up well when compared to similar e-bikes we tested previously. Aside from a few anomalies (e-bikes that performed far beyond expectations), the Rambler's results were on the high end of the "normal" or standard range. The Rambler's 720 Wh battery was also on the larger side when compared to similar e-bikes, so its placement in the rankings makes sense.
Based on the bike's motor and battery specs – as well as the speeds measured in our Speed Test section above – we estimated results far below what we achieved. The theoretical maximum time for our PAS 5 test was roughly an hour and a half, but we were on the bike for nearly an additional hour. We estimated a result in the neighborhood of 35 miles, but exceeded that by a significant margin.
Of course, range results will vary with the Rambler's torque sensor. Riders who pedal more conservatively will use less power and could potentially exceed our results, while those who prefer a more spirited pace will likely have the opposite experience.
We often measure a much greater difference between our max-assist and min-assist test results, but the Rambler Premium's range bracket was relatively narrow, with just 13 miles between PAS 1 and PAS 5.
Considering the results of our Speed Test, where PAS 1 provided a substantial amount of motor power allowing for relatively fast travel, this is appropriate. The motor's base level of output requires a larger amount of energy than we have measured on similar commuter/cruiser e-bikes – but in most cases, these do not come equipped with such powerful motors.
Based on our results from this test, we aren't sure there is much incentive to use a low PAS setting when traveling longer distances – but we're not sure there is much incentive to use a high PAS setting either. The roughly 43-to-56-mile range is substantial and should cover most daily commutes or a number of shorter leisure rides, and the bike provides a significant amount of power in every setting to make the experience easy and enjoyable.
Personally, I'd likely spend most of my time riding in PAS 3 or 4 to slightly extend the bike's range, only increasing my assist level when approaching steep hills where I needed the additional motor output in PAS 5.
Himiway Rambler Premium Review: Hill Test
At Hell Hole Trail, the power of the Himiway Rambler Premium's mid-drive motor was put on display. The bike climbed our test hill confidently using both its throttle and its max-assist modes. We measured a time of 1 minute and 31 seconds on throttle, with an average speed of 11.9 miles per hour. When pedaling in PAS 5, our results were similar, with a slightly slower 1 minute and 38 seconds and an average of 11.1 mph.
We are rather limited in terms of comparison; our pool of similar e-bikes with 500W mid-drive motors is small. When compared with the handful of other models we have data for, the Rambler's throttle performance was great, while its pedaling performance was relatively average – but this means that the bike was specced appropriately! The bike's powerful motor fulfilled its purpose, successfully conquered a challenging task, and allowed us to cruise uphill comfortably.
As established previously in this Himiway Rambler Premium review, the bike's Bafang M600 mid-drive is built for demanding jobs, so we expected nothing less. With a theoretical peak output of 864 watts (based on the controller voltage and amperage) and 120 newton-meters (Nm) of torque, it has an impressive amount of power where it counts. These two ratings are especially relevant when approaching hills, and they are specifically what allowed our test to go so well.
The Rambler Premium proved that it has the grit to conquer nearly any challenging hill its rider may encounter. With an effective throttle and a powerful pedal assist system, it gives its user options when approaching such climbs; the motor can do all of the work if desired, but if pedaling is preferred, it will likely not require much effort.
Himiway Rambler Premium Review: Brake Test

When evaluating the Rambler Premium's Tektro E-350 hydraulic disc brakes, we noted that they served their purpose and brought us safely to a stop, but we feel there is room for improvement.
After performing our test three times using the process described above, we calculated an average stopping distance of 23 feet, 11 inches for the Rambler Premium. This is exactly two feet beyond our current running average for the commuter and cruiser-style e-bike we've tested previously, and while that difference is relatively small in the real world, the overall 24-foot mark is a significant amount of distance that has the potential to impact rider safety. We think the current setup is workable as long as riders know to give themselves more room, but we also understand that some unexpected situations do not allow for advance planning.
We have tested a myriad of e-bikes with the Tektro E-350 system, and have measured both great results and others (like this) that were somewhat less ideal. For this reason, we'd like to see the Rambler equipped with a more consistent braking system – perhaps one with four-piston calipers and larger rotors – to improve its stopping distance and increase its safety factor.
Our interpretation of the Rambler Premium's data was reinforced by feel; during my testing of the bike, I noted a longer-than-usual stopping distance. In most cases this was not a problem, especially once I knew to expect it.
I must give credit where it is due; the Rambler remained quite stable during braking due to the width of its Innova street tires. The rear wheel had a tendency to lock up when applying hard pressure to the brake levers, but the bike's line of travel remained straight, so this was completely acceptable.
Himiway Rambler Premium Review: Ride Quality
The Rambler Premium performed well in terms of overall ride quality and feel. Comfort was the primary element that stood out; the bike provided a smooth ride that remained comfortable and enjoyable even after hours in the saddle.
With a Trama suspension fork with 80 mm of travel, a Selle Royal saddle with thick cushioning, and Innova 27.5"x2.4" tires, most of the bumps that I encountered were absorbed appropriately. I thoroughly enjoyed the feel of the saddle, the ergonomic faux leather grips, and the overall hand placement as determined by the swept-back, cruiser-style handlebars.
I found the bike's relatively long reach and resulting slightly-forward-leaning riding position to be different than I expected, and I would have appreciated the ability to adjust those elements of the ride.. The bike is available in just a single frame size with height accommodation from 5'-2" to 6'-4", so those on the extreme ends of the spectrum may experience a less precise fit. To remedy this, we'd prefer to see an adjustable stem on the Rambler instead of the standard-style, non-adjustable stem currently included.
That said, the Rambler's handling was a joy! The bike cornered well and had a responsive and nimble feel overall.
In previous sections, I have described the motor's performance but not its feel; this was certainly another highlight of the Rambler. The bike's torque sensor was beautifully responsive, allowing the motor to adapt instantaneously to changes in my pedaling. We often state that e-bikes can provide the sense of superhuman strength, and with its analog bike feel and powerful motor, this was decidedly the case here.
The Rambler's cockpit layout was straightforward, with its throttle lever and control panel on the left bar and its display, shifter, and bell on the right. The black and white display was our least favorite element here; we found it to be small and often difficult to read (the battery percentage in particular). At the Rambler Premium's price point of over $2,000, we would like to see a larger color display included in the future. We did, however, appreciate the paired control panel; its buttons were large and easy to press.
The Rambler Premium comes well-equipped for commuting with its fenders, lights, and cargo rack. In particular, the headlight stood out; its diameter and brightness was larger than we've seen on most similar e-bikes, which ensures visibility in low-light conditions.
By holding the '+' and '-' buttons on the control panel, users can enter the settings menu, which contains some useful customization options. The headlight includes an automatic light sensor with an adjustable sensitivity level to ensure that the light turns on when needed (holding the '+' button activates/deactivates the lights as well). Users can also change the number of pedal assist settings from the standard 5 to either 3 (my preferred setting) or 9 for additional personalization.
For a commuter e-bike, we appreciated the throttle and 25 mph pedal-assisted speed limit; respectively, these features allow riders to get up to speed quickly and more easily keep up with traffic.
Overall, the Rambler Premium came well-equipped for practical and comfortable riding, earning it high marks in terms of ride quality!
Himiway Rambler Review: Summary / Where to Buy
With its great ride feel, stylish looks, and easygoing personality, we found a lot to enjoy about the Himiway Rambler Premium. In our experience, it's a commuter e-bike for those who need to get to work quickly without getting stressed out about it! We found it tough to feel anything but relaxed when riding the bike; even pedaling hard to hit the bike's top speed felt breezy and carefree.
The Rambler proved to be a fun e-bike to test, though we did find a few points of critique. The bike's brakes stopped in what we consider a reasonable distance, but we'd like to see an upgraded system for more consistent performance. And while we enjoyed the speed of the throttle, we'd prefer for it to be limited to 20 mph per the standard Class 2 requirements.
Otherwise, the Rambler performed well in all other areas of our testing, with solid speed distribution, great range, and admirable hill climbing ability. We enjoyed its comfort level, its motor power and responsiveness, and its leisurely feel; the Rambler Premium proved to be a capable commuter and just a fun e-bike to ride in general.
We think those seeking a relaxing yet spirited experience will find satisfaction with the Rambler. Riding the bike is a great way to start and end your work day, but also a thoroughly enjoyable way to take in the scenery on the weekends.
Happy Riding! Make sure to let us know if you have any questions down in our comments section or if you think we left anything out in this review of the Himiway Rambler.
Reader Interactions