Ride Report: Focus Jarifa Impulse 27 3.0 Electric Mountain Bike [VIDEO]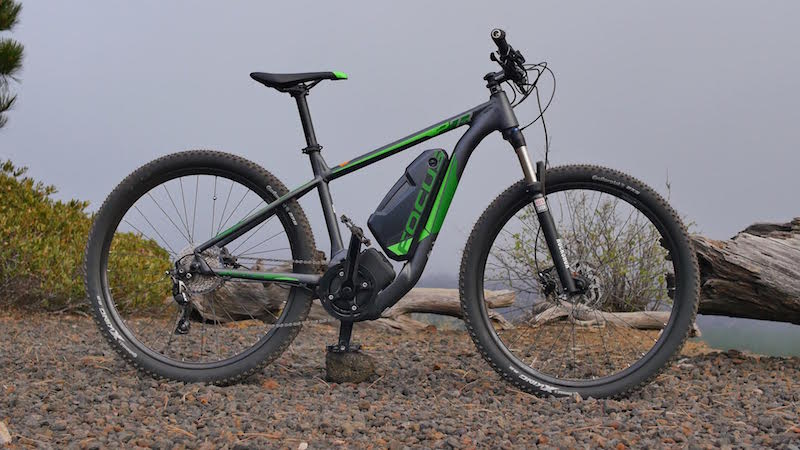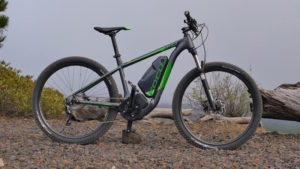 If you search the web for a definition of the word "Jarifa", you will find this bike turns up as the top result. That may have been the intention of Focus Bicycles. Perhaps they wanted the machine itself to provide the definition.
Mountain bikes without a rear suspension are popular with two groups of riders: Those that want to travel fast and far, including uphill, in the least amount of time, and those that don't want to spend more on a bike than they did on their car.
Hard tails don't soak up the big bumps as well, but they do have their merits. After years of pedaling one of these bikes on World Cup cross country courses around the globe, I gave them up in retirement for slower, more plush riding bikes.
Aside from racers, most people ride mountain bikes on paved roads, gravel and occasionally, smooth single track. If they're not hucking jumps or pounding boulders, roots, and dropoff's, hard tails work great.
For riding a mountain bike on a road or smooth track, I'd take a hard tail every time. For the riders that want to get outside with more common riding skills, this is the place to start. This is also where the 2015 Focus Jarifa 3.0 27R comes in.
The Jarifa frame is shaped from aluminum. It's larger tubes provide strength and stiffness to keep the bike tracking straight and efficient while carrying the extra weight of the battery and motor. The frame configuration also helps shields those critical components from impacts by rocks or other debris.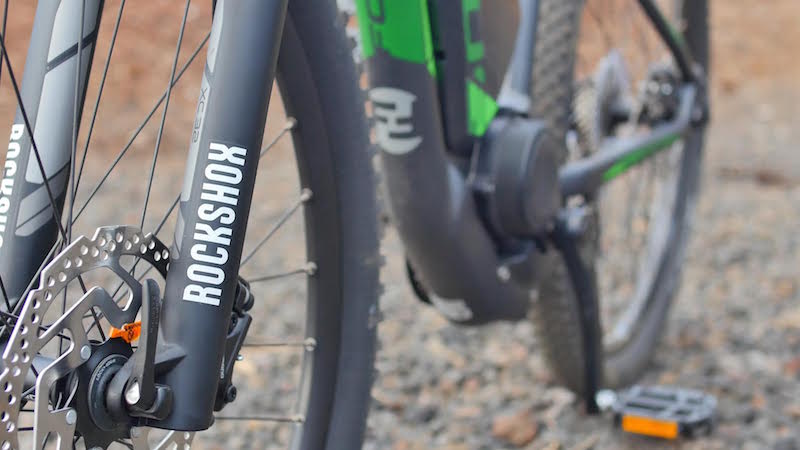 Up front, a Rock Shox XC32 fork provides 100mm of quality travel that can be locked-out with a handlebar input when desired.
The core of the Jarifa is the Focus Impulse II mid-drive motor. Mid-drives are making waves, particularly in areas with hills or mountains. The best mid-drive systems keep going when hub motors typically typically bog down if not stop altogether. This is a really critical feature for off-road riding.
The Impulse II system on the Jarifa supplies 250 watts. I've ridden plenty of hub motor bikes that deliver much less usability out of more than double that amount of power. Having power is one thing. How usable it is is something very different.
The Impulse II is well prepared for roads and trails that point skyward. On flatter terrain, the motor is right there with you, acting like a strong tailwind right up to it's 20mph cutoff speed.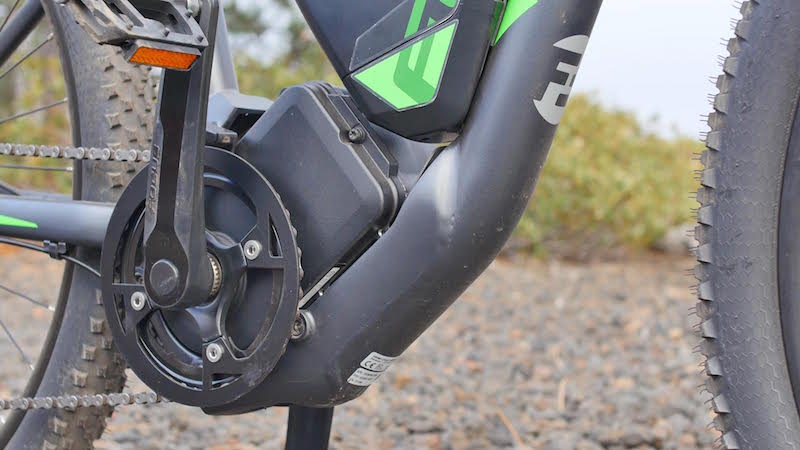 The motor delivers it's power quietly, which is always nice when climbing steep terrain at slower speeds. Just because I'm riding off road on an e-bike doesn't mean I don't want a tranquil experience with decibel levels no higher than without a motor.
The Jarifa 27R rides on 27.5 inch Concept EX wheels mounted with Continental X-King 2.2" width tires. Most of the trail riding I've done in the last couple years has been on the 27.5" wheel size and it's become my preferred size for 80% of the conditions I ride in.
X-King tires are also a decent choice for a mix of smoother trails and pavement. They roll efficiently and don't sound like a tractor on the road. This was my first experience with a Concept EX wheel set, which is Focus own component brand. The wheels performed well through the test and stayed perfectly true.
The Shimano SLX drivetrain works wonderfully and match well with the Jarifa's mid-range spec build. The RockShox XC32 was a pleasant surprise and included a manual lockout on the handlebar to make the fork rigid when desired. Quality suspension travel can't be skimped on with any bike that could see spirited trail riding, including hard tails. The XC32 delivers a smooth, progressive feel that is surprisingly close to their higher-end forks.
The combination of the frame, fork, and wheels create a very sound platform for riders to really benefit from the Impulse II motor system, especially when riding off road.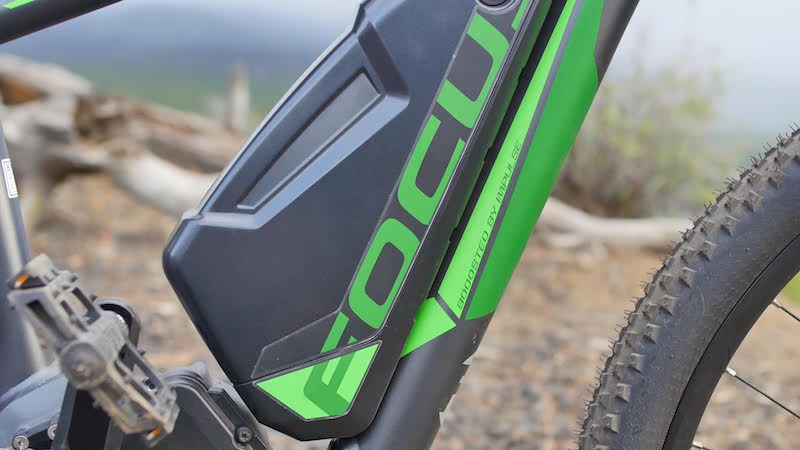 The Impulse II system on the Jarifa pairs the 250 watt mid-drive motor with a 36 volt 17 amp hour battery. Focus claims up to 127 mile range on the lowest setting and of course depending on terrain. I did not ride enough in the lowest setting to get a good feel for it's usability. Regardless, it's a higher capacity system that has impressive range through all of it's assist modes.
The battery can be removed from the bike or charged while in place. The charger fits into it's socket on the battery with a magnetic link that gives a satisfying, quality feel. Exactly how much range you will get at the higher settings of course depends on on where and how it's used. Enough tech talk, it's time to throw a leg over the Jarifa.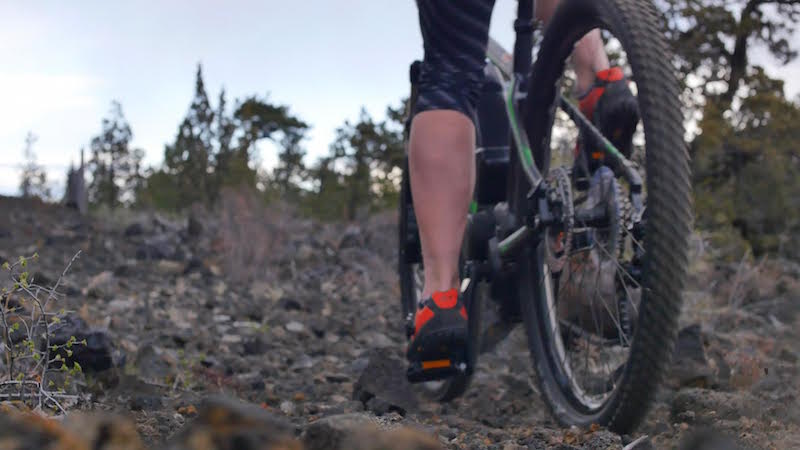 The bike weighs in at about 47lbs. Much more important than weight in a bicycle – including an e-bike – is how it feels. If the bike is worthy, the added weight of a battery and motor will do more than just cancel itself out while climbing the steepest terrain.
The Jarifa and Impulse II did exceptionally well in this regard. The bike felt light and lively. I would have preferred a much shorter lag time on the shift sensor. I had this same conclusion after riding an Impulse II system on another bike. Fortunately, it is a feature that can be adjusted.
What happens is the bike understands when you have shifted gears and it briefly cuts power from the motor in order to allow for cleaner shifting and less wear on drivetrain components. I found it gave a slightly unnatural feel when shifting on steeper climbs where any drop in momentum is noticeable.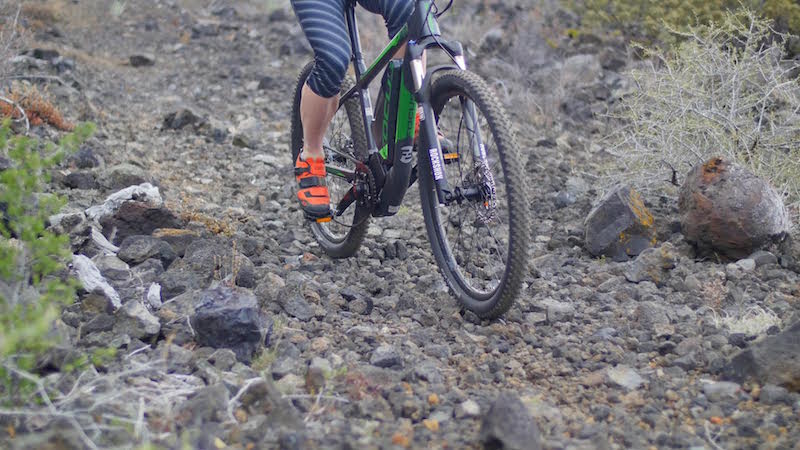 The more time I spend on e-bikes, the more I appreciate a natural riding experience. The less I can feel the bike trying to give me power, the more I like the experience. The more it feels like an extension of my own heart, legs and lungs, the better it gets.
The Impulse II was a pleasant surprise in this regard. I could hear my breathing, the wind in the trees and the birds and squirrels around me. I could hear the chain biting into cogs and finding different gears. The Impulse II quickly disappeared, which is exactly what it's supposed to do.
As that happened, the balanced layout of the Jarifa became evident. On tight single track, the Jarifa wanted to play. It jumped out of corners and found a momentum that was absolutely delightful. Braking into the next corner is just as much fun, the Continental X-King's clawing at the trail pivoting on a soft surface at speed.
The Jarifa was getting it right. I knew it because it was bringing back my fondest memories of riding a hard tail mountain bike at it's limit. The width of the bars, the angles of the frame, the Jarifa was nailing the details that can make or break the feel of any bike.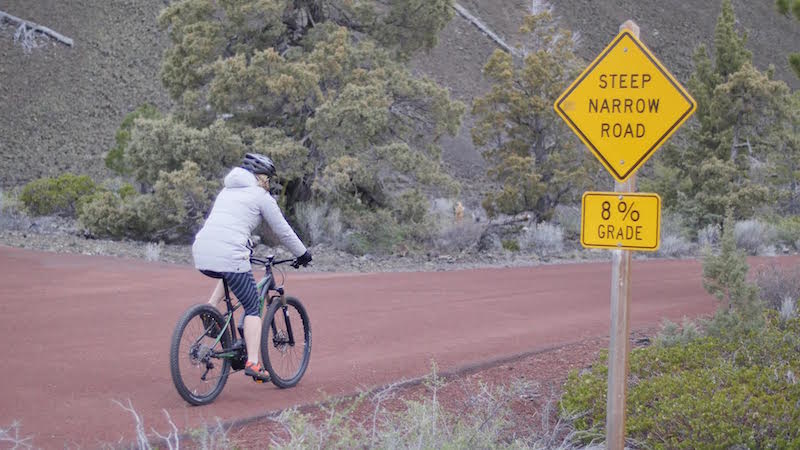 Turn, pedal and accelerate, braking zone, release and carve, accelerate on exit, shift down, steep rocky climb, summit, accelerate, descend, repeat. When I finally got back to my van, my mind was full of the type of realizations that always arrive when I finish rides that make me reconsider or think in entirely new ways.
The Jarifa sells for $3,899. It's a price I've seen referred to elsewhere as "high". I do not support that sentiment. We have all seen garages where bikes are sitting dormant. Some of them mostly unused, and of those, a good number of hard tail mountain bikes. Many of those bikes were purchased with the notion that the bike would help them conquer any terrain.
Trail experience provides a different perspective. I consider the Focus Jarifa a value for the money. Everything on it works better than the highest end hard tail mountain bikes I used to race with on the World Cup circuit. That's before the Impulse II system is taken into account.
High quality mid-drive e-bike systems make bicycles infinitely more usable. The Jarifa is a great example. Focus has presented a bike that can help anyone who can ride have a more enjoyable experience.
In bicycles, the word Jarifa has indeed found it's definition through the machine bearing it's name. It stands for "Versatility, balanced, fun. Exploring new horizons on or off road."
P.S. Don't forget to join the Electric Bike Report community for updates from the electric bike world, plus ebike riding and maintenance tips!
Reader Interactions