Eurobike 2018: New eRoad, eMTB, eCargo, Mid Drives, ABS, & More!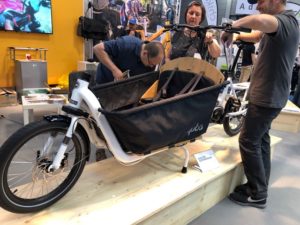 The Eurobike Show in Friedrichshafen, Germany arrived almost two months early in 2018 due to a scheduling change.
For brands, this comes with some reservation however because many are not prepared to show new products yet for the coming year.
Also, Eurobike did not include a consumer day this year, which has been wildly successful and borderline chaotic for the show in the past.
Regardless of the earlier date and lower attendance, Eurobike does no disappoint and in my opinion retains it's position as the best all-around bike show in the world.
In recent years, the Eurobike recap showcased the dramatic rise of eBikes as they quickly became over 50% of the show, first in interest and eventually in overall square footage.
Now that eBikes are firmly welcomed as the larger part of the bicycle market as a whole, it's interesting to see how the eBike market continues to mature.
It appears that the large improvements have been made which have helped bring the eBike to prominence, and now the refinements and details are what are getting attention and bringing new customers to the eBike market.
As motor and battery systems become smaller, lighter and less imposing, we see almost all the major road and gravel bike brands offering eBikes in their line. This gravel bike from the renowned performance brand LOOK is a case in point with this mid drive model.
Bianchi showed what they are calling a hybrid concept with this rear hub powered bike. Bianchi keeps the overall weight very low for the bike by using a small rear hub motor. This is a bike that could be ridden efficiently even without using the electric assist, which is perhaps where the notion of a hybrid model for road makes sense.
Storck and Cairn are two more examples of electric assist making it's way into the performance gravel bike market. These bikes were shown in the Fazua (fazua.com) booth. Fazua makes their pedelec drive systems which are gaining acceptance with their smaller form factor. The bottom bracket is driven to create 55nm of torque through a 250 watt drivepack and a 250 watt hour battery pack.

BESV showed their new TRB1 Urban. The bike looks to expand on their colorful TRB1 mountain models, indicating success with the TRB1 as a platform which can be used across different types of riding.
Always having a large presence at Eurobike, Bosch is showcasing their ABS eBike braking. This head unit attaches the middle of the handlebar to hang just forward of the head tube. It functions as the brains of the hydraulic Magura break caliper at the rotor on the wheel.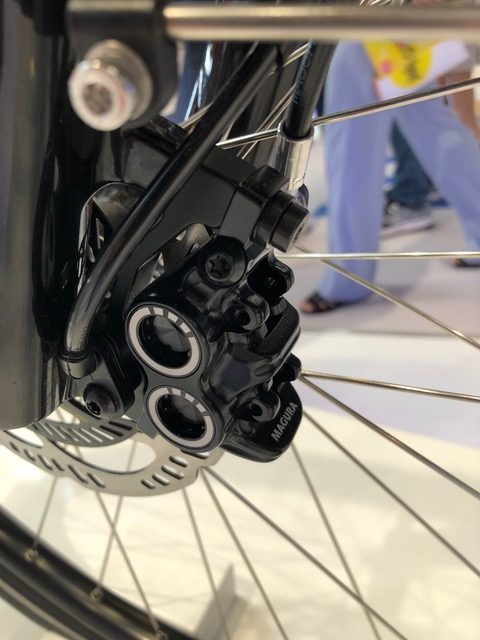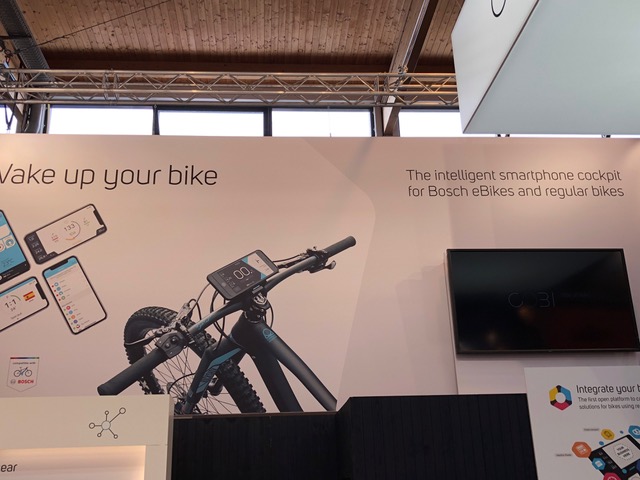 Bosch devoted a large space for what they're calling they smartphone cockpit.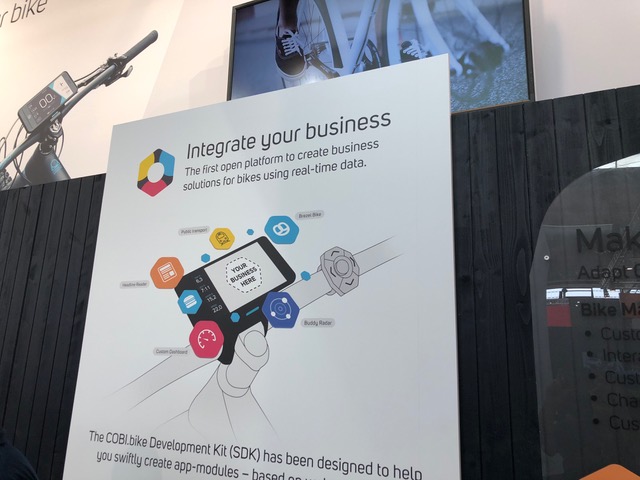 The smartphone cockpit includes an SDK for developers to express their own creativity for how app modules might be able to communicate with a Bosch powered eBike. It will be interesting to see how this space begins to take shape in the eBike space.
Eurobike would not feel the same if Riese & Muller didn't show off a new, burly trekking bike. What differentiates this model is cargobike capacity on a slightly shorter, more maneuverable wheelbase design.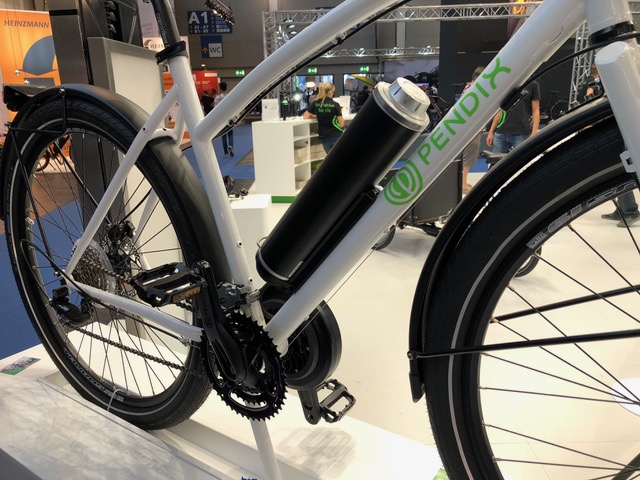 In the eBike kit space, Pendix was showing their design fixes a motor opposite the right side, chainring drive crank.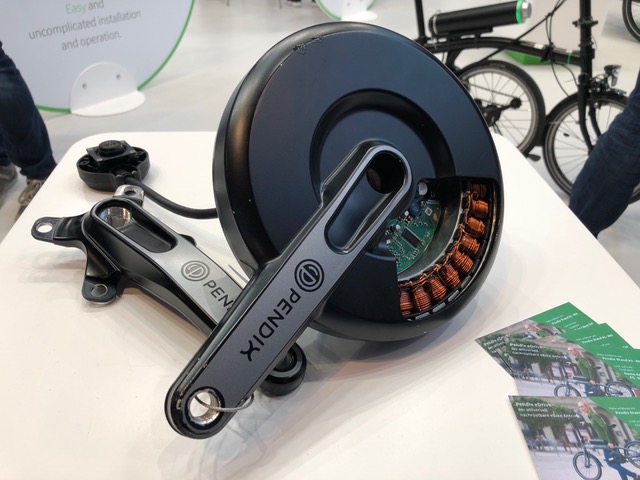 The Pendix crank motor does increase the Q factor (pedal width) of the crank by about two centimeters. The complete kit retails for about $1,400.
Also in the eBike kit and retro fit category is Add-E. Shown here on an older Pinarello road bike, the Add-E battery pack looks like a water bottle and power modes are changed by twisting the black cap on the battery. The Lite edition delivers 250 watts for about 25kmh speeds and the Sport edition gives 600 watts for about 45kmh.
Power is delivered for the Add-E through this motor mounted below the bottom bracket. The friction wheel simply presses against the rear tire and spins when the rider wants to engage it.
Yuba is launched their new front loading eCargo called the Electric Supermarché. It uses the Bosch CX mid drive motor with 500Wh battery. More from Yuba:
"The low center of gravity on this bike is the key to its easy handling and stability. Yuba invested in cable actuated steering, which allows for more versatile and seamless steering range, and ease of movement for a bike of its size. The Supermarché can carry two to three children and 180 kg up front or 36 kg on the unique integrated rear cargo rack.
The Electric Supermarché will retail for €5,250 and be available to customers starting in September 2018."
Urban Arrow won a highly esteemed Eurobike Award for this front load design.
With this more industrial front load design, Urban Arrow shows how much it believes in keeping heavy loads low and in front of the rider.
Centaur is a company that is geared toward providing solutions for the corporate and industrial eBike market. This particular model is sold into the postal services market.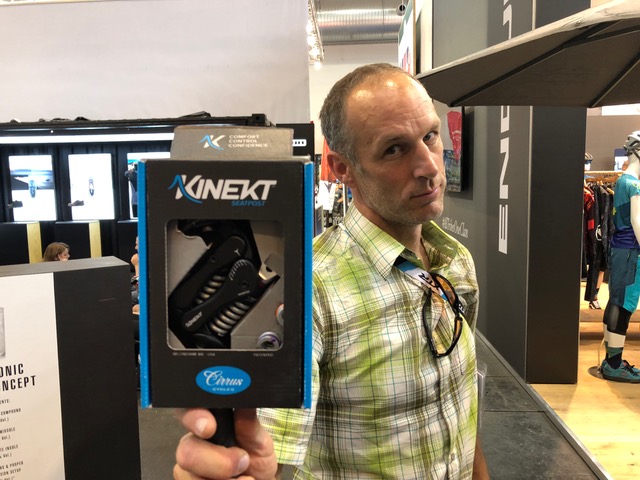 Charlie Heggem traveled from the Seattle, WA area to Eurobike to spread the word about his Kinekt seat post. The Kinekt has been gaining a following from performance road and gravel riders all the way through the eBike industry.
TRP launched new G Spec eMTB brakes designed for specifically for electric mountain bikes.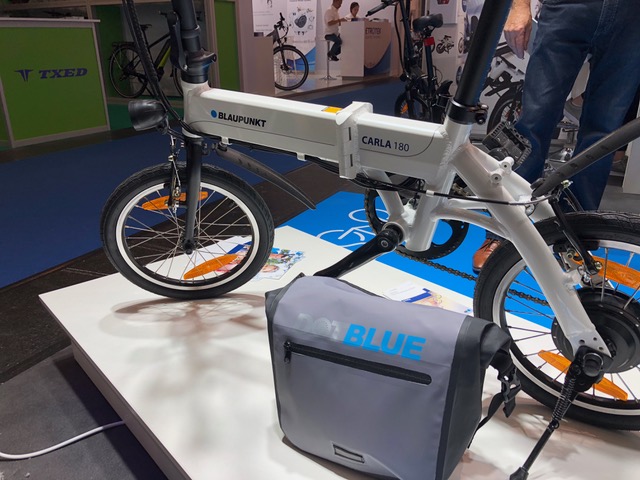 Another theme at Eurobike is the continued entry to the eBike and human mobility markets by more and more commercial parts manufacturers and consumer brands. Blaupunkt, the long time automotive audio and parts maker is showing a line of foldable eBikes.
Another example of this trend is TQ Systems. TQ has been a supplier to Airbus in the aviation industry. Attracted to the growth of the eBike industry, TQ realized it had everything it needed to become a major player in the eBike motor business.
The TQ HPR 120S drive unit exemplifies this perfectly. Perfectly round in comparison to the oblong designs of current market leaders, TQ believes their design has certain advantages. Visually, the motor appears to be robustly made. The performance figures TQ is touting are quite phenomenal, particularly in the area of torque. They claim 120 newton meters for this drive unit, virtually double that of some of the leading brands in the eBike motor space.
Haibike is one the first brands to incorporate TQ products into their production line. Haibike had several models on display which utilize the TQ system.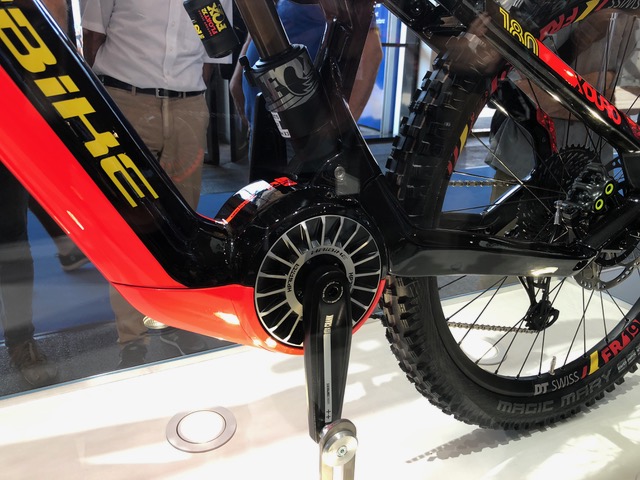 Drive systems appear to be branded Haibike. I could not see any markings to indicate TQ Systems on the new Nduro 100 model. The bike is fantastically displayed in an enclosed case.
Another brand showing models with the TQ Systems drive is Spitzing. Watt output figures are listed as high as 920 watts, which I am unclear at this point about how European regulations view these machines.
Each of the last five Eurobike shows have witnessed more motor manufactures from more countries. Polini is an Italian brand that has seen excellent placement of their mid drive systems on a number of well known brands. This latest E-P3 is the most refined looking unit they have put out to date.
Ciocc is an esteemed Italian road bike brand that really came to the forefront in the 1980's. They have chosen Polini to power this very nicely spec'd road eBike.
Continuing the refinement theme is Schwalbe. Their new Eddy Current eMTB specific tires are the most aggressive, robust looking designs to date made from the ground up for eMTB. The Eddy Current are a front and rear system.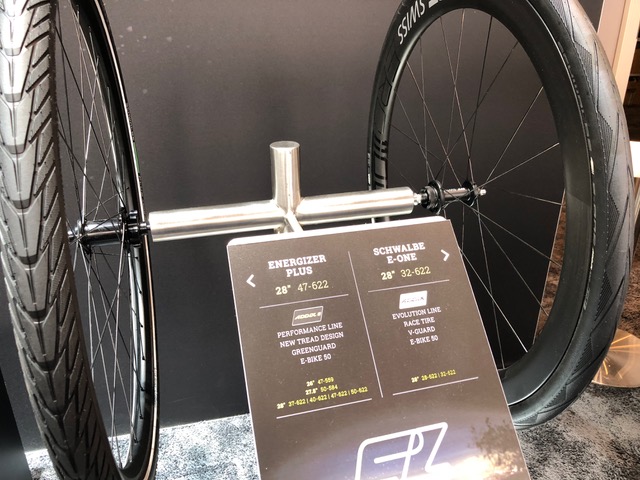 Schwalbe did not ignore the performance eBike commuting, trekking and performance urban categories with these new eBike specific models.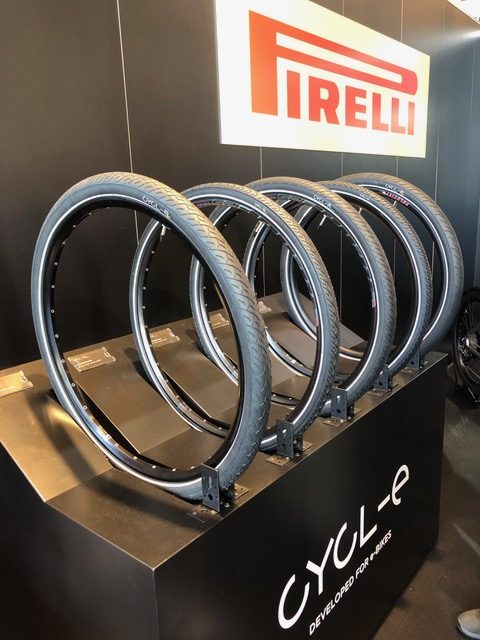 Not to be outdone, Pirrelli has entered the cycling market and about half of their lineup consists of Cycle-E models. Eurobike had a larger presence than ever before of brands previously known in the automotive and motorcycle markets. The morphing of automotive into eBike and human mobility is very clear. Overall, these moves are seen as positive. They are bringing new funding and innovation to the eBike and cycling industry.
Once again, consumers stand the most to gain from all of the trends visible at Eurobike right now. Fine tuning and refinements aren't as noticeable at first as the big steps forward.
For example, when fun to ride, durable, quiet mid drive motors paired with long lasting batteries were mass produced so more brands could build bikes around them.
That was a big move forward some years ago, already. Now, we are seeing those systems continuing to improve along with all of the other eBike specific refinements.
eBike buyers are getting more for their money as the bicycles and industry as a whole provide more value and better experiences to riders.
P.S. Don't forget to join the Electric Bike Report community for updates from the electric bike world, plus ebike riding and maintenance tips!
SaveSave
SaveSave
SaveSave
SaveSave
SaveSave
SaveSave
SaveSave
SaveSave
SaveSave
SaveSave
SaveSave
SaveSave
SaveSave
SaveSave
Reader Interactions