A Short Weekend Electric Bike Tour of the Finger Lakes [VIDEO]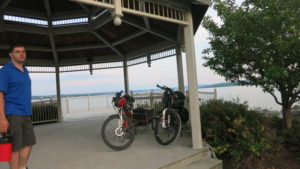 By Troy Rank
A few weeks back I ran into my buddy Bryan while commuting home from work. After exchanging some typical DIY E-bike chatter about connector doo-dads and DC-DC converter hacks, Bryan mentioned that he wanted to do some touring of the finger lakes sometime soon.
Itching to break out my old-dog of an E-bike touring rig, I accepted a challenge and we hashed plan to head to Ithaca for the weekend.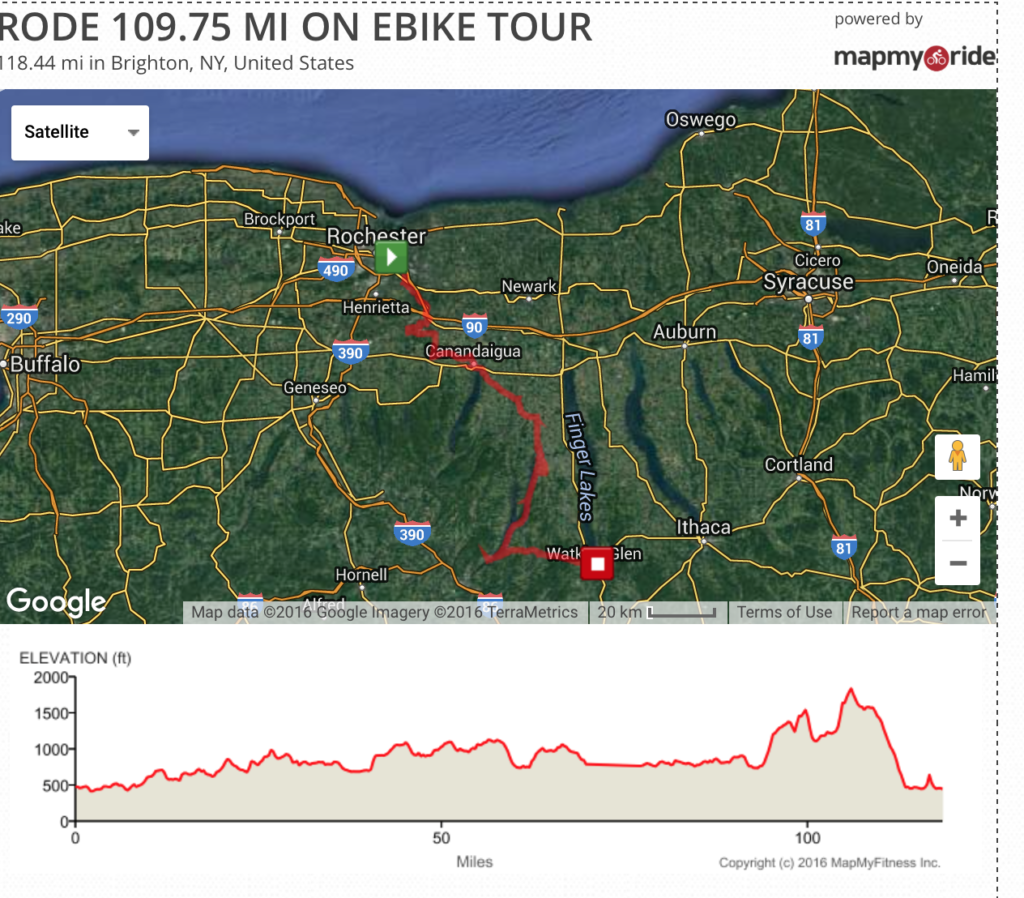 So after swapping out my worn and abused 18,000 mile e-bike hub with a last-minute Amazon overnight special, we were on our way.
Thursday morning I loaded up the bike in a familiar way that I did in 2014 when I traveled out to Denver.
But first, a day at the office. The E-bike blended in seamlessly in the bicycle storage as always…
Bryan finished up at work and we made our escape out of the city.

At this point I should provide a quick little lesson in upstate geography. Rochester New York, our fair home, and E-bike capital of the world, is located nowhere near New York City. On a good day, it takes about six hours to get to New York City by car and this comes as a shock to most people who aren't from the area.
At this point you may be wondering why someone would bear the crippling taxation burden of New York State whilst receiving no advantage from the New York City economic region.
Apart from Rochester being awesome (a topic for another time), it's also located in an incredible geographical area. You see, a gazillion or so years ago, this area was covered by like… miles of ice… or something… Long story short; we ended up with some gorgeous geography, and turn of the century Americana, known as the Finger Lakes.
Our First Charge Break at Canandaigua Lake
It only took ten miles until the houses began to separate and the cars passed us less and less often.
It's true that my E-bike hack has spoiled me with an exceptional range and Bryan's rig was the first that I had come across that could keep pace (in fact outpace) my 2.5kWh of battery pack. Bryan's trailer-full-of-batteries meant that we didn't have to worry about range as we cruised forty miles hilly country roads to arrive at the Canandaigua lake as the sun fell behind the horizon.
Even though we didn't really need to charge, it was time for some dinner so we charged for an hour as we stuffed our faces and had a beer by the lake.
By the time we got back to our E-bikes, the sun had gone down. I asked Bryan if he was comfortable riding through the darkness. He enthusiastically charged forward.
The temperature even after the sun went down was in the upper eighties and we couldn't be more comfortable cruising at around twenty miles-per-hour.
As we climbed the hill out of Canandaigua, the lights from the homes reflected against the lake. It was so gorgeous that we had to just stop and take a moment to appreciate it.
As we pushed through the next twenty miles toward Penn Yan, we reveled in the warmth of the night and cruised side-by-side down deserted hilly lake roads. When it's that dark the the ride can feel a bit ore like a video game than real life. It's hard to tell how fast you're really going.
At one point we saw another familiar flashing bicycle light. Despite our 500W of extra power, it actually took quite a while to gain on the cyclist. We finally passed him at 22 mph, and through the darkness I screamed "Hey! You're pretty fast!".
It was then that I noticed that he was wearing long pants and a heavy long-sleeve shirt. The Amish people in this area are huge cyclists and their lifestyle affords them lots of time to ride bicycle. I couldn't help but feel a bit jealous.
We bombed down the hill into Penn Yan, reaching 50MPH. Bryan's trailer oscillated slightly and made my heart jump, but he assured me that it was battle-proven, and sure enough we made it into Penn Yan without incident.
The night had passed quickly and it was almost midnight. A small park near that lake seemed like an inconspicuous place to setup camp for a few hours and rest.
A night vision camera spoiled our plans however, and a couple of Penn Yan's finest greeted us before we got a chance to set up camp. Truth be told the police were extremely kind and curious about our electric-powered rigs.
They suggested that we might continue down the lake and setup camp at a designated rest area about 5 miles down the lake. the police allowed us to charge for a while longer (a really kind gesture) and we headed to the rest area.
We finally set up camp at around 2AM.
In the morning, Bryan packed up his ridiculous camping hammock and I packed up my trusty tent.
Groggy, we headed south down the lake. Much to our delight we found a spot for coffee only a mile down from our guerrilla campsite. Our bikes charged as we sipped coffee and adored the morning fog over the Keuka Lake.
Today, the primary destination was the the Glen Curtis museum in Hammondsport, NY.
Curtis was a pioneer in bicycles, motorbikes, combustion engines, and chiefly, aviation. For a couple E-bike hackers, it was perfect.
We spotted this example of an early hub-motor. Gasoline engines aren't exactly ideal for this configuration.
Just after noon, we finished up at the museum and headed west toward Watkins Glen.   If you were under the impression that New York was just a big city, this is where you might change your mind. We headed up thousands of feet of elevation.
We ended up pushing up some of the larger hills to give our hot hub motors a break. Later on we realized we could just power through without any real overheating issues, but we played it safe as we learned how the machines would perform with some pretty serious elevation.

The Hill into Watkins Glen
We found a spot to stop and charge just across the street from an incredible brewpub. We waited for the rain to pass while enjoying some amazing IPAs.
Our goal for the evening was Ithaca NY, so we headed back to our bikes and soldiered on.
The climb out of Watkins Glen is intense. I headed up full speed and waited for Bryan at the first cross-street. He quickly caught up and we shook our heads at the insane grade of the hills.
A disturbing sensation awaited me when I attempted to go forward. The motor jerked and jumped. Luckily Bryan brought a multimeter and we measured the hall sensors coming from the motor. None of the sensors were putting out any signal. Later on I found this to be due to a cold solder joint on my no-doubt questionable last-minute Amazon hub motor replacement.
Not wanted to spoil the adventure, I urged Bryan to continue on to Ithaca. After I  gravity-biked down the rollercoaster    of a hill that I had just climbed, I was delighted to remember that this was still a bicycle. I shifted down and rode down to the lake to figure out a plan for the evening. I phoned my wife and she agreed to come and rescue me the next morning.
In the meantime I set up camp down by the water and made good use of the rollerblades that I brought along.
If you're ever stranded in downtown Watkins Glen, I highly recommend the skatepark (oh, and the lake is gorgeous as well).
Bryan soldiered on to Ithaca without me and racked up another 140 Miles by the end of the weekend. E-bike touring offers unique adventures that no other method of transportation can offer, and this abridged weekend was a great example.
Here is a video recap of some of the scenes from the tour: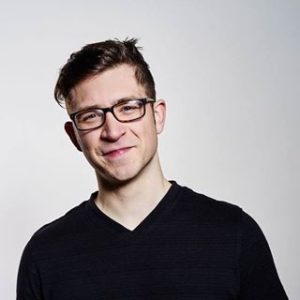 Troy is a two-wheeled reverend, an thrifty E-bike adventure tourer and founder of Maxwell Motorbikes.
P.S. Don't forget to join the Electric Bike Report community for updates from the electric bike world, plus ebike riding and maintenance tips!
Reader Interactions