E-bike News: Yamaha, Liv, Rossignol Announce New E-bikes and Lots More!
New model launches are important – they reflect the latest technology, such as the PWSeries ST mid-drive found on Yamaha's latest US speed pedelecs. But e-bikes need somewhere to be ridden and that's an area that gets a lot less press. So this week we are doing EBR's bit to rectify that with some news from the UK on the attempts to bring more 'lost ways' back to life, making them legally accessible to cyclists and e-bikers.
In this week's e-bike news:
New Yamaha speed pedelecs for the US

Yamaha-powered women-specific e-bikes from Liv

Rossignol looks to make a mark with new Shimano-powered emtbs

Will Reilly produce an e-road bike any time soon?

All the latest e-scooter news

The UK's 'lost ways' saga continues with some good news
NEW 28MPH E-BIKES FROM YAMAHA US
Summer 2022 will see the introduction by Yamaha US of two all-new, class 3, power assist bicycles: the Wabash RT and the CrossCore RC, e-Bikes built from the ground up with the all new Yamaha PWSeries ST drive unit. Both bike models feature frame- integrated 500Wh batteries.
The Wabash RT is a performance drop-bar gravel bike and the CrossCore RC is described as 'a versatile lifestyle and fitness-focused bike with a flat handlebar, ergonomic grips and a riding position made for extended fitness, commuting, and any journey one desires.'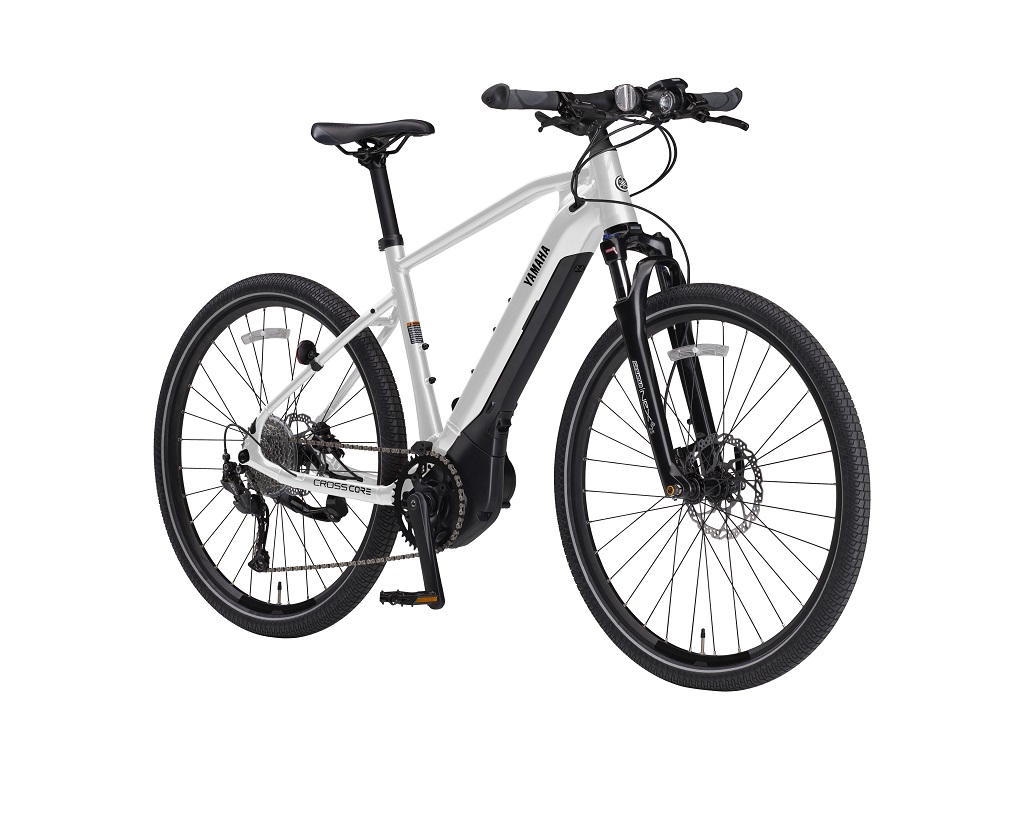 They are also the first U.S. models to be powered by the company's new PWSeries ST drive unit, which has four assist modes and an automatic mode. With a 28mph top assisted they are Class 3 e-bikes in the US (i.e. pedelec-only and no throttle).
Other key spec for the Wabash RT includes;
combines traditional road bike design elements with key off-road performance features including:
Shimano 11 speed GRX drivetrain
Shimano GRX RX hydraulic brakes with 180mm rotors
Built-in dropper seat post with 40-60mm of travel.
12mm thru axle on both front and rear hubs
CrossCore RC features include;commuter and city-specific ergonomics and geometry with flat handlebars and an upright position. Its specifications include:
Multifunction LCD display that provides color-coded ride data for ease of use.
Shimano Alivio drivetrain
Hydraulic disc brakes and centerlock rotors for smooth, predictable stopping, and quick-release style thru-axle hubs for easy tire removal.
CST Brooklyn Pro tires with stiffened sidewalls and puncture-resistant layering.
The Wabash RT will retail for $4,099, and the CrossCore RC $3,099 with summer availability and both come with Yamaha's three-year warranty on the drive unit battery, and frame.
LIV'S NEW CITY E-BIKE FOR WOMEN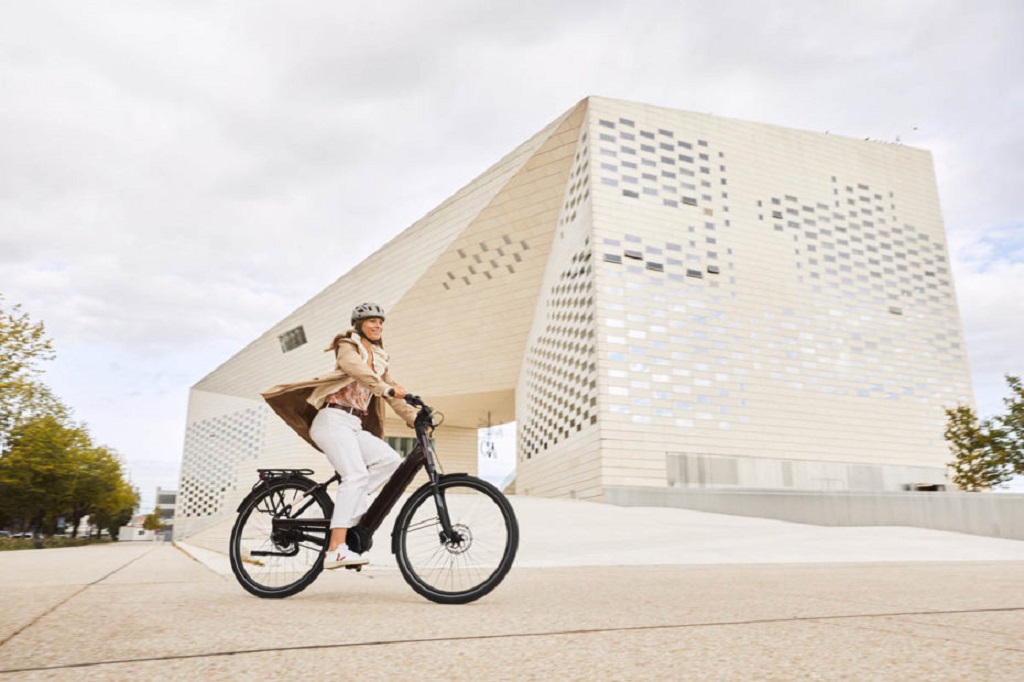 Liv is a woman-specific offshoot of Giant and make bikes to suit women with features such as smaller frames, narrower handlebars and shorter cranks.
The low-step Allure + range, just launched in Europe, uses both front and seatpost suspension for comfort and a Yamaha-sourced mid-drive for effective power and smooth riding. There are three models with euro prices reflecting spec and as follows; 3,249 euros (E+2), 3,349 euros (E+RT) and 3,899 euros (E+1).
You can find out where you can view Liv's e-bikes in your area via the manufacturer's dealer search.
ROSSIGNOL 2022 RANGE INCLUDES TRAIL E-BIKE OPTIONS
Consumer-direct brand Rossignol recently announced its 2022 mountain bike lineup and it includes an e-bike model. The Mandate Shift is the brand's electric-assist (e-bike) version of the Mandate trail bike. Rossignol have only been making e-bikes since 2018 and are perhaps more associated with skiing equipment.
Rossignol describe it as 'Featuring…. Shimano Steps motors, both the brand new EP8 and stalwart E7000…., the Shift is available with three different build options and price points.'
The three Mandate Shift options are named after the different Shimano drivetrains each uses:
XT Steps EP8 mid-drive (torque rating 85Nm), 630Wh battery, $ / € 6,399
DEORE 12 Steps EP8 mid-drive (torque rating 85Nm), 630Wh battery $ / € 5,399
DEORE 11 Steps E7000 motor (torque rating 60Nm), 504Wh battery. $ / € 4,399
Apparently, Rossignol plan to establish an extensive network of test bikes throughout Europe via bike rental partners. That way, those who are interested can simply test ride a bike of their choice before buying.
HIGH END REILLY E-ROAD BIKE ON THE HORIZON?
The UK's Reilly Cycleworks produce high end road bikes and just announced a new partnership with Classified who make an innovative wireless, hub-enclosed two-speed shifting system which can be used alongside derailleur systems and which will now be available on the full range of the Reilly's titanium adventure and road bikes.
The press release announcing the partnership also intriguingly states that a titanium aero road bike and an electric offering are 'on the horizon'.
E-SCOOTER NEW ROUNDUP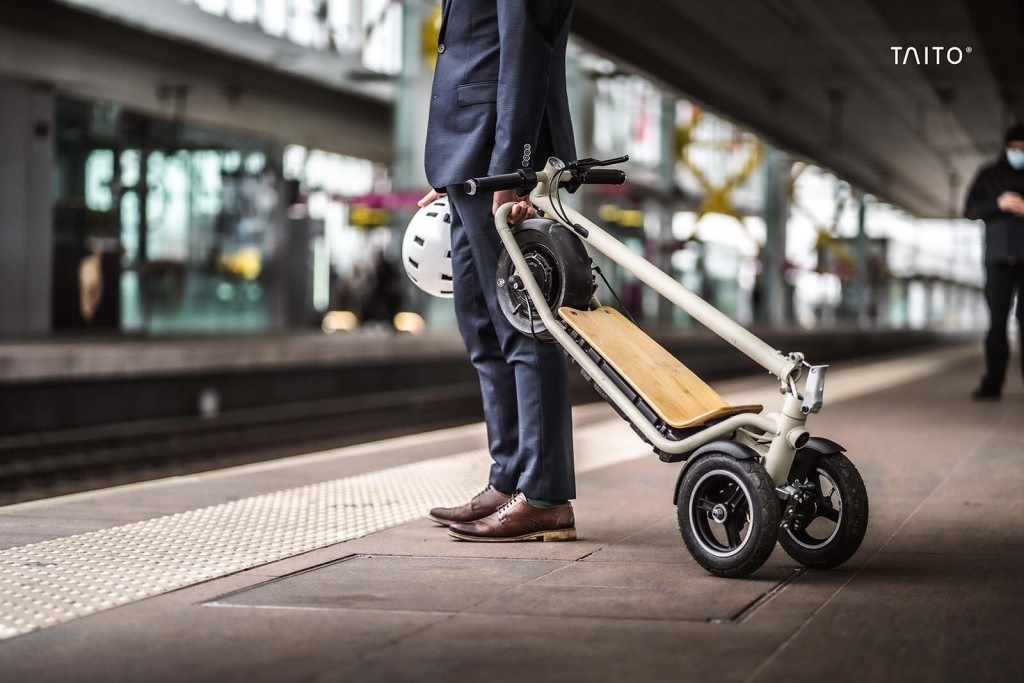 Move Electric reports that Belgian start-up Taito 'created the first prototype of its three-wheeled e-scooter – which features the extra wheel on the front axle – last summer and started public testing at the end of 2021.'
The emphasis is on stability and comfort, helped not just by the extra wheel but by Taito's 'unique suspension system designed to soak up rougher bumps. The scooter also has a floating wide footboard made from bamboo to aid comfort over the rough stuff.'
It's currently available to order in advance at Indiegogo for 1750 euros but the production phase is yet to start.
Micromobility reports that 'The UK Government has updated its guidance on e-scooter trials, as all scooters will now have to have a visible number plate.
The biggest addition in the guidance is the requirement that each e-scooter will now need to display a manufacturer label that includes a unique identification number.
'These numbers will be used to help identify riders, to assist police and the public in differentiating between trial scooters and privately-owned machines. Numbers should be on a plate, sticker, or paint, and should be placed where clearly visible, on the steering column and/or at the side or rear of the vehicle' says the article.
Despite safety concerns the UK's e-scooter trials appear very popular, as Transport for London and e-scooter operators Dott, Lime and Tier recently releasing new data showing that 585,000 trips have now been made in the UK capital, covering around a million miles. Around 180,000 people have used the scheme to date and the most rides by a single user was more than 300 trips.
UK's 'LOST WAYS' NO LONGER UNDER THREAT
The UK is not a huge country and there are only so many off-road paths and tracks were bikes and e-bikes are allowed (in England, Wales and Northern Ireland at least – Scotland is alone is having open access for bikes on just about all paths and tracks).
Outside of Scotland a huge historic network of old tracks exist that have either disappeared under growth or been recorded wrongly as footpaths (where bikes are not allowed). These 'lost ways' can be claimed back for bike use but it can be a years long legal process, and many local authorities have a huge backlog of claims.
Worse still, 2026 was about to see the extinguishment of the right to 'claim back' these routes, many of which would make fantastic trails for off-road e-biking. Good news then, that Singletrack report that the UK government 'has announced that the 2026 cut-off date for recording historic rights of way, as set out in the Countryside and Rights of Way Act 2000, will be repealed.'
There are wider calls for more access more quickly on routes that once saw significant amounts of wheeled and hooved traffic and could now easily accommodate off-road bikes and e-bikes. As Sophie Gordon of Cycling UK explains in the video below 'It's just not practical to wait 15 years for a label to be changed on a route that has clear historic precedent.' Note the video was made last September and so makes reference to the deadline which has now been scrapped.