Ebike News: Tahoe Lawsuit Settled, Four-wheeled Mubea E-cargo Launch and Lots More!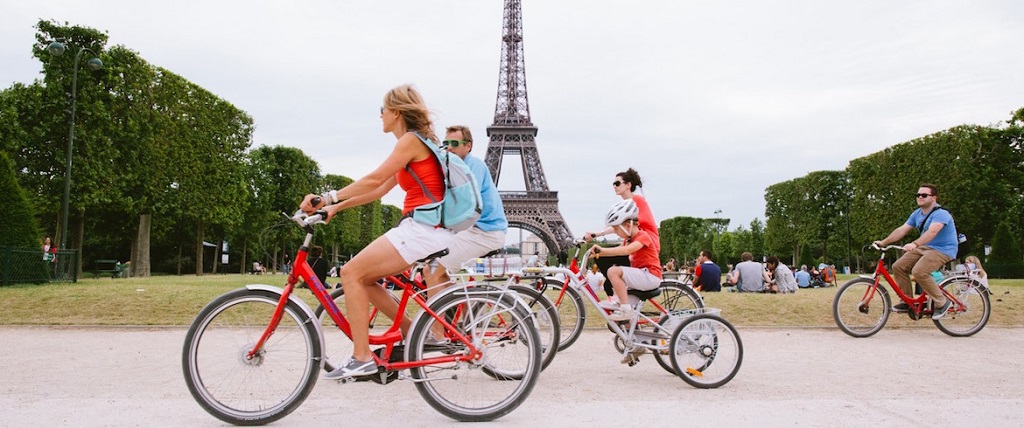 Whilst there weren't many new e-bike releases this week there is plenty of related news, from the final resolution of the legal situation at Lake Tahoe, one of the most popular trail riding spots in the US, to China's recent efforts to make electric vehicle battery recycling more effective.
The eclectic nature of the week's news continues with features on the UK throttle only laws, a new e-bike motorized workstand and the new legal obligations on French automobile advertisers that might just help sell e-bikes; all going to show the many related areas the huge and growing popularity of e-bikes have helped them reach into.
In this week's e-bike news:
Lake Tahoe class 1 trail access legal dispute finally settled

Innovative looking Mubea e-cargo four-wheeler slated for summer launch

UK's Wisper's limited run of throttle only e-bikes

Motorized EZLift for heavy bikes and e-bikes

China aims for more and better battery recycling

French car ads must tell you there might be better ways to travel

Dutch, Belgian and German e-bikers buying pricier e-bikes
TAHOE NATIONAL FOREST E-BIKE ACCESS LAWSUIT SETTLED
Bicycle Retailer and Industry news has reported that 'The group of trail and forest advocates settled its federal lawsuit filed in 2019 against the U.S. Forest Service, whom it said allowed Class 1 e-bikes on non-motorized trails in the Tahoe National Forest without conducting a public study.'
Class 1 e-bikes are pedal assist only and do not feature any throttle.
There's more info on popular bike trails at Tahoe here and this video from Fly Rides shows the spectacular scenery that the nearly 200 miles of new access helped open up when it was first introduced in 2019. The commentator also emphasises the importance of good trail etiquette so that e-mtbers give a good impression to other trail users – important in safeguarding their new access rights for future use…
GERMANY'S MUBEA EXPANDING INTO ELECTRIC CARGO BIKE DELIVERY
Southern Germany's Mubea have traditionally specialised in lightweight auto tehnologies and developed the likes of specialist suspension systems and coachwork – and now summer 2022 should see the launch of their Mubea Urban_M Cargo, a four-wheeled electric cargo bike.
Mubea say the new model combines 'the legal advantages of an e-bike with the load capacity of a mid-range car.' The payload is 740lbs / 335 kilograms. As an e-bike it will be allowed on cyclepaths and its modular design means it will fulfill numerous cargo carrying briefs. The projected retail price is 10,490 euros.
UK'S WISPER ANNOUNCES LIMITED RUN OF ROAD LEGAL THROTTLE ONLY E-BIKES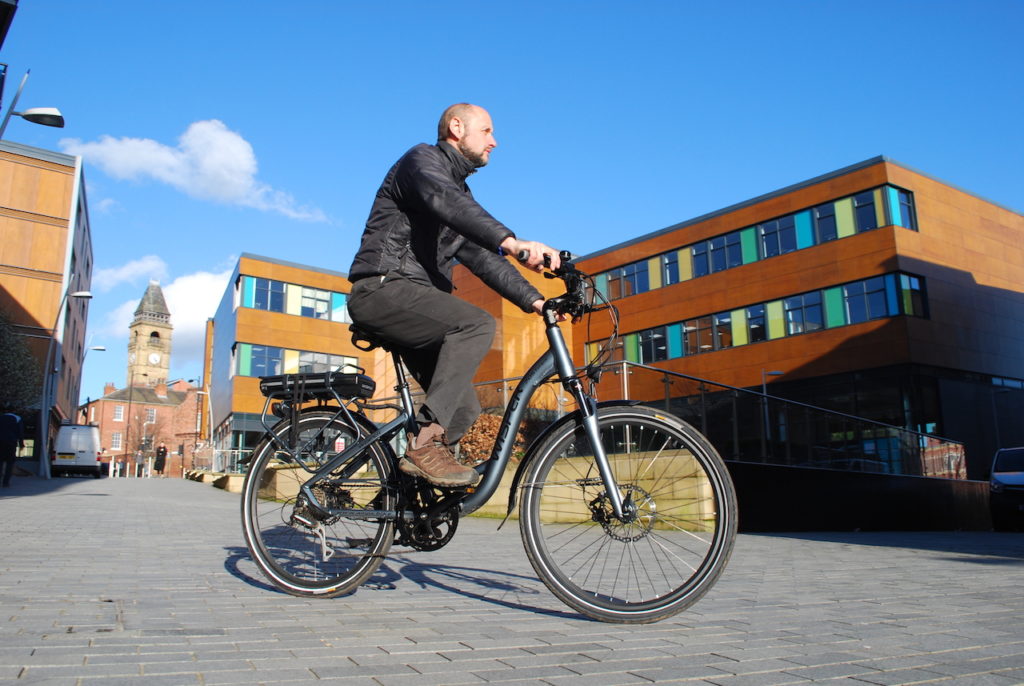 One of the big differences between the UK and the US e-bike scene is that, generally speaking, throttle-only e-bikes (so-called twist and gos) are not legal e-bikes in the UK.
Up until now that was. Cycling Industry News tells us that 'Wisper Bikes has announced a limited run of their traditional range of e-bikes (806, 705 and 905) with a full throttle that will power the bikes up to 15.5mph without pedaling.'
The article tells us that Wisper Bikes has had a batch of its bikes tested by the DVSA and they have now been Type Approved as 250W Low Powered Mopeds, a sub-group of Low Powered Moped that meets the appropriate legal criteria.
Do note though that the implication of the above is that – as they are legally classified as a form of moped – the rider would be required to wear a compliant motorcycle helmet on the road and to have a regulation size rear number plate as well as insurance, whilst riding on public roads, and would not be able to ride on cycle lanes.
The story highlights how small electric mopeds are a much overlooked category of vehicle in the UK and one with great potential. It's an area that a recent report from the UK's Motorcycle Industry Association, as reported in MCN, hopes will be developed in future.
EZLIFT WANTS TO TAKE THE PAIN OUT OF E-BIKE SERVICING
UK firm EZLift recently launched their motorized bike stand with especial appeal to those who regularly work on heavier e-bikes.
They claim it is 'the world's first modular service lift for servicing all types of bikes, cargo bikes, traditional scooters, and the new breed of e-motorcycles. The design is so unique that EZLift has applied for patent protection. What makes the design unique is the lift is fully modular whereby it can be used in the shop and then slipped out of its shop mount and used in the field with its mobile mount.'
Apparently the lift is also waterproof and has a capacity to lift up to 90kg.
CHINA SETS OUT POLICY FOR REUSING ELECTRIC VEHICLE BATTERIES
According to this recent post by LEVA-EU 'Over the last 6 months, China has seen a series of new directives that act to build upon existing battery reuse and recycling schemes, industry, and infrastructure…..During 2021, 3.3 million new energy vehicles (NEVs) were sold in China; these include purely battery, hybrid, plug-in hybrid, and hydrogen fuel cell vehicles. This number does not account for the millions of electric bikes and mopeds additionally sold during the period.'
The new directives establish a 'ladder' of usage priorities, so that, after 4-6 years of usage in an electric vehicle (when batteries capacities are often reduced to 80% or less of the original level), batteries can be moved into slower electric vehicles, and eventually, stationary energy storage units.
The article also gives an interesting snapshot of the state of the battery recycling industry in China; apparently 'there are 47 whitelisted battery recycling companies in China, with two firms – Brunp and GEM representing 50% of official operation. Operating unofficially, a plethora of smaller businesses offering cheaper rates also exist, though may operate in a wasteful, or harmful way.'
The article estimates only 30-40% of battery materials are recycled but believes the potential is there for that figure to reach 80%.
CARMAKERS IN FRANCE MUST NOW SHOW HOW OTHER METHODS OF TRANSPORT MIGHT BE BETTER
Automobile manufacturers will have to promote alternative mobility solutions in their ads in France. The policy will come into effect on the 1st of March.
Exactly how car ads incorporate the obligations imposed by the new law remains to be seen – advertisers are asked to make use of the #SeDeplacerMoinsPolluer hashtag (literally get about with less pollution)
France 24 reports that carmakers will have a choice of three legally approved slogans: "Consider carpooling", "For day-to-day use, take public transportation," or "For short trips, opt for walking or cycling." They will be required for all media — print, TV, radio or internet.'
The ads will also have to include a vehicle's CO2 emission class, a new ranking system to inform consumers about the environmental impact that is part of a widespread climate action law approved by lawmakers in July.
Failure to fulfill these requirements carries a penalty of up to € 50,000. The article also notes that 'As part of the new French law, advertising for the most polluting vehicles — those that emit more than 123 grammes of carbon dioxide per kilometre, including many popular SUVs — will be completely outlawed from 2028.'
DUTCH E-BIKE RIDERS MOVE UPMARKET
LEVA-EU has also reported on how Dutch, Belgian and German e-bikers are moving upmarket.
According to the report, in 2021 'Average prices rose by 4% from € 2,191 to € 2,283…..In Belgium, the increase in 2021 was over 8% compared to 2020, from € 2,031 to € 2,197. Germany showed the largest increase of more than 12%, from € 1,904 to € 2,140……E-bikes from €3000 upwards are also showing a significant increase….. E-bikes priced up to €1500 account for over 30% of purchases in both countries.'