eBike News: Specialized, Gocycle, & Ribble Launch New E-Bikes, Aramid eBikes and Much More!
In this week's news:
A busy week for the electric bike world with new bikes debuting from some of the better known manufactures from the US and the UK. Gocycle announced an update to their award-winning lineup with the G4. Meanwhile, Specialized's Turbo Como SL packs quite a lot into a bike that weighs in at less than 40 lbs. Ribble also joined the lightweight e-bike news with their gravel bike that managed to stay below 30 lbs. In addition to bike announcements, there were some fascinating advancements in bike tech with noteworthy frame and belt innovation. Here's a quick look at all of the biggest news of the week:
Specialized's 17kg Fully Equipped Turbo Como SL

Gocycle Launch Lighter 4th Gen eFolder

3V's Aramid Reinforced eBikes

Eovolt eFolders 2021 UK Prices

Splittable Belt Drive Veer on Funding Drive

Tech Developments from Biketrax GPS and Bosch's COBI

Plus all the latest eBike Law and Business News
New eBikes & eBike Systems
New Specialized Lightweight City Bikes Announced
Specialized just launched their latest e-bike to utilise their own brand lightweight mid-drive, the Turbo Como SL electric commuter bike.
You can read more details in our full report here but in summary it is a Class 3 e-bike with pedal assistance up to 28 mph and weighs a claimed 17kg / 37.5lbs – that certainly is pretty light for an e-bike with 320Wh integrated downtube battery, integrated lights, rack system and fenders.
Prices start from $4,000 / £3500.
GoCycle Launch 4th Generation Model – New Motor and 1kg Lighter Overall
Gocycle say their new G4 range – G4, G4i and G4i+ – will 'set a new standard for lightweight design, innovation and performance in the portable urban e-bike segment.' EBR has a full report on the launch here.
The main new features of the range are the G4drive Electric Motor with more torque and standing start ability, lightweight Carbon Fibre mid-frame and single-sided Carbon Fibre front fork, MotoGP-inspired treaded tyre with silica compound for superior grip, integrated USB Port (1amp USB charger for phone charging on the go) and low energy Bluetooth ­for improved phone and Gocycle app connectivity.
Gocycle say the accumulated weight savings of the new developments amount to around 1kg. Prices start at $3,999 / £3,399.
Ribble
Yet another major brand launches a new line – this time it's the UK's Ribble, known for their excellent value, high quality and lightweight bikes and e-bikes. Their all-new electric gravel bike the Gravel AL e has a claimed weight of just under 14kg / 30lbs and features Mahle's very discreet X35+ rear hub motor system. You are hard pressed to tell it's an e-bike at all. Prices from £2699 / $3,100 (shipped direct from the UK).
EBR have more detail here.
3V Claims World's First Aramid Reinforced eBike
3V, now crowdfunding on Indiegogo, claim their Aramid-framed 3V Karbon e-bike is '3X stronger than a pure carbon fiber frame' and '66X stronger than a steel frame'.
You might be more familiar with Aramid through one of its brand names such as Kevlar, Nomex and Twaron and its uses in bullet-proof vests or Kevlar reinforced anti-puncture bike tyres. I'm no materials scientist, but it appears that Aramid alone has not been used in bike frames as, whilst shock resistant, it is not particularly stiff and doesn't sound an ideal candidate for transferring pedal power to your wheels. Reading between the lines it seems the 3V frame is carbon fibre reinforced with Aramid.
More conventionally there is a 350W rear hub motor and a 500W Bafang mid drive motor option both paired with a frame-integrated 720Wh frame-integrated and removeable battery. Cable runs look nicely frame-integrated. Shifting is courtesy of a 10 speed Shimano Deore derailleur and there also Shimano hydraulic disk brakes.
Claimed weight is 20.5kg which is certainly not mind-blowingly light for an e-bike but not bad for one with a good sized 720Wh battery and front suspension and off-road tyres.
Early bird offers from $1699 and whilst shipping dates are recent there appears to be some updates on the site indicating delays to deliveries of key components (hardly surprising given the world shortage of e-bikes, bikes and bike parts). 3V's website indicates a factory address in Shenzen, China.
Eovolt Expands eFolding Range
Bikebiz reports on Eovolt's expanded range of e-folders. Eovolt are made in France but also available in the UK.
Exisitng 2020 models are still there – the City (which becomes the City One) and the Confort, with 16 inch and 20inch size wheels respectively. Compact and pretty lightweight, they stand out because of their battery-in-the-seatpost design.
2021 new models are:
eBike Tech
Spliced Belt Drive Now Crowdfunding
Veer markets itself as the first aftermarket belt drive for bikes and e-bikes and indeed all electric vehicles and works by using a split link design.
Veer say their 'Split Belt Drive is intended to replace aftermarket metal chains and secure partnerships with LEV manufacturers. The groundbreaking technology removes barriers to entry by allowing belt drive to work with existing vehicle designs, making these alternative forms of transportation accessible to more people.'
Veer has announced the launch of its equity crowdfunding campaign on the Start Engine platform to raise funds that would be allocated toward boosting existing production and finalizing development of their new multi-speed belt drive.
BikeTrax GPS Tracker Now for Brose
BikeTrax's anti-theft GPS tracker is a clever little device installed in a motor compartment and 'nvisible to thieves from the outside. If you you e-bike is disturbed the tracker sends a motion alarm to the associated PowUnity app.
BikeTrax manufacturers, PowUnity have expanded the range of motors the GPX tracker is compatible with; in addition to trackers for e-bikes with Bosch, Shimano and Brose motors for Specialized e-bikes, PowUnity has now also optimised BikeTrax for all other e-bikes with Brose motors.
Bosch Adds More Functions to COBI App
The COBI. Bike App from Bosch eBike Systems now offers even more features according to several German language media reports. Among other things, the new free function "Rydies" is integrated, which helps in the search for the next public charging station. Thanks to the integration of Rydies, the app now displays the nearest public charging stations in Germany, Austria and Switzerland on a map and then navigates directly there.
Also new is the "SKS" module. This is a tire pressure calculator from SKS Germany, in which e-bikers can calculate the optimum air pressure based on data such as the bike type, the weight of the rider and the tyre size.
COBI is Bosch's e-bbike to smartphone connection portal that allows you to safely scroll through screens on the COBI with options to show detail on things like e-bike metrics, fitness and weather as well as allowing you to remotely take calls.
eMicromobility
Lime Launches App-less eScooter Hire in Cities Worldwide
Micromobilitybiz reports on how 'Lime scooters can now be rented in cities around the world without riders opening or downloading the Lime app'
There is still a smartphone involved – 'Through Apple's App Clips and Android's Instant App features, riders can approach a scooter, scan the scooter's QR code with their phone's camera, open the app clip to confirm the ride and use Apple Pay or Google Pay to start a ride without ever opening the Lime app' explains the article.
Zach Kahn, senior product manager at Lime summarises the benefits;
"With app-less riding, new riders can try out our service without the process of downloading our app, and regular riders can cut out several steps to quickly start a ride. We know our riders are on the go and we want to get them on their way as seamlessly as possible."
eBike Law
Radical Shake Up of European Light Electric Vehicle Law on the Way?
Bikebiz reports on a seemingly semantic change involving the European Unions law making body, the Commission, and light electric vehicles ( a category often taken to include e-bikes):
'LEVA-EU is celebrating a campaigning victory after the European Commission confirmed legislation governing light electric vehicles was 'unsuitable. The Commission has acknowledged that the Machinery Directive, in place to ensure a common safety level for machinery placed on the European market, is not suitable for vehicles. LEVA-EU, which has campaigned for the removal of light electric vehicles from the legislation, hailed the landmark ruling, which it said would allow businesses in the sector, previously hindered by the legislation they must navigate, to reach their full potential.'
It might sound overly technical but it could have far reaching implications for EU riders who are keen to see e-bikes develop more broadly outside of the current 15.5mph straightjacket EU law imposes.
If the Commission follows through and overhauls the law we might just see far more speed pedelec machines with higher assisted speeds, larger and more capable e-cargo bikes and light cargo electric vehicles and more personal mobility devices such as powered skateboards. This doesn't mean a free-for-all with no regulation of such vehicles – just regulation suitable for them. As the Light Electric Vehicle Association for the EU points out, the Machinery Directive was never intended to cover light electric vehicles and new updated laws that take account of technical developments are badly needed.
eBike Biz
Bikebiz again, this time reporting on how Knaap Bikes UK distributor JDM Products is to open a 100,000 sq. ft. distribution facility in Milton Keynes.
The beach bike style e-bikes appear to be rapidly taking off in the UK and cycle stores that are interested in becoming partners with Knaap and JDM's wider brand portfolio can reach UK country manager Steven May on 07546 931642 and [email protected].
Stay tuned for more e-bike news and reviews and thanks for reading!
Rich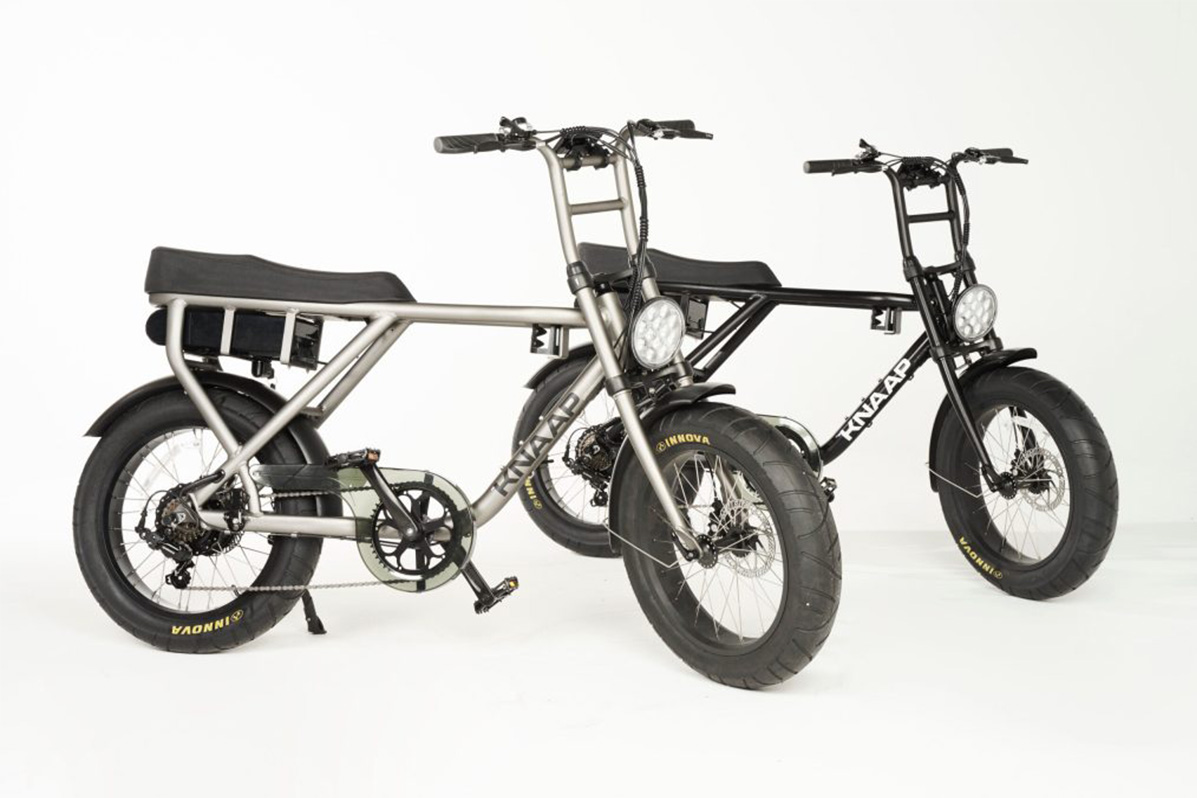 Reader Interactions