Ebike News: Scott's Integrated eMTB, Vaast Urban Adventure, UK's Evari and Much More
Three new e-bikes this week and all feature Bosch mid-drives. With high end mid-drives now giving pretty similar and very impressive performance the question for the manufacturers must increasingly be how they differentiate themselves from others.
Integration and connectivity are two areas based on the evidence of this week's new e-bike releases – Scott have produced one of the most integrated looking e-bikes to date whilst Vaast have opted for a Unique suspension system and Evari stress hidden (or very well integrated) display and connectivity tech, with as many elements as possible hidden in a carbon monocoque frame.
In this week's news:
Scott's integrated Patron eRide eMTB

Vaast go Urban Adventure

Carbon-framed Evari from the UK

Bafang mid-drives

Magnet speed hack from New Zealand's NLS

San Francisco Transit First Analyzed
SCOTT's 2022 PATRON eRIDE TAKES eMTB INTEGRATION TO NEW LEVEL
Scott claim to have taken e-mtb integration to a new level with their 2022 Patron eRide model that features the new Bosch Smart system, a 750Wh frame-integral battery, frame enclosed rear shock and frame-integrated lights and bluetooth connectivity.
The Patron eRide has four frame sizes and five models featuring alloy and carbon frames and there is also a Contessa women's specific version with three frame sizes from and two models.
Prices for the new bike start at$7,120 / £5300 and go up to $13,050 / £10,000 for the eRIDE 900 Ultimate model top of the range model.
VAAST'S NEW URBAN ADVENTURE E-BIKE THE E/1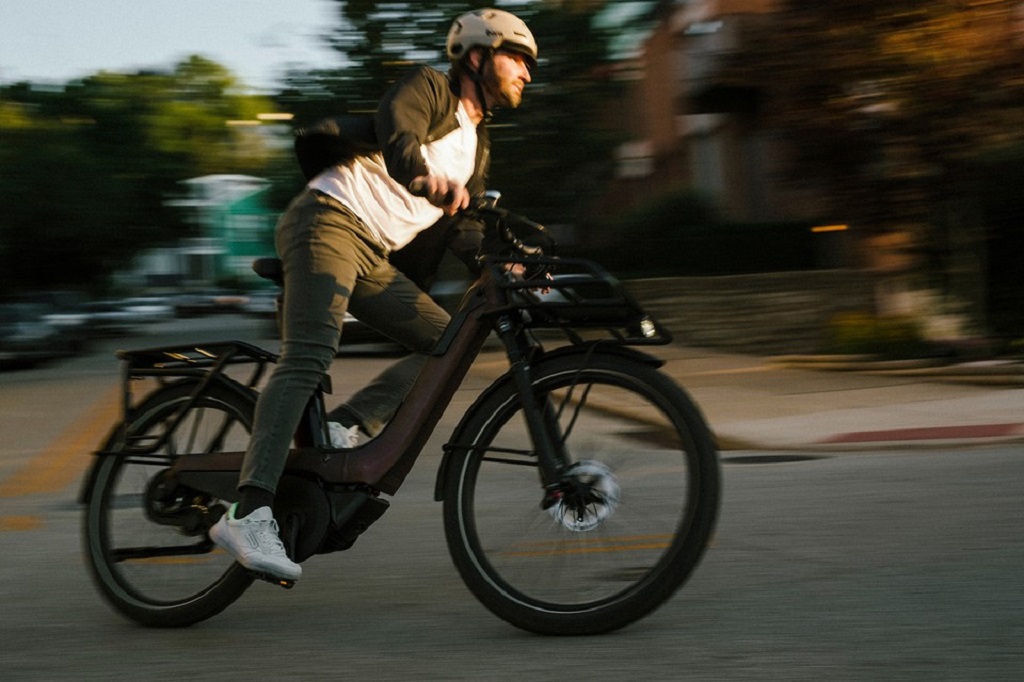 Vaast has just announced its latest e-bike classed as an 'urban adventure e-bike', the E/1.
Various specs are available but all use the well-tried and tested Bosch Performance Line CX motor is combined with more rarified features such as front and rear carriers as standard and an innovative-looking Naild React suspension system, said to separate pedalling from suspension movement.
Other spec includes 500Wh battery, Bosch KIOX Stem-Mounted controller display with Bluetooth connectivity, Shimano M6120 four-piston disc brakes and and LED lights and a Gates Carbon Belt Drive with the hub gear versions plus integrated front and rear racks. It is both an EU spec e-bike with 15.5mph assist limit and a US 28mph version.
Prices are based on three drivetrain options from Shimano, Enviolo and Rohloff with US prices from $7,499 to $9,999 and EU prices from
Bike weights range from 74.6 to 80 pounds.
Available from October 1, 2021.
MEET EVARI E-BIKES FROM THE UK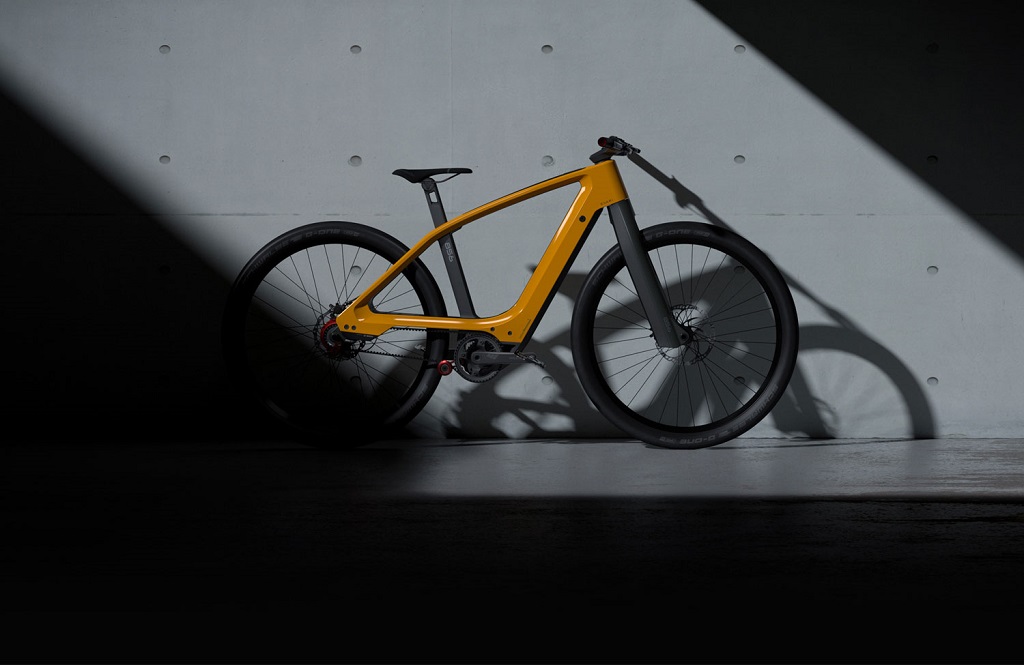 Premiered at this year's Eurobike, UK-based Evari have announced a sleek looking carbon-framed model in the form of the 856. Conventionally enough it features a Bosch Performance Line CX motor and a 500 Wh frame integrated battery.
Less conventional is the Bosch Kiox display integrated into the top tube and the Evari Connect app. A Gates Carbon belt drive comes as standard with a choice of singlespeed, Enviolo automatic gears or Rohloff E14 Speedhub hub gears.
Prices were not available at the time of publishing but a new 2022 model with new features is already promised.
BAFANG'S NEW MID-DRIVES
EBR recently covered Chinese hub motor specialist Bafang's two speed rear hub motor.
Now come two new mid-drives, M410 and M510, aimed at e-mountain bikes. The new Bafang M510 claims an 18 percent reduction in weight and a 20 percent increase in performance compared to its predecessor the M500.
The brand new M410 is a new mid-engine drive claiming 250 watts of continuous power and 80 Nm of torque – similar figures to top-performing motors from the likes of Bosch, Shimano and Yamaha.
NLS'S SPEEDY NEW TECH LET'S YOU INCREASE E-SPEED BY 50%
A recent Autoevolution article details how New Zealand company NLS Components has produced a relatively easily installed device that claims to increase standard e-bike speed by a factor of 1.5 without messing with the electronics in it.
As most e-bikes use a magnetic speed sensor on the rear wheel to measure your bike's speed – and to cut off the electric assist at the preprogrammed limit – Speedi does is by supplying new magnet system with a mechanical planetary gear system and to slow the magnet by a factor of 1.5/1 – so for every rotation of the magnet, the wheel has gone 1.5 rotations, effectively tricking the bike's control system into thinking you are going slower than you actually are.
There are standard units designed to work with Trek, Specialized, Giant and Santa Cruz e-bikes but NLS also offer custom units for other brands. The devices are priced at NZD $160, or around US $114
.
Whilst it's undeniably clever and might solve the alleged problem complained about by some in the EU and other places that a 15.5mph cut off limit is just too low, if applied to speedier machines it could potentially lead to some quite scary speeds. And remember this may make you into an illegal rider on public roads with all the consequences that that entails.
SAN FRANCISCO'S TRANSIT PLAN REMAINS JUST THAT
Streetsblog
does a great job of tracking interesting new pro-bike initiatives by cities across the US (amongst much else), giving a written thumbs-up to good examples of bike infrastructure and calling out cities that are falling behind.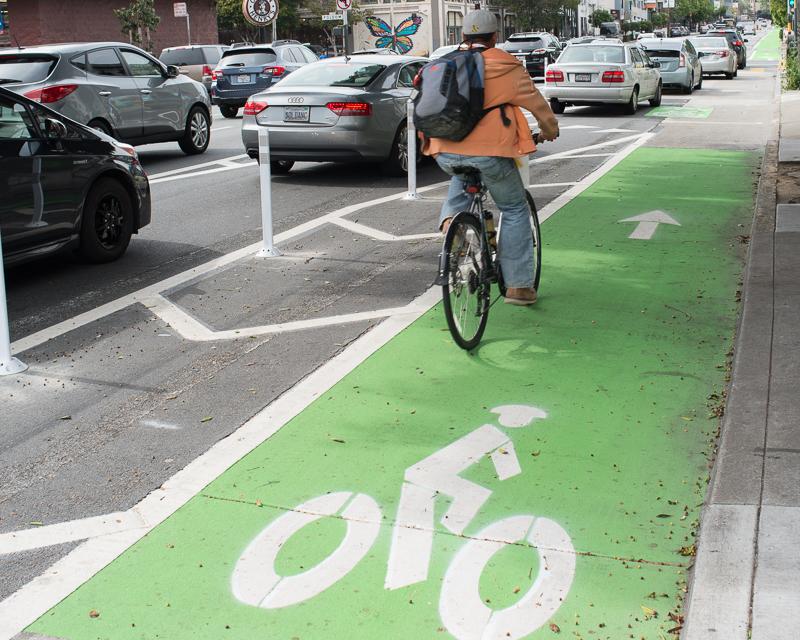 San Francisco seems to fall into the latter camp based on this well-researched and argued article on the subject. Many city plans for bike infrastructure hit the headlines only to come unstuck in the real world of local politics and the realities of physically implementing ambitious programs – perhaps SF has fallen into this trap.
The first para gives their findings in a nutshell:
'San Francisco is governed by a "Transit-First Policy" that reads like a miracle for advocates: it mandates that San Francisco encourage walking, biking, and taking public transit by making these modes "an attractive alternative to travel by private automobile." Yet despite more than 45 years passing since the Board of Supervisors made San Francisco a transit-first city, less than 5 percent of our limited road space actually prioritizes transit.'
With in depth analysis the author calculates that the city has 2,796.8 lane-miles dedicated to auto parking and 45 lane-miles of protected bike lanes….I would hazard a guess that in many European cycle-friendly city centres such as Amsterdam and Copenhagen there may well be more miles of bike lane than on-street parking.
Reader Interactions