Ebike News: Radio Flyer E-bikes and E-scooters, VW E-Cargobike, Trek Pride Ride & More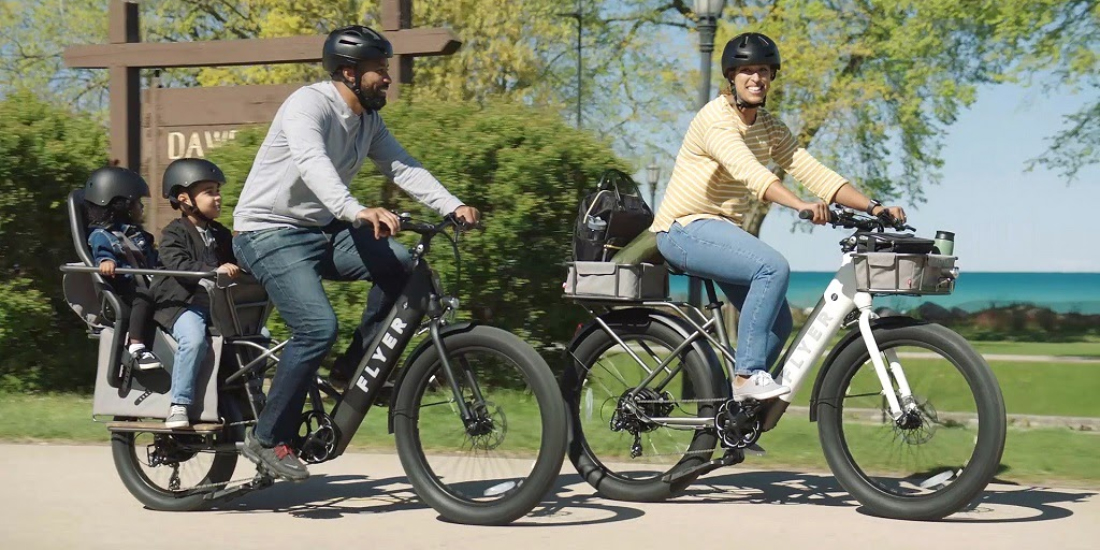 It's never too late to get on the evermore popular e-bike train, as one of the US's oldest, most respected and well-run firms has confirmed this week, with their launch of a line of both e-bikes and e-scooters. Less convincing perhaps is the 'reannouncement' of a new e-cargobike from one of the world's best known automotive brands.
There's plenty of innovation too, from airbag jackets for cyclists to car style, roll up and plug in charging points about to be rolled out in the UK.
In this week's news:
Radio Flyer's new e-bikes and e-scooters

Trek Hosts a Nationwide Pride Event

VW Announce E-cargobike launch (again…)

Cirrus airbag safety jacket gets off to a flying start on Kickstarter

Spelsberg aims to bring e-bike charge points to the UK

E-scooter news; Voi survey shows popularity whilst Raine refuses deposits return
New E-bikes and E-bike Systems
RADIO FLYER LAUNCHES ADULT E-BIKES AND E-SCOOTERS
Radio Flyer are a well-known and much-loved US manufacturer and maker of the iconic Original Little Red Wagon and their origins go back more than a century. After being founded in 1917 they have continued making many designs of childrens toys all based around wheels – Radio Flyer estimate there are currently over a billion Radio Flyer wheels already on the road
They have just put down another milestone in their illustrious history with their new Flyer™ line of e-bikes and e-scooters – which Radio Flyer say are also their first products for adults.
Radio Flyer say they have bought the reputable product quality and design elements they are already known for to the new Flyer lines.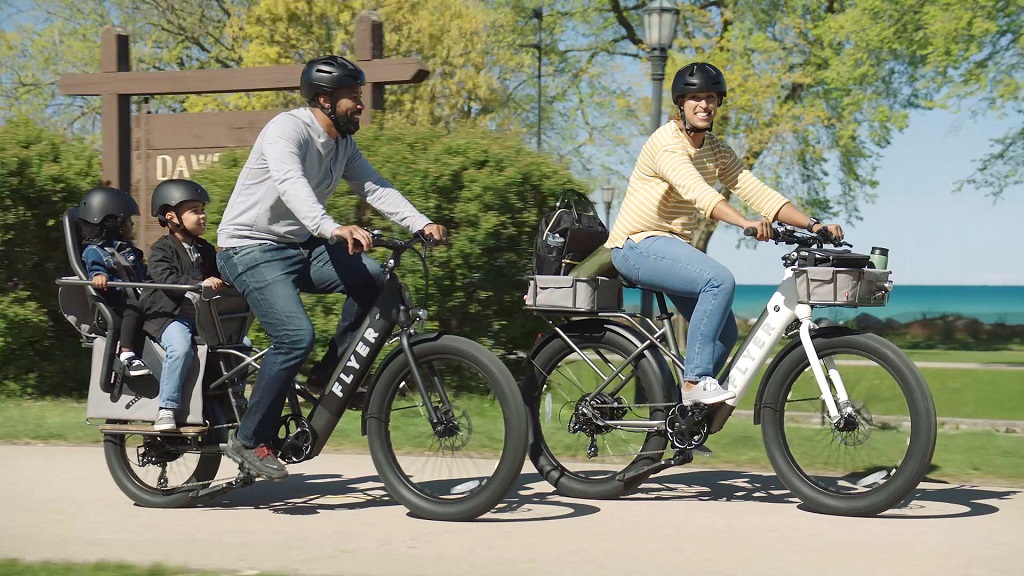 Flyer's new products consist of two e-bikes, including long-tail (L885) and mid-tail (M880) framed e-bikes, an e-scooter and a variety of accessories that Radio Flyer say are made with safety in mind, ranging from child carriers to storage solutions.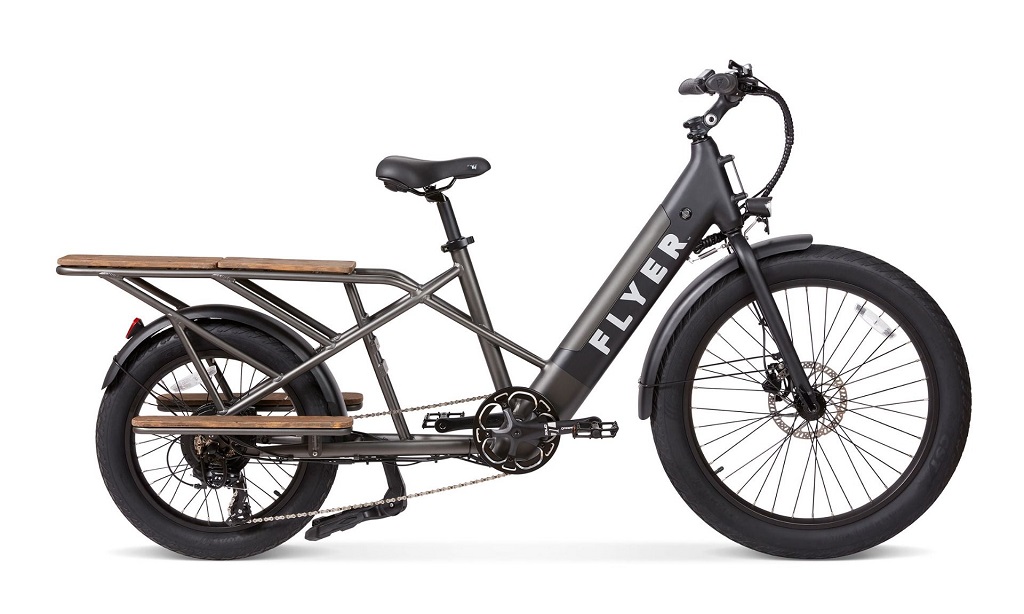 The electric bikes start at $1,699 and feature a 500-watt rear hub motor, Flight Speed™ Lithium-Ion Battery, five levels of pedal assist and a throttle-only option.
The electric scooter starts at $599, has a slim design and foldable body, and is available in 3 colors. Max speed is 16 mph and stated range 15.5mph.
The Flyer line is now available for pre-order on RadioFlyer.com with delivery slated for October 2021.
VW E-CARGOBIKE DUE LATER IN 2021 (POSSIBLY)
It has been two years since Germany's automotive VW Group announced they would be launching a new e-cargo bike – unfortunately the original version used the Continental 48V Revolution drive, which was discontinued and the VW e-cargobike never appeared on the market.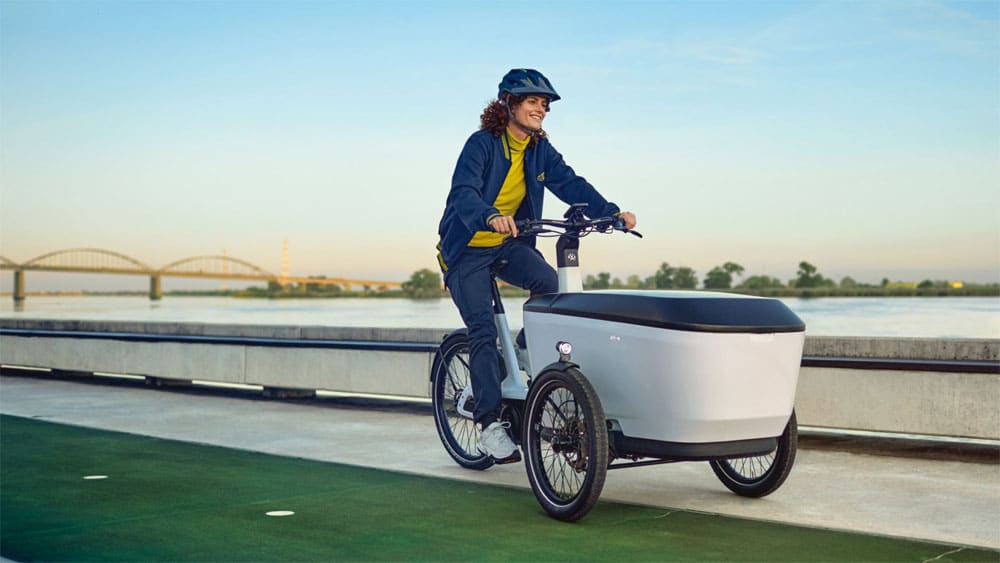 Very brief details of the relaunch have now appeared on VW's German language site; 500Wh battery, (un-named) 250W motor, 25kmh speed cap and 210kg / 460 lbs payload.
German car-makers and e-bikes don't have a great history, with many 'publicity' e-bikes being 'launched' then disappearing. Those that do make it to market don't seem to have stayed there very long – Mercedes' Smart e-bike is just one example; it was launched with much fanfare in 2014 but with the bankruptcy of motor system provider BionX it seemed Mercedes simply stopped making the Smart bike and there are still complaints of a lack of backup on what was a very expensive e-bike.
Cycling Accessories
WOULD YOU FEEL SAFER WEARING AN AIRBAG JACKET?
Despite the warning tale on crowdfunding projects presented by the Raine e-scooter story below, there's no denying it's a business model that comes up with innovative ideas. The Cirrus bicycle airbag jacket is a case in point.
The name really says it all and here it is in action.
Get Inspired: Trek Pride Event
For Pride Month Trek Bicycle is hosting nationwide Pride Ride events on Sunday, June 27 and donating a total of $75,000 across multiple local LGBTQIA+ organizations. The Trek 2021 Pride Rides are described as 'a celebration (on two wheels) of love, diversity, and the powerful history of the LGBTQIA+ community'.
Over 78 bike shops across the country will be hosting individual Pride Ride events in over 25 cities – including New York, Chicago, San Diego and Washington, D.C. – to support their local communities. Participating cyclists will also receive an exclusive 2021 Trek Pride Ride t-shirt, featuring the 13 color Pride rainbow flag.
Here's how to participate:
Grab a bike and click here to view the list of Pride Ride locations (no pre-registration required)
Participating local Trek stores will list ride start times, ride routes and the start/finish line via their Facebook event pages
Infrastructure
SPELSBERG BRINGING E-BIKE CHARGING POINTS TO THE UK
European electrical enclosure manufacturer Spelsberg recently launched a dedicated e-bike charging unit that can be purchased by businesses to provide e-bike charging as a service for employees and customers.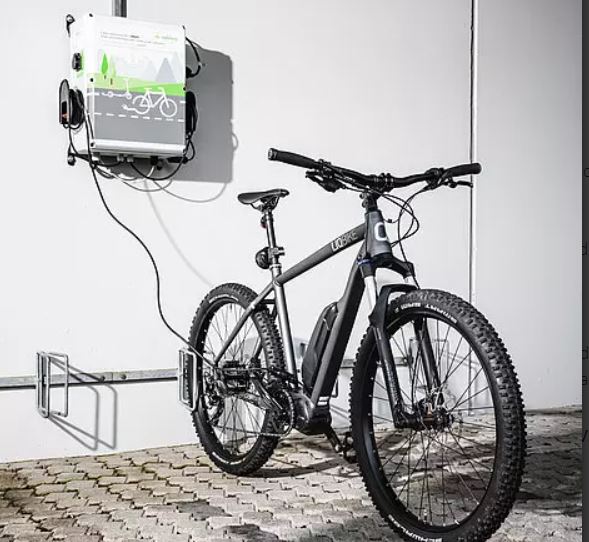 The UK rollout is just beginning and is being headed by Simon Watson-Burge who has a background as both a hands-on engineer and a bike shop owner and mechanic. Talking to EBR, Watson-Burge explained how the chargers could appeal to both corporate employers, looking to provide an attractive working environment and a sustainable service, for their employees, but also tourism business on long distance bike routes – think rural cafes and restaurants where e-bikers can fuel up themselves and the e-bike at the same time.
The wall mounted chargers have both Bosch and Shimano leads with appropriate plugs (so no charger required) and also UK standard three pin plugs for other e-bikers who use a different motor system and have their own charger.
Interested businesses can contact Simon at [email protected] or on 01952 605849
E-scooters
SUPPORT FOR E-SCOOTERS OUTNUMBERS OPPOSITION TWO TO ONE
Micromobilitybiz tells us that a survey commissioned by major e-scooter hire company Voi found that just 48% of people questioned supported the use of e-scooters, compared to 24% of those who didn't.
Almost a quarter of respondents said that e-scooters have now replaced their reliance on ride-hailing and cars. The survey, commissioned from Findoutnow.co.uk also found that almost a third of commuters are using e-scooters as part of their existing public transport journey and almost a fifth use e-scooters to travel to and from work directly.
NO KICKSTARTER REFUNDS ANNOUNCEMENT FROM RAINE E-SCOOTER
According to Carscoops, 'backers of the Australian Raine e-scooter have been told that they will not be receiving refunds as the Kickstarter project appears to have died – or in the founding team's words, has gone into "hibernation." In a blog post on their Kickstarter page, they shared the news, citing increased supply chain costs as the reason.'
On paper the Raine had a superb spec for a budget price of $979, prompting some commentators at the time to ask if it really was too good to be true. As EBR has warned, whilst the best run electric mobility crowdfunding schemes can offer great value on great products, there is clearly also a larger element of risk compared to buying 'off the shelf' products.
Reader Interactions