Ebike News: Mercedes Branded E-bikes, E-bike Tax Legislation Hits Roadblock and More!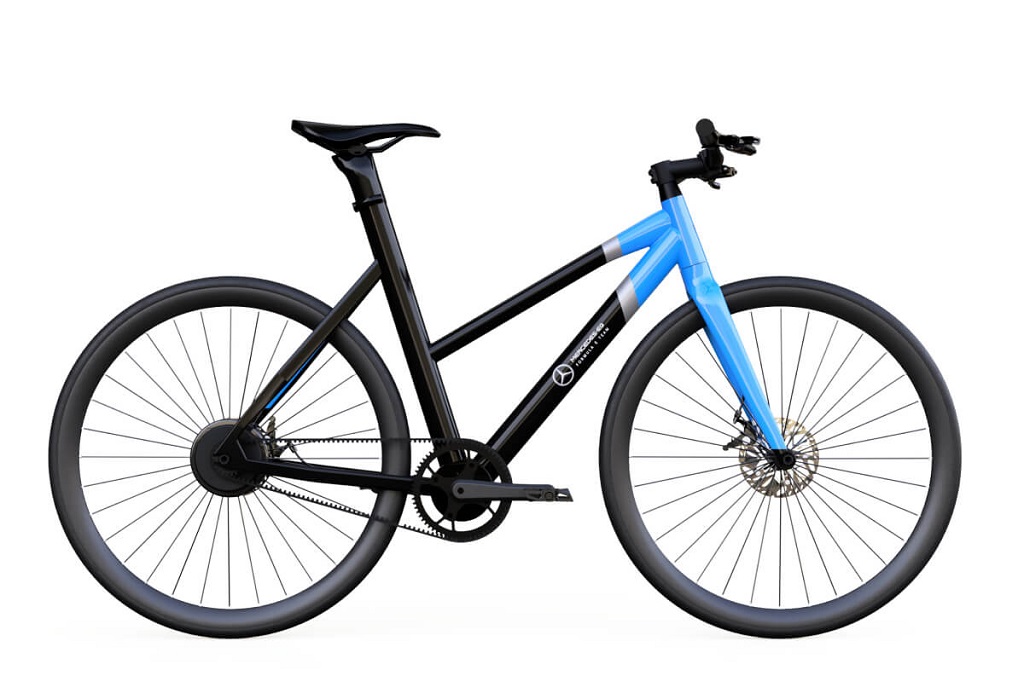 If you are a car company and want some powerful green credentials in a world where electric cars are still struggling for sales in most countries, what better way to get it than by introducing your own-branded e-bikes? Well, no better way if you are Mercedes Benz….
Also in this week's news, we update you on the latest in the e-bike tax credits saga as it appears to be stumbling in the Senate and take a look at e-cargo hire in the UK's Manchester, possible trail restrictions in Italy and the bike transformation of a European capital once renowned for its crazy motor traffic.
In this week's news::
Mercedes Benz's new N+ e-bikes

Senator threatens to derail Build Back Better and its e-bike tax credits

Pedego gets major cash boost

E-bike ski clips

Cargoroo comes to Manchester

Italy's new trail laws

Paris's huge bike plans revealed
MERCEDES BENZ BRANDED E-BIKES
Whilst other car makers still appear stalled at the prototype phase or have actually rolled out then cancelled e-bike launches (yes, I'm thinking of you GM), Mercedes Benz appear somewhat ahead of the curve – even if their e-bikes are interesting rather than massively innovative.
Three models, all belt driven, were recently announced, though strictly speaking they are n+ Mercedes Benz e-bikes, n+ being the company that works with Mercedes Benz, even if it's not entirely clear what they do….The models are: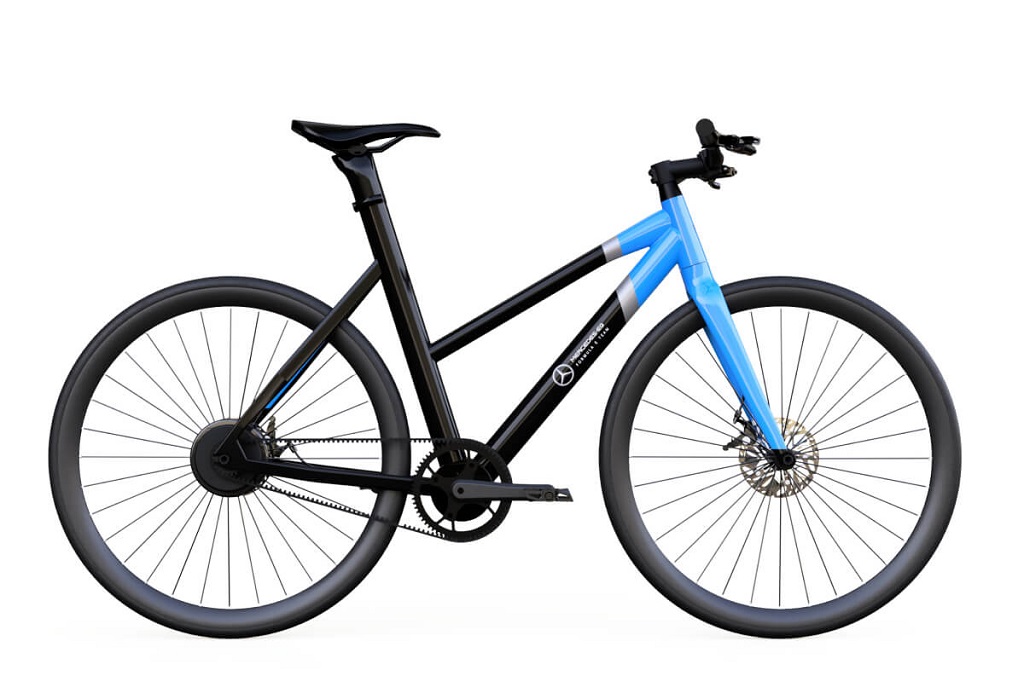 City Racer US$1990
Rear hub motor, 252Wh battery, single gear, Tektro hydraulic disk brakes.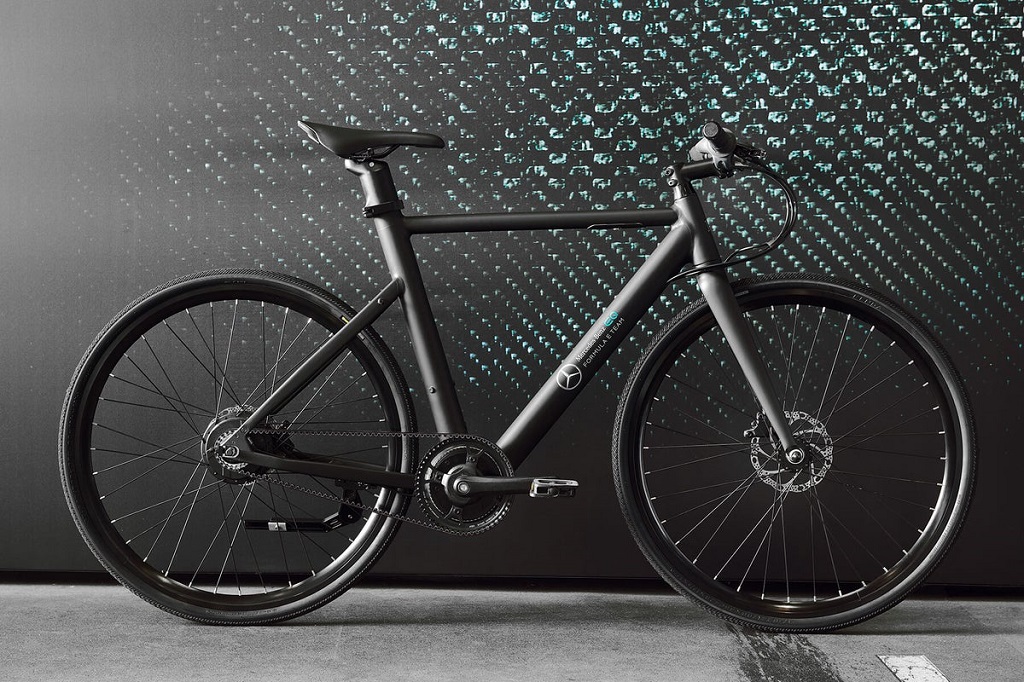 Team US$3200
Mid-drive, 252Wh battery, Enviolo stepless gearing, Tektro hydraulic disk brakes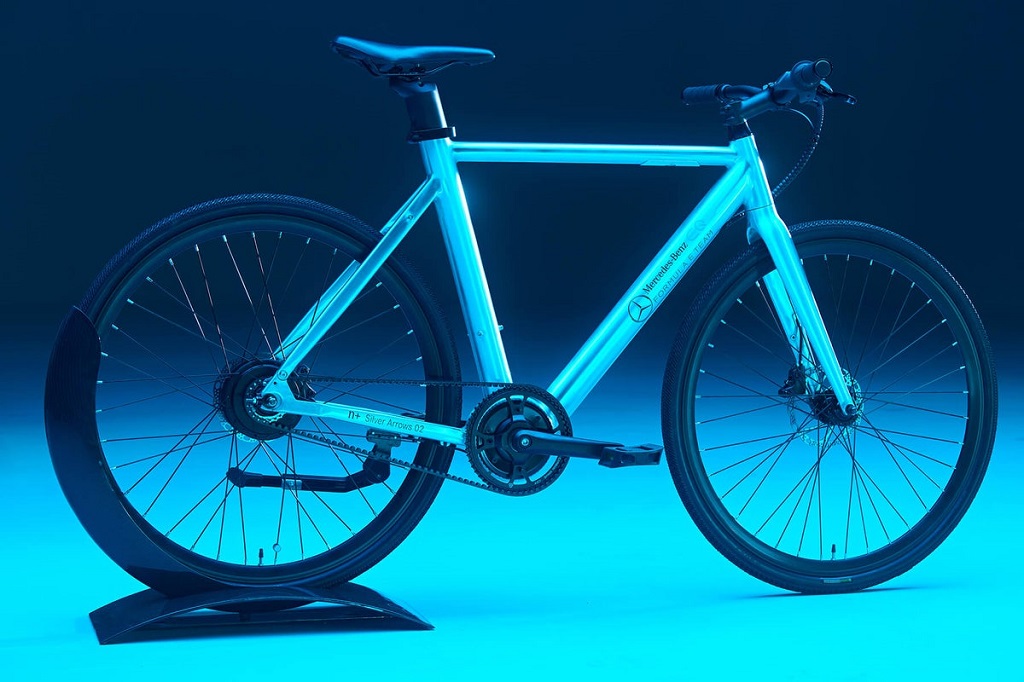 Team Silver Arrows US$4500
Mid-drive, 504Wh battery, automatically changing Enviolo stepless gearing, Tektro hydraulic disk brakes
15.5mph and 20mph versions available in Europe and the US respectively. Whilst the spec details remain tight-lipped about the exact make of motors used, they do claim pretty light bike weights; 39.6lbs / 18kg for the 252Wh models and 44lbs / 20kg for the 504Wh model.
IS BUILD BACK BETTER'S E-BIKE TAX BREAK PLAN AT RISK?
The New York Times reports ' Senator Joe Manchin III, Democrat of West Virginia, said on Sunday that he could not support President Biden's signature $2.2 trillion social safety net, climate and tax bill, dooming his party's drive to pass its marquee domestic policy legislation as written.'
In other words, with Manchin's vote needed to pass Biden's Build Back Better legislation – which currently contains the proposed e-bike tax credits EBR has reported on over the course of the year – it looks like some parts of the proposed bill may need to be axed or at least changed. Exactly what parts haven't really yet been discussed openly but e-bike tax credits, widely agreed as a good thing for bringing the benefits of e-bikes to more people, could be up for discussion.
PEDEGO GETS MAJOR CASH BOOST
Bicycle Retailer and Industry News reports 'A global consumer brand investment firm announced an investment in Pedego Electric Bikes. Verlinvest's undisclosed amount will be used to increase the number of Pedego stores and inventory, and support innovation.'
TAKE YOUR E-BIKE SKIING…
CARGOROO….FROM THE NETHERLANDS TO MANCHESTER
Intelligent Transport reports that 'A new 'ground-breaking' pilot is set to give people in Greater Manchester access to electric cars and e-cargo bikes, as an alternative to private vehicles'.
eHUBS trial will offer residents in Chorlton, Whalley Range and Ancoats access to a number of electric cargo bikes and will use Cargoroo e-cargobikes. Cargoroo already runs e-cargo bike services in the Netherlands and Belgium. The launch of the scheme will run alongside the Bee Network Cycle Hire scheme that went live in Manchester city centre and at the University of Salford last month. Summer 2022 should see 1,500 bikes and e-bikes available to the public through the scheme.
WHY EURO-EMTBERS SHOULD BE CONCERNED ABOUT 2.5 METERS
Electric Mountain Bike magazine reports that 'Starting from 16.12.2021, there's a new law entering into force in Italy that officially bans off-road activities or, at the very least, plans on severely restricting them in the future.'
EMB explains ' the law bans everything but forestry operators and vehicles responsible for trail maintenance on all paths less than 2.5 m wide. That essentially excludes everyone apart from construction site vehicles and forest managers, which means no more excursions for mountain bikers, motocrossers, or off-road riders, whether on two or four wheels!'
The article isn't too alarmist however, as there sounds to be many caveats to the new law – most notably its regional implementation will be 'unclear'. However the development is clearly of concern to European mountain bikers and emtbers as Italy has some of the finest destinations for the activity on the whole of the continent.
PARIS PLANS TO FAST TRACK TO A TRULY BIKE CITY
Not Just Bikes has this great video on how Paris – a city until recently synonymous with snarling motor traffic – is seeking to transform itself into a bikers' paradise in record time. The city government says they want a '100 % cyclable city' by 2026. Whilst the commentator shows the pitfalls and difficulties of trying such radical change so quickly it's clear he is a big fan of the very bold moves Paris is making.
If you want more of the facts and figures check out this Bloomberg article on the topic, which details the 112 miles of new permanent segregated bike lanes and the extra 120,000 bike parking spaces that will happen between now and 2026, all thanks to a $291 million budget.
Reader Interactions