Ebike News: Gazelle Class 3 Belt Drive, Rose Lightweight, Wayel E-fat Bike and Much More!
We have speed for you this week in the form of Gazelle's new class 3, 28mph belt drive e-bike, lightness and versatility with a new German e-bike from Rose and a great value looking folding e-fat bike from Italy. There's a deep dive video into the role cobalt plays in e-bike batteries and plenty of e-micromobility developments are afoot too.
In this week's news:
Gazelle's fastest belt drive launched

Rose launches lightweight range with Shimano's powerful EP8 mid-drive

Wayel's new e-fat folder

Extra large battery from BMZ and background on cobalt in batteries

Spin's new share e-bike launches in Providence, Rhode Island

Helbiz e-sccoters get Italian styling from Pininfarina

Swedish subscription e-bike raises US$11 million
MEET THE ULTIMATE C380+ – GAZELLE'S FASTEST BELT DRIVE
EBR covered the launch of Gazelle's Ultimate C380 last fall – a high quality Bosch mid-drive with low maintenance belt transmission e-bike from a Dutch company that is doing well in the US market as well as in Europe.
Now comes the Gazelle C380+, still with that belt drive but now offering a class 3 (28mph assisted) ride in comparison to the 20mph of the class 1 original C380. It also retains the low maintenance, easy-to -use Enviolo stepless rear hub gear.
The extra speed is due to the Bosch Performance Line Speed motor and other high quality spec includes four-piston Shimano Deore hydraulic disc brakes, an 80 mm suspension fork, and 500 Wh of battery capacity
The 55.5 lb (25.1 kg) weight isn't light for an e-bike but reflects the high build quality of Gazelle bikes and the full equipment including front and rear lighting, rear rack, fenders and belt guard.
As you might expect on such a high spec bike it has a premium price tag – US$4,749
ROSE BACKROAD+, NEW LIGHTWEIGHT MODEL
The headline news is that Rose's new Backroad+ model has a stated weight of 'from 14kg' and is a mid-drive too – previously lightweight hub motors like Mahle's X35+ system have dominated the lightweight e-bike market.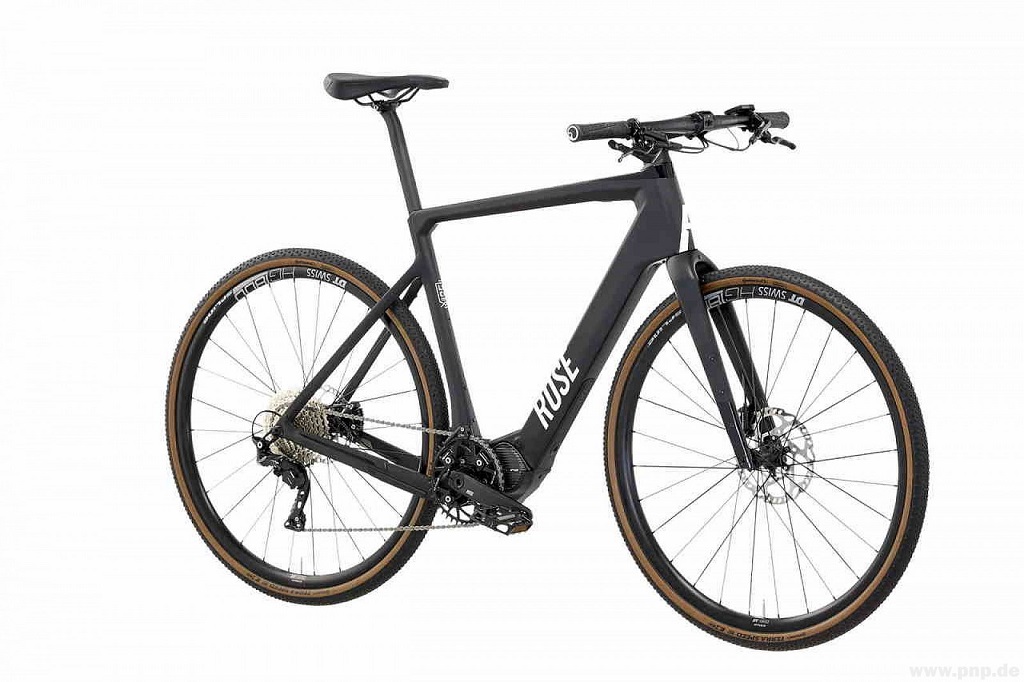 How do German manufacturers Rose manage to do it? Firstly they use Shimano's ultra-powerful but lightweight (2.6kg) EP8 mid-drive combined with a relatively modest 360Wh battery (though you should still get very good range from it on such a sporty, efficient e-bike). Add this to a carbon frame and you have one of the lightest mid-drive e-bikes around.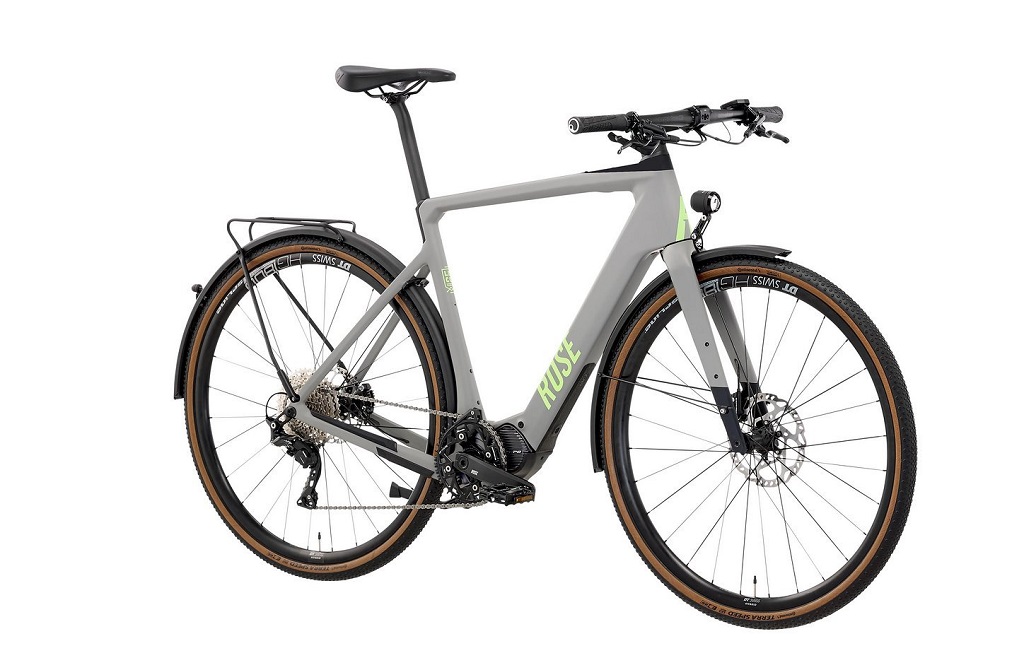 The bike comes in various models to cover most kinds of use and a wide range of price points too:
Backroad+ Fitness: €3,999
Backroad+ Urban: €4,499
Backroad+ GRX RX600: €4,699
Backroad+ Randonneur: €5,199
Backroad+ GRX RX810 Di2: €5,699
Rose sell direct throughout the EU though unfortunately post Brexit trade complications with the UK mean they have stopped shipping there for the foreseeable future at least.
WAYEL'S NEW FOLDING E-FAT BIKE
Italian manufacturer Wayel have launched the NEXT and NEXT+ folding e-fat bikes. Resembling the highly-rated Aventon Cinch they both models have 4" wide tires and and a choice of 557Wh or 672Wh in-frame batteries. The NEXT has a rear hub motor and seven derailleur gears whilst the NEXT+ features a powerful looking FIVE branded mid-drive. With front fork suspension and a plush saddle added to the fat tires they look super comfortable too.
Both models feature front and rear hard-wired lighting and whilst the hub motor version has cable operated disk brakes the mid-drive version has hydraulics.
RRPs reflect the difference in spec and performance; the NEXT is €1819 / €1949 (different battery sizes) and the NEXT+ €2349 / €2479
Battery Watch
NEW FIRE SAFETY TECHNOLOGY
Dear Wallstreet tells us how 'San Diego-based KULR has developed a revolutionary protective wrap for lithium-ion batteries that combats the risk of overheating and spreading fires.
The thermal runaway protection is actually part of the program to be included on batteries on the International Space Station.
NEW 820Wh BATTERY SIZE FROM BMZ
The latest batteries in the in-frame, V10 line from Germany's BMZ have a boost in capacity, the range now maxing out at a whopping 844 Wh.
THE LOWDOWN ON COBALT
This great video gives plenty of interesting facts for those just a bit curious about the role Cobalt plays in modern batteries. How does it help a typical lithium e-bike battery work? Where did it come from? What are the problems in getting it out of the ground and how can it be recycled? All is revealed…
E-micromobility
SPIN LAUNCHES NEW SHARE E-BIKE
The Spin S-300 is the new share e-bike from the San Francisco-based micromobility company.
Spin currently operate dockless electric scooters on colleges and in cities across Europe and North America. Spin say it has 'been recognized for launching the first stationless mobility program in the United States and was instrumental in crafting the world's first mobility permit system.'
The S-300 has 26" puncture-resistant tires, adjustable seat height, wireless charging holder for your smartphone and, judging from the launch pics, appears to have a powerful hub motor and large frame integrated battery.
The first fleet of S-300's hit the streets of Providence, Rhode Island on June 14.
ITALIAN STYLE FOR HELBIZ
Core 77 reports on how Italian styling house Pininfarina has partnered up with Helbiz, an Italian-based company that produces scooters, e-bikes and mopeds for app-based rental in cities in the U.S. and Europe.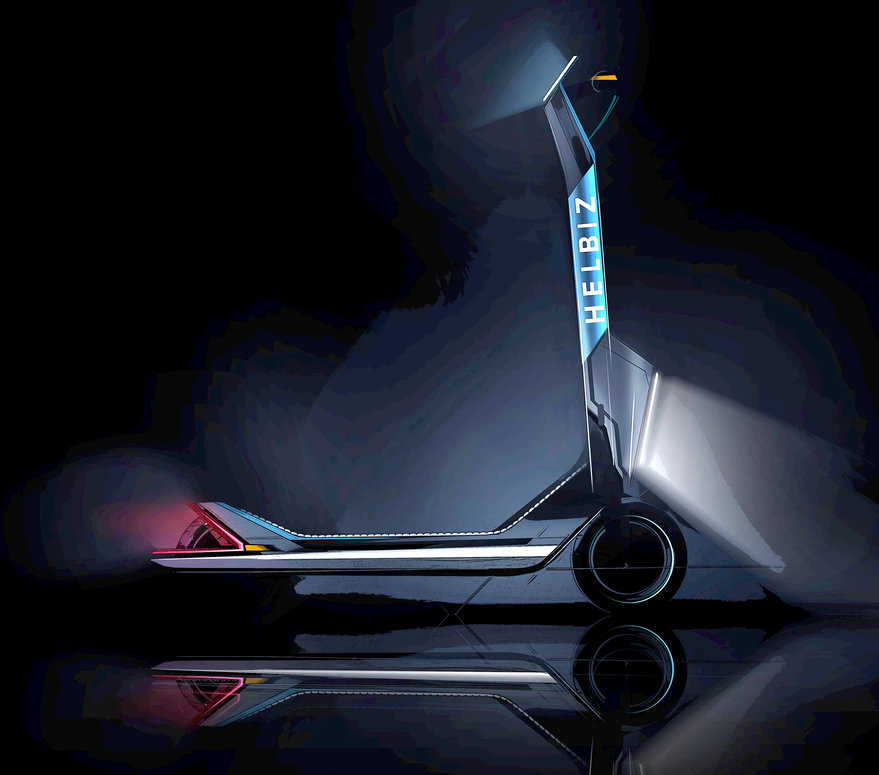 According to the website the Pininfarina-designed Helbiz scooters will first be incorporated into the company's sharing programs, but will eventually be offered for retail sale.
E-bike Biz
SWEDEN'S VASSLA RAISES $11 MILLION FOR PEDALESS 'E-BIKE'
Silicon Republic reports how Swedish firm Vassla is building a subscription service for 'a cross between a moped and a traditional e-bike or e-scooter'.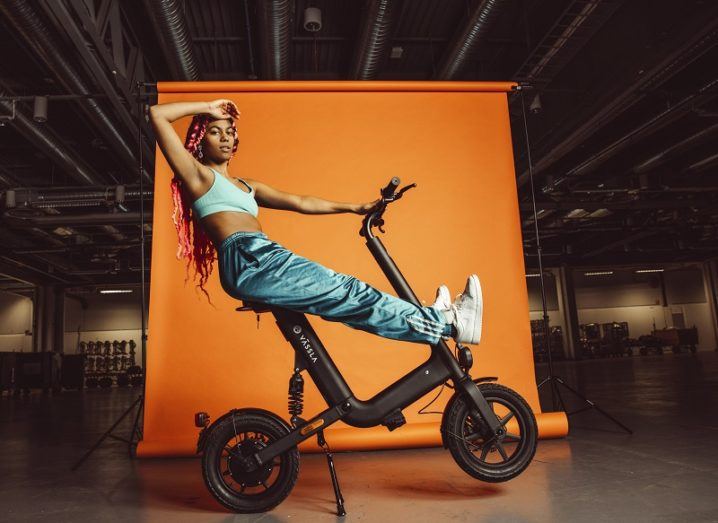 To help the roll out of the subscription Vässla has raised $11m in fresh funds, helping it diversify away from its starting business model of selling e-mopeds.
The article says 'Vässla Club will target individuals, delivery drivers and businesses like hotels and holiday resorts with a subscription model to access its e-bikes and fleet management features built in for businesses.'
The company is running trials in the Scandinavian market with further trials pencilled in for Berlin, Vienna, Hamburg and Madrid. It is also planning a UK launch once legislation around e-scooter and other electric micromobility vehicles has been introduced beyond the current trial stages taking place across the country.
Reader Interactions