Ebike News: E-bike Tax Credits Back on Track, New Schwinn and Gazelle E-bikes and Much More!
We brought this up in last week's news, but it bears repeating: the 30% tax credit is gaining momentum once again. EBR doesn't really get political and certainly not partisan, but news that the proposed e-bike credits are back at the 30% rate and are in Joe Biden's 1.75 trillion dollar Build Back Better budget has to be good news. Some have carped that the $1500 e-bike credits proposed looks mean compared to the potential maximum of $12,500 that could be offered in similar tax credits to buyers of an electric car (though to qualify for this maximum figure the current proposal is that the car has to be US-made and with union labor).
But it wasn't that long ago that most legislators – indeed most Americans – had little if any idea what an electric bike was. That they are now included in this huge piece of legislation is a sign of just how far they have come in such a short space of time.
In this week's news::
ICYMI: Biden's latest budget plan offers tax credits for e-bikes

Schwinn's three new e-bikes now on sale

Gazelle's $2299 Bosch-powered e-bike announced

Moustache's funky mini-e-cargo bike

2022 e-bike holiday destinations revealed

Are Aventon planning a US manufacturing future?
LATEST BUDGET DEAL PROMISES $1500 IN TAX CREDITS TOWARDS E-BIKES
The Verge reports that in the latest version of Joe Biden's 'Build Back Better' budget plan potential e-bike tax credits have been raised back up to 30% (after the House of Representatives slashed them to 15%).
The Verge tells us ' The legislation would offer Americans a refundable tax credit worth 30 percent of a new e-bike's purchase price, capped at $1,500. All three e-bike classes would be eligible for the tax credit, but bikes with motors more powerful than 750W would not. The credit would be fully refundable, which would allow lower-income individuals to claim it.'
The article adds 'Bikes that cost more than $8,000 would not be eligible, and the 30 percent credit starts to phase out for bikes that cost more than $5,000. The program is also means-tested based on tax status, meaning the credit would begin phasing out $200 for every $1,000 spent on the purchase for individuals who earn $75,000, heads of household earning $112,500, and married couples who file jointly earning $150,000.'
SCHWINN'S THREE NEW E-BIKE MODELS
Schwinn recently rolled out three new models of e-bike, the Marshall, the Coston CE and the Coston DX. All three appear to be class 2 e-bikes (ie throttle and pedal electric activation with a 20mph assist limit).
All are based around a rear hub motor and neatly frame-integrated battery with the spec (including increasing battery size) going from the most basic Marshall model to the top of the range Coston DX. Battery sizes range from 288Wh to 360Wh. Neat features include LED lighting along the side of the battery and a seat that hinges open to reveal a storage compartment. Respective prices are $1499.99, $1699.99 and $1999.99.
GAZELLE'S NEW AFFORDABLE BOSCH-POWERED E-BIKE
Gazelle is a longstanding bike and e-bike maker from the Netherlands but they have a strong presence on the US e-bike scene too and have just announced the US launch of a very reasonably-priced Bosch mid-drive, the Medio T9 City – which we recently saw at the Sea Otter Classic.
The Medio T9 City uses Bosch's 'entry level' Active Line mid-drive, has a 400Wh battery and will retail at $2,299 in the US. It's a class 1 e-bike meaning you need to pedal (no throttle control) and the power tails off at 20mph.
Gazelle say it is their lightest e-bike but reports suggest it weighs around 23.5kg / 51.8lbs – not light for an e-bike but OK for a fully-equipped mid-drive that comes with lights, front suspension and rear rack. Other quality components include Shimano hydraulic disk brakes and an Alivio 9 speed derailleur.
MOUSTACHE LAUNCH NEW MINI-CARGO E-BIKE
French company Moustache is known for producing funky-looking e-bikes all powered by Bosch mid-drives.
They have just announced a mini-e-cargo bike, the Lundi 20, which they describe as 'a longtail format, for an easy and safe feel, whether you are riding it empty or filled to the brim. Thanks to the new Bosch Cargo Line motor, that's reliable and ultra-powerful, even at low speeds, you will have no difficulty in transporting all your load.'
There will be single and dual battery options. Overall cargo load rating is 200kg / 441lbs with the rear rack rated at 70kg / 154lbs. There are tons of box, bag and seat accessories and the bike will even store vertically if you are space limited.
The bikes should be available in January 2022 with prices ranging from 4,599 to 6,599 euros.
SADDLE SKEDADDLE OFFERING SPECTACULAR EUROPEAN E-BIKE BREAKS
Saddle Skedaddle have been in touch to let us know about their very latest range of e-bike trips scheduled for 2022. You can check out all their Western Europe offerings here.
AVENTON TO BRING E-BIKE MANUFACTURING TO THE US?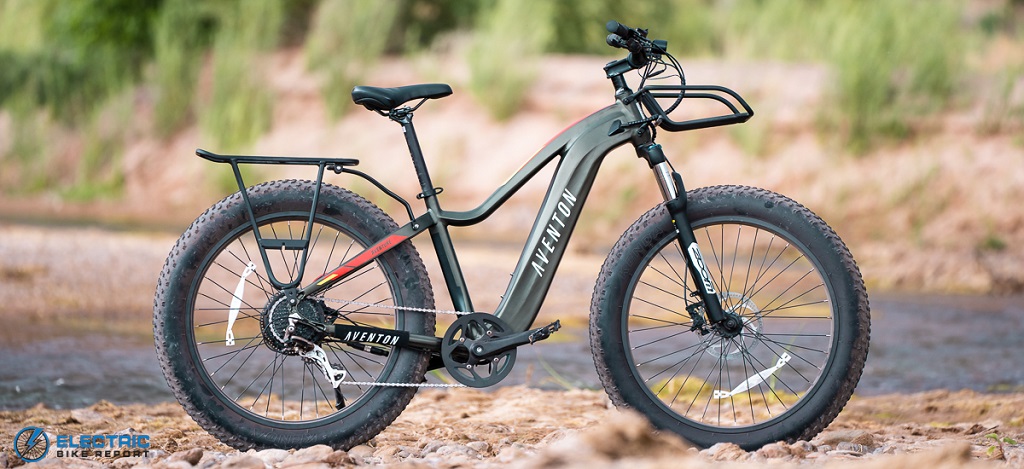 Aventon regularly features in lists of the top selling e-bike brands in the US, and though founded here they are actually made at Aventon's factory about 200 miles southeast of Shanghai.
But now founder JW Zhang has told ChiefExecutive.net that 'a U.S. factory could compete on price with China due to current shipping and supply chain costs'. He plans to open the factory by 2025, he told the site.' According to Aventon the plant will be 'highly automated.'
There's more detail on the story at Bicycle Retailer and Industry News.
Reader Interactions