Gazelle Medeo T9 City Review 2023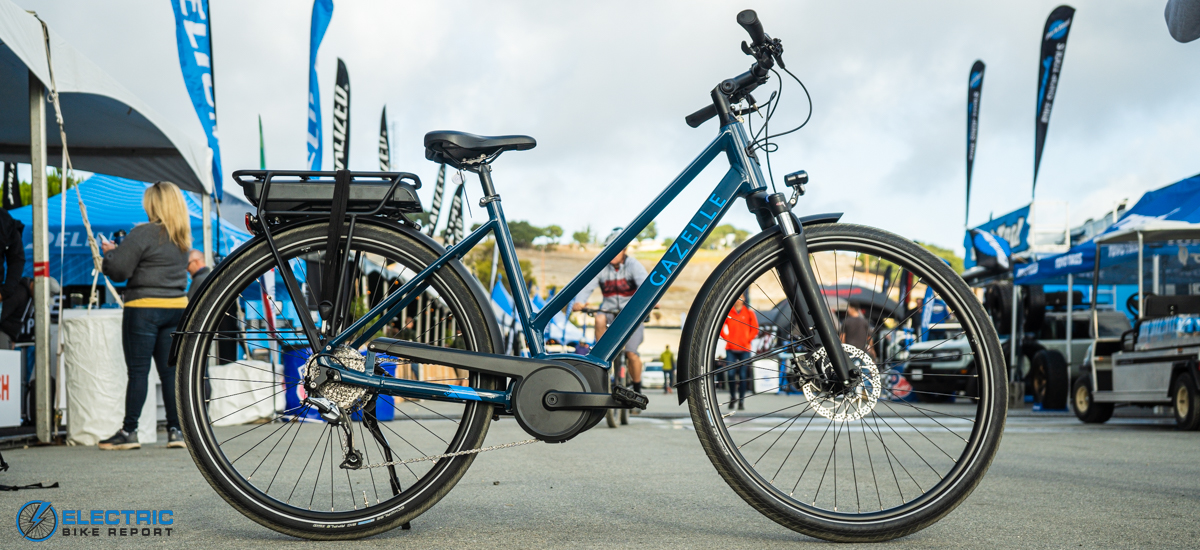 Monterey, CALIF. (Sea Otter Classic) — Who said mid-drive electric bikes had to be expensive?
At this year's Sea Otter Classic in Monterey, California — the first edition of the event after a year-long COVID-19 hiatus — Dutch e-bike maker Gazelle quietly touted their all-new Medeo T9 City, the cheapest e-bike they've ever built.
This new member of the Medeo lineup isn't yet available for purchase — part of the reason its presence at Sea Otter was slightly less advertised than some of the other new bikes shown off at the event — but at just $2,299, it's priced to compete with some of the most affordable Bosch powered mid-drive e-bikes on the market. That's a lot of motor for not a lot of bucks. Electric Bike Report got a chance to take the new T9 City out for a quick test ride during the show.
Gazelle Medeo T9 City: First ride impressions
Sitting between the cranks is a Bosch Active Line motor that produces 40Nm of torque and mounted to a rear rack is a PowerPack 400 battery, a solid motor and battery combination with industry leading reliability. That battery is removable and it's nested in a rack rated for 60 lbs of additional cargo.
The Active Line motor certainly isn't Bosch's most powerful setup, but it had little issue handling the rolling hills around the Sea Otter venue. I did find myself kicking the bike into sport mode on some of the steeper sections (there's one 16 percent hill near the entrance to the venue that stressed every single e-bike we tested), but it still crested the top without much trouble.
The Medeo T9 City I tested was a medium, so a little small for my 6'1" frame, but I was still able to get pretty comfortable on the bike. It's got some slightly swept back handlebars and a mid-step frame that's easy to get on and off of. The geometry is very casual with a nice upright body position that, even though the frame I rode was a tad small for me, felt stable and confidence inspiring in traffic (which there was a lot of around the venue).
Like most good commuters the T9 City comes stock with integrated lights, fenders and a nearly full coverage shroud over the chain and front chainring to protect pant legs from grease. At under 50 lbs, it's also a decently light e-bike — another thing we dig about this new bike.
Capping everything off is a 9-speed Shimano drivetrain, Shimano hydraulic disc brakes and a neat Euro-looking low step frame.
It's certainly not the fanciest bike we saw at Sea Otter, but I personally get very excited every time a bigger name puts out a bike on the more affordable end of the spectrum. While $2,299 certainly isn't a small sum, it is among the cheapest asking prices we've seen for any bike with a Bosch power plant. Price points like that make premium-tier componentry more accessible to a broader range of riders — and we really like greater accessibility.
The Medeo is expected to come available later this year and, according to Gazelle, should retail for $2,299. Keep an eye out for it in your local Gazelle dealer.
Reader Interactions