eBike News: Diamondback and Cannondale Speed Pedelcs, eBike Hydrofoils & Much More!
In this week's news:
Class 3 e-bikes – or speed pedelecs as they are known in Europe – seem to be flavour of the moment, with no less than five new models from quality brand names appearing on the scene this week. There is also further evidence, this time from the UK, of the trend for 'crossover' e-bikes or those that blend attributes from different traditional genres of bike in an attempt to make an e-bike that 'does more' and will appeal to a wider audience. And if you have ever wondered how you can e-bike on water this week's news will tell you just how!
New Class 3 28mph Machines from Diamondback and Cannondale

Cairn's New BRAVe 2.0

Cycling Between England's Cathedrals and Across New Zealand's Cook Strait (by eHydrofoil!)

England & Wales Bike Theft Heat Map

Driving Ban for Drunk UK eScooter Rider

Portland's Hawthorne Avenue Bike Lane Controversey

Bikebiz Tells the Story of Chinese eBikes
New eBikes & eBike Systems
Diamondback Goes Electric
Diamondback has announced an all-new four e-bike model offering as part of their spring 2021 lineup and all bikes are powered by Bosch mid-drives. Diamondback has stayed away from hardcore full-suspension off-road models with its first four e-bikes which are:
Response
A class 3 (28mph) e-bike with large volume tires and high quality Judy Gold front suspension fork, inframe 500Wh battery,Shimano 10-speed drivetrain and Magura hydraulic disc brakes – high quality indeed and a spec that would also be fine for trail riding, witness the video below!
RRP US$4100
Union 1
Clearly designed as a city bike, it features and in-frame 400Wh battery, 10-speed Shimano drivetrain, Tektro hydraulic disc brakes, wide 27.5-in tires and includes rack and fenders. Class 3, 28mph.
RRP US$3,500.
Union 2
Similar to the Union 1 but with upgraded Shimano hydraulic disc brakes and the inclusion of built-in LED lighting, a Bosch Kiox colour display and a larger 500Wh battery
RRP US$4100
Current
Diamondback's take on a 28mph assisted gravel bike with 500Wh battery.
RRP US$4100
Diamondback are certainly saying these bikes can perform judged on the launch video:
Cannondale Launch New 28mph, Class 3 Model – Tesoro Neo X Speed
Class 3 certainly seem to be flavour of the month, as Cannondale has just rolled out their latest e-bike, a class 3 28mph assisted model featuring Bosch's Performance Line Speed mid-drive. The motor system on the new Tesoro Neo X Speed has impressive stats of 340% assist in Turbo setting and a max torque of 85Nm (Newton Meters).
It comes with a 625Wh in-frame battery but is described as being 'dual-battery-ready' and comes in four frame sizes. There's also a Suntour Raidon 100mm travel fork, Shimano Deore 12-speed drivetrain, and Magura MTNext hydraulic disc brakes with brake lights.
Bike weight is quoted as 58.5lbs / 26.6kg. Total weight rating of rider, e-bike and equipment is 330lbs / 150 kg. RRP is 6,199 euros according to some internet sources (that's around US$7320).
Of course class 3 speed pedelecs do have some downsides; you may be limited to which particular bike paths you can go on (all depending on state laws in the US and Canada or national laws in Europe) and they also tend to use your battery reserves up more quickly as more assisted speed means significantly more battery use.
Cairn's New 'Category Defying' eBikes
UK brand Cairn have released the BRAVe line of two ebikes that they describe as 'A 21st century take on the touring bike' adding 'the BRAVe takes all the great features of gravel and mountain bikes and combines them into one do-it-all bike'.
Both models – a drop bar and a straight bar version use Shimano E7000 mid-drives – the company's more affordable and slightly less powerful e-mtb capable mid-drive (topped in power only by their E8000 and EP8 mid-drives). The E7000 has garnered impressive reviews. Both have a semi-integrated
The BRAVe will be available in sizes S up to XL with RRPs of £2,189 for the 2.0 Flat Bar model and £2,550 for the 1.0 Drop Bar model.
Ride Inspiration
Ride By All English Cathedrals
The UK's Bikebiz reports that a new UK cycle route linking every English cathedral is set to be launched in Bike Week (May 30th-June5th), thanks to a partnership between the Association of English Cathedrals, the British Pilgrimage Trust, Cycling UK and Sustrans. It will link all 42 Church of England cathedrals in a new initiative to promote greener travel and mental and physical wellbeing.
According to Bikebiz 'The 2,000-mile Cathedrals Cycle Route is the invention of academic, entrepreneur and keen cyclist Shaun Cutler from Northumbria University and is designed to help us all out of lockdown with opportunities for short cycle rides between cathedrals, new partnerships and fundraising for physical and mental wellbeing activities.'
Hydrofoil eBike Pedals Between New Zealand's Main Islands
Stuff's New Zealand version reports on a 'successful first attempt of crossing Cook Strait on an e-water bike. The Waikato based Manta5 team crossed the 26 kilometre (16 mile) piece of water on Tuesday with Hayden Reeves in the saddle.' It took them two hours and twenty minutes.
If you are wondering just what a hydrofoil e-bike all is revealed in this video:
eBike Security
Bikmo's Theft Hotspot Heatmap
Cycle insurance specialist Bikmo has launched a heat map that demonstrates just where bike and e-bike thefts occurred in England and Wales throughout 2020. Perhaps not surprisingly areas in cycling hotspot London came out top in the bike thefts per 100,000 people stats, though curiously some provincial cities ranked much higher than others, with Manchester coming near the bottom.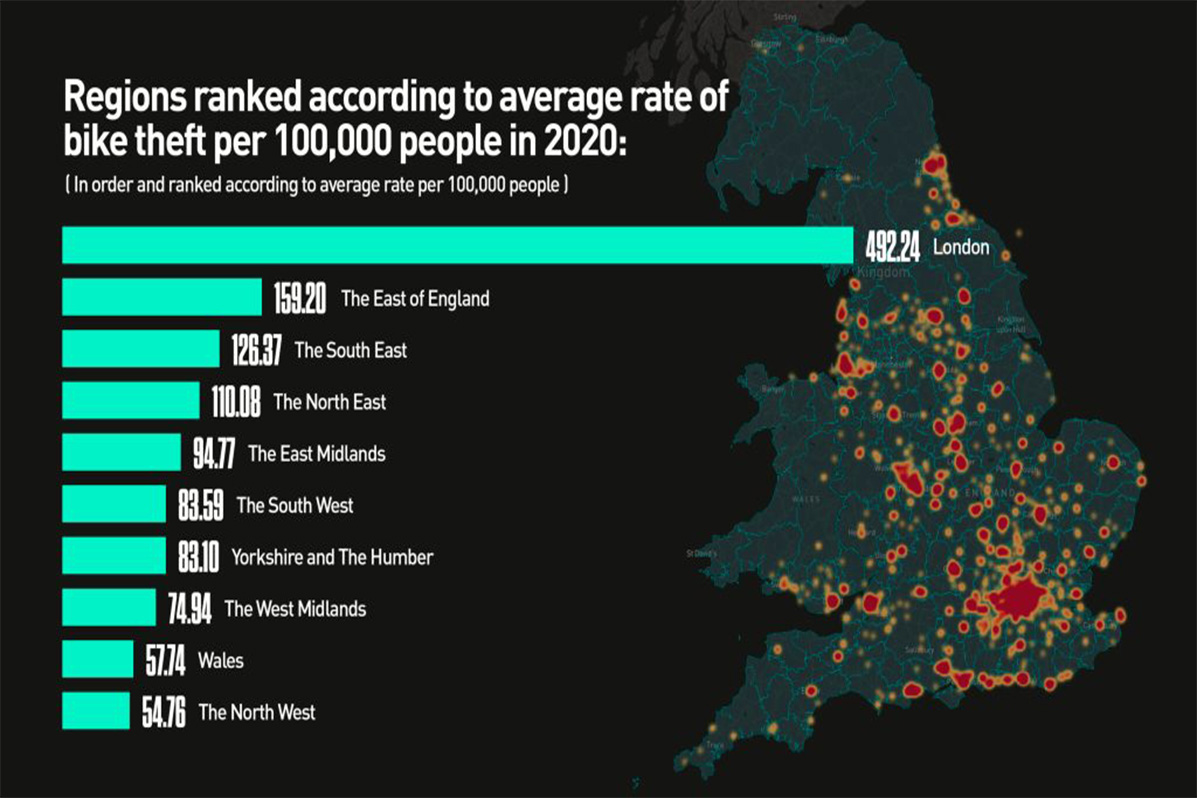 eMicromobility
Driving Ban for UK eScooter Rider
The UK's Nottingham Post reports that 'An elite level hockey player has been banned from driving after he was caught over the drink drive limit riding an e-scooter.'
After police spotted a pair of rental e-scooters being ridden erratically in the early hours of the morning a man was arrested and taken to the local police station where a second breath test showed he had 72 micrograms of alcohol in 100 millilitres of breath – slightly more than double the legal limit.
It appears – probably like many e-scooter riders in the UK – that the 19 year old defendant didn't realised he was effectively driving a vehicle on the same legalfooting as a car or motorbike. He had a clean driving licence, pleaded guilty, was banned from driving for 18 months, fined £120 and ordered to pay a victim surcharge of £34 plus court costs of £85.
Only government sanctioned rental scooters are legal to use on UK roads (like the Wind ones in this case) and even they, as the above demonstrates, they are subject to motor vehicle law in many instances.
Infrastructure
Pressure Builds on Portland City Hall over Hawthorne Avenue Bike Lanes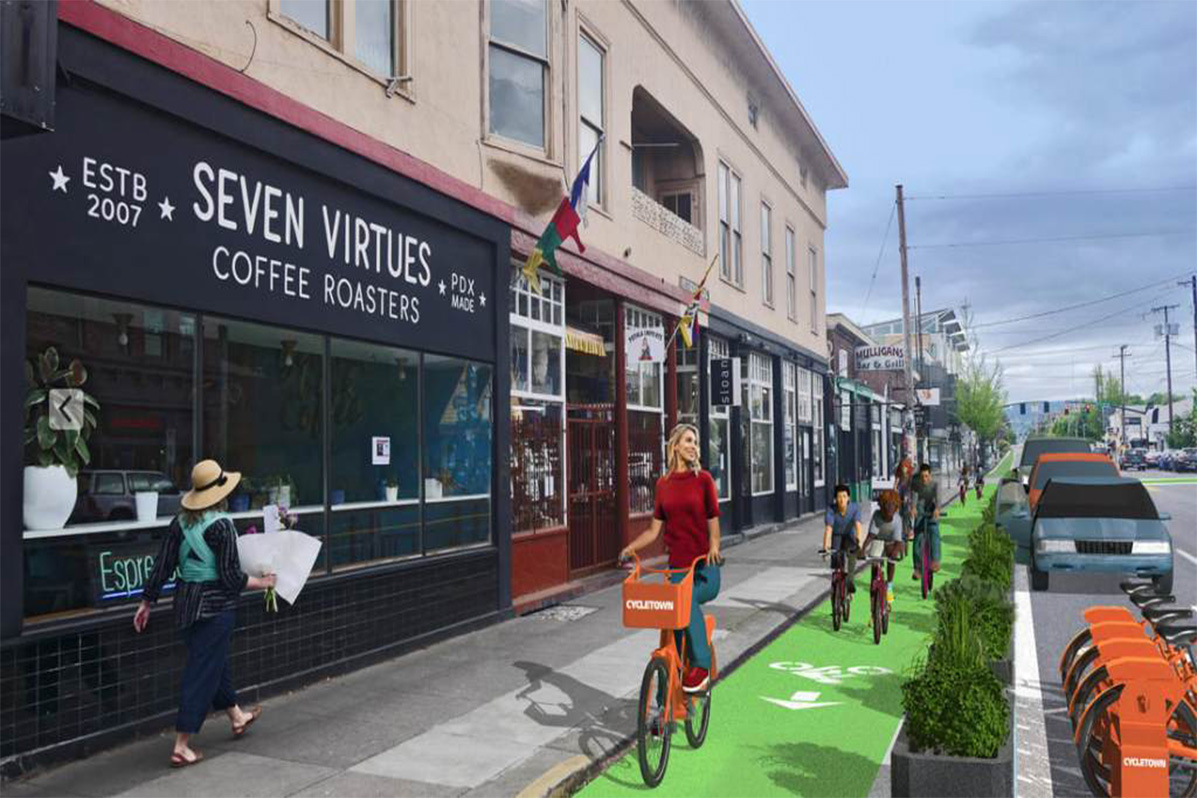 eBike Law
eBike Biz
Pierrer Mobility and Varta Cooperate on eBike Batteries
The Rise and Fall and Rise of Chinese eBikes