Ebike News: Belgian Cowboy to the US, New RadCity 5 +, Cube Tilting Trike and Harley Davidson Limited Edition – and Much More!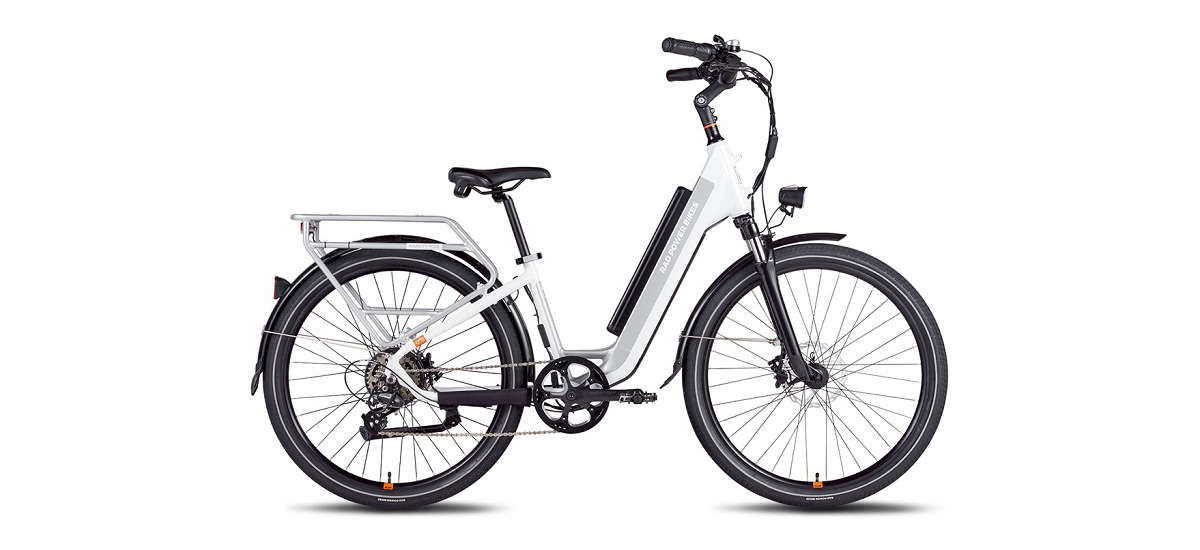 Plenty of innovation and interesting light electric vehicles this week, from Cube's partially tilting trike to Eli's 25mph mini electric car – OK the Eli is not an e-bike but the kind of small, light electric vehicle that e-bikes are much happier co-existing with on city streets with than full size cars and trucks and e-bikes arguably have more in common with small EVs like this than small EVs do with full size cars.
Also notable is the fact that Eli is based in the US but has chosen the EU to launch – for reasons we go into below. At the same time the sleek and hi-tech looking Cowboy 4 is heading from it's Belgian roots to the US, proving that the e-bike market appears to be expanding just about everywhere just at the moment.
In this week's news:
Cowboy 4 urban e-bike should be on sale in the US from Jan 2022

Cube's innovative tilting trike

Rad City commuter line gets makeover

Serial 1 Limited Edition S1 Tribute

E-mtbs dominate German e-bike market

Eli EV takes a trip from the US to Europe

Juiced bigger mid-range battery
COWBOY HEADING TO THE UNITED STATES
Belgium-based Cowboy, designers and manufacturers of a sleek and hi-tech urban e-bike, are coming to the US.
The Cowboy 4 model will be offered in both step-over and step-through frames and Cowboy say, compared to the previous Cowboy 3, there will also be 'a new powertrain with high torque….., a signature and minimalist design including 200 custom-made parts, and the community-loved Cowboy app for the ultimate connected ride.'
Other standout features include a stem featuring 'a built-in Quad Lock mount to instantly dock, securely hold and wirelessly charge the rider's smartphone allowing for real-time access to essential information through the Cowboy app before and during the ride such as predictive battery level at destination, en-route weather or bike parking locations.'
Widely available in Europe already, the latest Cowboy 4 in the United States will be supported by 'an on-demand service network and in-house customer support'. Pre-orders are opening on Cowboy.com at an early bird price of $1,990 valid until the 31st of October with deliveries are expected to start in January 2022 for a limited set of bikes.
CUBE'S TILTING E-CARGO TRIKE
German brand Cube just announced the all-new Concept Dynamic Cargo trike with tilting front end which it tells us is the product of a unique collaboration between CUBE and BMW.
Cube sum up the advantages; 'An innovative tilt mechanism keeps your cargo stable and secure whilst maintaining the natural feel of a conventional bike. And flexible cargo carrying options mean it's easy to carry whatever you need'.
It uses an innovative (well, innovative for the e-bike industry at least) pivoting drivetrain. Sure, you can get a regular e-bike and just attach a trailer but the Cube concept looks built to pull heavier loads in a more stable manner than most trailers would – Cube say up to 220kg (485lbs) total payload with 60kg (130lbs) of that on the cargo bed itself where there is room for two individual child seats.
The pick-up-style transport platform can be fitted with a selection of modular attachments for carrying luggage and/or children. Like all of Cube's e-bikes it uses a Bosch mid-drive.
It's not yet available to buy but Cube say it has been developed to be ready for serial production – perhaps a huge interest in articles like this will make a difference as to whether they produce it commercially!
Another tilting e-trike is actually already in production in continental Europe is the Gleam. In contrast to the Cube take on the tilting trike experience Gleam has all three wheels tilting and the rear end is independently suspended. It also has a modular load box that looks to easily slide on and off the rear – ideal for commercial applications.
RADCITY E-BIKES GET NEW FEATURES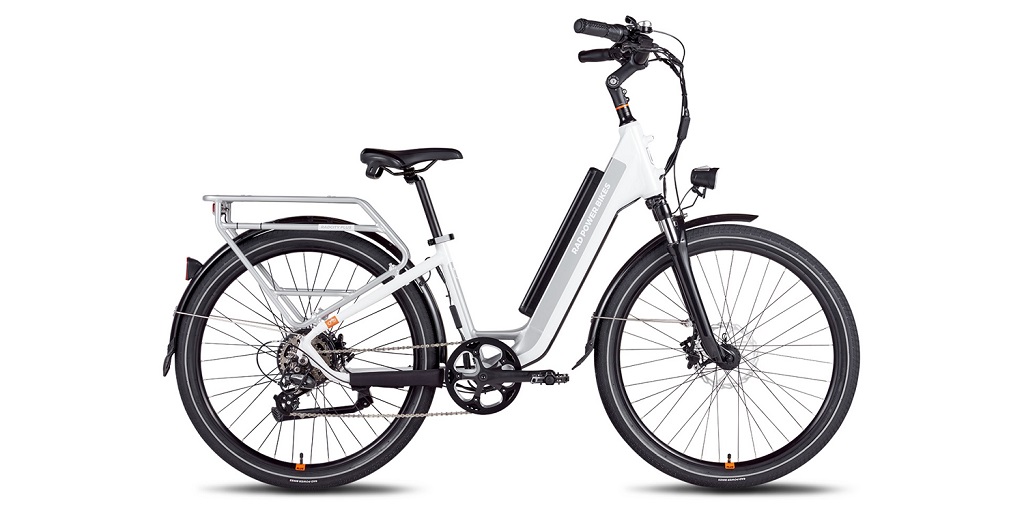 Rad Power Bikes' electric commuting bike, the RadCity 5 Plus, now has a completely redesigned frame, powertrain and handlebar controls, semi-integrated battery, tires plus new hydraulic disk brakes and ceramic brake pads for greater stopping power (a first on any RadPower e-bike). They also suit a wider range of rider sizes.
Rad Power claim 40 percent faster hillclimbing and 11 percent range increase compared to the previous generation. There are step-over and step-thru options. Retail price is $1799.
MEET THE NEW HARLEY DAVIDSON'S SERIAL 1 LIMITED EDITION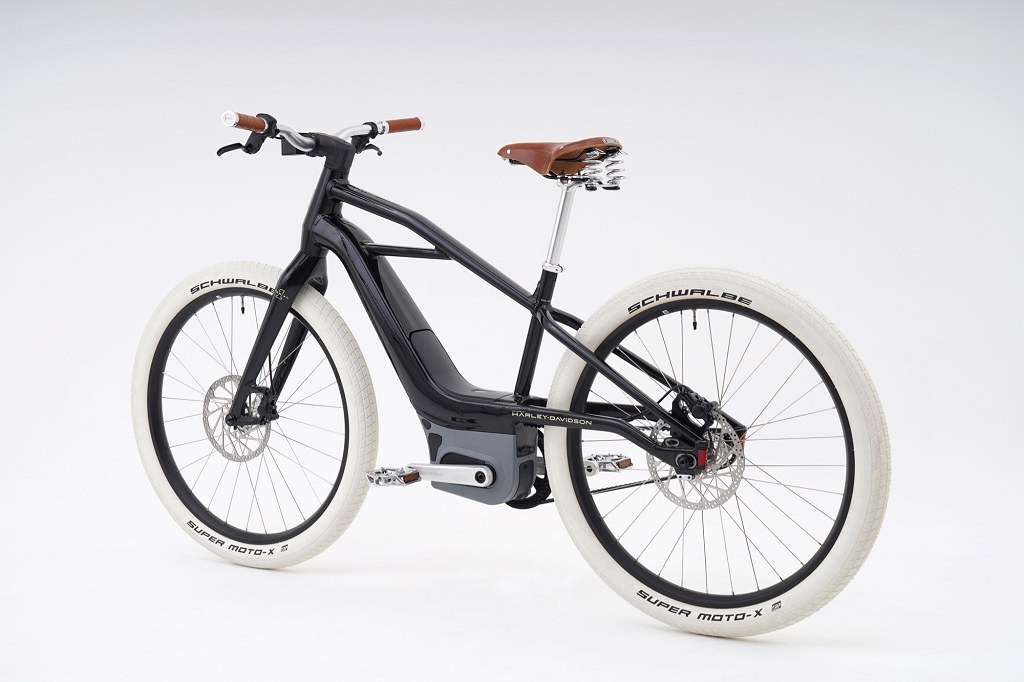 Harley Davidson spin-off Serial 1 recently announced a limited-to-650 bikes S1 Tribute e-bike developed from a prototype that was shown off last year.
Like other more widely available Serial 1 e-bikes it uses a Brose mid-drive (in this case the S-mag with 90Nm of torque). Based on Serial 1's MOSH/CTY production model the S1 Tribute features rich gloss black paint with gold graphics, white-toned Schwalbe Super Moto-X tires (exclusive to Serial 1), a hand-crafted, honey-colored leather saddle and matching leather grips from Brooks England and a stamped-brass shield mounted to the front signature light.
Large size bikes are already sold out with some medium still left at the time of writing with an RRP of $5999.
GERMAN MEGA RETAILER ANALYSES DOMESTIC MARKET
German e-bike retailer Fahrrad XXL is pretty large as e-bike retailers go, being one of the largest in Germany, where, by current estimates people buy around 2 million e-bikes a year (based on 2020 sales).

Their recent survey of nearly 2000 participants threw up some interesting results:
– 71.6 percent of the e-bike buyers surveyed were male and 27.6 percent female
– Nearly three quarters of e-bike buyers are aged between 30 and 59 with the numbers spread evenly within the age groups making up that category. The over 60s made up only around 12% of buyers and 18-29 year olds made up around 14%.
– Perhaps surprisingly e-mtbs absolutely dominated sales; e-mtbs made up 43.7% of sales, e-trekking bikes 25.9% and e-city/urban bikes 13.6%.
US-BASED ELI REPORTED TO HAVE STARTED PRODUCTION ON MINI-E-CAR

Californian-based Eli EVs has begun production of its Eli Zero, a two-seater "neighborhood electric vehicle" that is meant for urban commuters. The mini car will roll out across 13 European countries in the next few months with a starting price of $11,999.
Although based in Los Angeles the differing nature of US states laws on small electric vehicles make it difficult to go to market in the U.S. first, according to Marcus Li, CEO and founder of Eli. In Europe the legality of small EVs is much more straightforward.
The Zero is built of 'recyclable polypropylene and high-strength aluminum', has a top speed of 25 mph and is 7 feet long, 4.5 feet wide and 5 feet high. Batteries are 5.8 kWh – the largest e-bike batteries around now rarely exceed 1KWh. Max range is quoted as 70 miles. The motor is rated at 4kW whilst most e-bikes are rated at less than 1kW.
The Zero also boasts power-assisted braking and steering, a rear camera, a parking sensor and a heating and cooling system.
JUICED'S BIGGER BATTERIES
Californian-based
Juiced e-bikes
just increased the battery size of its mid-range battery from 676 Wh battery to 780 Wh. Its max battery size is still 998 Wh.
Reader Interactions