Ebike News: Affordable Eunorau Mid-Drive, Babymaker II Teaser and Lots More!
Is the age of truly affordable mid-drives here with the arrival of the Eunorau D6? Currently the e-bike industry is quite well-defined into two segments – more affordable hub motor e-bikes and pricier mid-drive machines. There are only a few pre-launch details available on the Eunorau model at present but time will tell if this is one of the models that finally means mid-drives will compete or undercut hub-motor machines on price and bring their undoubted benefits to a wider audience.
In this week's e-bike news:
Eunorau D6 mid-drive remarkable offer price of $1199

Babymaker ups spec of original single speed model

Interesting e-mtbs from Corratec and Orange

Hase Pino e-bike therapy court case decision

ThinkBikes – Nigeria's answer to sustainable affordable cargo transport

Will hydrogen ever succeed?

UK study on pollution exposure in child trailers
EUNORAU D6 HAS PROMOTIONAL PRICE OF $1199
Eunorau are perhaps best known for their e-fat bikes with powerful motors, although they do make other designs such as electric commuting and cargo models. The recently announced D6 looks to change all that if its pre-launch Indiegogo webpage is anything to go by.
There will be a 40% discount giving a launch offer of $1199 for the e-road bike design and early spec, based on images and the scant info out there, suggest a 60 Nm mid-drive motor, frame-integrated battery, 11 derailleur gears and mechanical disc brakes. Stated weight is 18 kg (39 lb).
TEASER INFO FOR BABYMAKER 2
2020 saw California's FLX Bikes successfully crowdfund its first e-bike, the single-speed Babymaker. The company has recently put out brief info on the forthcoming Babymaker 2 – there is a sign up page for a limited offer with a launch date of February 22 and up to $1,000 discount advertised .
Sources such as Elektrek suggest the Babymaker 2 will have a 43 percent higher battery capacity than the original model. This should then also be accompanied by a significantly improved range and publicity images of a so-called prototype show a belt drive paired with disc brakes.
Currently, the manufacturer sells the model Babymaker Pro on its website for $1,900 instead of a recommended retail price of 2,500 US dollars.
EMTB ROUNDUP
A couple of eye-catching e-mtb models have been announced recently.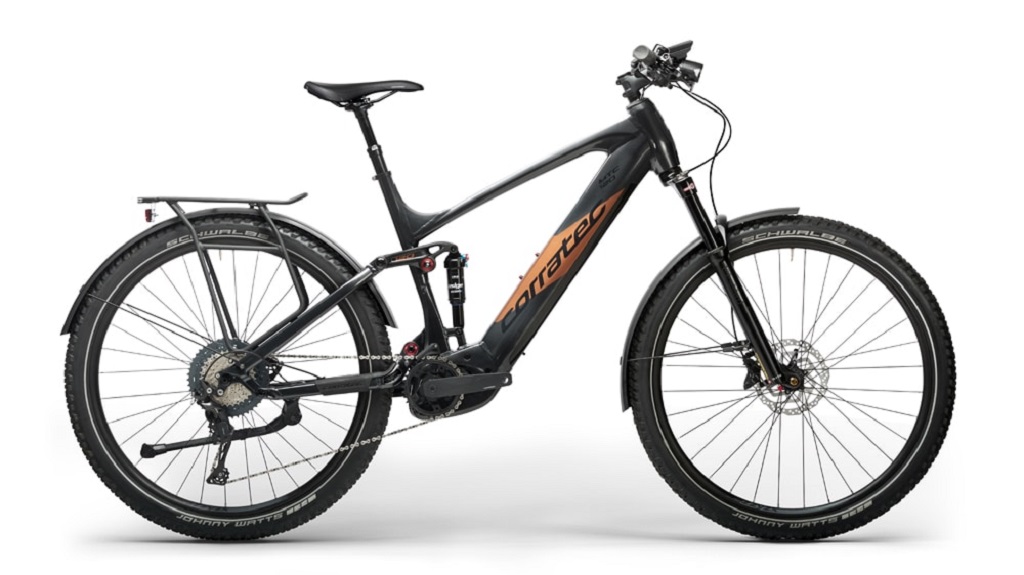 The versatile-looking Corratec E-Power MTC 120 Pro – a so-called mountain cross bike – won a German Design Award 2022. Corratec market the bike as 'a city, trekking and mountain bike in one' – one of the latest of a new category of 'SUV e-bikes'. It features an 85 Nm Bosch Performance Line CX motor, 750 Wh PowerTube battery, luggage rack and 120 mm of suspension travel. In the UK it can be found for sale at around £4400.
The UK's Orange are known for very much having their own take on mountain bike design and their latest e-mtb, the Orange Phase MX Team, features a top of the line Shimano Steps EP8 mid-drive and has a lfty RRP of £7,300. Not surprisingly the rest of the spec is top of the line too, but the most notable change from previous models is the upgrade in battery size from 504Wh to 630Wh.
HEALTH INSURANCE COMPANY MUST PAY FOR ELECTRIC THERAPY BIKE
Germany's RadMarkt reports that the Social Court of Hanover in Germany has decided that a plaintiff will be reimbursed for the costs of a Hase Pino Steps e-bike that was prescribed as a therapy bike and will also be awarded court costs. Hase has a range of bikes for kids with special needs.
The article states 'According to Hase Bikes, the severely disabled girl had already applied for a "Pino Steps" plus accessories from her health insurance company in March 2017. A corresponding medical prescription was attached. The tandem was prescribed to the then 13-year-old because she suffers from "cerebral multiple disability as a condition after hypoxic encephalopathy with bilateral cerebral palsy." For non-physicians: the girl has brain damage caused by an insufficient supply of oxygen and blood to the brain tissue. This has led to the fact that she cannot move independently.'
A health insurance company balked at paying the cost of the e-bike on the grounds that, in its view, the Pino was not a recognised aid for the girl's condition and so not the subject of the statutory health insurance. It's application was rejected so it must now pay for the e-bike and court costs.
According to Hase this is not an isolated case and the manufacturer has now produced a downloadable German language guide, in cooperation with a specialist lawyer, on the subject – available here.
THINKBIKES LOOKS TO MAKE E-CARGO AFFORDABLE IN NIGERIA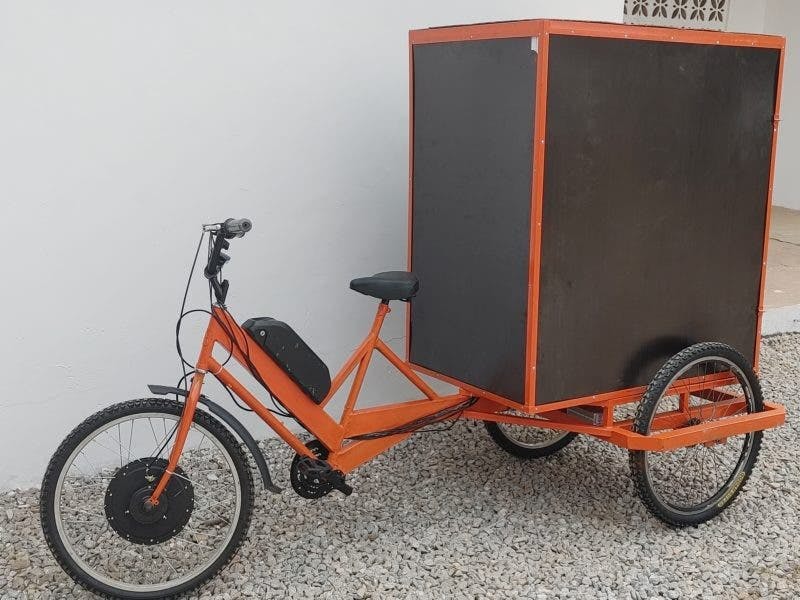 'ThinkBikes has developed an electrified version of its pedal truck using mostly locally sourced materials and components, which helps dramatically reduce costs' reports Electronic Design on the interesting development to what it describes as 'Nigeria's first indiginous e-bike'.
Apparently ThinkBikes aim to make the bike available as an affordable short-term leasing option.
WHY DOES HYDROGEN KEEP CROPPING UP?
Another RadMarkt article, this time detailing how Swedish company myFC begun to develop a system adapted for electric bicycles in the summer of 2021, a system that uses a combination of hydrogen fuel cell and lithium ion battery technology.
The idea of hydrogen powered e-bikes has actually been around for decades yet, despite the overwhelming success of conventional lithium ion battery technology, there are those who are still seeking to harness the power of hydrogen to generate electricity for electric transport.
The new version of the patented myFC fuel cell is claimed to have increased the output power and maximized the energy density of the system. Yet, as this interesting Elektrek article points out, it seems like it is almost 'game over' for hydrogen fuel cell technology – certainly as far as passenger electric cars are concerned. It cites a new study published in the peer-reviewed journal Nature that doubts if fuel cell vehicles will ever catch up to battery-electric vehicles – this is despite the billions of dollars spent on trying to commercialize the technology by some major motor manufacturers.
USE A TRAILER COVER IF TOWING KIDS IN HEAVY TRAFFIC – STUDY FINDS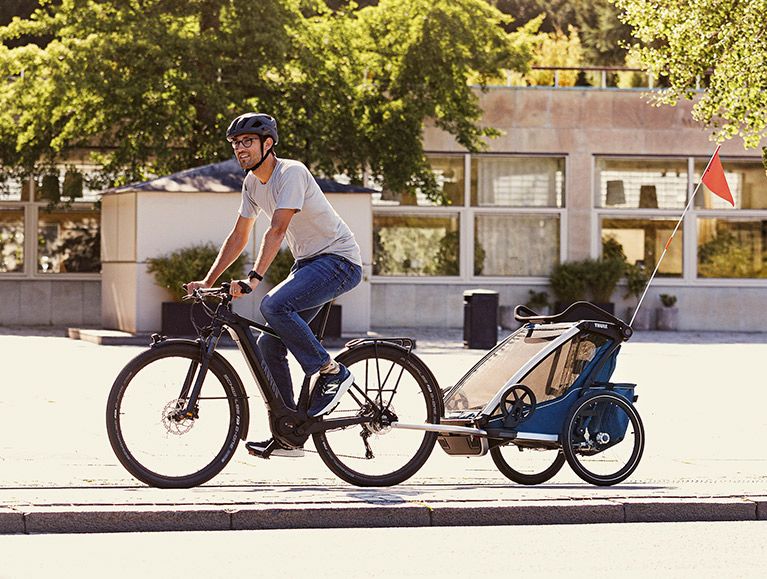 A recent report in phys.org tells us 'Babies and children sitting in bicycle trailers breathe in more polluted air than the adults riding the bikes that pull them—but trailer covers can help halve air pollution levels'.
This is according to research from the University of Surrey in their research published in the Journal of Hazardous Materials Advances where Surrey's Global Center for Clean Air Research (GCARE) found that 'on journeys typical of school or nursery runs, the average concentration of coarse air pollution particles in a bike trailer is 14% higher than at cyclist height and 18% higher than cyclist height in the afternoons when parents or carers typically collect children.'
Air pollution is a leading cause of death in children under the age of five.