E Movement Hunter Plus, 2021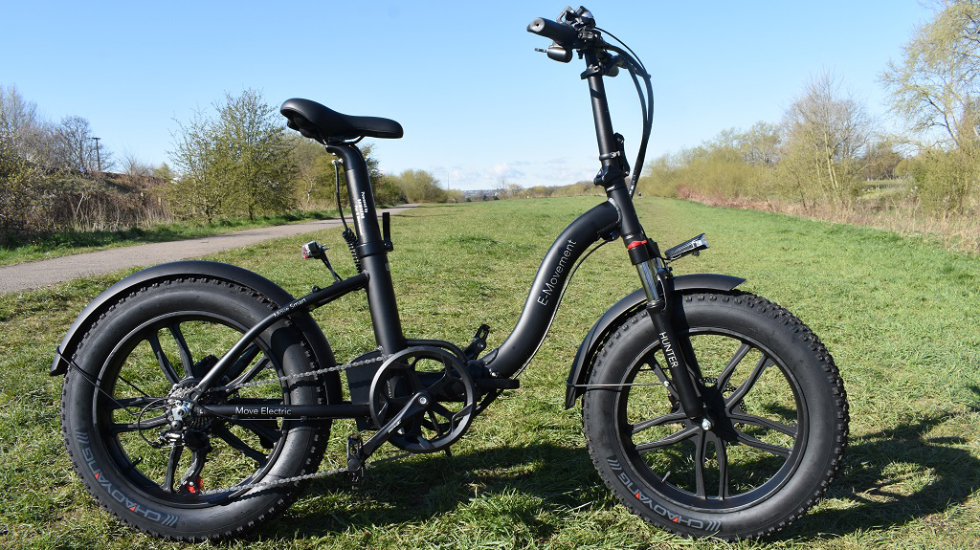 SUMMARY REVIEW: E movement Hunter Plus
UK-based E Movement describe themselves as a family-operated e-transport brand, was founded in 2018 and today they sell a wide range of own brand e-bikes and e-scooters direct to the consumer. E-fat bikes don't have the high profile they have in the US and so it's great to see E Movement raising their profile here, as their range contains several e-fat bike models.
The E Movement Hunter is a folding e-fat bike that looks to provide a lot of bike at a budget price and does just that. The huge tires (huge by bike standards anyway) are designed to roll easily over looser surfaces like rocks, gravel, snow and even sand and to be a comfort feature in general.
Of course adding all that rubber means a standard fat bike can be hard work to pedal and that is where the 'e' in electric comes in, opening up the experience to those who aren't superfit. The fact this is a step-thru model and it folds opens it up to even more users too.
If you thought e-fat bikes weren't for you this review might just make you think again; I'm not used to seeing fat tires on smaller 20″ wheels and was surprised at the wide variety of terrain they could tackle and found the 'go anywhere' feel of the e-bike great fun and very liberating. Compared to larger wheeled e-fat bike models it's a more manageable package but still gives you the confidence to widen your e-bike horizons.

Bike Category:
Folding Fat Tire E-Bike
Bike Class:
Class 1 equivalent EU spec for electric assist – 25kmh / 15.5mph assist but with both pedal activation and throttle activation
Video Review
[youtube https://www.youtube.com/watch?v=AJbz8PJ-C44]
Pro's
Very versatile, combining the fun and go-anywhere ability of fat tires easy to get on step through frame
Nice accessory touches; sturdy metal mudguards, brake light and electronic horn.
20" wheels and upright steering geometry give lively and manoeuvrable handling
Comfortable and easy to ride
Folding is quick and easy
Adjustable seat and handlebar heights to suit a wide range of riders
Con's
Not light at 27.6kg / 61lbs
Large and heavy folded package too
Not as good as a powerful mid-drive e-mtb for steeper, technical ascents
ELECTRICAL SPECS & FEATURES
Battery: Lithium-ion 48V, 7Ah (336Wh)
Display: LCD with toggle through of odometer and trip data
Motor: Geared rear hub motor
Pedal Assist: 5 Levels
Range: 22.6 miles over hilly terrain of all kinds
Throttle: Gripshift style twist throttle
Weight & Dimensions
Battery Weight (including saddle and seatpost): 3kg / 6.6lbs
Total Bike Weight: 27.6kg / 61lbs
Rider Size: 5ft 5" / 1.65m and up
Unfolded dimensions: 1.65 x 1.03 x 0.58m / 65 x 40.5 x 23 inches (LxHxW)
Folded Dimensions: 0.99 x 0.72 x 0.64m / 39 x 28 x 25 inches (LxHxW)
Components & Accessories
Brakes: Li Ting branded hydraulic disk brakes with 160mm rotors
Fork: Steel sprung front fork with lockout
Frame: Alu alloy with mid-frame hinge
Gearing: Shimano Tourney TZ 7 speed derailleur
Grips: Rubberised, ergonomic design
Handlebar: Alloy, straight bar 58mm 23inches wide
Kickstand: Yes
Pedals: Metal, platform design
Tires: Chaoyang, 20"×4 " with puncture resistance
Performance Review: E movement Hunter Plus
Acceleration/Speed
The Hunter's rear hub motor provides nice quick acceleration up to 15mph and you can use the pedal assist or throttle controls independently of one another or in combination which is really the best of both worlds.
Over our hilly testing ground with regular gradients of 10% plus we didn't find anything that defeated this bike – we did feel it helped to keep up some speed and a reasonable cadence to get the most power delivery out of it, rather than just relying on the throttle alone up steeper hills.
It's not the most powerful hill-climber you will find out there but its forte is really to roll over just about any track surface you'll encounter in any weather – but if you can maintain a good speed and keep the pedals turning at a good cadence up the hills then this will . If you want more huge climbing ability over a wide range of speeds then mid-drive e-bikes usually outshine most hub geared models.
Gear Range / Shifting
The Hunter Plus has a Shimano Tourney 7-speed derailleur drive train chain. The unusual 'trigger and button' shifter worked well and was intuitive and easy to use, with the gears changing predictably and pretty quickly, especially when it's considered this is a budget set up.
If you live in a very hilly area you might want to look at fitting lower gearing and the easiest way to do that would be to swap out the large 52 tooth Prowheel chainring on the front for a smaller one – this make is widely available and relatively cheap so it should be an easy job. You will sacrifice some top pedalling speed, but as the current gearing on the Hunter Plus can easily achieve 25mph plus you will still be able to add pedal power well beyond the electrically assisted speed of the bike.
As the tyres are so wide on the bike the rear derailleur sits very close to the side of the tyre but we never heard it touch or scrape. Still it wouldn't take much of knock for it to do so; having a budget derailleur and a frame with a derailleur hanger is a positive in this respect as any damage can be easily and quickly replaced.
Range Test
The Hunter Plus was tested over hilly country in the UK's Pennine foothills taking in a mixture of loose, stony tracks – both hilly and along the likes of poorly maintained canal towpaths – mixing in tarmac and grass riding over fields too. The power level was varied according to what was required to maintain a good speed; generally level two of five on less challenging sections with level five used occasionally on the very steepest hills.
It achieved a range of 22.6 miles from the 336Wh battery which given the nature of the terrain, the mixture of loose surfaces and the huge tyres is pretty respectable.
Handling (cornering, slow speeds, safety on bike, etc.)
The main feature of the bike are of course the massive four inch wide tyres, and these just give you the feeling 'floating' over whatever surface is underwheel. We tried them mainly on loose rubbly surfaces – it's been a dry spring so far and there isn't really any slippy mud around anywhere but they would surely give more grip on mud if measured against narrower knobbly tires.
Traction felt amazing compared to narrower tyres – skid stops and braking on gravel surfaces were much improved.
But perhaps best of all the jolts and bumps you experience on stony surfaces just disappear and you don't need to spend hundreds or thousands more on a full suspension e-bike to make that happen.
With the smoothing effect of the large volume tyres the steel sprung forks only really came into effect on bigger drop-offs (perhaps they would be effective on much heavier frames than my 150lb / 70kg); especially so as the spring is pretty stiff in itself.
The main downsides to the larger tyres are that they make the bike pretty hard to pedal without power and you also quite a lot of road noise when on tarmac, even moreso than the motor noise which is not too intrusive.
The upright steering geometry and 20" diameter wheels makes the bike pretty responsive in tight turns though that is countered by the greater 'stiction' of the big tyres when turning at low speeds. It's different to handling thinner-tired e-bikes with a different geometry but not really any more difficult.
Comfort
This is a very comfortable bike to ride and an easy one to use, without a doubt.
The step-thru frame has a low step over height (though car should be taken not to lower the post below the top height marking or it sticks out of the bottom of the frame and can be prone to catching) and it's pretty easy to mount and dismount, especially as you can use throttle power to start off and avoid any wobbles whilst overcoming the resistance of those big tires.
Other ease-of-use features include kickstand, front LED and rear brake light and a smartphone holder hardwired to the bike battery so you can charge your phone on the go. Again, these are budget components but all are perfectly useable and worked well throughout our test.
The fold is easy considering this is a bulky and heavy e-bike. The mid-frame hinge is not too tight, allowing you to swing the two halves together easily and then you just need to drop the handlebar post. There is no inbuilt way of securing the two halves and even if you do bungee them together the lift into a vehicle is probably going to need two people.
SPEC REVIEW: Electrical Components
Motor
There is a 350W geared rear hub motor built into the mag wheels. This looks a very strong construction but note that should the motor fail out of the guarantee period you may need to buy an entire new wheel rather than get a new motor spoked into the existing rim, as you can often do with conventional wired spoke wheels.
The pedal sensor on the non-drive side of bottom bracket does a reasonable job of bringing in the power soon after you start pedalling and cutting it out when you stop. Occasionally there was some motor run on but generally I would class this as a reasonable power delivery.
There is also a throttle only operation and you can choose to use this instead of the pedal assist feature but I found I got far better power and hillclimbing ability using pedal assist. I did find the throttle useful for hill starts and getting going over extremely soft ground however.*
* Note both the throttle only operation and the 350W rating of the motor appear to be US spec rather than UK spec – E Movement say riders should 'check local regulations about use of EPVs, safety equipment and age restrictions.' In truth I felt the riding experience in terms of motor power and electric assist delivery was very similar to UK/EU spec e-bikes.
Battery
The seatpost-incorportaed battery is a very neat feature and a practical one too in some respects. You can remove it to effectively disable the bike whilst it is parked up too (there is also a key activation which must be used to turn power on). This design keeps the weight of the battery central and fairly low down, always good for the balance and handling of the bike. It recharges easily and quickly using the charge port tucked away under the seat where it looks pretty well protected from water ingress.
There are a couple of downsides to this design. You are limited by the diameter and length of the seatpost as to the capacity you can fit in (in this case a relatively small 336Wh – though note E Movement do e-fat bikes with bigger batteries). Additionally, carrying an extra battery to increase range will probably not be something many riders want to do as it's an awkward shape to carry and you will either need to fit it with a second seat or swap the seat over when changing batteries, none of which is very convenient.
Pedal Assist / Throttle
The Hunter Plus gives the rider a choice of pedal assist based on a crank sensor (PAS) and a throttle. This system worked well for me; I used the pedal assist most of the time and the throttle on sections of track where pedalling made it tricky to balance.
As on all e-bikes with this kind of PAS system, based on your pedal cranks rotating, it doesn't feel quite as 'bike like' as e-bikes with a torque sensor and won't be quite as efficient in the use of you battery power either, but it's a perfectly acceptable system for more budget e-bikes when done well and the Hunter Plus system was pretty typical of how well-made examples of this technology work.
Display
The LCD display is generally very adequate and easy to use whether you want to toggle up and down the five power levels, flit between the info fields showing total distance, trip distance, estimated range and current time.
My one criticism would be the poor battery gauge which fluctuated up and down depending how much power the motor was drawing and so wasn't at all a real reflection of battery capacity.
There are also close to hand buttons for an electronic horn and front light switch and a smartphone holder that lets you charge on the go as it has a USB port hardwired to the bike battery. The rear brake light activates when the rear brake lever is depressed and works well but it's slightly disappointing that it doesn't actually incorporate an independent rear LED.
Components and Accessories
Brakes
The Li Ting branded hydraulic disk brakes with 160mm rotors worked well and gave nice progressive braking for close control in all situations.
Frame
The Hunter Plus is an alloy 6061 frame with an s-shaped step-thru design. As there will be a lot of forces on such a frame with a single 'mainframe' member the ends of the main frame are reinforced with gussets (additional pieces of alloy) and the rest of the welding looks neat and strong. There is also a strengthening piece in the step-thru part of the part of the frame for extra reassurance on the strength of the frame and I also found it makes a nice carry handle.
A lot of the value of this e-bike is in the frame; fat bikes are still relatively niche (the euphoria around fat bikes seems to have peaked around five or six years ago) so it companies that make frames with the wide clearance necessary for the big 4 inch wide tyres certainly aren't two a penny.
Fork
The unbranded front fork with lockout was OK rather than spectacular. It felt much stiffer than you would expect from a front suspension fork even with a modest amount of travel. The only time this was really noticeable was on bigger dropoffs when the fork didn't always give the cushioning effect I was expecting.
Overall though, the combination of some front suspension and (most especially) the large volume of air in the fat tires meant a really comfortable ride with plenty of control.
Drivetrain
The Shimano seven speed Shimano Tourney TZ derailleur setup worked faultlessly despite its budget credentials. It probably won't be as robust as more expensive derailleurs but if the need ever arises it will be cheap to replace. If you want to know at a glance what gear you are in you will particularly like the optical display. We also found that, unlike some more expensive derailleurs, it was quite easy to effect a clean and quick shift across two or three gears all at once whilst accelerating or slowing rapidly, which is always useful.
Contact Points
The grips are 'ergonomic' ie they give a nice wide shock absorbing contact area to protect your hands and wrists. The gel saddle is super comfy. The only slight disappointment in this area was the lack of pins on the metal pedals which, as a result were slightly slippy.
Tires
The Chaoyang 20 x 4 inch tires feel super grippy on tarmac and rubbly tracks and, even though they are harder to pedal than narrower tyres, don't feel overly heavy or draggy even when cycling without power, though you probably won't want to do that for more than short spells.
The tread extends right across the width of the tire and so helps keep traction even when leaning over to corner on looser stuff.
Extras / Accessories
All the more minor components on the Hunter Plus are about comfort and ease of use. It comes fully equipped with strong metal mudguards, front LED, brake light and kickstand.
Summary Review / Where to Buy
The E Movement Hunter Plus is a great introduction to the joys of electric fat biking, especially if you want a model that has such easy to use features such as step-thru frame, upright riding position and foldability. It's not the sportiest e-fat bike out there but it's not meant to be – it's all about comfort and ease of use. It could also make a serviceable commuter and has the option of adding a pannier rack. Having ridden this for a few weeks I still found myself wanting to head out on it just to explore what further track conditions it was capable of handling and come winter I'll be interested to see how it copes with the deep mud we can get on off-road routes in this part of the world.
My only real minor gripes were the fact that it could do with the addition of a rear light and a pannier rack to make its appeal even broader; it's not as if these would add unduly to the weight as it's not designed to be a light e-bike in the first place. A better battery gauge would also be helpful.
If you're interested in purchasing the E Movement Plus you can buy directly from their website.
It's also good to see that E Movement have a UK base from which to provide customer service. They state their guarantee as 'The bike (less free accessories) is covered including the electronics and battery for 1 year from purchase and the body parts for 4 years.'
Whilst it would be nice to see a two year battery guarantee (that is becoming the industry standard), this is still a great budget introduction to electric fat biking at a reasonable price.
Reader Interactions