E-Bike Stories: Tale of the Bionic Granny
This is an article by Gary Kaye; a professional writer who is passionate about e-bikes.  Check out Gary's writing/marketing services at CompellingTelling.com.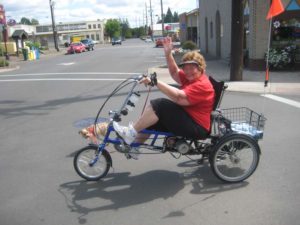 Connie Lauzon had always been an avid bike rider.  But after having both knees and both hips replaced with artificial joints, the 75 year old grandmother was nervous about getting back on an upright bike.
She was afraid that one fall could have disastrous results.  That was a problem since her kids had just bought her a brand new Canondale mountain bike.
Instead she started looking around for a trike, and after a fair bit of research decided that the Sun EZ trike would make the most sense.  She found one on Craigslist that was in great shape for about $400.
Connie would get out on the bike almost daily, come warm or cold.  To fight off the wind, she got a faring for the trike.  But she still found the going  just too hard on the hills.  The easy ones would slow her down to almost walking speed.   When she hit the tougher hills she simply had to get off and push.  After a while that just got old.
In order to avoid the steeper hills, Connie kept pretty much to one route from her Mount Angel, Oregon home to nearby Silverton.  But after a while that too got old.  She decided she'd like to get a bit more adventurous and for that she needed a little assistance.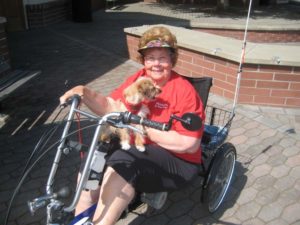 So Connie went back to the Internet and started searching.  She started Googling and found a Sun Trike EZ-3 pretty much like the one she had, only this one had an EcoSpeed motor.  She also figured out that it would be more cost-effective to buy a rig that already had a motor than to add a motor to her existing trike.
The rig she bought had been used by a commercial soup delivery service, so she was a little leery about the system and told the seller, "if the motor is a lemon, don't try to sell it to me".  It wasn't.
But the same couldn't be said of the batteries.  The system came with three batteries that had been heavily used, "I bought it in August, and by Christmas the batteries were pooping out before I reached my hills"  Connie once again went online and found a LiPing battery from China that was specifically matched to the EcoSpeed motor.  So she was back in business.
Guilty "Cheating"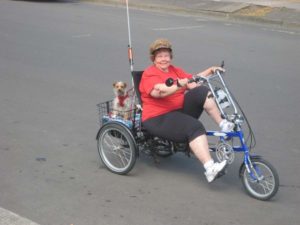 Connie says the motor was only for the hills, "I promised I would only use it as an assist on the hills.  But it is easy to cheat. I only do that if I'm totally pooped".  She does admit it's nice to be able to push the throttle and zip across the highways.
To keep her company Connie went out and got a dog that could run with her.  Heidi is a whippet-yorkie mix.  "She runs with me for about a mile, but she doesn't really like it.  After that I put her in the basket".
Connie complains that her husband, who is also an avid biker, won't take to the e-bike, saying it's just not something a "road warrior" would ride.  But Connie feels differently, "It's empowering to be this old and to be able to do this.  I think every day with my bike is a gift."
Do you know someone who has a disability that wants to ride a bike/trike again?  Let them know about electric bikes 🙂
Please share your stories of how an electric bike has changed your life in the comment section below.
Thanks!
P.S. Don't forget to join the Electric Bike Report community for updates from the electric bike world, plus ebike riding and maintenance tips.

Reader Interactions