E-bike News: Trek's New Affordable E-bikes, Bimotal Final Pilot and Much More!
Trek's new e-bikes are an interesting step for the company as it typically produces premium e-bike with expensive mid-drives and other components and they are known for working superbly well. Their new Dual Sport+ and FX+ models use hub motors and modestly sized batteries typical of much cheaper budget models, so it will be interesting to see how they fare against cheaper models that use ostensibly similar electric drives (albeit the Trek bikes have a torque sensor which most budget e-bike don't). Of course, Trek will be offering their own attention to detail in manufacture and their longstanding pedigree as a high quality producer of bikes and e-bikes, not to mention local bike shop backup and valued warranty cover.
In this week's e-bike news:
Trek goes hub motor with new more affordable e-bikes

Bimotal say innovative removable electric drive in final pilot phase

Ridgeback Errand – a new affordable compact e-bike

Chainless e-bikes confirmed as legal in the EU

Zapbatt and Toshiba claim 'game-changing' battery

Bike lane cameras could be appearing in New York and London
TREK'S NEW AFFORDABLE E-BIKES FROM $2,399
Trek has just released its lowest priced e-bikes in its current range – the Dual Sport+ and the FX+, with the former retailing at $2399 / £2150 and the more urban styled latter at $2499 / £2250. On both e-bikes costs are kept relatively low by using a 250W hub motor with a modest 40Nm torque rating.
There are some nice touches as you would expect from Trek, including a frame-integrated battery, small handlebar-mounted display control and best of all from a performance point of view, a torque sensor in the bottom bracket. Range extender batteries are available for both models. They are both 20mph / class 1 pedelecs in the US (Euro spec also available elsewhere) with respective claimed weights of 17.5 and 17.7kg – or both just under 37.5lbs.
INNOVATIVE BIMOTAL IN 'FINAL PHASE' OF PILOT
Californian-based Bimotal are the designers of the Elevate, a unique retrofit, removable electric drive that drives through a rear disc brake attachment.
The company says it has 'entered the final phase of its pilot program, installing Elevate removable ebike systems on 10 customer bicycles. Full-scale production will commence on the pilot's successful conclusion, expected at the end of September, 2022.'
Bimotal say 'Many people already see the highly versatile Elevate system as removing the final barrier to purchasing an ebike, thanks to the ability to use your current bike, minimal weight of under 6 lb/2.7 kg, power output of 750 Watts, and quick removability of both motor and battery.'
The Elevate pilot program commenced last year in October 2021. Thanks to feedback from this early market test, a raft of changes since then make Elevate easier to attach and remove, more powerful on steep climbs, smoother in startup, quieter, and more reliable.
With these changes now integrated, the final pilot phase includes early-adopter bikes in and around the San Francisco Bay Area. During this phase Bimotal engineers will keep a close watch on hardware in the field as the Elevate system is used in a wide range of real-world conditions.
On the successful conclusion of this phase, production and distribution will ramp up, as will a program to train regional installers.
Pre-orders are open again and customers may place orders through the company's website, bimotal.com. At the end of the current pilot, 'Pre-order Elevate' will change to 'Order Elevate'.
RIDGEBACK ERRAND – A NEW COMPACT E-BIKE FOR THE UK
The Errand is a new, competitively-priced utility e-bike from UK-based Ridgeback. It's small 20" wheels make it petitie and easy to store, whilst 2 inch tyre width makes for comfort. It's advertised as suiting riders ranging from 5'4" to 6'4".
The Errand uses a Promovec drive system which has a 54Nm rear hub motor and 375Wh removable battery, providing the pedal assistance. There's also eight derailleur gears, hydraulic disk brakes and mudguards. The only thing really lacking is a rear rack, though there are attachment points for one.
UK RRP is £1799
CHAINLESS E-BIKES LEGAL SAYS EU
The UK's Bikebiz reports that 'The European Commission has published a statement on the legality of chainless Series Hybrid e-bikes, confirming they fall under the same category as traditional e-bikes.
Debate around these machines dates back to 2018, when several German e-bike dealers were threatened with fines for selling a specific chainless e-bike and advertising it as an electrically powered assisted cycle (EPAC), in other words a conventional e-bike.'
One notable and longstanding chainless system is produced by Mando.
ZAPBATT AND TOSHIBA CLAIM 'GAME-CHANGING' BATTERY
Cycling Industry News reports 'ZapBatt have announced a partnership with Toshiba to combine their proprietary artificial intelligence (AI) software technology and next-generation battery hardware with Toshiba's lithium titanium oxide (LTO) battery cells, creating a new battery option for the micro-mobility market.'
Reports of new wonder batteries are nothing new of course and the claimed 15,000+ cycles with a claimed 25+ year life and claimed charge time of less than 20 minutes certainly put it in that category. However actual market launches for revolutionary new battery tech always seem to be just around the corner and this is no exception, with an 'estimate' of commercial availability in 2023.
CAMERAS HEADING TO NEW YORK AND LONDON BIKE LANES?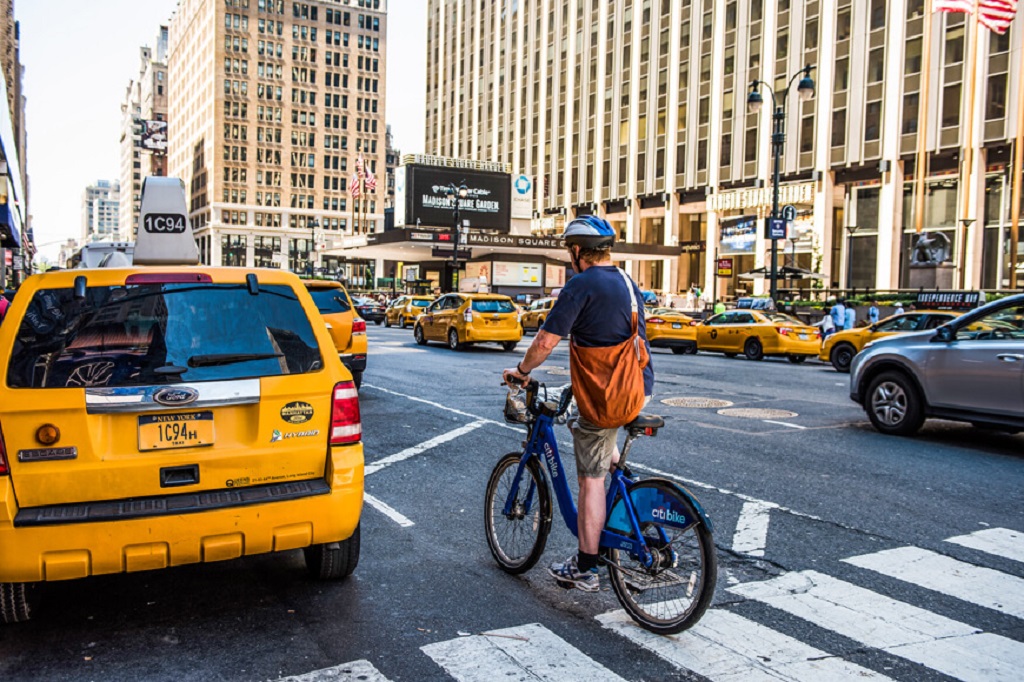 Bloomberg reports on the possibility of 'a groundbreaking bill in New York state that could enable New York City to deploy its first bike lane cameras, boosting safety among supposedly protected bike lanes where cars remain frequent, unwelcome and dangerous interlopers. The bill would give the city's transportation department the green light to install up to 50 such bike lane cameras, with violators mailed $50 fines.'
The New York bill still has to pass an assembly vote, but the article also reports that '…across the Atlantic, the UK is several steps ahead. This past June, local authorities across England gained the power to deploy bike lane cameras within their jurisdiction. In London, the regional Transport for London has said it will do so, and a number of London's 32 local boroughs have as well, with offenders receiving a fine of £160 ($189).'